Meaty Goodness, Dogs and Kids OK!
Published: May 28, 2021
Just when you thought the cafe scene in the Kiyosumi-shirakawa area couldn't improve any further, young entrepreneurs have opened another fabulous location for locals and visitors to take their ease in. This time it's the dog-friendly, child-friendly and everyone-friendly Cafe Tanton, run by Mr. Kenta Arai and his charming wife Yuki. On a recent afternoon we dropped in for a chat with them and Niton the dog.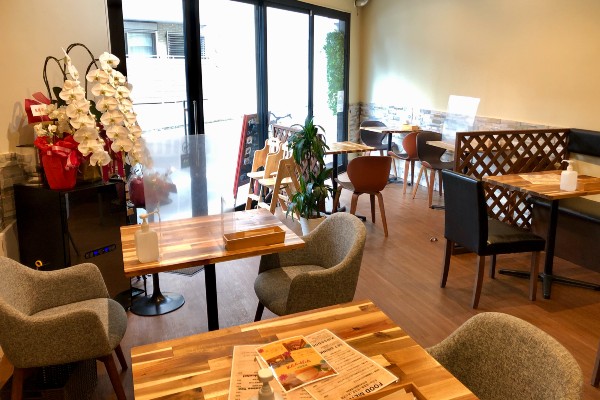 Located just four minutes' walk from Kiyosumi-shirakawa station in a largely residential area, Cafe Tanton opened in April 2021. It's spacious, airy and extremely light, with a very comfortable ambience.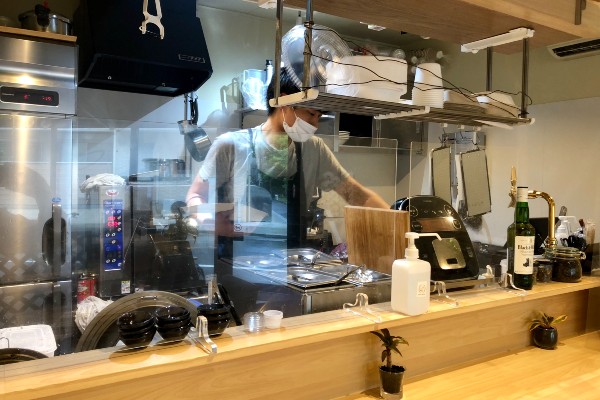 As Mr. Arai explained, "My career so far has largely been spent in European-style restaurants such as a steakhouse, an Italian restaurant and a wedding/dining cafe. I also work as a cafe and restaurant consultant." A native of Hiroshima, Mr. Arai has lived in Koto-ku for 10 years, previously working in Kameido.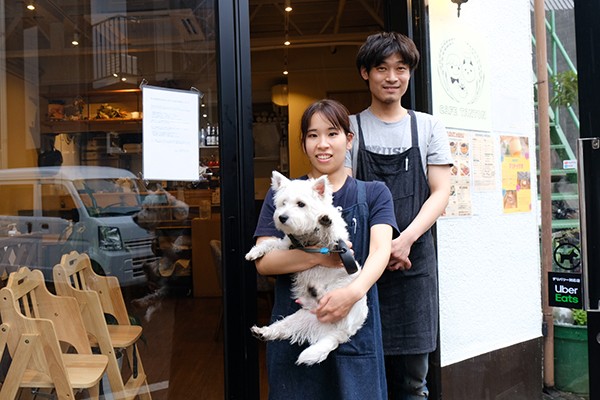 "I wanted to open my own place, but something a little different," he said. "Cafe Tanton is a dog cafe where people can enjoy a meal. There are very few places where both dogs and kids are welcome so we decided to make one ourselves." Mr. Arai cooks, his wife manages the restaurant and Niton is fussed over by the customers.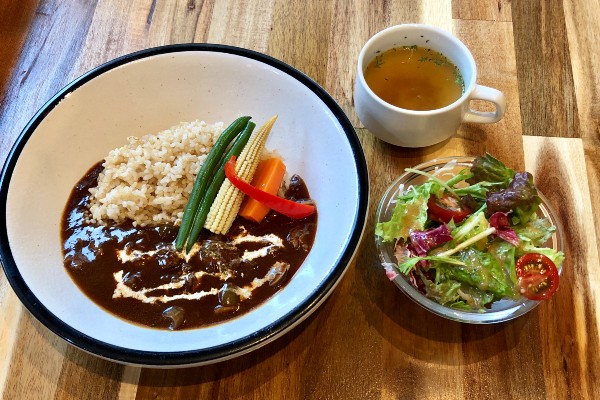 This is Cafe Tanton's version of the popular Japanese western-style dish known as hayashi rice. Hayashi rice usually features thinly sliced beef, onions and button mushrooms in a demi-glace sauce served over rice. Mr. Arai shows his background in the meat business with this "three beef" hayashi rice which contains beef tendons, rump and rib steak in a rich and deeply flavoured sauce.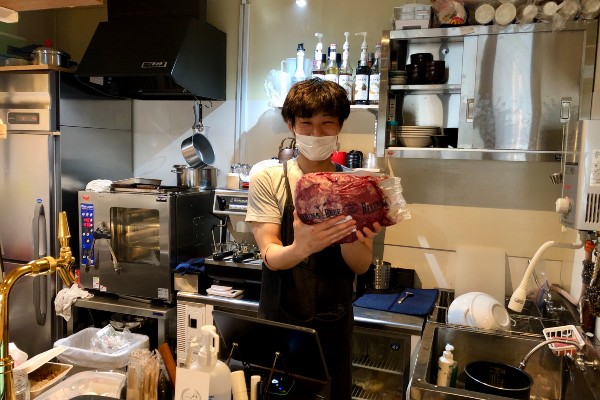 Mr. Arai uses top quality Australian beef.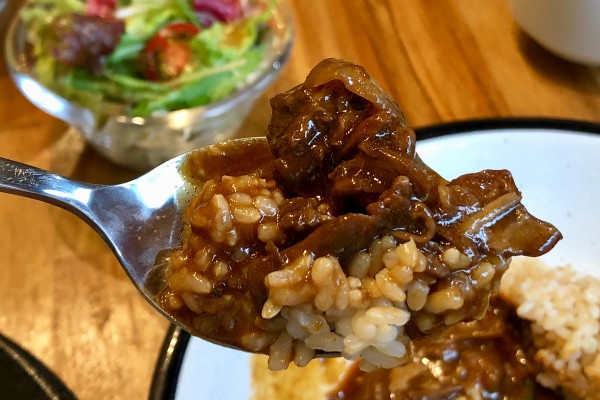 The three-beef hayashi comes with brown rice, some crisp, lightly cooked vegetables, a fresh salad and a cup of soup, all for 980 yen. The beef was slow cooked to perfection, very soft and tender, while the homemade demi-glace sauce was a marvel in itself, thick and rich. For an extra 70 yen, customers can enjoy a soft-boiled, "hot spring" egg (onsen tamago).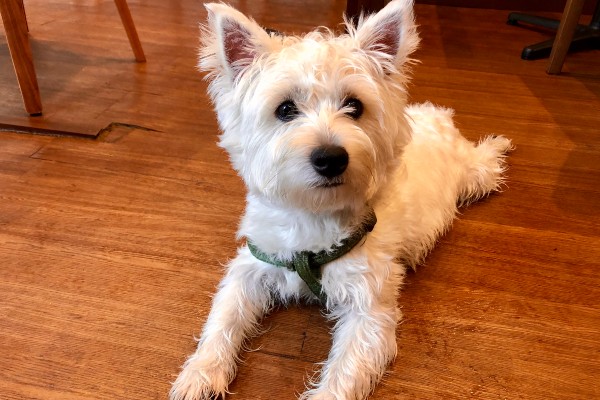 Niton, a very friendly one-year old West Highland terrier, was exceptionally well behaved throughout. He's usually in the cafe on Monday afternoons and has a large fan club who drop in to see him!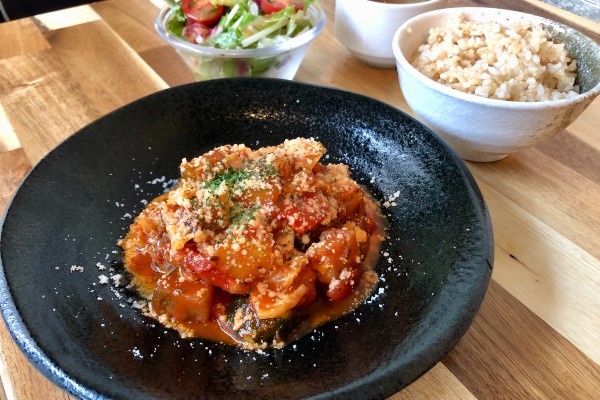 The homemade wagyu hamburg set also comes with brown rice, a salad and cup of soup. Two sauces are available, the tomato and vegetable sauce shown here or a grated daikon radish and citrusy soy sauce (oroshi ponzu). Mr. Arai's experience in Italian cuisine was on show as the lightly spiced sauce contained fragrant, freshly chopped oregano and basil.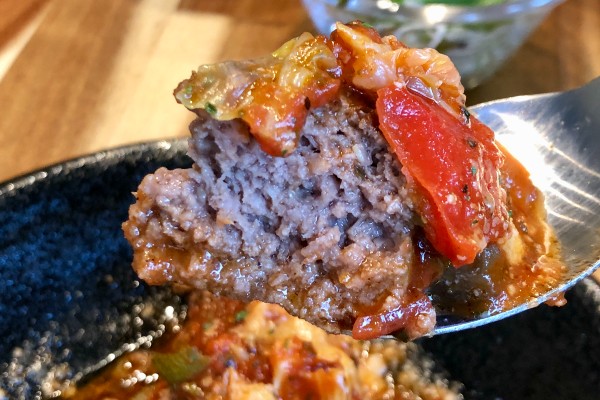 The beefy, juicy wagyu hamburg was an absolute treat. The salad was crisp and fresh too; the lunch was of exceptional value at 1,100 yen!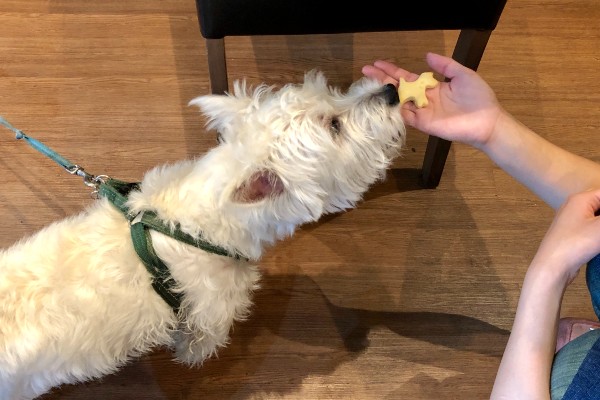 Dogs are both welcome and catered for at Cafe Tanton. Yuki Arai cooks up baby food, mixes it with boiled vegetables and bakes the result into doggy-shaped cookies. They may not appeal to humans but Niton absolutely loves them. Just 250 yen!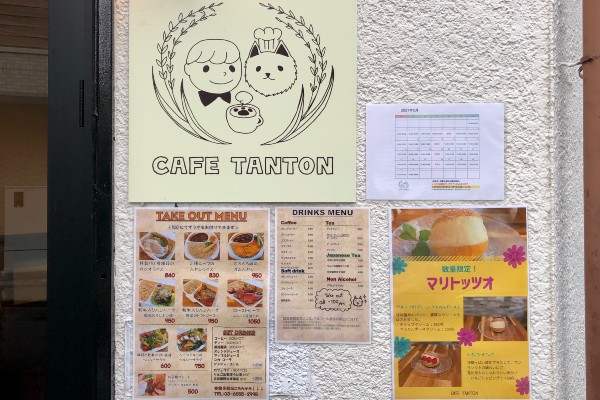 Cafe Tanton also offers take-out and delivery services. Such popular items as gapao rice and roast beef are available alongside the hayashi rice, hayashi rice with omelette (omrice) and the wagyu beef hamburgs. The maritozzi Italian cream buns on the right look fantastic. The kids' plate, which contains chicken rice, hamburg, sausages, egg roll and vegetables is also available to eat in or take out.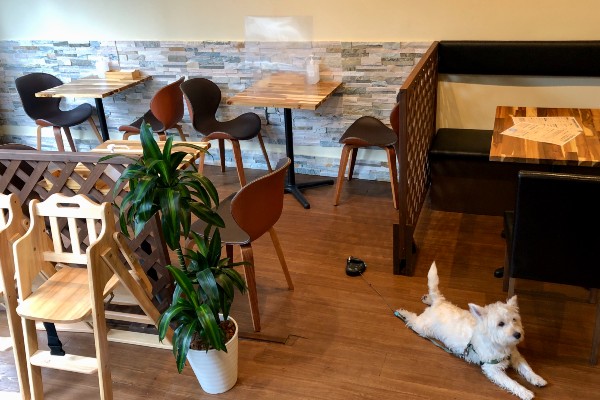 There's plenty of space between tables for prams or strollers and a couple of baby chairs are available too. Four-legged friends can have their leads attached to clips embedded in the floor, a nice touch. The food at Cafe Tanton is excellent, and as Mr Arai said, "We're aiming to go a level beyond a cafe." It's yet another reason to visit the Kiyosumi-shirakawa area!
Story and Photos by Stephen Spencer