A sweet temptation encountered in the town
Published: September 27, 2017
Meika Seven, the bakery and cafe on Sun Road Nakanohashi Shopping Street near Ojima station in Koto-ku, is far from an ordinary bread shop. On a recent sunny afternoon the proprietor, Mrs. Sekiguchi, took a few minutes to talk about her business, its products, and its place in the local community.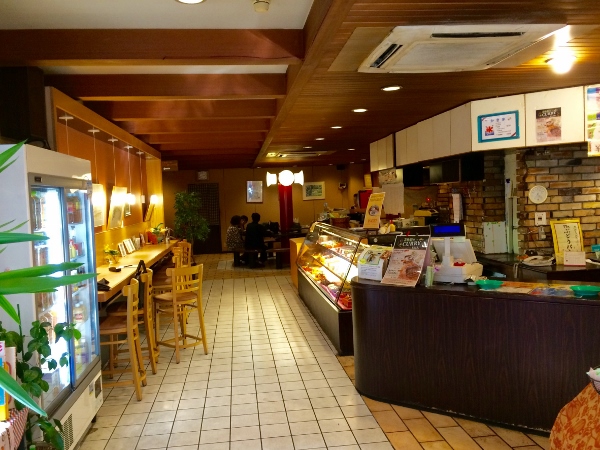 "My husband's father got started in the business some 60 years ago at the bakery, Meikado, in Morishita. Meikado, now known as Cattlea (pronounced Katorea), is famous as the birthplace of the iconic curry donut (kare-pan), beloved by generations of Japanese people. When he became independent, he took the name "Meika" for his own shop as a mark of respect for where he learned his trade, while the seven comes from the address here and also lucky number seven."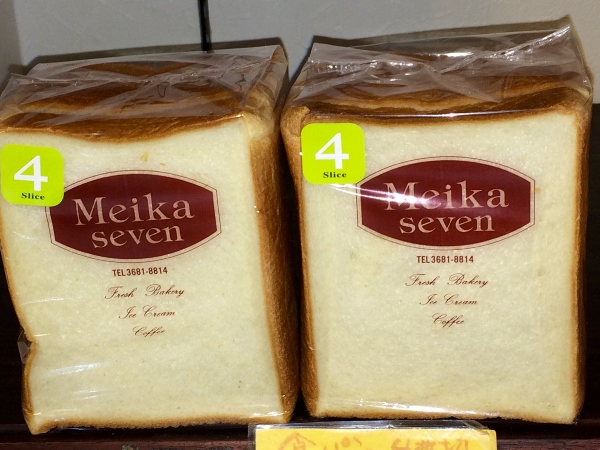 "My husband bakes and I manage the shop. We sell about 50 different kinds of bread and baked goods. The traditional ones are made according to the same recipes my father-in-law created nearly 60 years ago. We've also added various new items throughout the years. Our number one top seller is the Usukawa Anpan (thin-crusted azuki bean paste bread), and our 77% Raisin Loaf is in second place."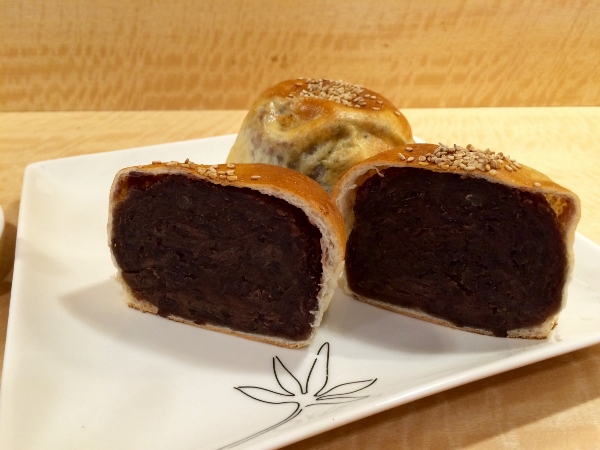 The thin-crusted azuki bean paste bread is exactly that. As Mrs. Sekiguchi says, "It's 98% bean paste and 2% crust. We always listen to our customers' requests and this is one of the products we created in response. They're tricky to make, as the outer skin is so thin."
As the fame of the Usukawa Anpan spread far and wide, people traveled from all over to sample one, to their delights.  You have to arrive early though, as they sell out quickly. So popular are these pastries that many people make reservations in advance at Meika Seven, as only around 200 are made each day and they go on sale in the morning.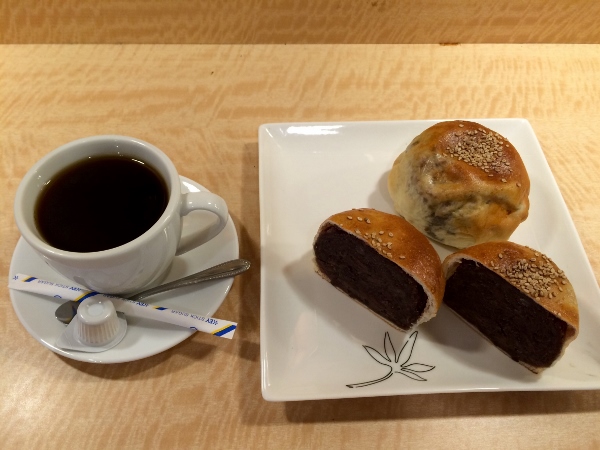 "People eat them in a variety of ways," says Mrs. Sekiguchi. "They're rather filling so many people share one with another person. You can eat them with ice cream, you can peel off the skin and use the paste to make other desserts, or you can refrigerate them and slice them like yokan (a thick, jellied dessert made of red bean paste, agar and sugar). Very versatile!"
One Usukawa Anpan actually contains a remarkable 200g of bean paste. It's delicious and not too sweet at all. One of these beauties and a cup of the rich coffee sold at Meika Seven make a perfect morning break or afternoon tea treat. Yummy!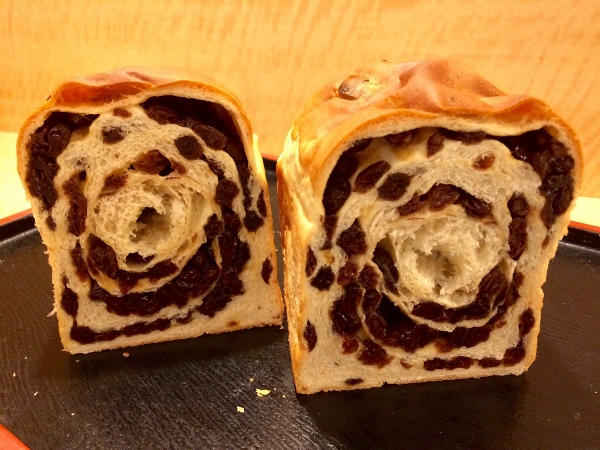 The 77% Raisin Loaf is also wildly popular. Mr. Sekiguchi bakes around 60 loaves a day and they sell like proverbial hot cakes. He bakes them in the afternoon to go on sale about 6 p.m. Like the Usukawa Anpan they sell out very quickly, so you have to grab them while they're piping hot!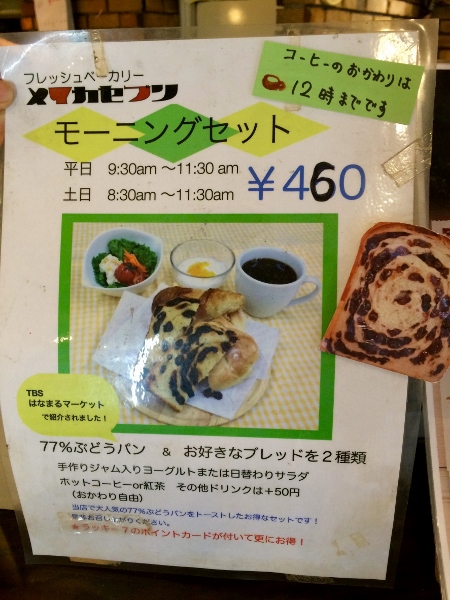 Meika Seven offers a "morning set" service, from 9:30 to 11:30 a.m. on weekdays and 8:30 to 11:30 a.m. on Saturdays. For the princely sum of 460 yen one can have the following: a slice of 77% Raisin Bread plus two other kinds of bread items, yogurt with homemade jam or salad, and tea or coffee. Other drinks can be had for a 50-yen surcharge. A free refill of tea or coffee is also available. That's unbeatable value!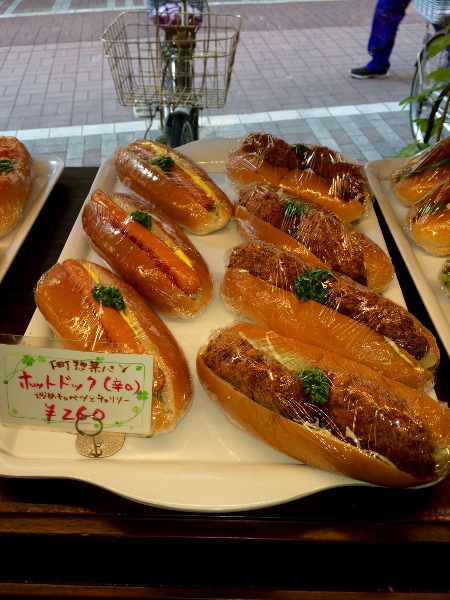 Meika Seven offers a wide variety of sandwiches and baked goods. Many traditional bakery items are on display, from these hot dogs and croquette sandwiches.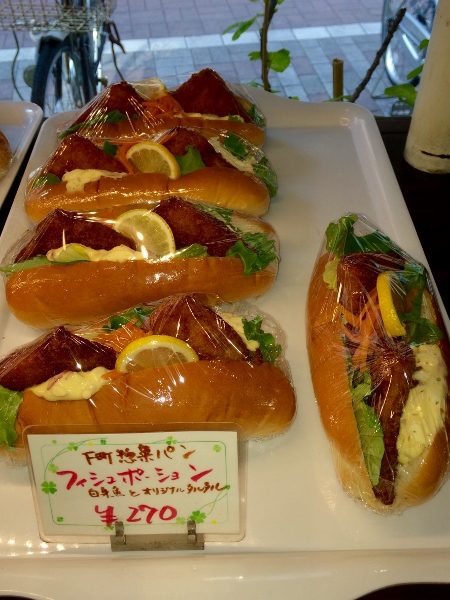 To fried fish with tartar sauce.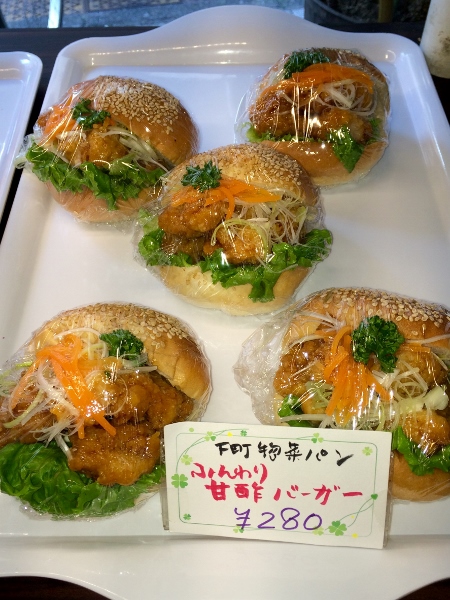 Sweet and sour chicken burgers.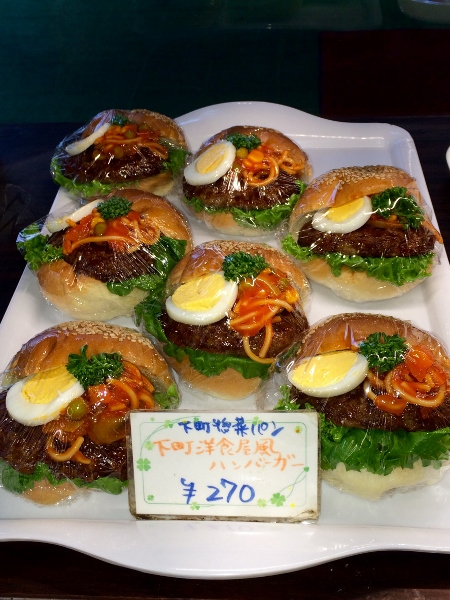 You'll need two strong hands to hold on to one of these burgers!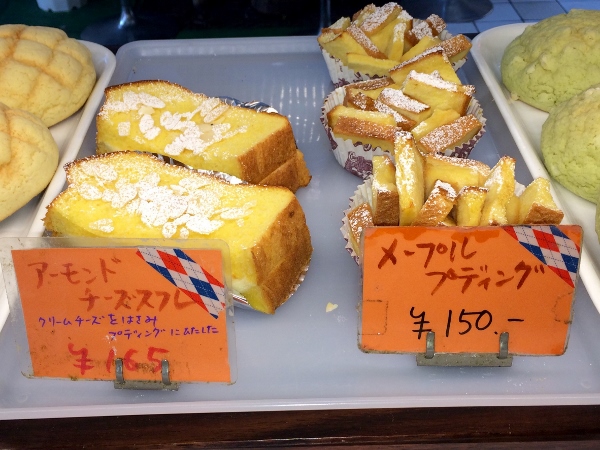 For those with a sweet tooth, there are such delights as these almond cream cheese soufflés and maple puddings.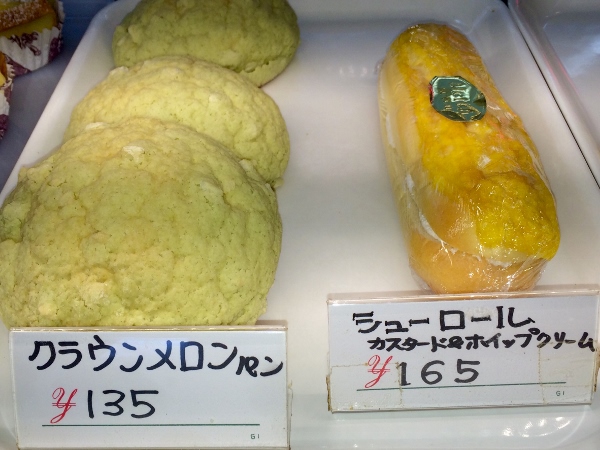 No respectable Japanese bakery is ever without that great favourite, the ubiquitous "melon pan". On the right is a custard and whipped cream chou roll. Don't they look great!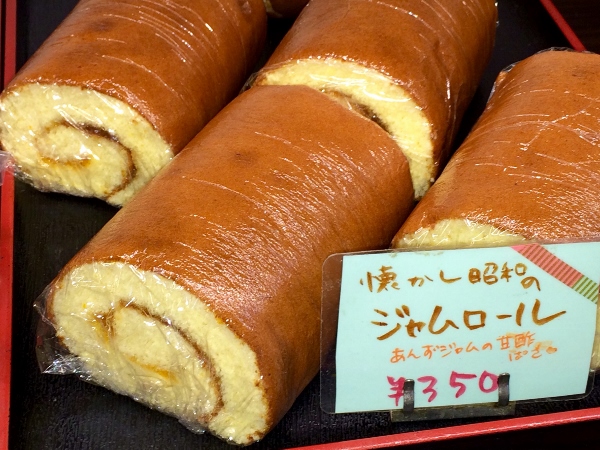 There are also some nostalgic Showa Era (1929-1989) delights such as the jam roll.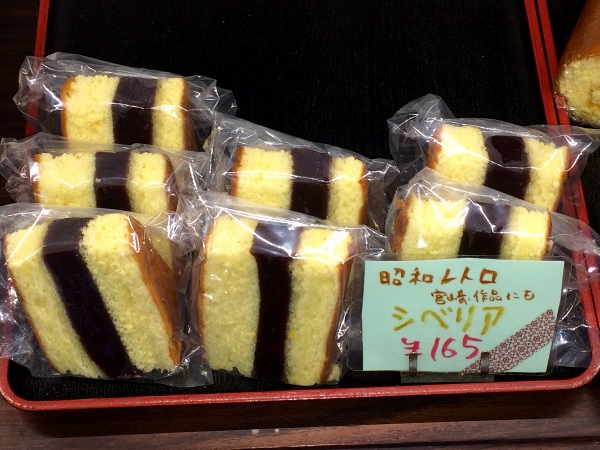 This is Siberia cake, a sandwich of azuki bean paste between slices of Castella.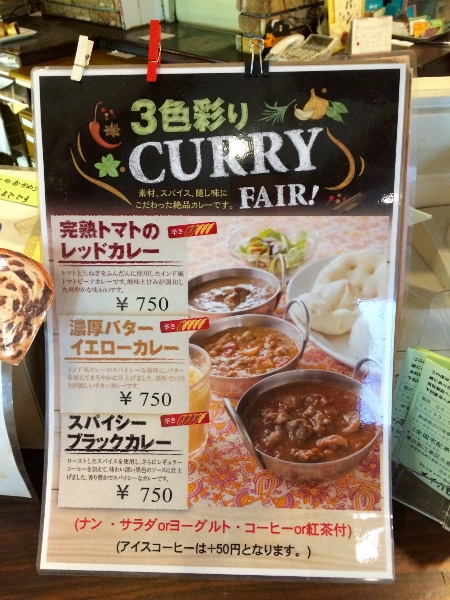 In addition to the breakfast sets, Meika Seven also offers a lunch menu. In summer one can choose from three kinds of curry with a big naan, salad or yogurt, and tea or coffee for just 750 yen. From autumn, stew sets are available.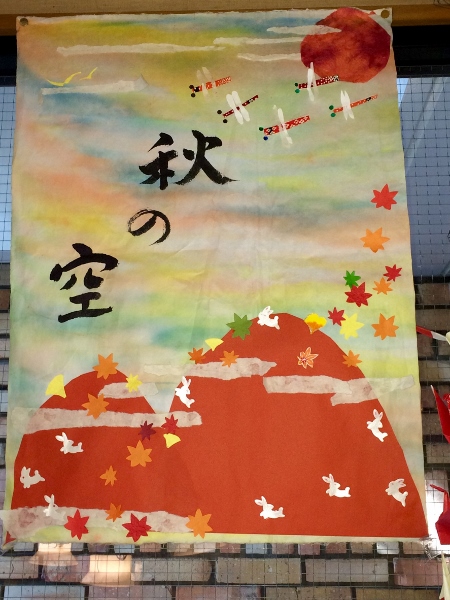 As Mrs. Sekiguchi says, Meika Seven is more than just a cafe and bakery. It's also a kind of community centre as various events are held in the roomy interior. There are picture book readings for parents and young children, organized by a non-profit organization. The book readings take place on the fourth Saturday of every month from 2 p.m. to 3 p.m.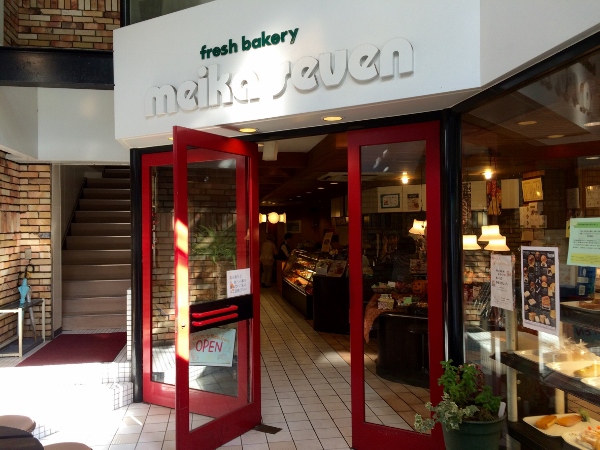 Meika Seven is a friendly, lively and very busy place. Even on a sleepy summer afternoon it was full of customers buying bread or having a late lunch with friends, while the phone rang almost continuously. Mrs. Sekiguchi's brisk, warm character and is reflected in the atmosphere of the shop. The food is delicious and the prices are eye-popping. Drop in if you have the opportunity; you certainly won't regret it.
Story and Photos by Stephen Spencer