Modern Korean, Okonomiyaki and Monja at Teike Ikedaya
Published: September 11, 2020
Teike Ikedaya is a wildly popular restaurant specializing in modern Korean cuisine and the hotplate favourites: okonomiyaki and monjayaki. On a recent blazing hot summer afternoon, we dropped in for a chat with the Lee sisters who own and manage the establishment.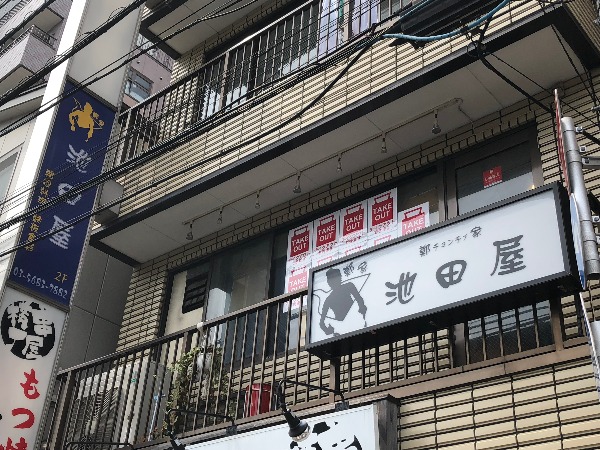 Located five minutes' walk from exit 1 of Kiba station, Teike Ikedaya is just around the corner from Omon Street, up on the second floor.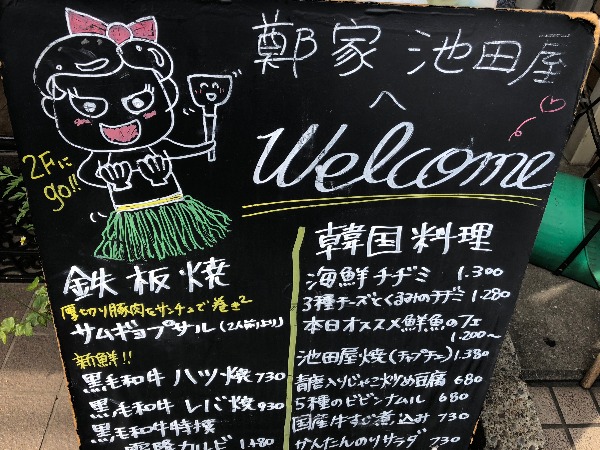 You can't miss it though, as the advertising blackboards mark the entrance.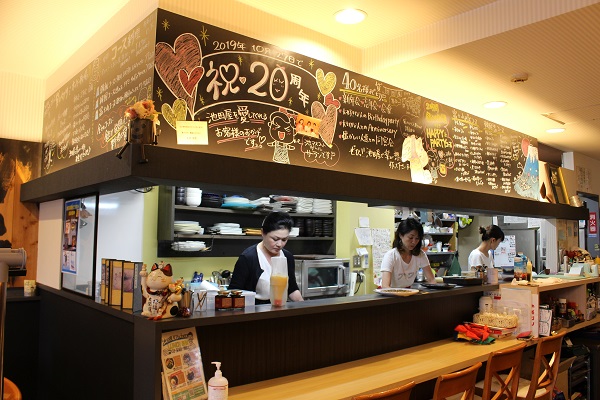 Inside the surprisingly large space is a wide kitchen counter on the right, with tables along the opposite wall. There's seating for forty or so customers, with ample elbow room.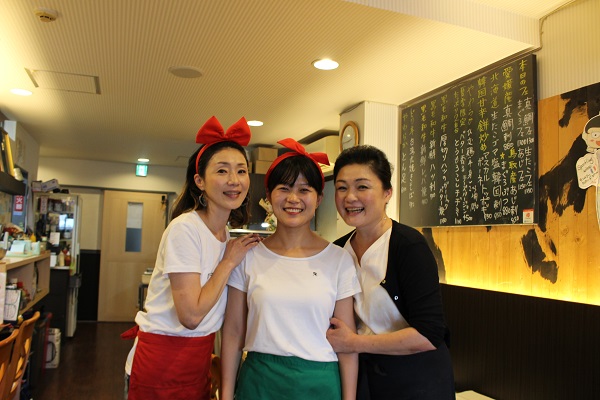 From left is manager Ms. Kaori Lee, staff member Ms. Loy and older sister Ms. Kasumi Lee, who does most of the cooking. "Our mother, who was originally from Osaka, started the business some 20 years ago. We inherited it from her and have been running it together since then," explained the younger Ms. Lee.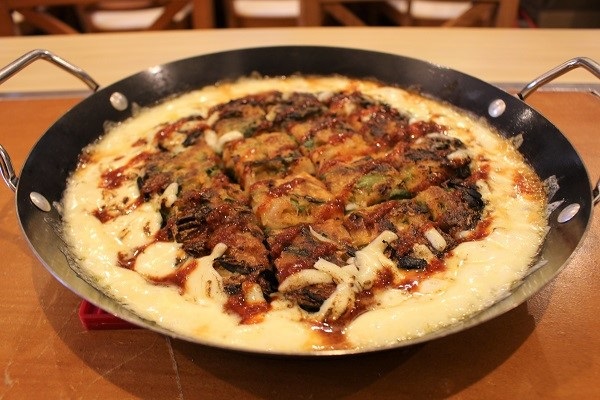 The Kiba and Toyocho areas are home to the Koto-ku ward office and many large companies, as well as encompassing a vast residential population. Evenings at Ikedaya are lively, with a crowd that is fifty-fifty male and female. One of the biggest hits is this pork kimchi cheese chijimi (1,480 yen). Cooked in a paella pan, the savoury pork, kimchi, and vegetable pancake is topped with lashings of cheese. The surface is crispy, the interior is chewy and the melted cheese a total delight.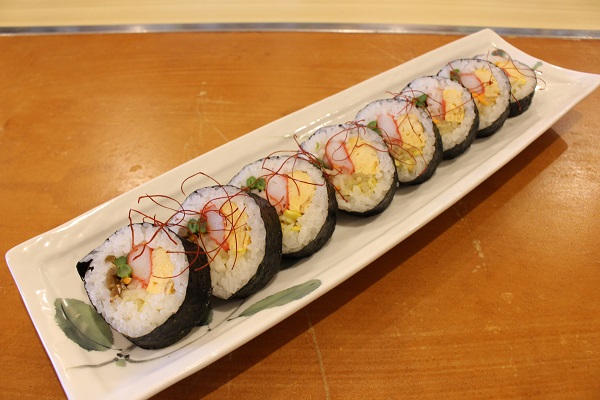 Alongside the umami explosion of the pork kimchi chijimi, the kimbap rolls make an interesting contrast. Made from vinegared rice, with a filling of Korean-style broth-flavoured rolled egg omelette and several homemade vegetable dishes (namul), they are both tasty and filling.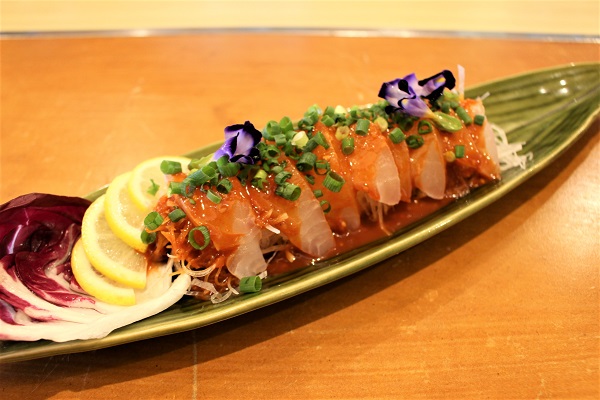 Also interesting is this Korean-style sashimi (hoe in Korean, pronounced hwe). Using fresh fish which changes with the seasons, it features sliced fish (sea bream on this particular day) flavoured with a sweet and spicy vinegared fermented bean paste (chunjang). Very reasonably priced at 1,100 yen, the spicy sweet sauce nicely accompanies the mild flavour of the fish.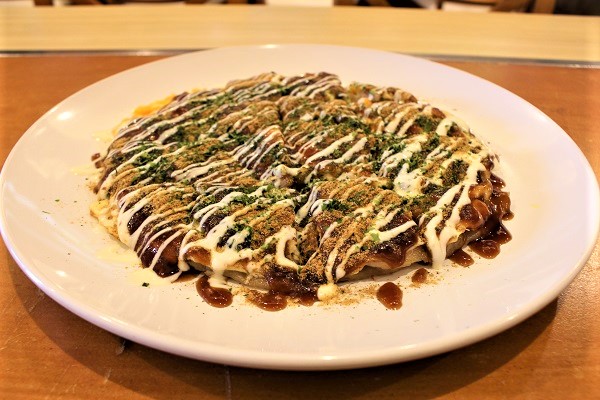 Tonpeiyaki is a classic Osaka dish, generally eaten as an appetizer in okonomiyaki restaurants. It's basically an omelette containing shredded cabbage and sliced pork, topped with mayonnaise, bonito flakes and sweet and savoury tonkatsu sauce. Here at Ikedaya it's known as tontoyaki and is boosted by the inclusion of Chinese yam (nagaimo). Again, it's exceptional value at just 780 yen.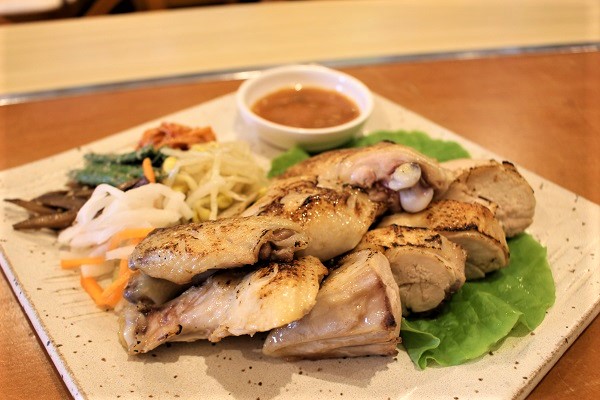 And the hits just keep on coming! This mouthwatering platter is a young chicken (hinadori), cured in salt for 24 hours, cooked as a confit and finally pan-fried to crisp the skin. The meat is breathtakingly soft and juicy – by all accounts those who eat it once are hooked for life. Costing 1,890 yen, it comes with various namul vegetables and a dipping sauce.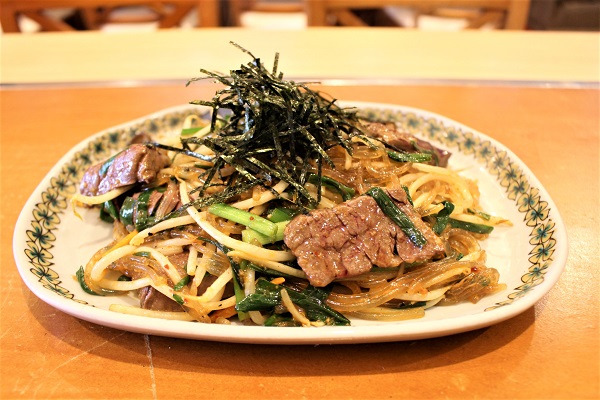 Japchae is a popular Korean dish of fried noodles and vegetables such as carrots, spinach, onions, and negi onions. The noodles are traditionally glass noodles made from sweet potato starch. At Ikedaya the japchae is lavished with slices of skirt steak and a homemade sauce containing fruit and an abundance of condiments. At 1,380 yen it's made for sharing.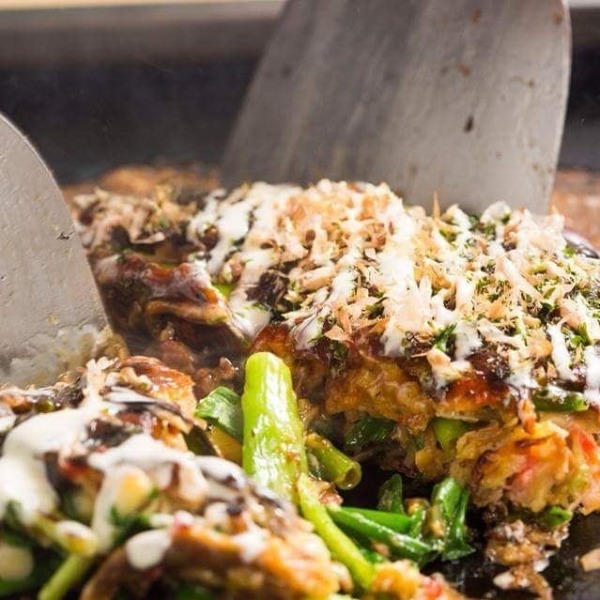 The okonomiyaki (savoury pancakes) are made in the Osaka-style, soft and fluffy, with a slightly sweet homemade sauce. Eight varieties are available, starting at 780 yen for the simplest version and going up to 1480 yen for a special with a whole camembert cheese in it. The pork and kimchi option is 1,080 yen, while the green onion, squid, shrimp, scallop and crab special is just 1,280 yen.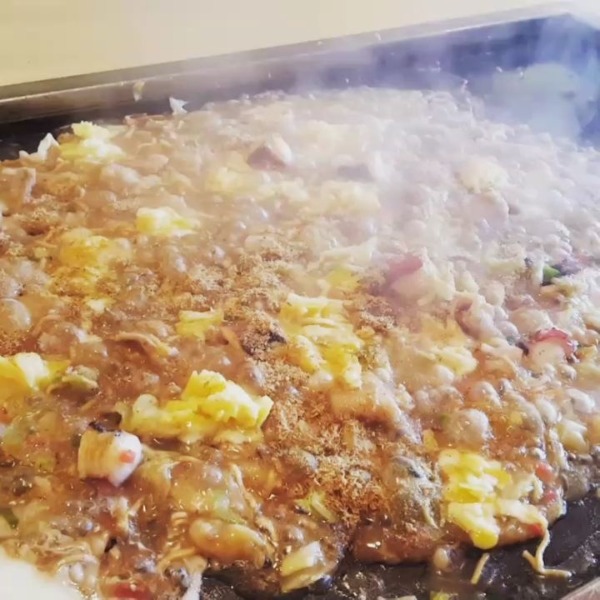 Okonomiyaki's runny relative monjayaki is also a mainstay at Teike Ikedaya. There are nine different mixes available, running in price from 980 yen to 1,480 yen, which is again for the whole camembert version.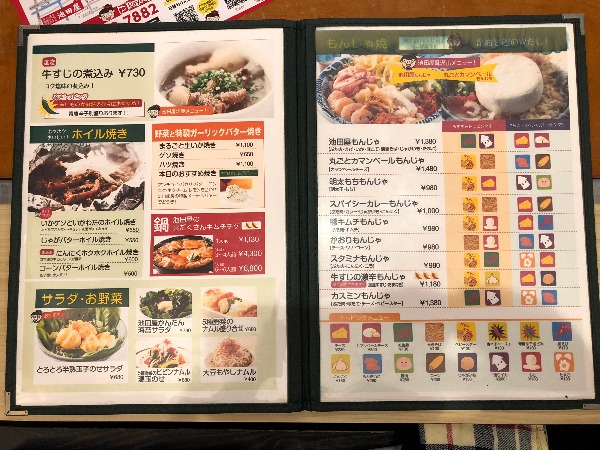 Various extra toppings can be ordered, such as yakisoba noodles, garlic, squid, pollack roe, chili peppers, extra pork, eggs, and mochi rice cakes. There's even a handy pictorial on the menu. If you're a little nervous about cooking it yourself the staff will help.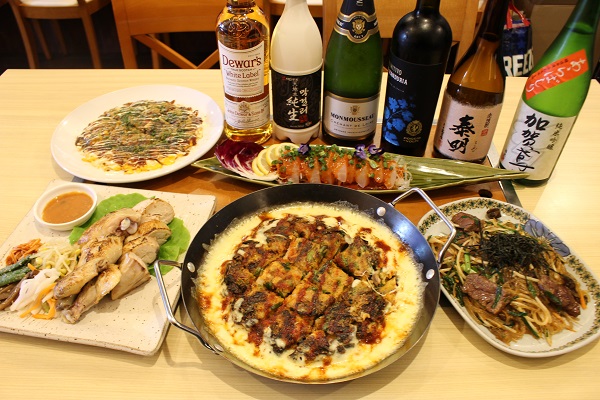 All the above food is enhanced by a liberal application of alcoholic beverages and Teike Ikedaya has enough to satisfy everyone. Korean makkoli, highballs, wine, beer, sake, shochu, and all the usual suspects are on the menu. Cheers!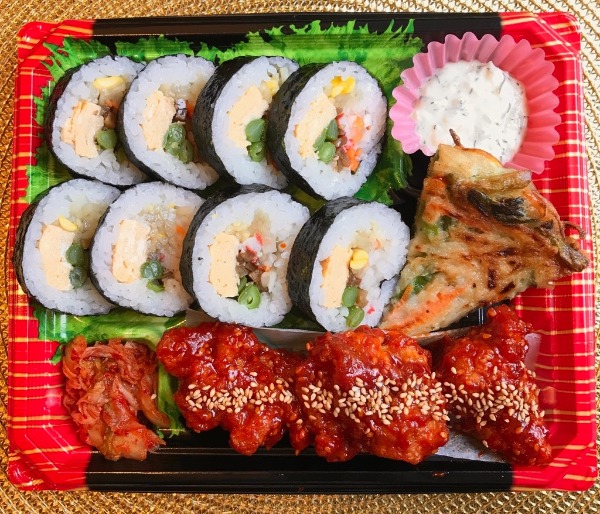 While Ikedaya doesn't open for lunch, they do make very appealing lunch boxes. This colourful treat features kimbap rolls, spicy yangnyeom chicken, kimchi and a slice of chijimi for just 800 yen.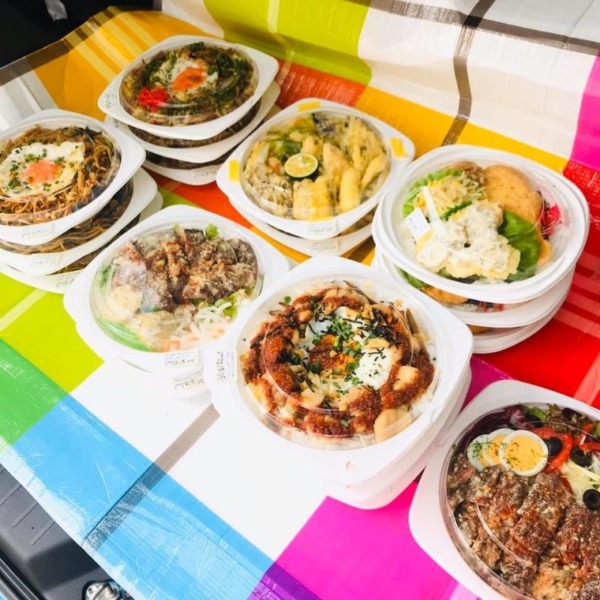 The staff at Ikedaya produce a variety of lunch boxes every day. The best way to see what's available on any particular day is to check out the Facebook page in the information section below. Great food at reasonable prices, loads of drinks and a really lively atmosphere: that's Teike Ikedaya. If you're in the area why not drop in and join the fun!
Story and photographs by Stephen Spencer