Western Japan can lay claim to a lot of local culinary delights, among them takoyaki (fried octopus balls) and Kansai-style okonomiyaki (Japanese pancakes), which have also been gaining popularity overseas. When it comes to monjayaki (or monja, as it is often affectionately called), however, Tokyoites are quick to point out that this particular invention is theirs—a quick, easy and fun-to-prepare food that's been a staple in Easter Japan for decades.
Monjayaki used to be a popular snack food, often found at dagashi-ya (stores selling penny candies) where for a few coins you could get the thin, salty pancake with variously toppings made ready-to-go. Then, sometime in the last couple of decades, it started to become a meal of its own, and monjayaki restaurants have become a common sight in Tokyo.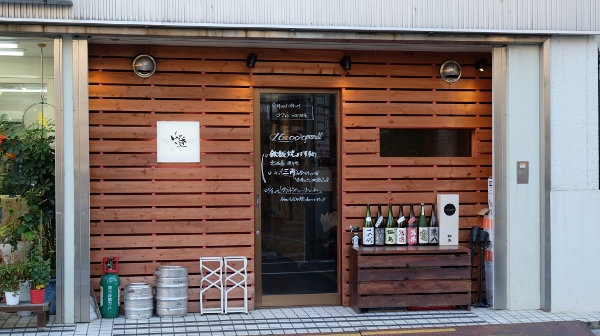 Monja Akari is one such monja restaurant, operating in Minamisuna, Koto City.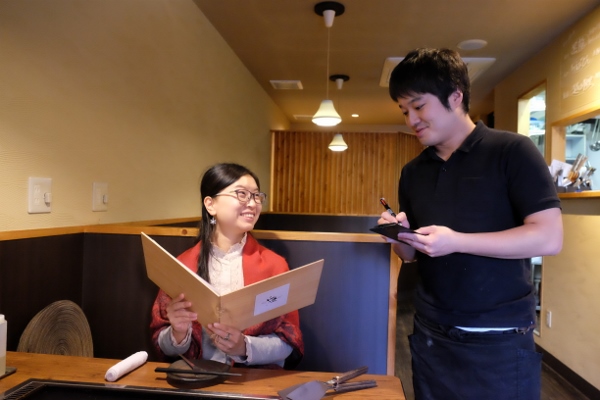 Its stylish wooden storefront looks like it could belong to a café, but push open the glass door and you'll realize a whole different category of culinary delights awaits.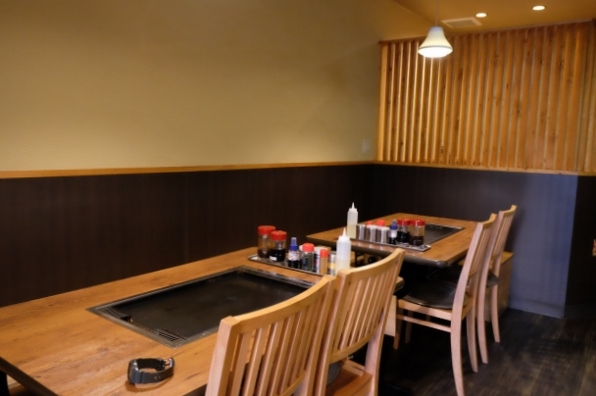 The inside is very clean and comfortable. The café-like atmosphere from the frontage continues, which helps explain the ease with which local ladies frequent the shop.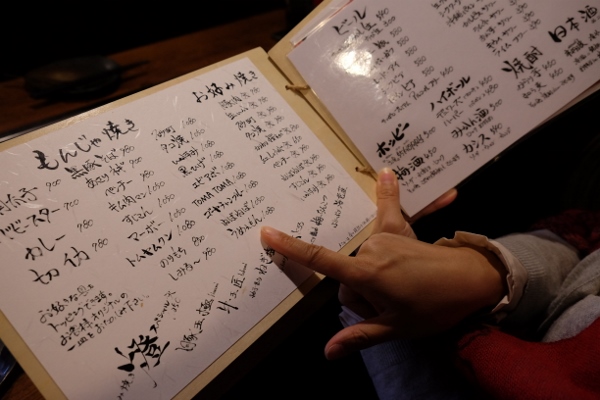 Furthermore, the menu is stylishly designed, and everything is handwritten in beautiful brush calligraphy!
Monjayaki is a flour-based food. Toppings and seasonings are cooked on a hotplate before a thin batter made from stock and flour is poured over them. Popular toppings include karashi-mentaiko (salty cod roe), sea food, cheese, and Baby Star instant noodles (a leftover homage to monja's humble beginnings, perhaps?), but Akari's menu also features interesting choices like Tom Yum soup, goya chanpuru (bittermelon stir-fry hailing from Okinawa), and one that simply read "Umee-mon" ("something delicious"). I had to laugh at that.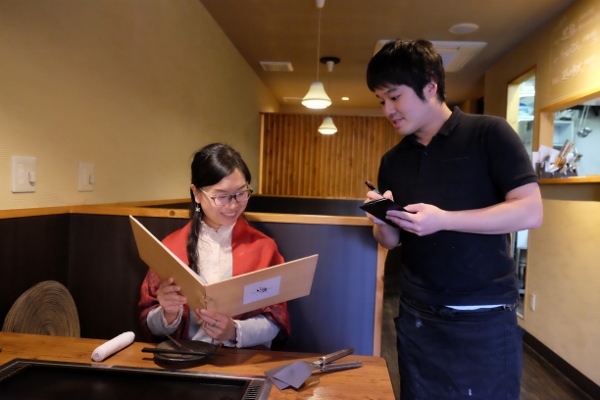 Since this was my first time trying monja, I decided to play it safe and asked Mr. Shota Miyauchi, one of four friends-turned-business-partners who started Monja Akari, for a suggestion.
"Aside from monjayaki, we also have okonomiyaki and teppanyaki," Mr. Miyauchi said helpfully. "But if you're in the mood for monja… How about the mentaiko and shiso (beefcake plant) mix?"
Sounds great!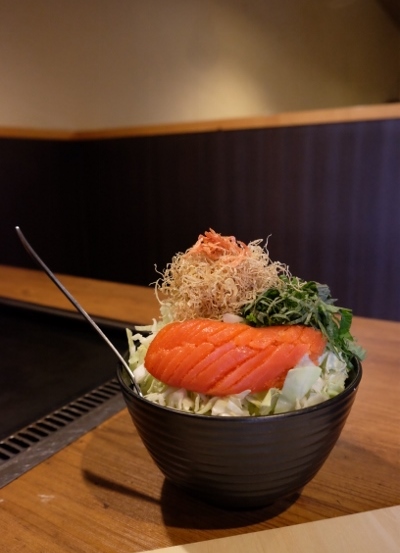 Cabbage is a staple for monjayaki and Akari does not skimp on the toppings. Aside from the generous slab of roe and freshly minced shiso, they also use dried squid and shrimps to add a rich layer of aroma.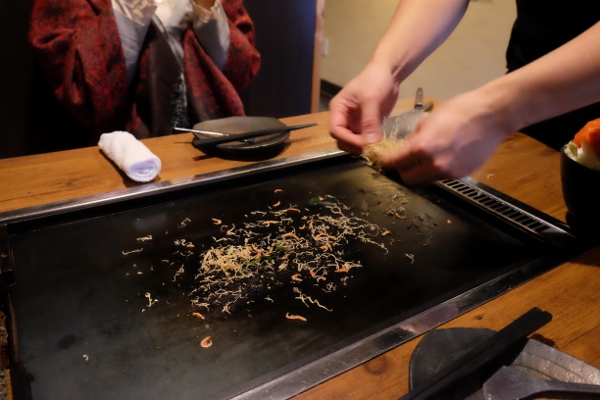 The dried seafood is cooked first to bring out their fragrance. At this point, the smell was already unbelievably good.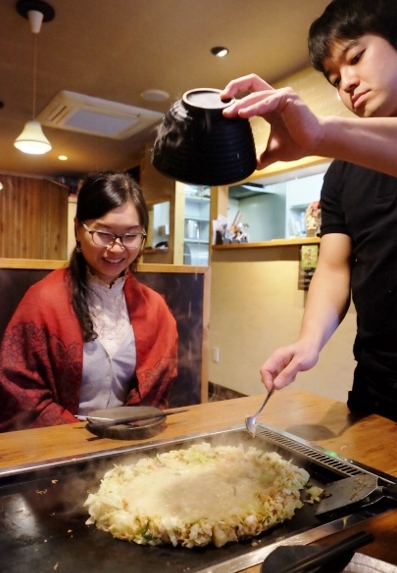 After adding the rest of the toppings and creating a ring with them, Mr. Miyauchi poured in the batter at the bottom of the bowl, and then mixed everything some more. His quick, sure movements were fascinating to watch.
"We always make sure there's someone available to cook the monja for our customers," Mr. Miyauchi assured me. While many restaurants leave the cooking to the customers, this extra layer of hospitality is Akari's way of making it easy for monja beginners to step foot into the store.
After a few minutes, the batter began to set, and the monja was ready for eating!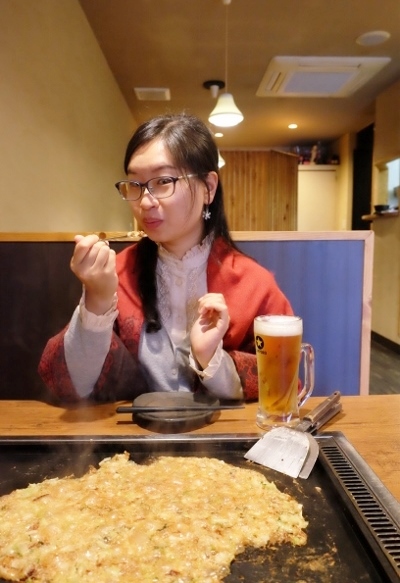 Using a tiny spatula, pieces of the monja are scooped up and consumed. This unique eating method means that monja is a great dish to share with friends and family; this no doubt contributes to its popularity and image as a heart-warming and social food.
The edges get cooked more quickly, turning slightly crunchy as the batter caramelizes. Savoury, hot, and bursting with aromas, the monja was a welcoming treat on a cold day! The consistency was a bit like melted cheese.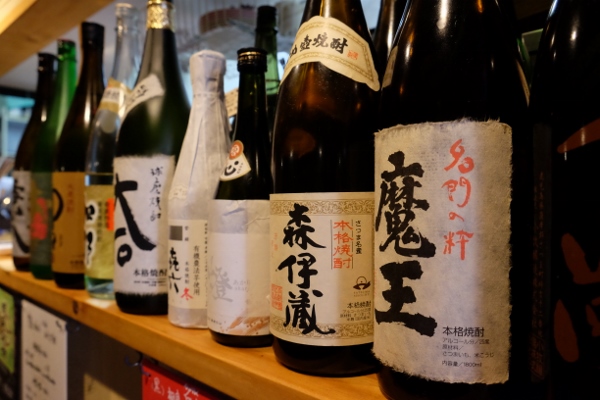 Monja—understandably—goes great with alcohol. A tall, cold glass of beer is the preferred choice for many, but Akari also stocks a great range of sake. Of course, non-alcoholic beverages are available for those who feel that an icy glass of soda pop is the way to go, instead.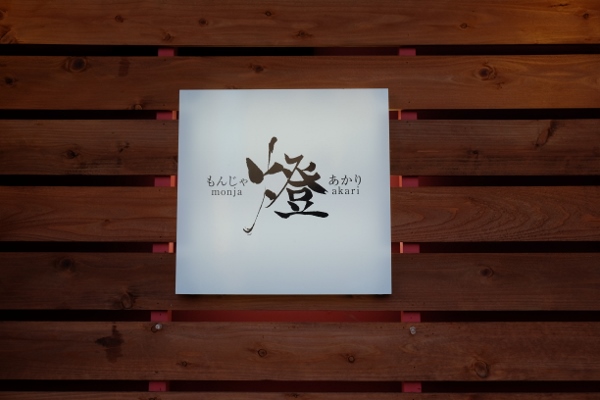 "We were four childhood friends who grew up together, and then decided we wanted to run a restaurant," Mr. Miyauchi says of Monja Akari's beginning. The four members work together jovially, and Akari is a beloved local restaurant to many in the area.
Although most of the tables at Akari seat four or more, Mr. Miyauchi reassured me that customers who wish to dine alone are also welcome.
"By yourself, or with a group—everyone is welcome!" he said to me with a smile. "I hope you'll come back for a taste of Tokyo's "soul food" again soon."
Story by Xianru Shen(Koto City Office Coordinator for International Relations)