Monja and Okonomiyaki in a Tropical Style
Published: December 9, 2020
Not many restaurant owners celebrate their 20th anniversary by completely reinventing their business, but then Mr. Masao Miyosawa is no ordinary owner. On a gloriously warm and sunny autumn afternoon, we dropped in to his establishment, Ishokuya Jiyujikan in Kameido, to discover what prompted these dramatic changes.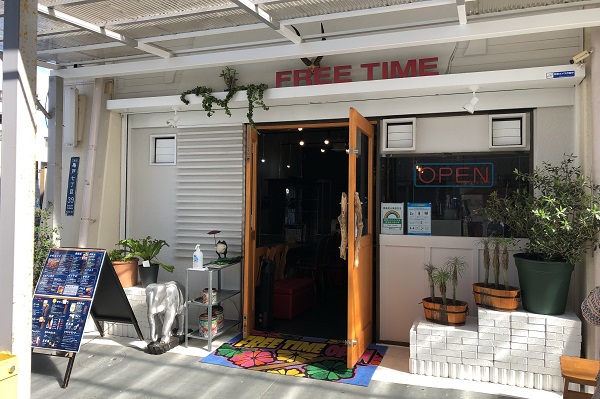 Located right on a corner of Keiyo Street, some ten minutes' walk from Kameido station, Jiyujikan (Free Time in English) would look equally at home in Hawaii with its white-washed walls, wooden furniture and greenery.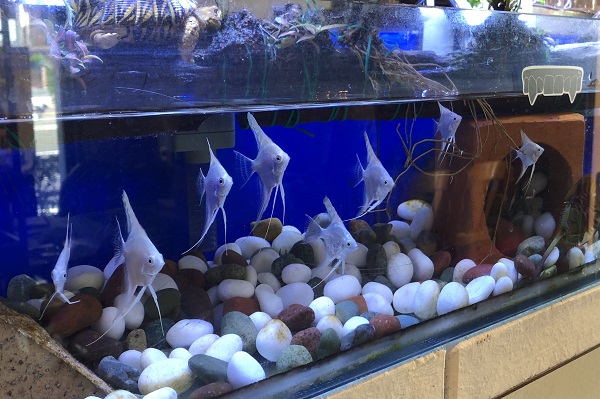 While the high-ceiling, bare concrete walls, surfboard propped against a wall, and large bar counter with tropical fish tank reveal its previous incarnation as a diner.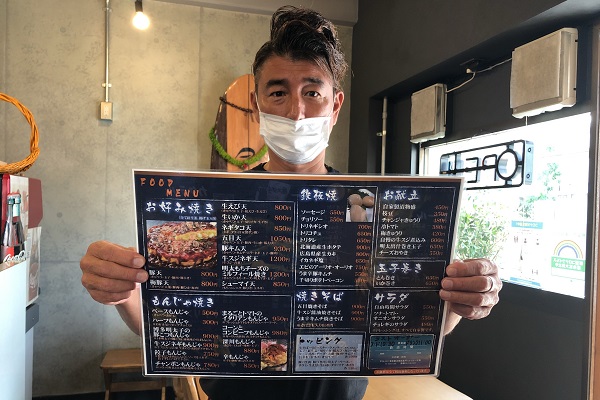 "I was born and grew up in Shin-Koiwa," explained the effervescent and enthusiastic Mr. Miyosawa, referring to the area two stops down the Sobu line from Kameido, "and often came to Kameido with my friends for nights out. I know the area well and realised that it was a great location for a restaurant. We opened 20 years ago, on July 20th 2000, as a diner. I deliberately chose a site a little far from the station, a decision that proved correct as we have become a part of the local community over the years in a way that places nearer the busy station area may not do."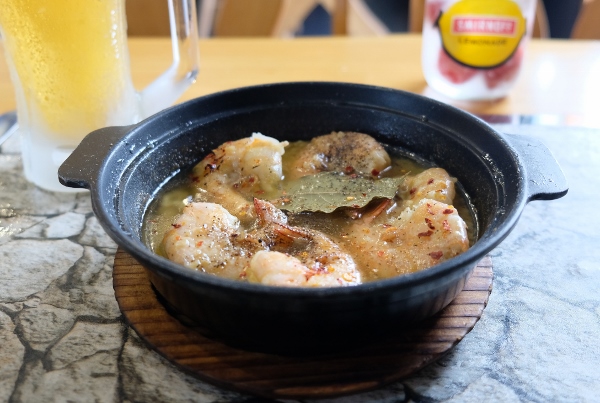 Several of the more popular dishes from the previous menu have remained in its new incarnation, including the most popular item, this shrimp with garlic and olive oil (ebi aglio olio). Big fat juicy shrimps awash in bubbling garlic-laced olive oil, a bargain at just 750 yen.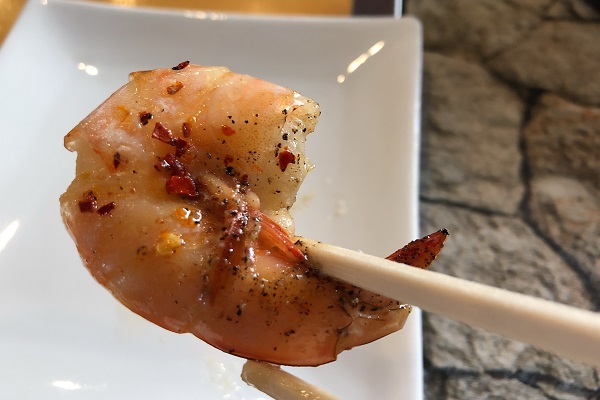 Flavoured with chili flakes and black pepper, the shrimp were extremely piquant. Highly recommended for weekend or holiday consumption as the garlic is strong!
Jiyujikan is officially a teppanyaki restaurant, where customers use iron griddles set into the table tops to cook popular dishes such as the Osaka-born okonomiyaki savory pancake and its Tokyo cousin, the runny monjayaki. Mr. Miyosawa's charming wife Naoko is in charge of food preparation, while her husband cooks occasionally. Monjayaki is a flour-based food with the essential ingredients varying little. Soft flour (hakurikiko in Japanese), low in protein and commonly used for cakes and biscuits, is mixed with a broth (dashi) to form a runny batter. Toppings are cooked on the hot plate before the batter is added and the whole thing is then cooked together.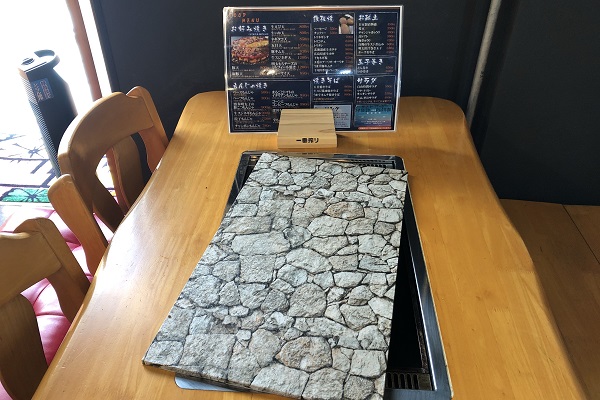 "The broth we use for the monjayaki is our own original recipe, which gives a unique flavour to the dish," she explained adding, "We also use less liquid in the sauce, which makes the mix thicker than the traditional style monjayaki." Monja is not only bursting with savoury umami flavours but it's hands-on fun to make. "Our weekday customers tend to be local residents and repeaters, while weekends bring a lot of sports clubs, families with kids, our friends and so on. There are many football clubs and baseball clubs around here, as well as many schools. The current building boom in Kameido should attract even more young families to the area," explained Mr. Miyosawa.
The most popular of the monja mixes are the Hakata mentaiko (pollock roe) with pork bone oil (900 yen), the beef tendon (gyu suji) also at 900 yen and the version with a whole camembert cheese. The monja menu features eight regular mixes plus two or three daily specials, based on seasonal seafood and vegetables. The hot and sour sanratan monja is a popular daily special.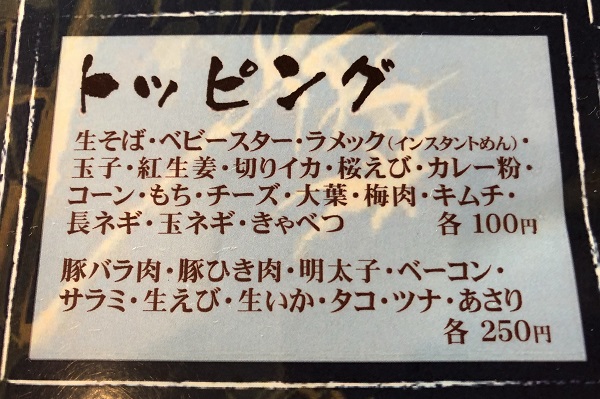 Ms. Miyosawa recommends ordering the base monja set (500 yen) and then adding your own favourites from the topping menu. For 100 yen apiece customers can select from: soba noodles, baby star noodle snacks, instant ramen, egg, pickled ginger, sliced squid, sakura shrimp, curry powder, corn, mochi rice cakes, cheese, green perilla (oba), pickled plums, kimchi, onions, negi onions, and cabbage. For 250 yen each you can add sliced pork, minced pork, pollock roe, bacon, salami, squid, shrimp, octopus, tuna, and clams. Phew!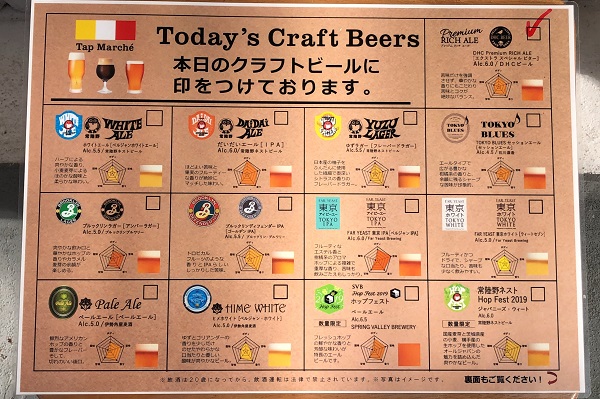 The drink menu at Jiyujikan is interesting too. For craft beer drinkers there is the Tap Marché system, whereby the bar features four craft beers from a selection of 26 every day. The featured beers are produced by such well-known breweries as the Far Yeast Brewing Company, Yona Yona, Spring Valley Brewery, Brooklyn Brewery, and Tokyo Blues. Kirin Ichiban Shibori is the principal draft beer and is served ice-cold, as I can attest. The frozen sours, featuring frozen fruit such as strawberries are also highly recommended.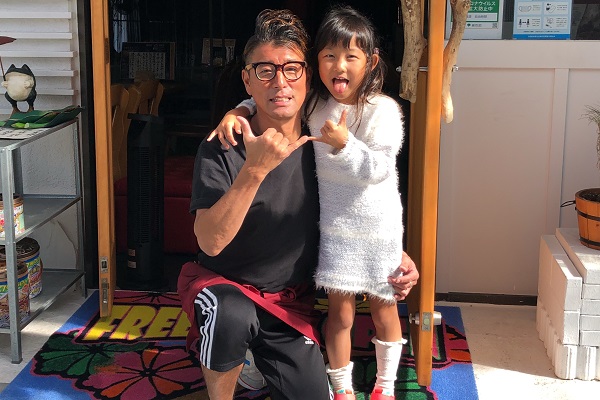 The walk from Kameido station is well worth making the effort. Mr. Miyosawa, a keen surfer, is a most amiable and welcoming host, with his personality reflected in the comfortable, laid back atmosphere of Jiyujikan. The food's great and the drinks are terrific. If you're in the Kameido area and in the mood for some mighty monja, okonomiyaki or other hot plate specials and some really nice beer and sours, then Jiyujikan is the place to go. It's a jolly way to spend your free time!
Story and photographs by Stephen Spencer