Monja, Okonomiyaki and Ajillo – Tasty Delights in Takabashi
Published: December 25, 2020
I normally associate monja with the Tsukishima area of Tokyo and ajillo with Spanish restaurants, but here at Daidai, you can have both. Located in Koto Ward's Takabashi area, on Kiyosumi-dori Avenue, between Kiyosumi-shirokawa and Morishita stations, this cozy little restaurant seating up to eighteen customers and serves not only monja and ajillo, but also okonomiyaki and teppanyaki. "What do they all have in common?", I asked the owner, Mr. Atsuki Takamura. "Lots of vegetables, and fresh seafood from Toyosu Fish Market", he replied.
Mr. Takamura cut his teeth making monja at a famous restaurant in Kachidoki, nearby the old Tsukiji Fish Market. When that closed, he went and set up Daidai, in March 2016. Sometimes referred to as "downtown soul food", monja is basically a mixture of komugiko (flour), dashi (stock, usually made to a "secret recipe"), and water poured onto an iron hot plate with other ingredients added to make a thin watery pancake-like dish. With the help of a spatula, the monja ingredients are cooked until crispy bits form and caramelize – and the result tastes really yummy.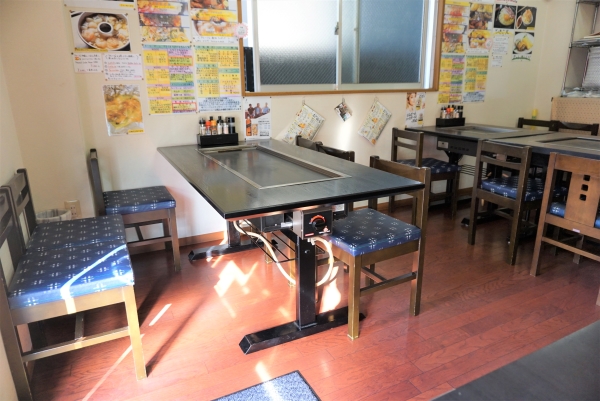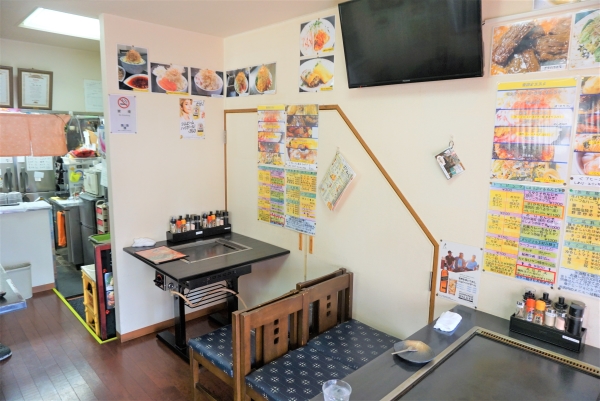 Whilst it is common for diners to cook their own monja, Mr. Takamura told my colleague and I that about 90 percent of his customers ask him to do the honours. Apart from weekends, when it also opens at lunchtime, Daidai is open from 16:30 until midnight, and these days caters mainly for young couples, office workers on their way home, and families. Mr. Takamura reckons that Daidai's most popular monja is the "mechimo" (1,400 yen excluding tax), a combination of mentaiko (cod roe), cheese and mochi (Japanese glutinous rice).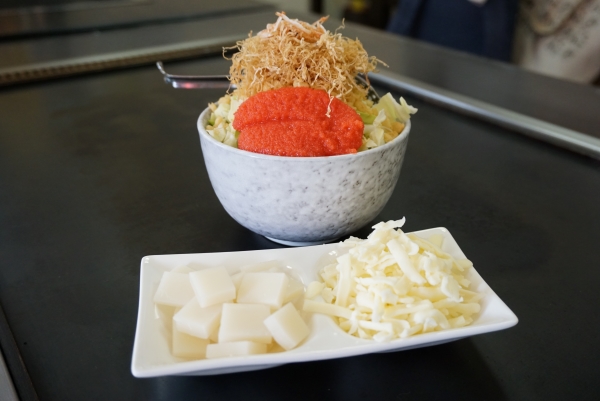 He proceeded to demonstrate how to prepare a mechimo monja. First, he brought out a bowl brimming with mentaiko, cabbage, corn, katsuobushi (shaved bonito), and dashi, along with a plate of cheese and mochi. Making sure that the hot plate was truly hot, he poured the flour, cabbage, corn, and katsuobushi onto it, making a circular trough into which the mentaiko and the watery remaining contents of the bowl were added.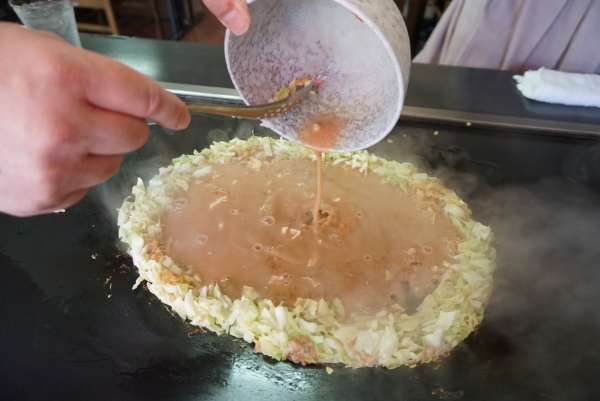 To this mixture he added the cheese and mochi, which disappeared in a cloud of steam.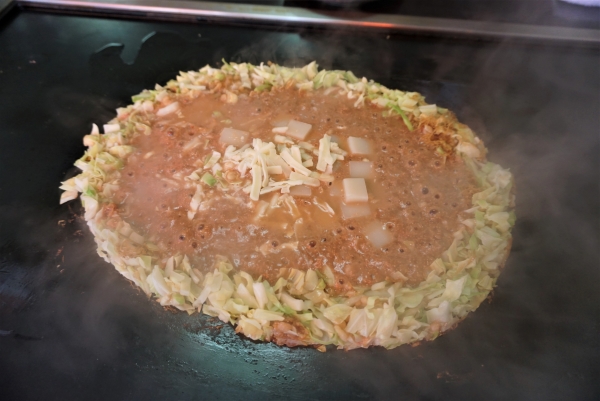 Whilst it bubbled away, Mr. Takamura mixed and shaped it, gradually producing the finished monja with crispy edges and bottom, which he cut in half and served to us.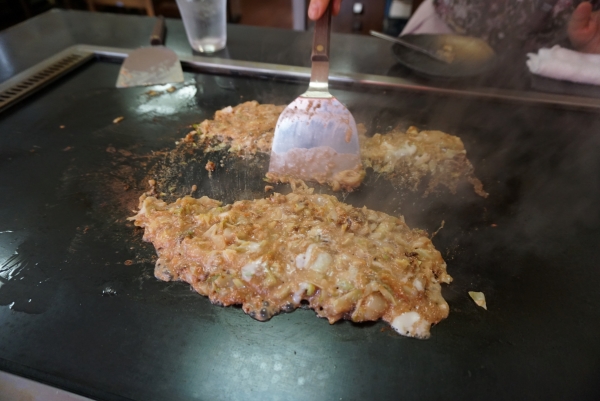 Now I understand that some people take the small metal spatula, which comes with each place setting, and eat direct from the hot plate. In these days of corona virus this may no longer be correct etiquette, and besides, you stand a strong chance of burning the inside of your mouth on the spatula. Heeding this warning, I transferred some of the monja to a small plate before tasting it. The mentaiko gave the dish a pleasantly salty and slightly bitter taste, and whilst monja may not be aesthetically appealing to the eye, it is certainly pleasing to the palate. Mechimo is definitely one monja dish to go for.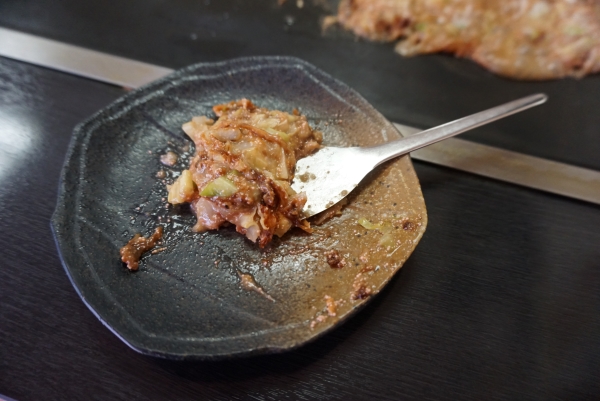 Next up was an Oedo-ten okonomiyaki (1,100 yen excluding tax). This is made from a larger quantity of flour than monja, but uses less cabbage, plus dashi, water, pork, nama ika (raw squid), sakura ebi (shrimp), beni shoga (red pickled ginger) and aonegi (green onion). After cleaning the hot plate with cooking oil, Mr. Takamura fried the pork, which he then added to the okonomiyaki mix, before pouring it all onto the hot plate, all the time turning and shaping it.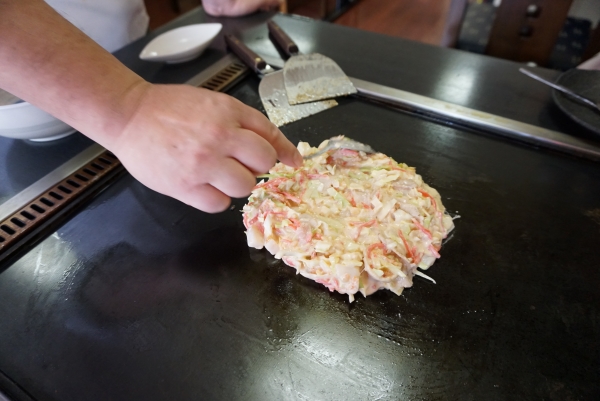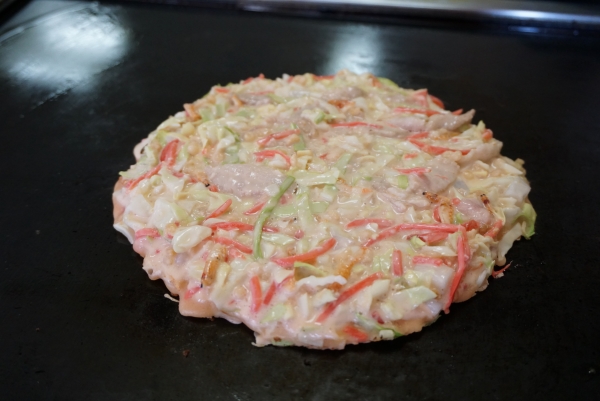 When the bottom was browned, he then turned the okonomiyaki over until the other side was done also.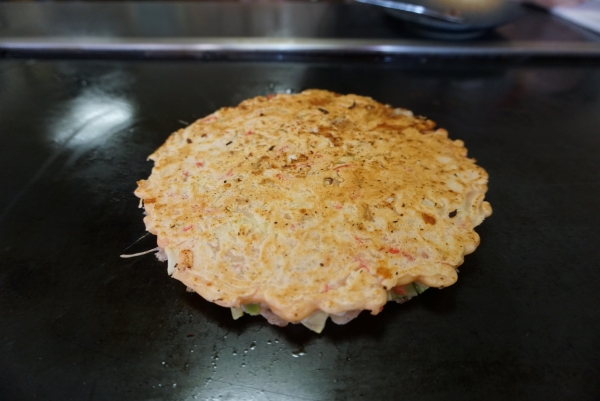 Once it was cooked, Mr. Takamura took two large spatula and cut the mixture into smaller pieces before adding generous helpings of a thick sweet brown okonomiyaki sauce, aonori (seaweed flakes), bonito flakes, beni shoga, and, to finish, lashings of mayonnaise criss-crossed over the top of the okonomiyaki.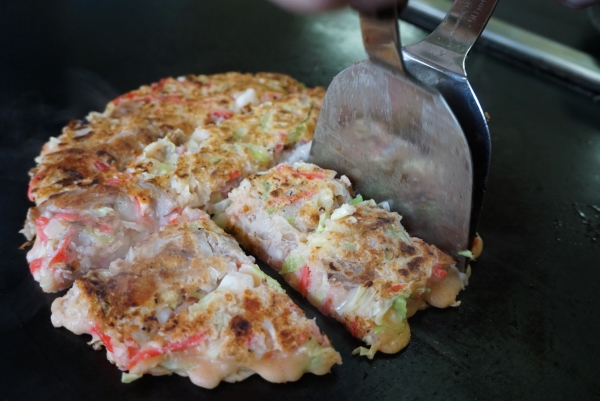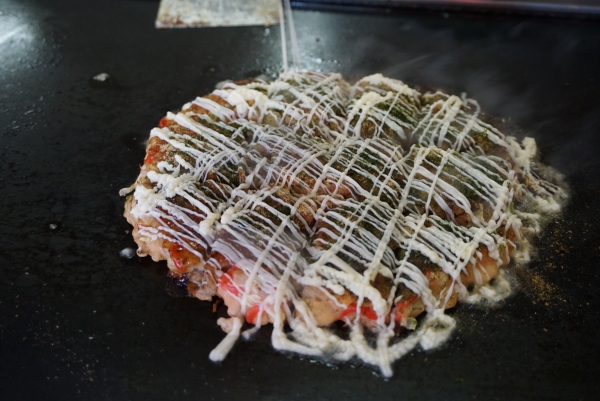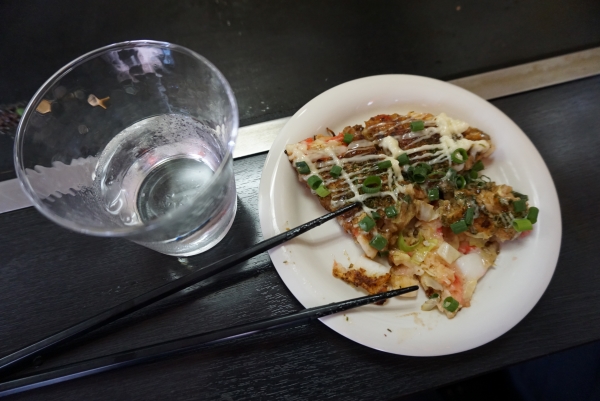 I asked Mr. Takamura why okonomiyaki was so popular. After pausing to think about it he replied, "It first came about in the post-war era, because it was filling and inexpensive, and just continued from there". And it has to be said that the Oedo-ten okonomiyaki is both filling and very tasty.
And what about the ajillo? This is apparently popular with young women diners, who are always more adventurous than men when it comes to food, and young couples. Prawns, and scallops are cooked in olive oil and garlic, and to add a bit more Spanish flavour to the meal, if you order the toku mori (extra-large) helping of ajillo (1,200 yen excluding tax), Mr. Takamura is currently offering a 500 yen discount off a bottle of Freixenet Cordon Negro Cava Spanish sparkling wine.
So, take your pick – Traditional Japanese or Spanish under one roof, or why not even go for both?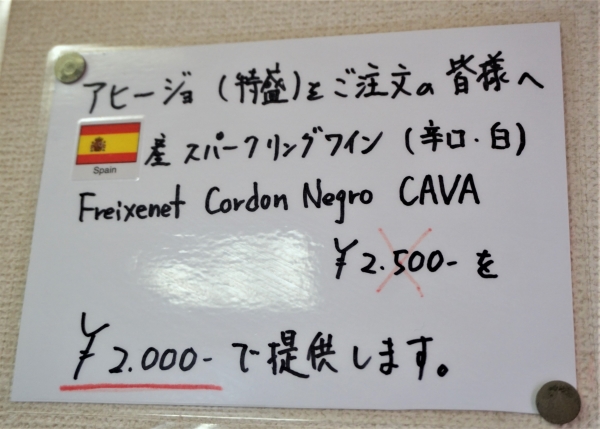 *Daidai provides a take-out service for okonomiyaki and yaki soba (fried noodles), but not monja or ajillo – too runny, I guess.
*Mr. Takamura has gone to the trouble of having a menu made, listing in English the ingredients of each dish – very useful.
Story and photographs by Jeremy Hutchinson