If you happen to be in the vicinity of Toyocho Metro station on a hot humid day, and are looking for something refreshing, but typically Japanese to eat, then look no further than the hiyashi ("chilled") soba (buckwheat noodles) and udon (noodles made from wheat flour) on offer at Narashino-an.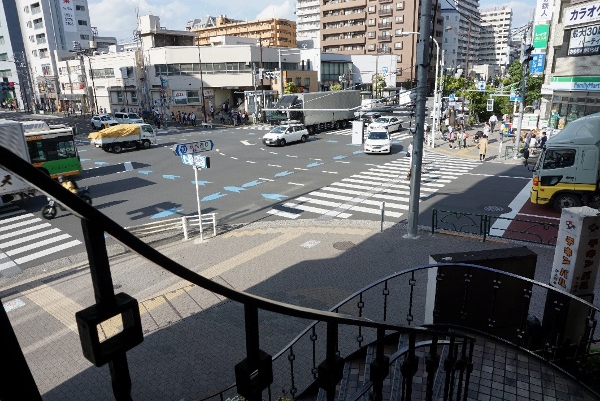 Narashino-an is located on the second floor of a building overlooking the busy Eitai-dori Avenue – Yotsume-dori Avenue crossing, but you can't miss the signs pointing the way to this old-style Japanese restaurant.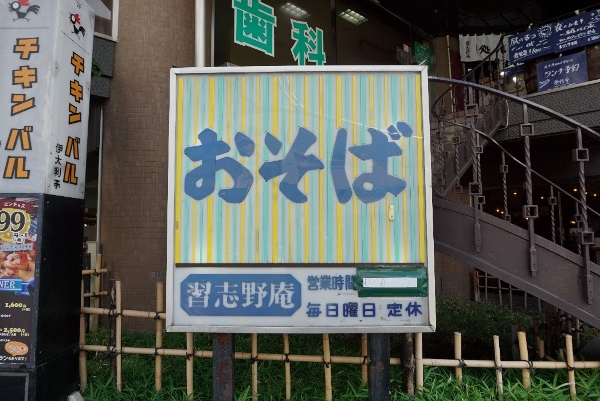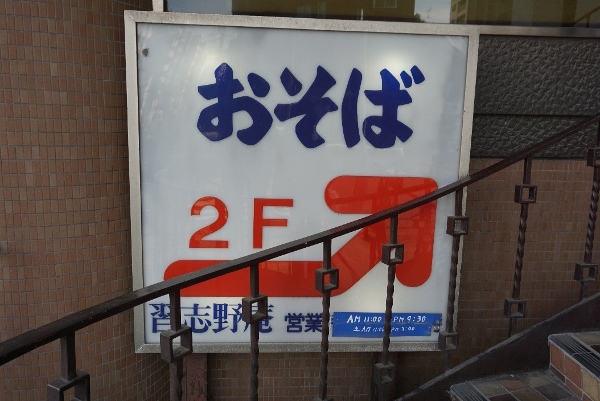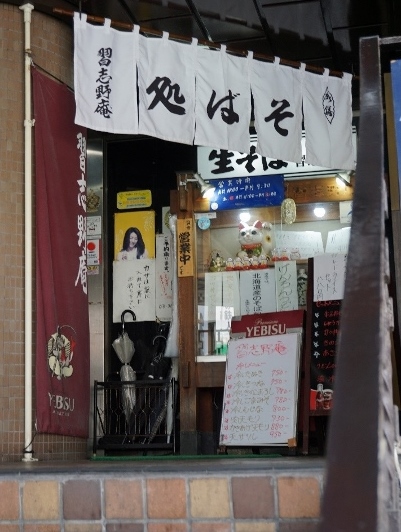 The restaurant's cool, dark, traditional interior offers a welcome escape from the summer heat and noise of Toyocho.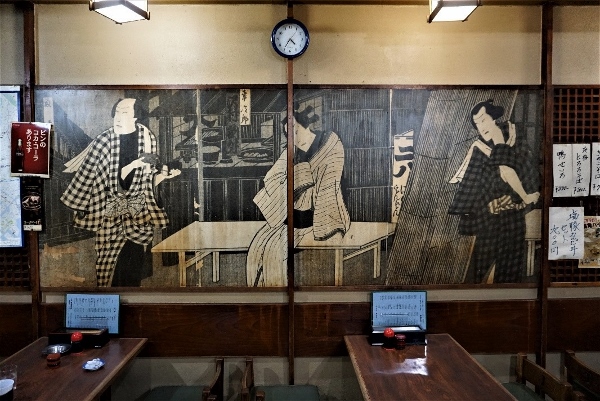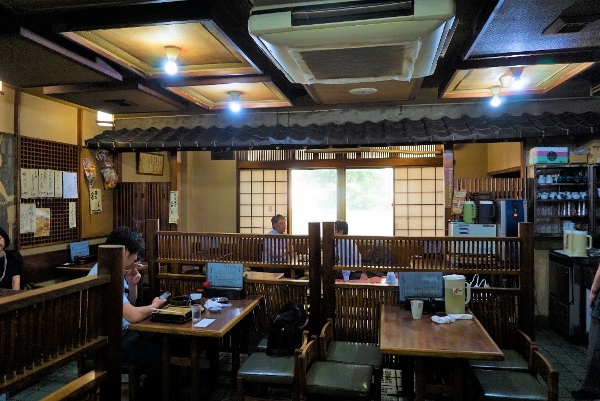 A huge wall covering running down one wall, based on an ukiyo-e (Japanese woodblock print) portraying an Edo-era (1603-1868) soba shop, catches your eye as you enter. Slatted wooden partitions separate the tables, and low-backed seats and cool-tiled flooring go to give the restaurant a traditional feel.
In a raised tatami area by the shoji-screened window you can also sit at a low table and relax with a bowl of hiyashi soba and a beer and let the world go by.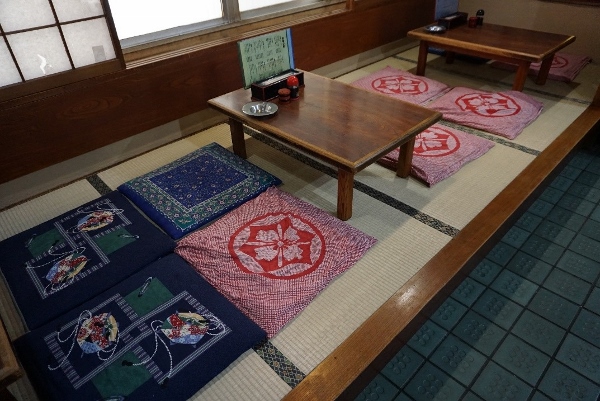 And with the yellow crates of beer and soft drinks stacked against one wall, and the television flickering away high in one corner, the whole place has a relaxed, un-rushed atmosphere; what is called "at home" in Japanese.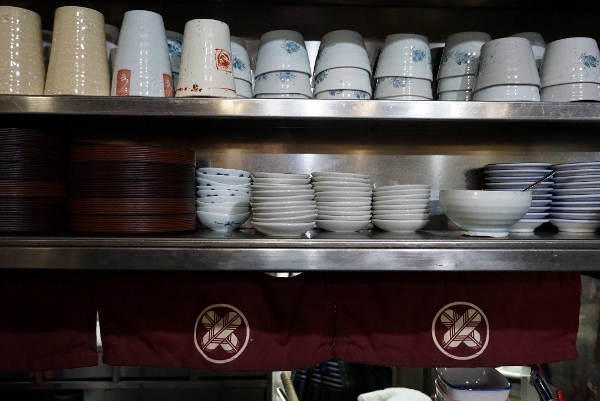 The owner, Mr. Juichi Fukino, and his uncle work in the kitchen, whilst his mother and aunt serve out front. This family-run restaurant has been operating on the same site for 40 years; before that it was located in Narashino, Chiba prefecture, from where the restaurant gets its name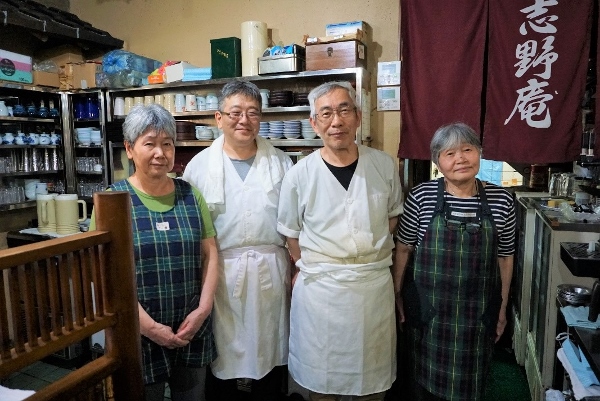 When I asked Mr. Fukino what he recommended for a hot summer's day, he suggested the house speciality, Hiyashi Mujina (badger) Soba. When I asked what this consisted of, he said, with a laugh, that it was a chilled soba dish combining Kitsune (fox) Soba and Tanuki (raccoon dog) Soba.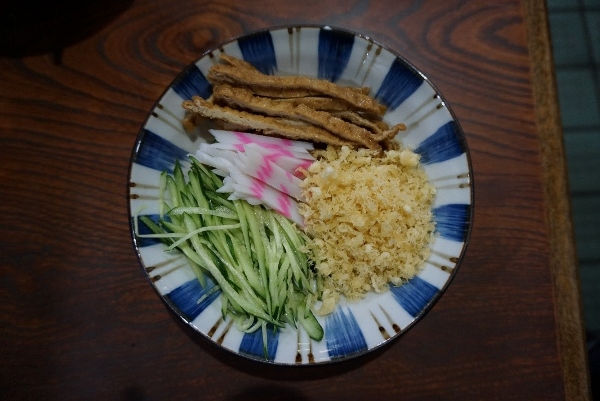 Kitsune Soba consists of soba, abura-age (deep-fried tofu), cucumber, pink and white naruto (boiled fish paste), nori (dried seaweed), and tsuyu (soup), whilst Tanuki Soba contains age-dama (pieces of fried tempura batter) instead of abura-age. All this is topped off with a generous dash of wasabi and is served in a cold bowl on a bed of chilled soba.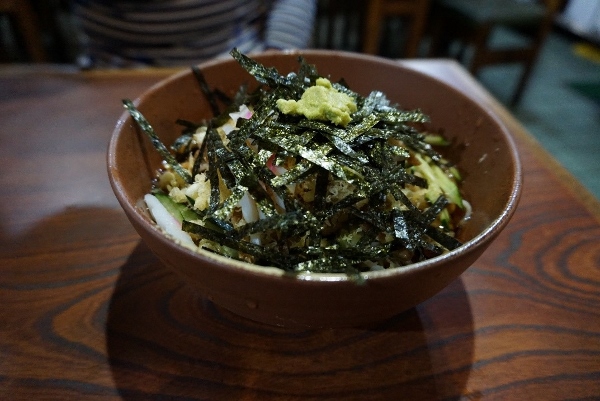 When the Hiyashi Mujina Soba came I was somewhat amazed at what Mr. Fukino placed in front of me. The sheer volume caught me off guard, but I valiantly set to work on this filling dish. I like soba and the combination of the "kitsune" and the "tanuki" sobas works well. Mixing up the contents of the bowl and then pulling up the strands of soba with my chopsticks and sucking them down with a slurp is one of the pleasures of Japanese eating. On a hot day, the cold tsuyu was very refreshing, especially when combined with the sweetness of the abura-age.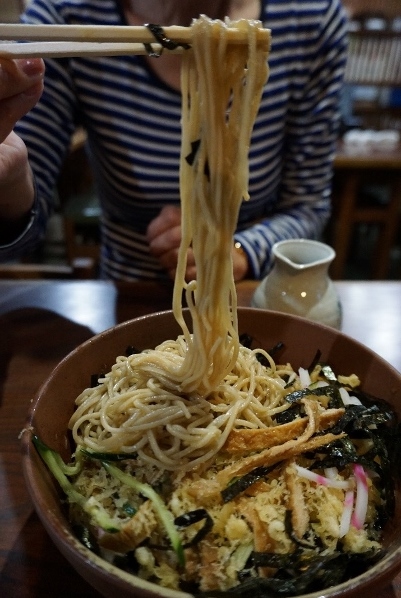 At 800 yen, this struck me as very good value for such a tasty and filling meal. And, if you drop in for lunch between 2:00p.m. and 5:00p.m. you will be offered a complimentary cup of iced coffee.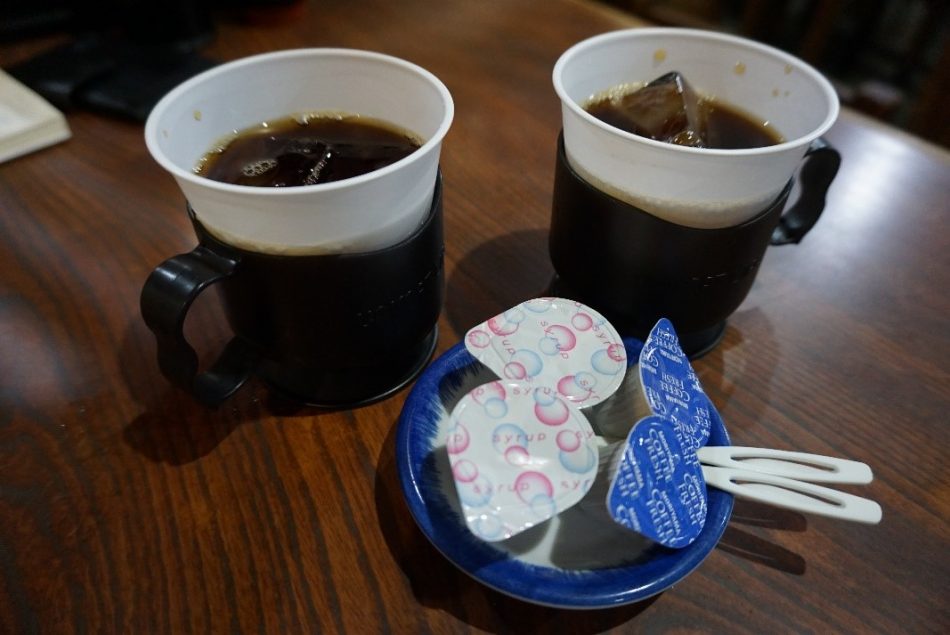 Reluctantly, with my stomach full of Hiyashi Mujina Soba, I left the cool and quiet hospitality of Narashino-an and the Fukinos and stepped back out into the glare of a hot Tokyo summer afternoon.
The Fukino family welcome foreign customers and make ready use of "Point-And-Show" laminated sheets prepared by the Tokyo Metropolitan Noodle Life and Hygiene Association. These provide useful translations in four languages of basic questions, as well as brief explanations of common hot and cold noodle dishes.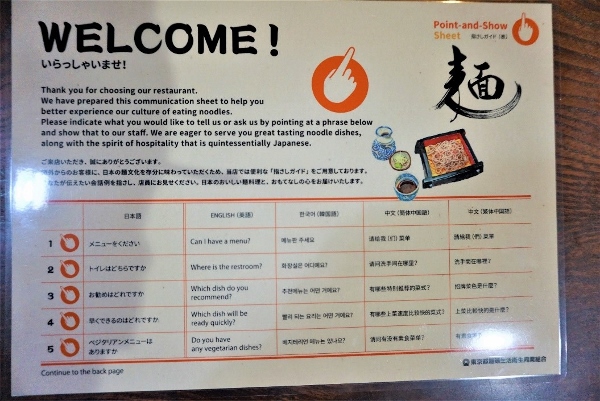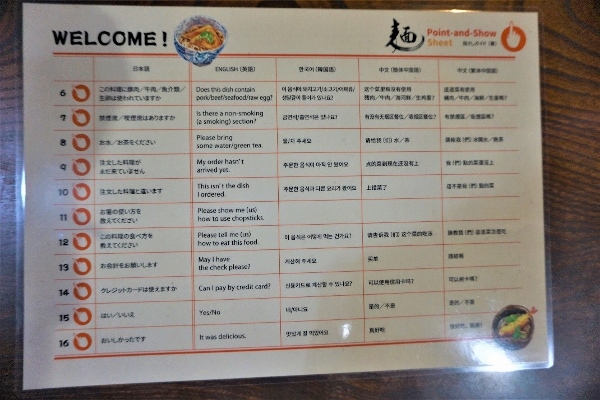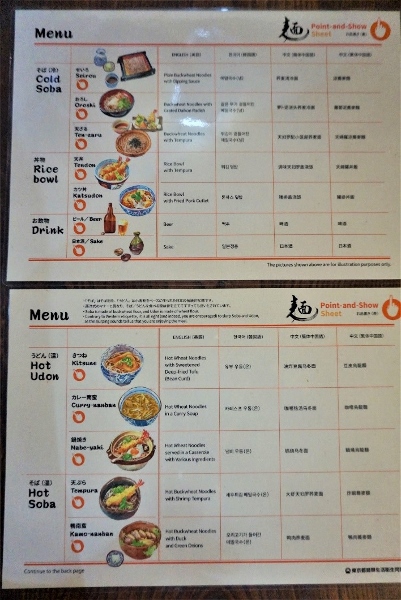 In addition to Mujina Soba, Narashino-an serves a selection of hot and cold soba and udon dishes, as well as a popular curry rice set; however, only 10 sets are made each day, so you may be disappointed to find they have all gone by the time you come to order.
Story and photographs by Jeremy Hutchinson