Nagai Yakiniku: Wagyu Lovers Assemble!
Published: September 28, 2022
Hungry? Fancy some exceedingly fresh Japanese Kuroge Wagyu beef straight from Mie Prefecture at reasonable prices? If you do, then we'd like to introduce Yakiniku Nagai near Monzennakacho station. On a recent afternoon, we dropped in to chew the beef with the eponymous Mr. Takuro Nagai.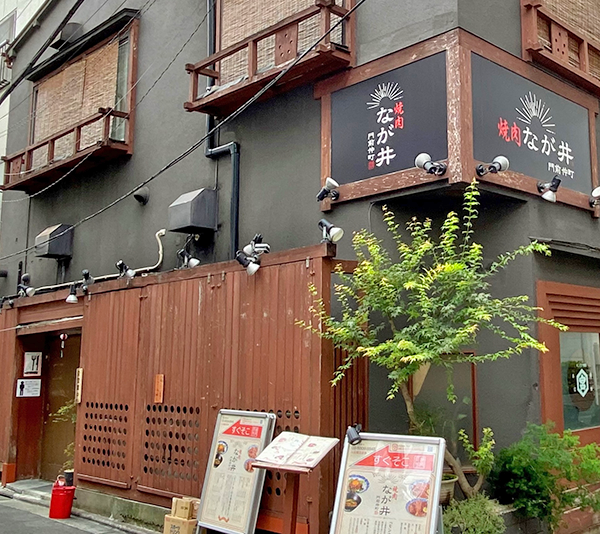 Yakiniku Nagai is located just one minute's walk from exit 4 of Monnaka station, in an area bursting with top quality places to eat. You can't miss it!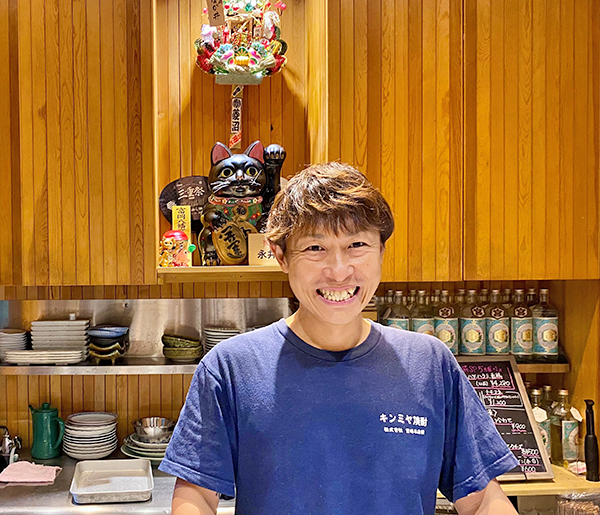 The ebullient Mr. Nagai learned the yakiniku business working in the Nishi Azabu branch of a restaurant based in Mie in western Japan. He inherited the wholesale route of the beef and the original taré sauce from his predecessor, then set about looking for a suitable location to open his own restaurant. A local resident, he managed to find a convenient place and Yakiniku Nagai was born in May 2021.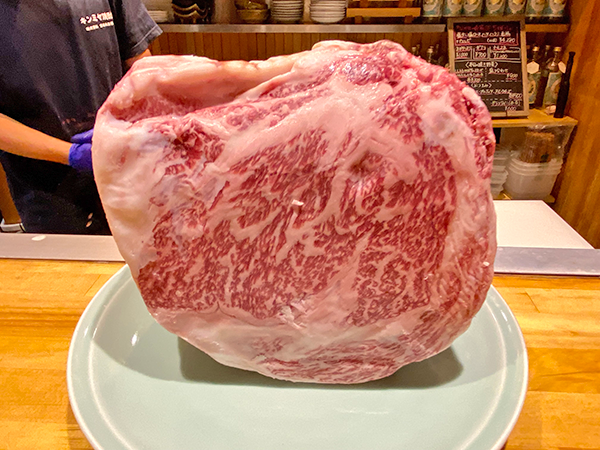 As you'd expect of a native of Matsusaka, home of one of Japan's most celebrated beef brands, Mr. Nagai knows his meat. "I want our customers to be able to enjoy fine quality meat at the peak of freshness," he said, and plonked an enormous block of Kuroge beef on the counter. The meat, which had come direct from the wholesaler in Yokkaichi, Mie Prefecture, is cut when ordered by customers to maintain the flavour.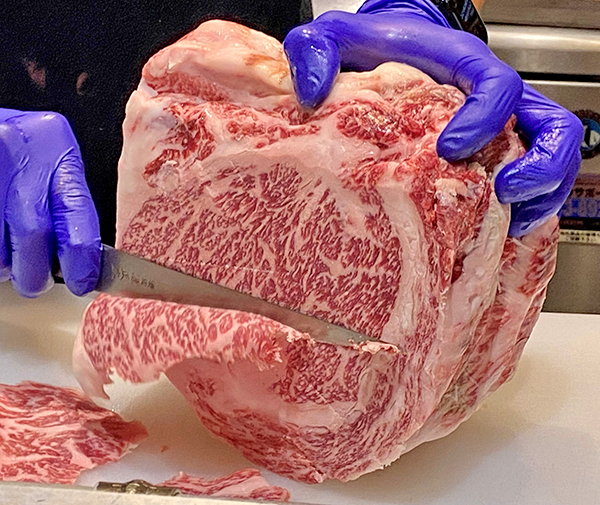 Mr. Nagai took his very sharp knife and with a few delicate strokes cut the meat into slivers, rather than slices. "The fatty part is sweet, while the red meat has a rich, savoury flavour," he explained, indicating how different parts of the animal are cut in different ways to maximise the flavour when grilled. The meat is cut diagonally, the key to enhancing the flavour to the maximum.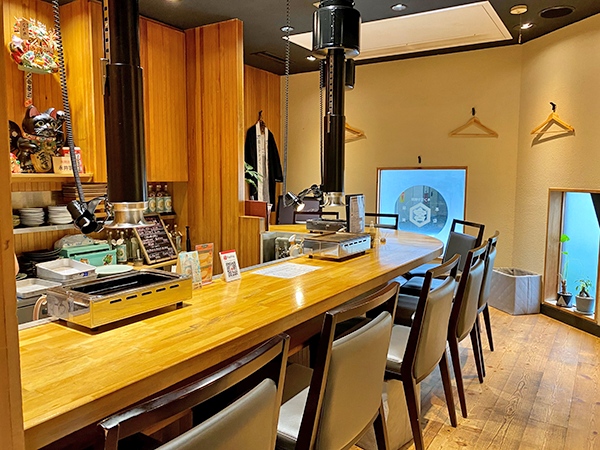 The first floor has a stylish counter area, behind which Mr. Nagai works his magic in close proximity to the customers. It's a comfortable, relaxing interior with three grills and half a dozen seats that create an intimate atmosphere.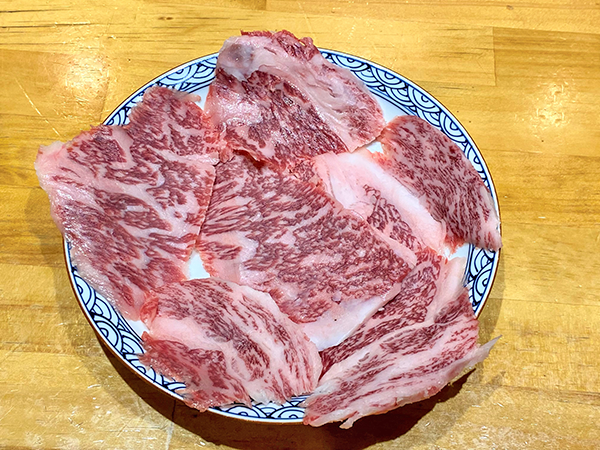 The most popular plate at Nagai is the salt chuck (shio rosu) at 1,480 yen The meat is of such good quality that no sauce is needed, but Mr. Nagai serves his own original soy-based taré sauce which has a hint of yuzu, the tart citrus fruit that features strongly in Japanese cuisine.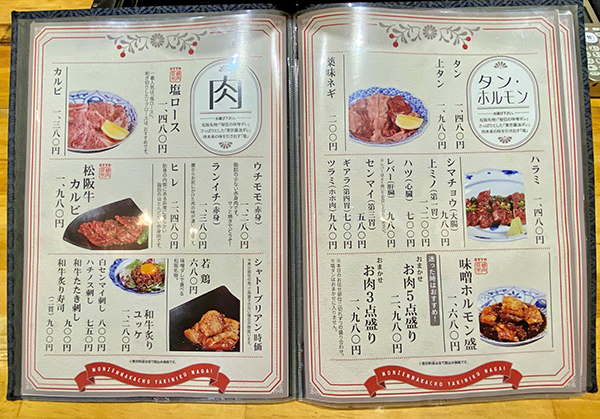 The menu at Nagai is extensive, featuring several cuts of Matsusaka beef such as short ribs (kalbi) and even chateaubriand, if it's a special event. Offal (horumon in Japanese), long popular in western Japan, has made inroads in the east in recent years and also features heavily on the menu. As Mr. Nagai explained, "Horumon is the local soul food in Matsusaka, where we eat it with a taré sauce mixed with fermented bean paste (miso). Chicken is also very popular too." The miso sauce horumon (1,680 yen) uses the dark red, strongly flavoured hatcho miso from Aichi Prefecture and tamari soy sauce from the Tokai area, of which Mie Prefecture is a part. The chicken is reasonably priced at 680 yen per plate.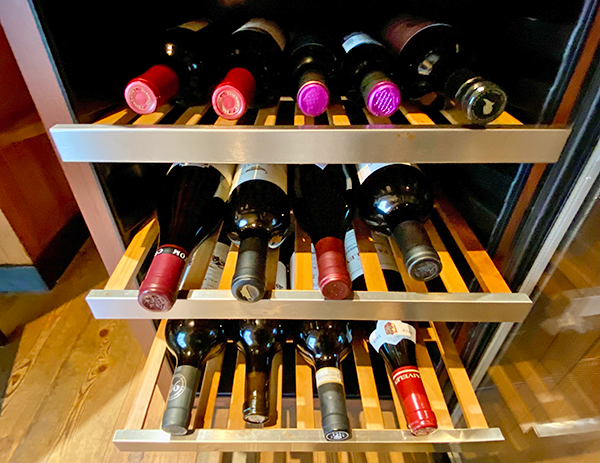 The drinks menu at Nagai features another Mie Prefecture classic: Kinmiya shochu. Distilled in Yokkaichi from sugar cane, Kinmiya shochu owes its great success to the soft water of the Suzuka River, from which it's made. Aside from beer, shochu, and highballs, there's also a selection of wine to pair with the grilled meat. "I personally like the Rindo wine from Kenzo Estate in Napa Valley, so I've tried to find similar tasting wines at more reasonable prices," explained Mr. Nagai. California wine begins at 2,980 yen a bottle. Barolo, Taittinger champagne and Gevrey-Chambertin are also available!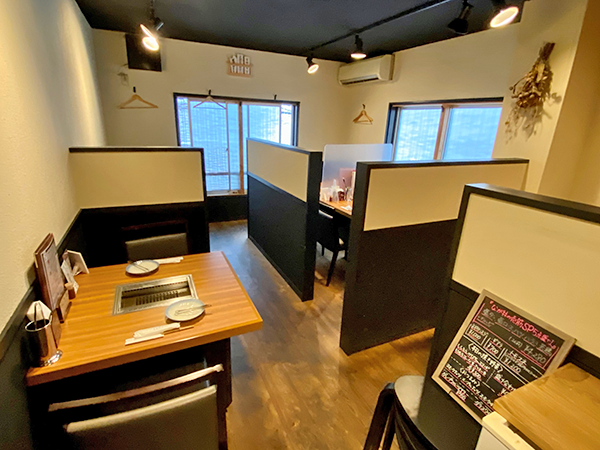 The second floor features tables for larger groups.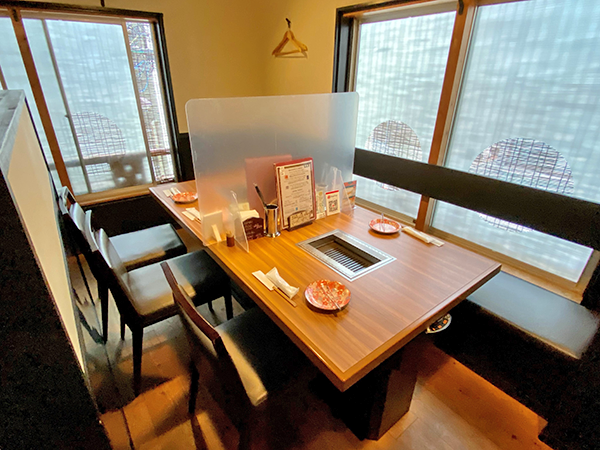 All tables feature top-of-the-range smokeless grills connected to a system of underfloor piping that whisk away every last remnant of smoke.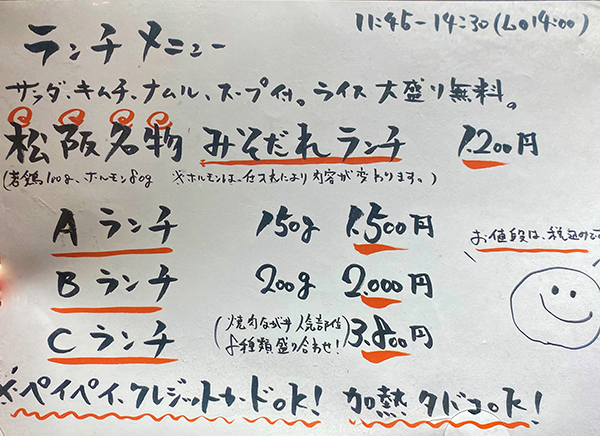 Nagai is a great location for meat lovers, a date, a party with friends and family or just a quick bite after work. "Many of our customers are Mie people living or working in Tokyo," said Mr. Nagai. There's an excellent value lunch service too, available on Wednesdays and Thursdays only:
Matsusaka Meibutsu miso taré set (1,200 yen) features 100g of chicken and 80g of horumon plus kimchi, salad, namul, soup and rice.
A Lunch (1,500 yen) features 150g of Wagyu beef plus all the side dishes
B Lunch (2,000 yen) features 200g of Wagyu beef plus all the side dishes
C Lunch (3,800 yen) features an enormous quantity of dishes!
Story and photos by Stephen Spencer