In Ogibashi 1-chome, close by Ogibashi bridge, sits a building occupied by the family-owned Tajima Shoten group. It is easy to spot, with its large red signboard and red and white striped canopy. The third floor of the building is occupied by Tajima's sukiyaki, shabu-shabu and steak restaurant, while on the second floor sits the group's yakiniku restaurant. The meat for these two restaurants is supplied by the butcher I had come to visit on the first floor, Niku no Tajima.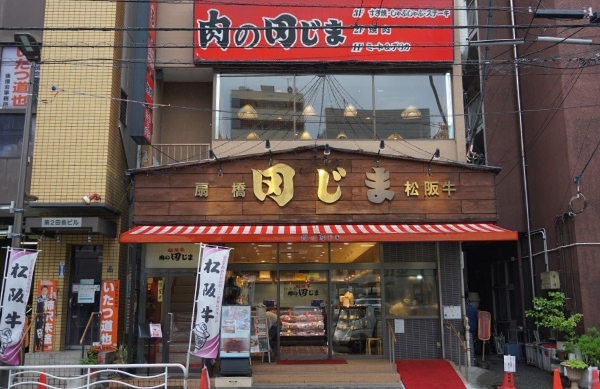 Established roughly 50 years ago, Niku no Tajima offers a wide range of meats and "horumon" (offal), used in yakiniku, also known as Korean barbeque. The shop manager, Mr. Futoshi Shoji, showed me around and explained the types of meat Niku no Tajima has to offer.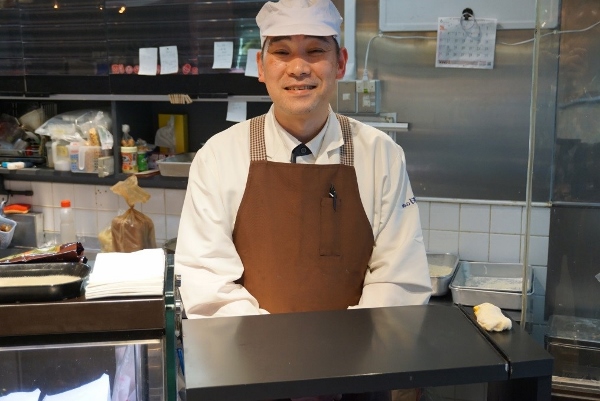 The shop prides itself in primarily selling top class A4 and A5 graded "wagyu" (Japanese beef), famed for its taste and tenderness and the marble pattern created by the fat running through it.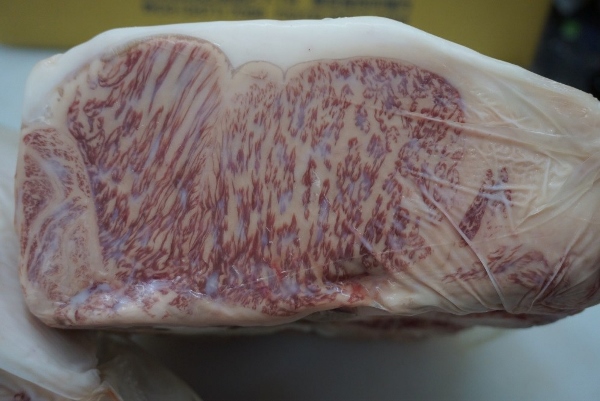 As well as wagyu beef, the shop's range of meats includes poultry and pork, and the display counter contains contrasting reds and pinks of the different meats and cuts on sale.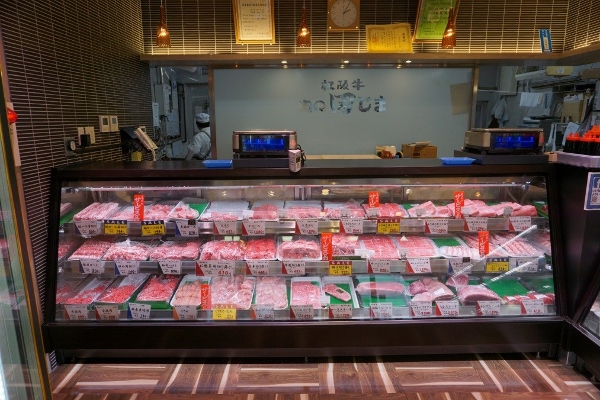 And there is something to suit everyone's price range: Niku no Tajima has lots of pork cuts at very reasonable prices.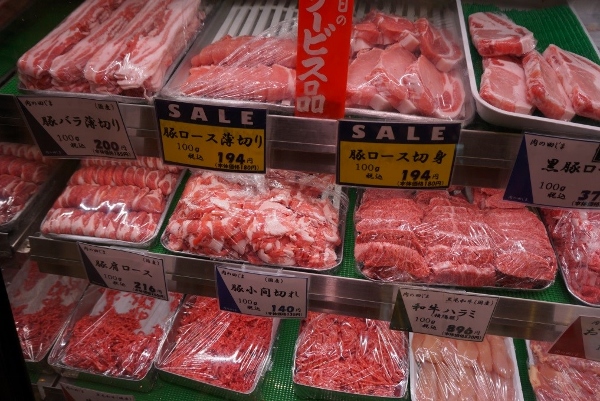 Or you can decide to splash out: 100 grams of quality Matsusaka sirloin steak or Chateaubriand will cost 3,240 yen.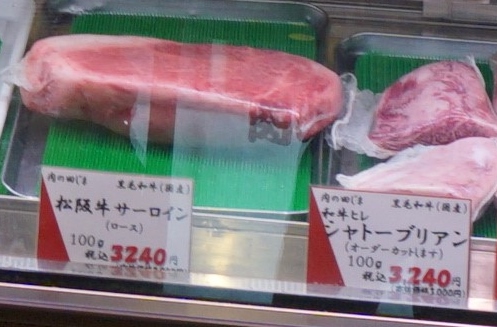 Separate from the meat counter, Niku no Tajima's horumon display counter sports a surprisingly broad selection of innards and other parts for use in yakiniku cooking.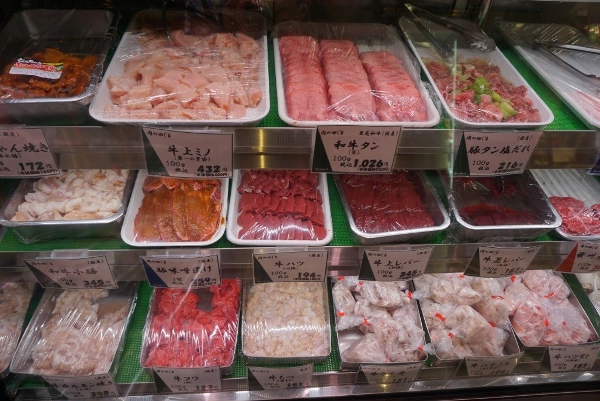 Anyone for pig's trotters?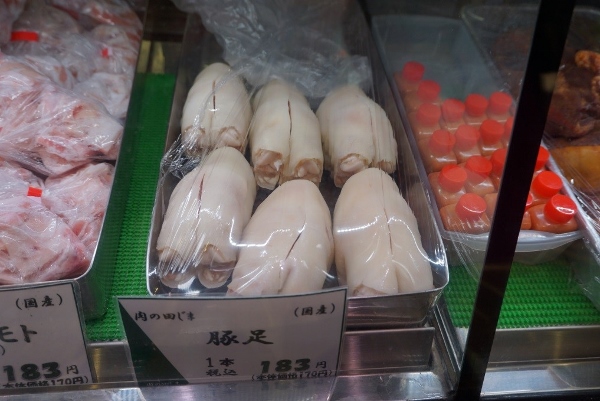 And then there are the croquettes. Niku no Tajima makes and sells delicious croquettes; I tried the potato croquette (110 yen) and the menchi (minced meat) croquette (130 yen). Fried in pure lard, rather than vegetable oil, the potato croquette's outside was crisp and non-oily, and biting into the sweet inside of mashed potato, minced beef, onions and seasoning I could understand why this was the shop's most popular item. This was followed by the menchi croquette with its crispy outside and inside containing a tasty mixture of 80% beef and 20% pork. Both croquettes were delicious.
As one of Mr. Shoji's assistants explained to me, you have to wait until the croquette floats to the surface of the boiling oil before it is ready.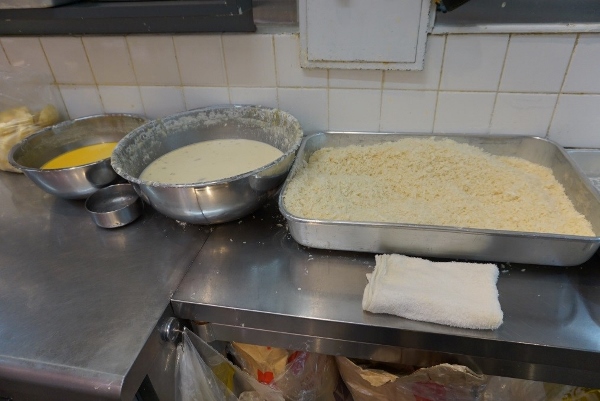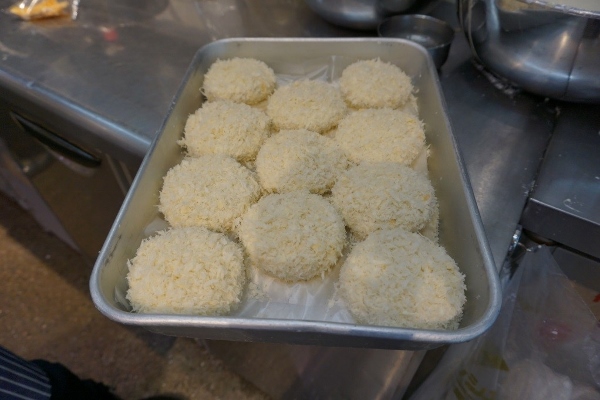 200-300 potato croquettes are made every day between 10:30 and 14:00 and again from 16:00 to 19:00. Apart from the lunchtime rush they are fried to order, which means that you may have to queue a few minutes whilst they are being fried, but it is well-worth the wait.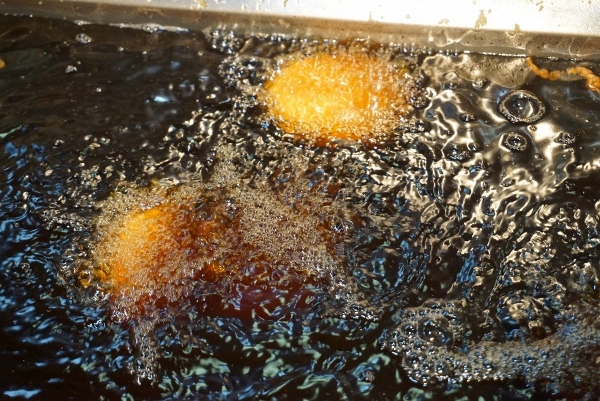 Whilst savouring the croquettes, I noticed lined up near the window packs of curry bearing the Niku no Tajima name. Mr. Shoji explained to me that this was the shop's own brand of curry, which comes in three grades of spiciness: mild, medium and hot. They can be boiled in 7 minutes in the plastic bag in which they come and the brand is extremely popular, with some customers being known to buy their curry by the box load. It just goes to show that you cannot have too much of a good thing.
And on that recommendation, I went and bought myself a pack of the hot curry, and am eagerly looking forward to trying it.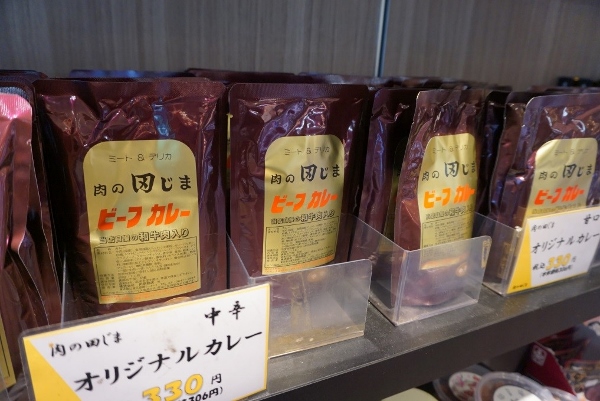 Story and Photos by Jeremy Hutchinson