Obihiro Pork Paradise at Tonton
Published: June 6, 2022
Good news for hungry residents of Ogibashi: the grilled pork belly on rice chain Ganso Butadon-ya Tonton has opened a brand new shop in the area. Never having sampled the Hokkaido favourite before, we were licking our lips at the prospect as we trotted down Yotsume street on a warm and sunny afternoon to meet manager Mr. Yamauchi.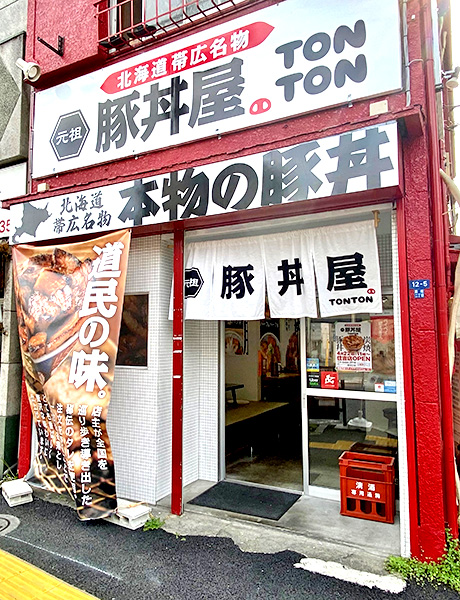 Tonton is located about a five minute walk south of Sumiyoshi station exit B1, just over the Onagi River bridge on the right. You can't miss the bright red exterior! Although the fashionable cafe land of Kiyosumi-shirakawa with its parks, gardens and museums lies to the west, and the civic/business area of Toyocho to the south, Ogibashi and its environs retain a strong flavour of old town Koto-ku.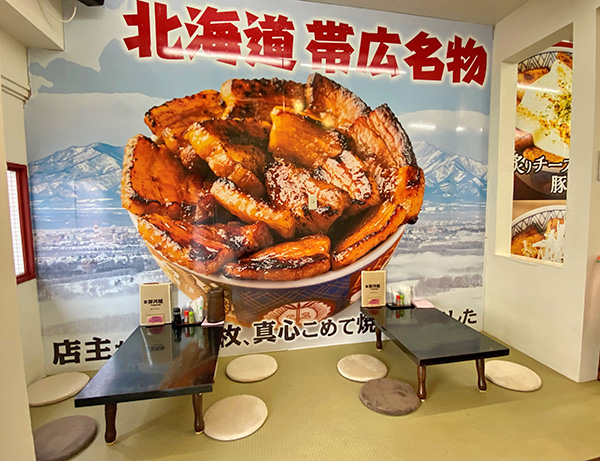 Stepping through the door one comes face to face with a massive bowl of grilled pork set against the wintry mountain scenery of central Hokkaido. My saliva glands began to work just looking at this giant image.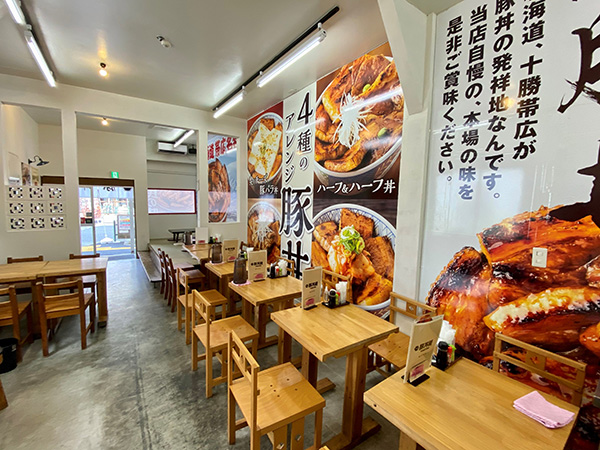 Inside, the high white walls, concrete floor and solid blonde wood furniture create an airy and comfortable atmosphere. One customer was unhurriedly reading a book after finishing a late lunch, while others dropped in to pick up takeaway orders. Music burbled from the speakers.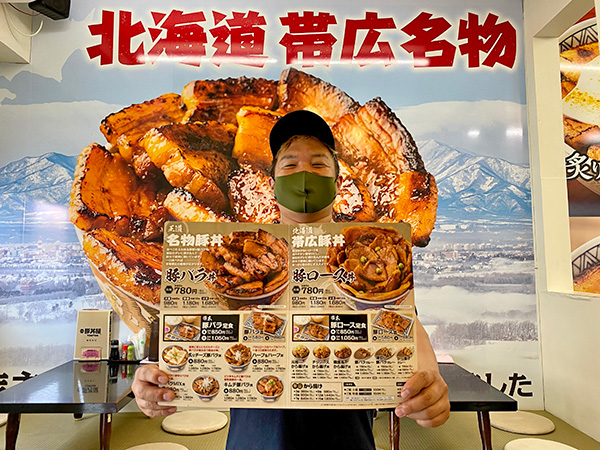 Hokkaido-born owner and manager Mr. Yamauchi is a hearty character with a smile as broad as his homeland and a great love of his own food. "I learned the business running a cafe as an employee, but really always wanted to be my own boss and have my own place. Promoting my home area is also something I aspired to, and while Obihiro grilled pork belly on rice is very popular with locals and visitors to the town, it's little known outside Hokkaido. I wanted to change that."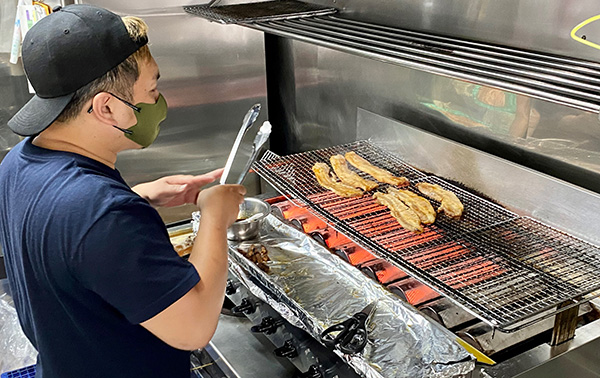 "Obihiro pork on rice hails from a small restaurant named Pancho, near the station," explained Mr. Yamauchi. "The thick cut slices are marinated in a special secret sauce (taré) created exclusively for Tonton by a major sauce manufacturer. Our pork belly slices are always 12mm thick, much thicker than many other places. After lengthy marinating, the pork is cooked once for around 15 minutes and then again for five minutes when we receive an order."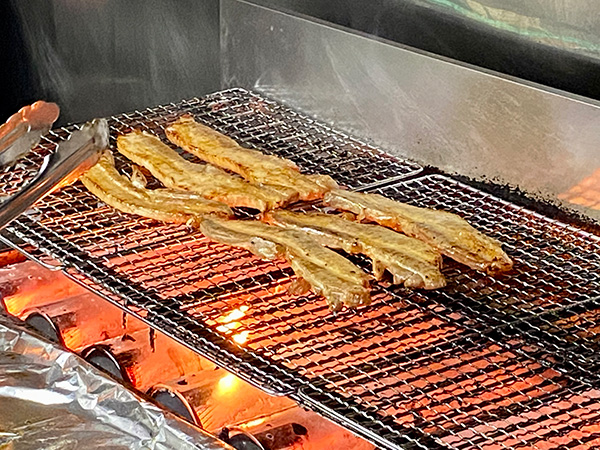 The pork is cooked over charcoal, with the excess fat dropping down into the grill below. Mr. Yamauchi bastes the slices with extra sauce and cooks them until they are well-browned, the sine qua non of Obihiro grilled pork belly. The smell of the grilling pork was astonishingly good.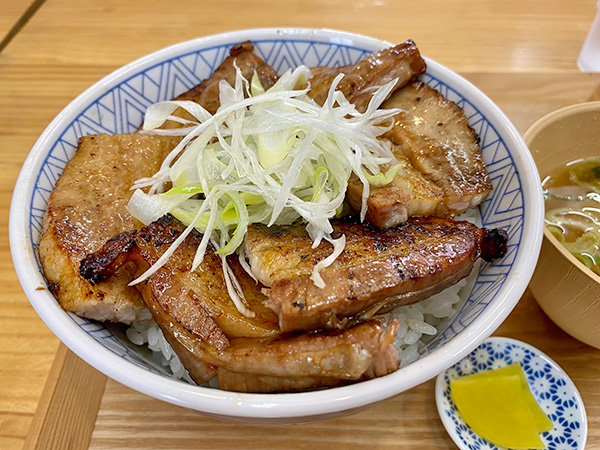 The cost of the butadon depends on the number of pork slices. The regular (nami) size pictured here features six slices atop 300g of rice for 858 yen including tax. The pork bowl comes with some pickled daikon radish (takuan), plus a bowl of seaweed and fried tofu skin miso soup. Toppings such as the white negi onion shown here, onsen egg or kimchi are available for 150 yen each.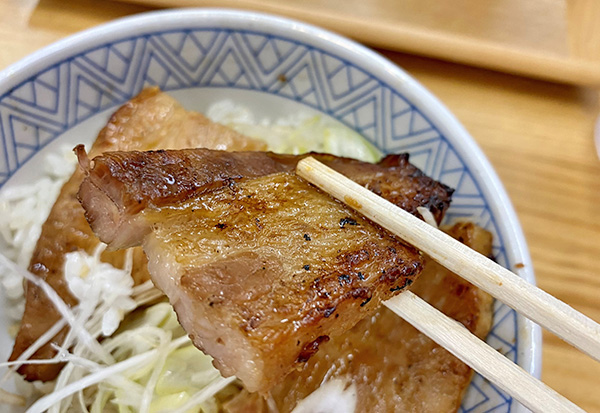 The pork was soft and juicy, with a surprisingly light flavour at odds with the slightly charred appearance. There's a mild sweetness too, but that's subtle enough not to distract from the meaty goodness of the pork. The taré sauce mingles with the meat juices and is absorbed by the rice, turning the bowl into a savoury delight to the last mouthful. "It goes really well with beer," as Mr. Yamauchi explained, "so some customers just order grilled pork to eat at home."
The grilled pork belly bowl (buta bara don) comes in four sizes: after the regular size comes the large (omori, 8 pieces for 1,078 yen), extra large (10 pieces for 1,298 yen) and the mega (14 pieces for 1,848 yen). The other menu mainstay is pork loin (rosu), which is cut into 3mm thick slices and priced exactly the same as the pork belly. Japanese style deep-fried karaage chicken is also available on rice at 748 yen for a regular bowl, as is Korean-style chicken for 848 yen. Customers can order various mix and match bowls and pork curry with rice too. Everything on the menu is available for take out, except the miso soup.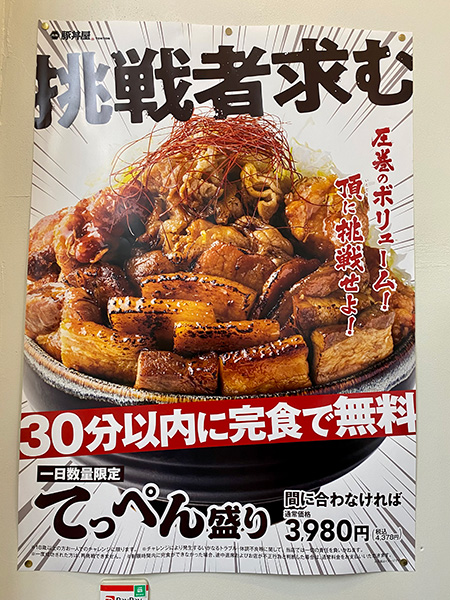 Those in search of a challenge may like to attempt the teppin mori, a massive bowl containing 1.1 kg of rice topped by a selection of grilled pork loin, pork belly and karaage chicken for a total of over 3kgs of food. If you can polish off this monster in under 30 minutes it's free, otherwise it'll cost 4,378 yen, including tax. Alternatively, four friends could share it!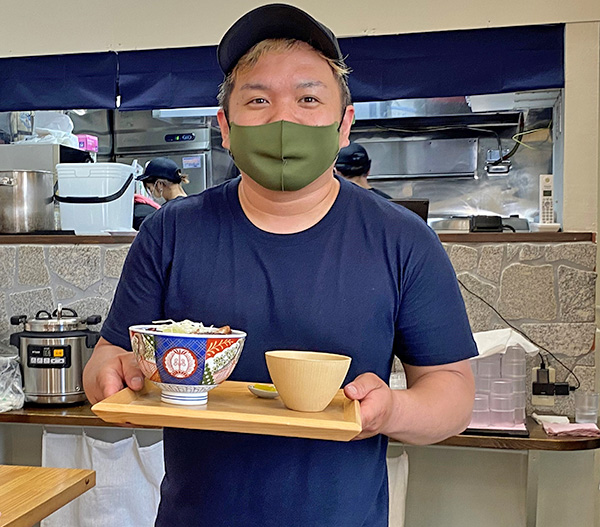 Butadon-ya Tonton offers hearty food for hearty people at reasonable prices. "Many of our customers are women, far more than we expected," explained Mr. Yamauchi, "some eat in but many call ahead for a takeout." Calling ahead to pick up at a specified time means the customer can receive their piping hot order freshly cooked. Obihiro-style pork on rice is slowly spreading throughout the country; if you're in the area why not drop in and get ahead of the curve. It's a savoury sensation!
Story and photos by Stephen Spencer