Okinawan Tacos and Tasty Tropical Treats at Isa Taco!
Published: December 23, 2020
According to Mr. Isao Kusakabe, owner of Isa Taco, Okinawan taco culture is little known outside the islands, yet sales there surpass those of a certain well-known hamburger chain. On a recent sunny afternoon, we dropped into his tropical taqueria to talk tacos and more with he and his partner Ms. Megumi Shimabukuro.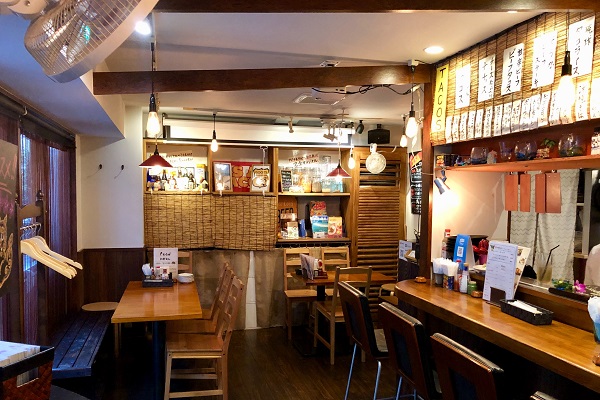 Located just a short walk from Kameido station on the quieter east side, Isa Taco is redolent of a Pacific island paradise with its wooden interior, hardwood floor, bamboo blinds and hibiscus flowers. Reggae lilts from the speakers, shisa adorn the menu board, Okinawan glassware lines the bar, and the workaday world seems far away….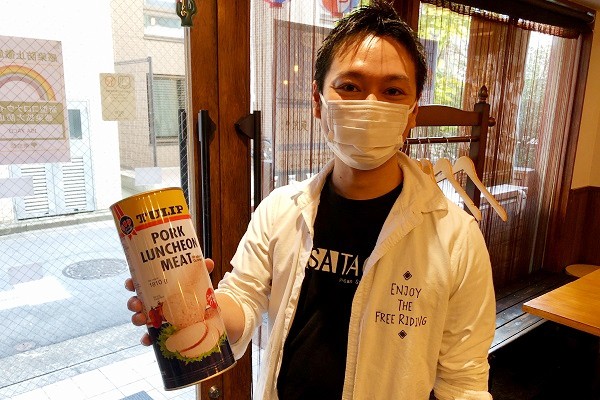 "I was born in Kasai and grew up there," explains Mr. Kusakabe, referring to the bayside area of Edogawa-ku which neighbours Koto-ku to the east, "then became a marine sports instructor in Okinawa. I lived there for many years, becoming a great fan of the local food to the extent that I started working in a restaurant as well, learning the business. On returning to Tokyo we decided to open our own place dedicated to Okinawan food and tacos in particular. After looking around for a suitable location we found this place and opened in 2019."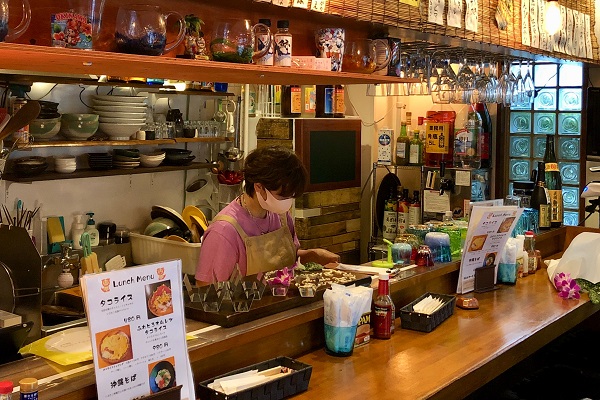 Ms. Shima is the chief cook and repairs behind the kitchen counter as Mr. Isa explains the menu. "We have an extensive taco menu and also some daily variations, depending on the availability of seasonal ingredients and so on. We call them Ryukyu tacos (after the Ryukyu Islands, the chain that stretches from Kyushu to Taiwan) as the fillings are all popular items there," he says. "Tacos were brought to Okinawa by Americans in the post-war period. They were taken up by the local people who adapted them to suit their tastes. As such, they are quite different from Mexican tacos. All our shells are homemade."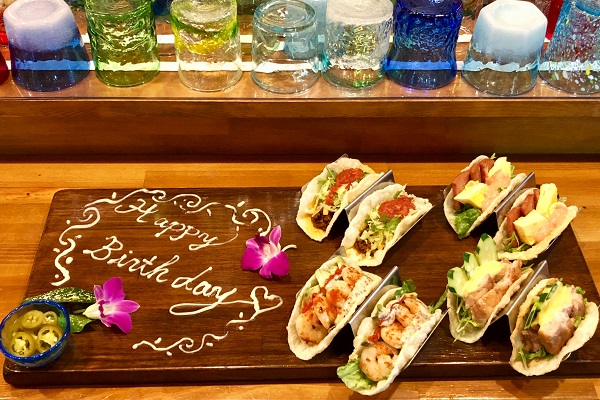 In the blink of an eye, Ms. Shima produces this mouthwatering, colourful birthday board of tacos. "We've just started this birthday service and it's proving popular already," explained Mr. Isa. There's pork luncheon meat and egg, spicy Okinawa-style taco meat, teriyaki chicken with spicy mayonnaise, garlic shrimp, beef, and all sorts. The Ryukyu tacos are 680 yen for two, while the spicy beef are 880 yen a pair. The birthday taco board costs from 2,500 yen depending on the ingredients.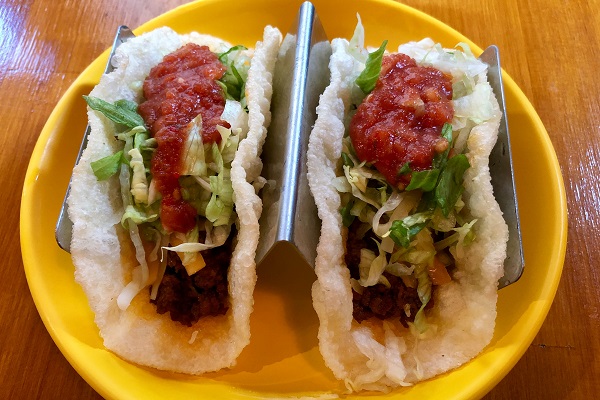 The Ryukyu tacos were great, with spicy minced meat, shredded lettuce and a tangy homemade salsa.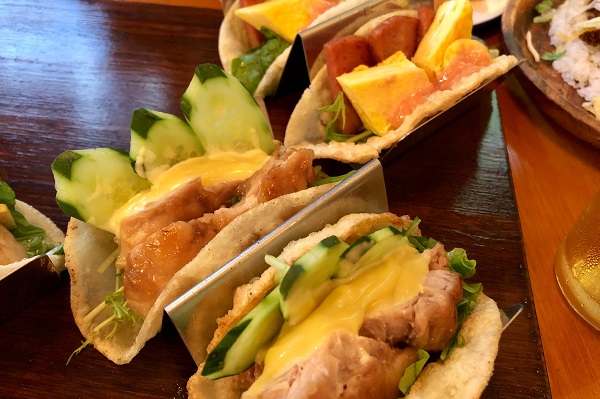 The juicy teriyaki chicken was piquant and the luncheon meat and egg with creamy Aurora sauce was a marvelous combination. These tacos are as filling as they are tasty; the healthy outdoor life in Okinawa certainly gives people an appetite!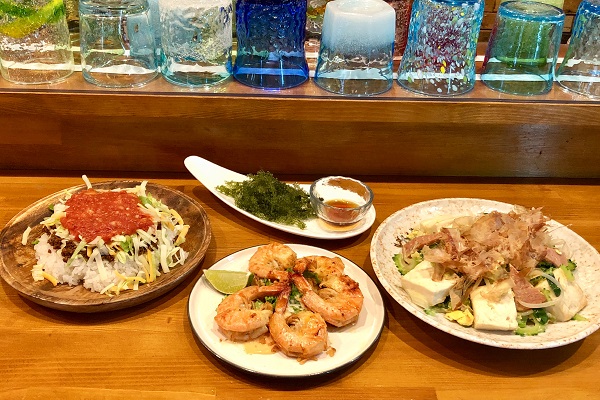 Taco rice is one of the signature dishes of the island prefecture, a hearty mix of spicy minced meat, shredded lettuce, cheese, and salsa served on rice. At Isa Taco it's a remarkable 780 yen for a regular serving, or 580 yen for a half size. A regular plateful is massive, more than enough for two, I'd say! For the trencherman, an even bigger version is available for 930 yen, while extra toppings of meat and cheese are 100 yen extra, as is a soft-boiled onsen egg.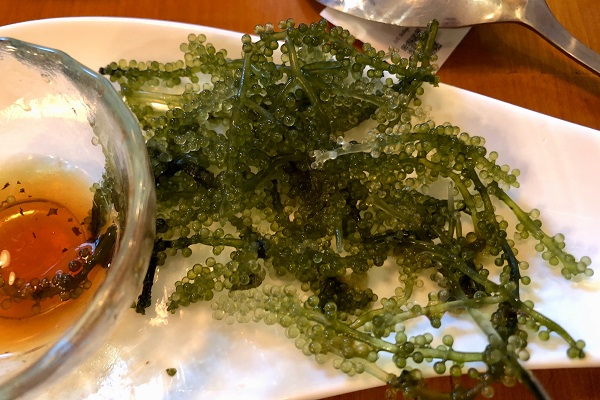 Alongside taco rice, the seaweed known as umibudo (sea grapes) is another Okinawan favourite. Umibudo looks amazing and has a fresh, oceanic flavour with a remarkable crunchy texture. At Isa Taco it's served with a sauce made from the popular Japanese green perilla, vinegar and soy sauce dressing (aojiso) and a secret ingredient known only to the staff. It's a unique combination, not to be missed. Umibudo can't be stored in refrigerators so it's flown up to Tokyo every day and served fresh. Here it's a very reasonable 580 yen per portion.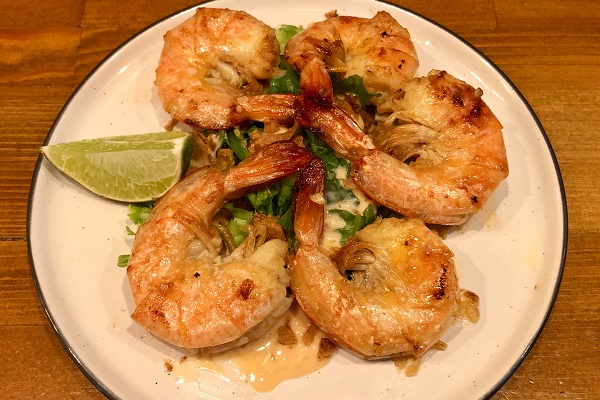 Hawaiian-style garlic shrimp is another winning dish. The plump, juicy shrimp are sautéed in butter and garlic, before being steamed to soften the shells and tails. Just pop one in your mouth and savour the buttery, garlicky goodness. 1,280 yen for a plate seems like another bargain!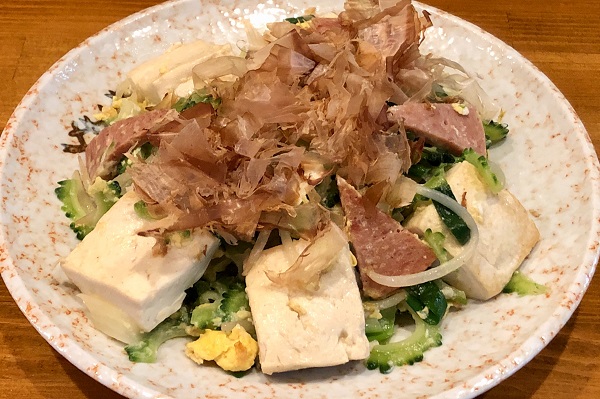 Okinawan food is essentially home-cooking, with families handing down recipes from one generation to the next. Goya champuru, another quintessential Okinawan favourite, is a stir-fry that usually includes bitter melon (goya), tofu, eggs and some kind of meat, although there are no hard and fast rules. Mr. Isa's version comes covered with bonito flakes and contains pork luncheon meat. Another very reasonably priced dish at just 680 yen.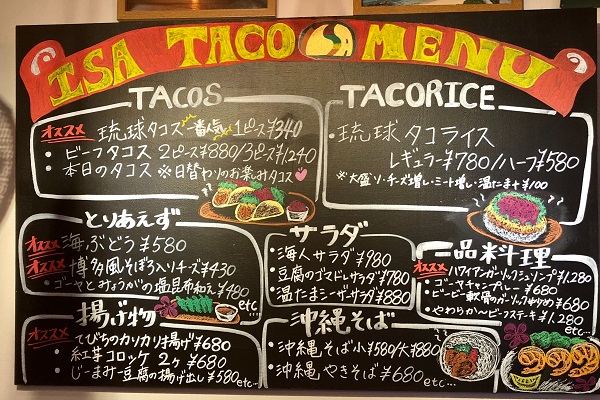 The menu is full of many otherwise difficult to find Okinawan home cooking dishes, such as the simmered pig's trotter known as tebichi, which is often eaten with soba. Here it's crispy fried with garlic. Also available is the renowned spare rib noodle dish soki soba, which isn't buckwheat noodles at all but wheat noodles similar to udon. The drink menu features sanpincha, the beautifully aromatic Okinawan jasmine tea, Orion beer, and a variety of drinks featuring shiquasa, the tropical citrus fruit found on the islands. Awamori, a distilled spirit made from indica rice in a style that originated in Thailand several hundred years ago, is a potent brew, so be warned.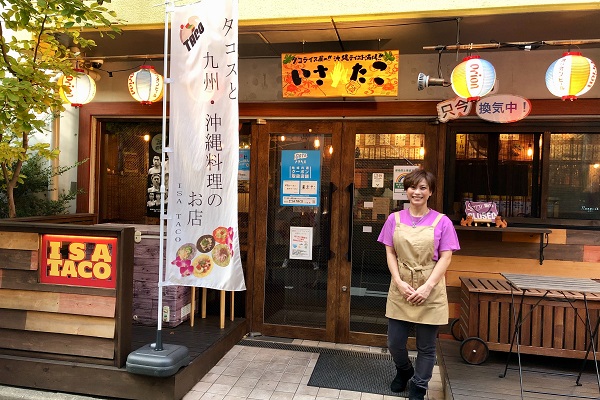 Mr. Isa and Ms. Shima are most genial hosts, the atmosphere at Isa Taco is so laid-back it's nearly horizontal and the food is fantastic. What more could you possibly want? Given the current pandemic and associated restrictions, it's difficult to just jump on a plane when that urge for Okinawan delights strikes; instead, drop in to Isa Taco in Kameido and enjoy the next best thing!
Story and photographs by Stephen Spencer