Okonomiyaki, Tonkatsu and More!
Published: December 16, 2021
Aji na Mise Nakachan is a long-established and very popular hot plate restaurant (teppanyaki) in the Shinonome area of southern Koto-ku. Hot plate restaurants serving such delights as okonomiyaki and monjayaki have long been popular in eastern Tokyo, widely noted for their casual style and sociable, relaxed atmosphere. On a recent late autumn afternoon, we dropped in to meet owner-chef Mrs. Kimiyo Nakabayashi and her son Yoshiharu, the hall manager.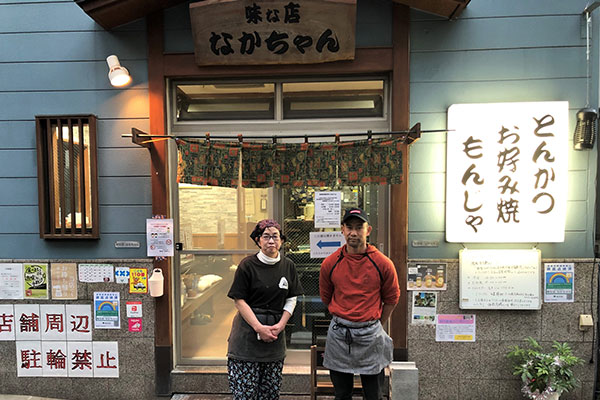 Nakachan has a cheery ambience created by Mrs. Nakabayashi and her son, who constantly banter in a friendly manner and clearly get on well. We were surprised to see tonkatsu (deep-fried pork cutlets) on the facade sign board, actually ahead of okonomiyaki and monja, while the interior menus featured offal (horumon) and skirt steak (harami), items more commonly found at horumon and barbecued beef restaurants respectively.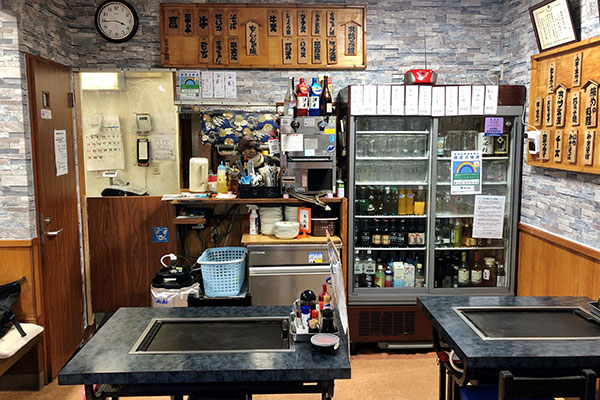 The restaurant features both table-top inset hotplates.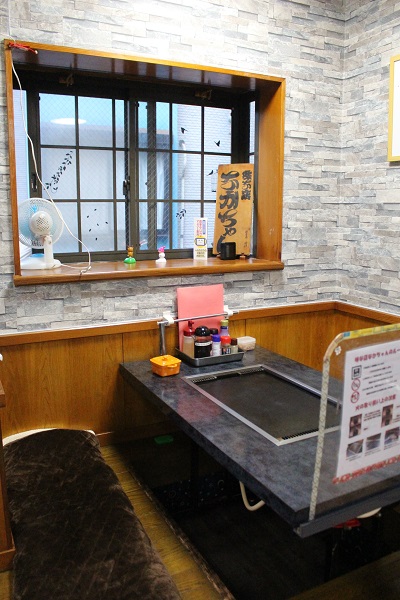 And kotatsu-style tables with sunken seats. Be warned though; these seats are really comfortable and it becomes difficult to leave the more you imbibe and consume!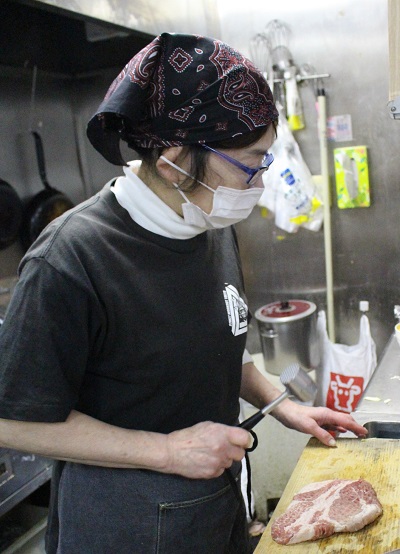 When Mrs. Nakabayashi announced she would cook up one of Nakachan's popular pork cutlets,  we were taken aback at the sheer size and quality of the prime rib:a whopping 3cm thick and 280g slab of juicy goodness. "Actually this used to be a butcher shop and my husband was a butcher before," she said. "I worked in the shop for many years too, and our long connection to meat wholesalers is why we can serve high quality meat at reasonable prices. This pork is the best cut for deep-frying!"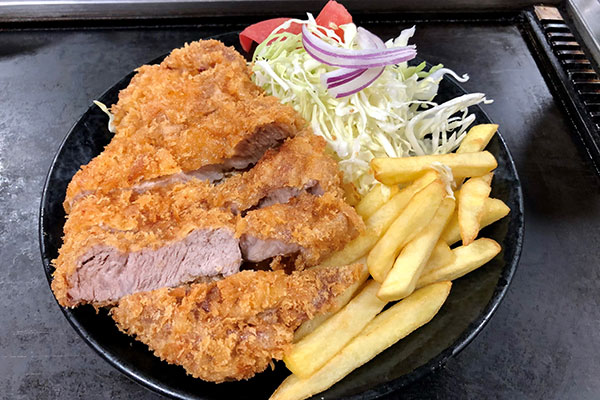 After tenderising the pork cutlet Mrs. Nakabayashi tosses it in wheat flour, dips it in egg and then covers it with panko, before deep-frying it in refined soybean oil. Refined soybean oil is great for frying and produces crispy, non-oily items. The cutlet is deep-fried for 15 minutes at 170 C, quite a low temperature and a long time. Finally the heat is turned up to produce the appealing golden brown finish.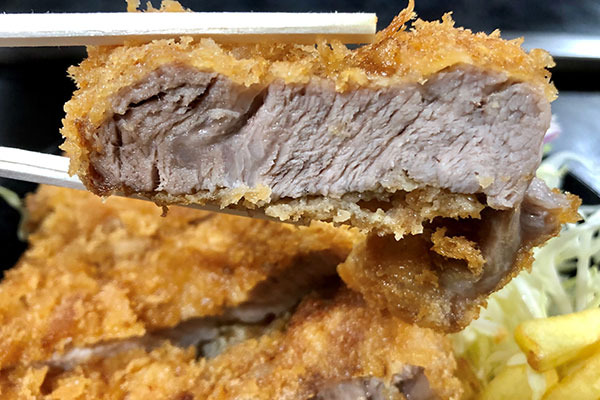 This frying style cooks the thick cutlet right through while creating the crispy batter we all love. It's wonderful; thick and juicy with remarkably soft pork inside the crisp batter. The plate, with a handful of fried potatoes and some salad, is more than enough for two to share and crazy value at 990 yen for eat-in, 972 yen for take-out. "Some customers come in mainly for the tonkatsu," said Mrs. Nakabayashi with a laugh.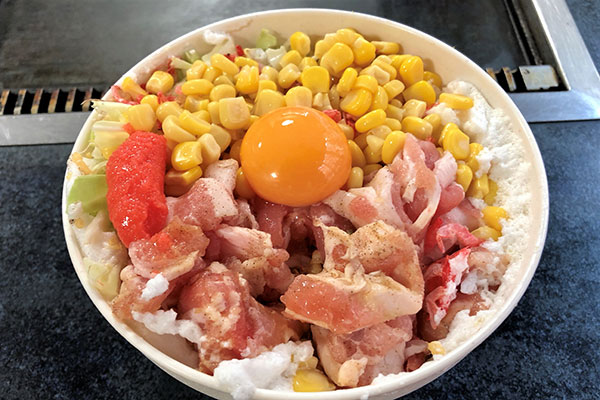 Moving onto the okonomiyaki, this is the most popular bowl on the extensive menu, the Nakachan-ten (1,133 yen). As with the pork cutlet, the okonomiyaki features small touches that make a world of difference to the taste; in this case it's the meringue and chopped yam (yamato imo), the former to add fluffiness and the latter for texture. The boneless pork is also seasoned with garlic and soy sauce to add further levels of flavour.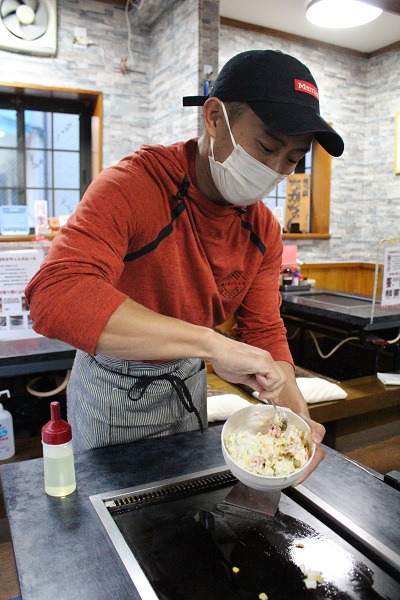 Yoshiharu, who moonlights as a street workout performer and also a Mount Fuji tour guide in summer, showed us the correct way to mix the batter. "Don't beat it too much and don't break up the pollack roe," he said.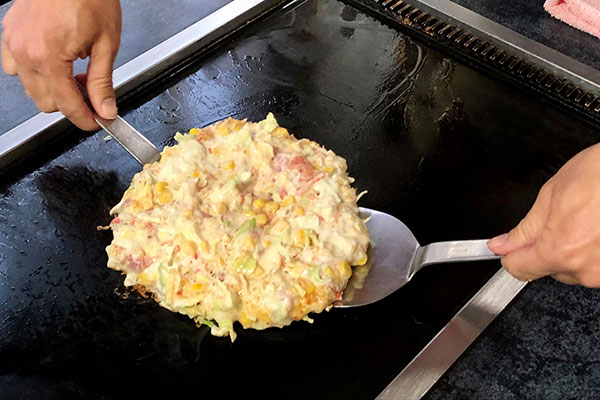 The mix contains pork, pollack roe (mentaiko), cabbage, corn, shredded squid, small shrimp, and yam. "We don't use a lot of flour, substituting the yam instead for our customers' health," explained Mrs. Nakabayashi. "I also don't use the central core of the cabbage, and don't chop the leaves too finely, so it retains some crispiness in the finished pancake. Before we opened the restaurant we tried endless variations and so many recipes before finally deciding on this one."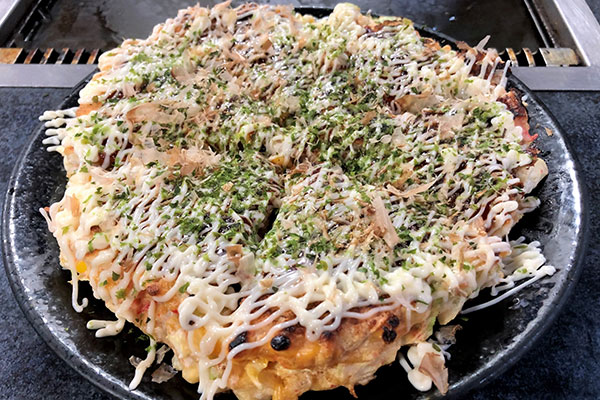 While putting corn in okonomiyaki may raise eyebrows amongst purists, the savoury explosion of the seasoned pork and the salty, spicy pollack roe was balanced by the sweetness of the yellow nubbins. The whole pancake was finished off with the traditional sauce, which at Nakachan is an original blend of tonkatsu and okonomiyaki sauces with a touch of gum syrup, mayonnaise, green laver (aonori) and dried bonito flakes.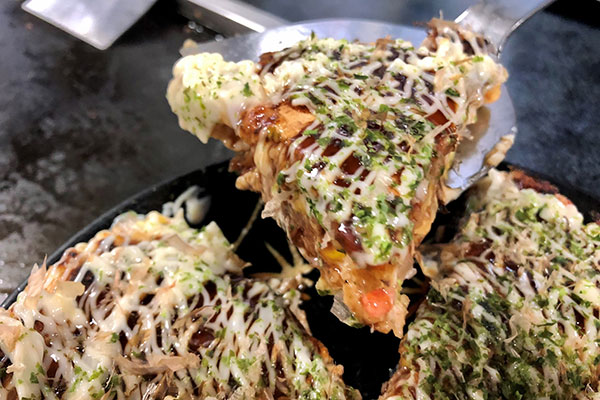 It was terrific, fluffy and light, with a nice texture yet deeply flavoured at the same time.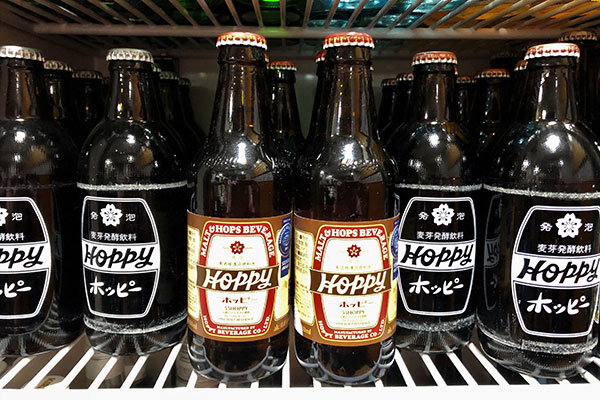 Okonomiyaki, monja, and other hot plate favourites are sociable food, packed with savoury goodness that cries out for alcoholic accompaniment. Whatever your tipple, Nakachan has it covered; draft beer is 550 yen a glass, Hoppy is 275 yen, while the rarely seen Premium Hoppy is 308 yen. There's wine, sake, shochu, sours and a host of soft drinks for those who don't imbibe. Cheers!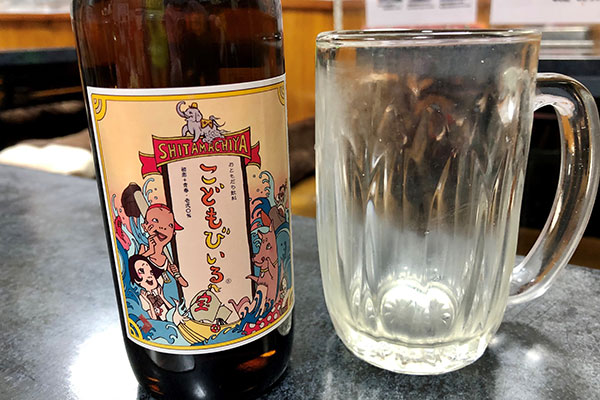 For junior customers, of which there are many at weekends as local families are the principal customers, there's this Kid's Beer (kodomo no biiru) at 385 yen a bottle. It's not beer of course, but a refreshing apple soda that even comes with its own kid-sized glass.
The extensive menu may make choosing what to order a lengthy process but never fear as Nakachan provides a fantastic service set that makes ordering much easier, and saves you money in the process. For example, customers can select 3 from barbecued beef (yakiniku), hot plate grill (teppanyaki), okonomiyaki or its downtown Tokyo cousin monjayaki for just 2,398 yen. If you ordered pork rib, Nakachan monja and mixed monja separately it would cost 3,124 yen, a saving of over 700 yen. That's a real bargain!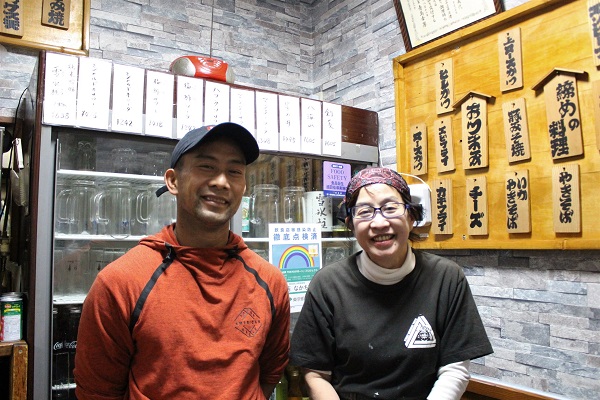 Aji na Mise Nakachan is a really friendly, comfortable place with great food at reasonable prices. What more could you possibly want? Having visited it's easy to understand the high praise it receives in word-of-mouth comments on social media. Lucky local residents or visitors should make a beeline for Nakachan!
Story and some photos by Stephen Spencer