Organic Dried Fruits and Veg!
Published: June 8, 2021
Orgavilla is a shop selling a veritable cornucopia of organic dried fruit and vegetables, fresh fruit and veg, jams, smoothies, and much more. On a recent sunny afternoon, I dropped in for a chat with the owners, Mrs. Kyoko Fujimori and her husband Takayuki.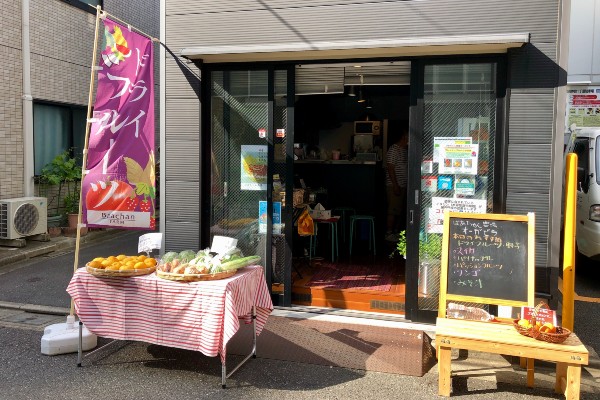 Located on a quiet side street just two minutes' from Monzen-nakacho station, Orgavilla opened for business in 2019, although the Fujimoris have been involved in organic farming for much longer.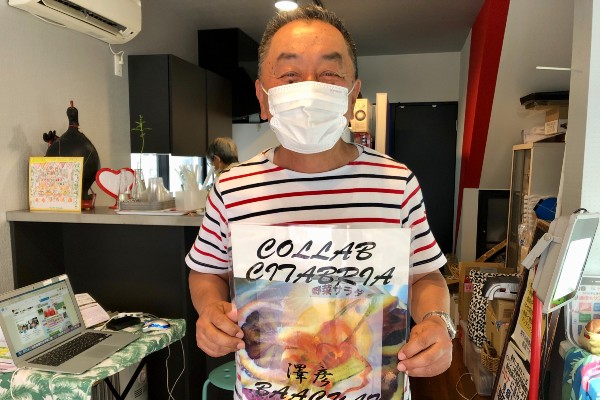 "Orgavilla is a compound word made from organic and village," explained the spry and dapper Mr. Fujimori. "Basically we work to bring together organic farmers all across Japan, young people interested in farming, and consumers of organic produce. We're affiliated with the Ministry of Agriculture, Fisheries and Forestry as advisors in the Shizuoka Prefecture area of Kawazu, at Baa Chan Nojo (Granny's Farm), an organic farm."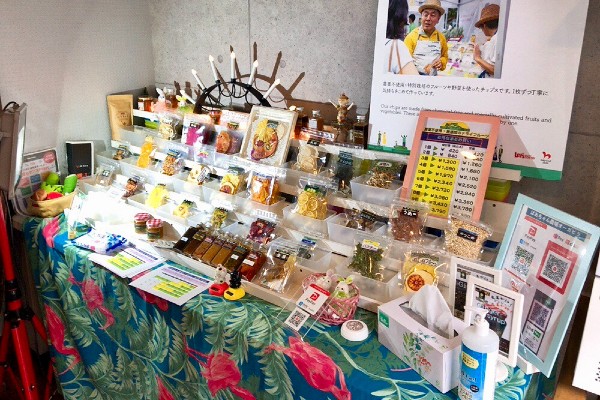 Besides running Orgavilla, both Mr and Mrs Fujimori are architects with a first-class licence, members of organic farming research groups, and are involved in elementary school children enjoying visits to working farms. Busy! And they make the dried fruits themselves, using specialist equipment in the back of the shop. "We dry the fruit at 48°C," explained Mr. Fujimori. "Drying at that temperature retains the colour but doesn't diminish the flavour."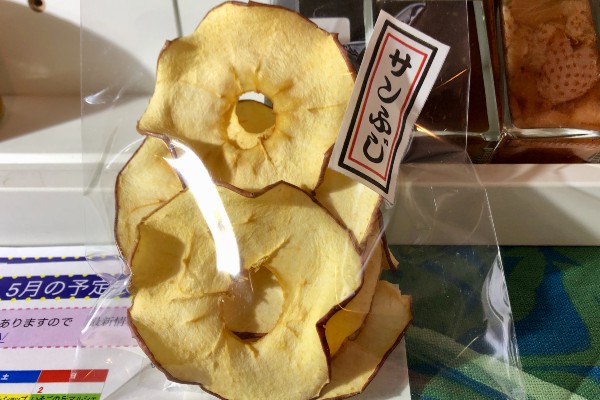 "We make around 200 different items throughout the year," said Mrs. Fujimori. "Some are available all year, but many are seasonal. Our most popular items are dried apples, such as the Shinano Sweet or Sun Fuji from Nagano Prefecture."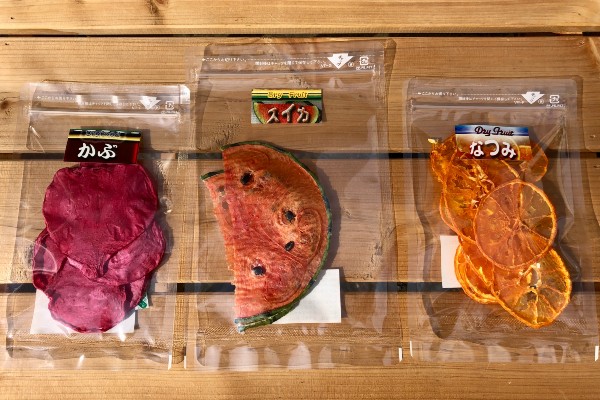 The Shikoku island prefecture of Ehime is noted for its range and quality of citrus fruits. The dried Ehime natsumi, a variety of orange on the right here, was a fantastically fruity mouth-burst of orange goodness, way stronger and more concentrated than I'd expected. The watermelon in the centre and the turnip on the left were very nice too.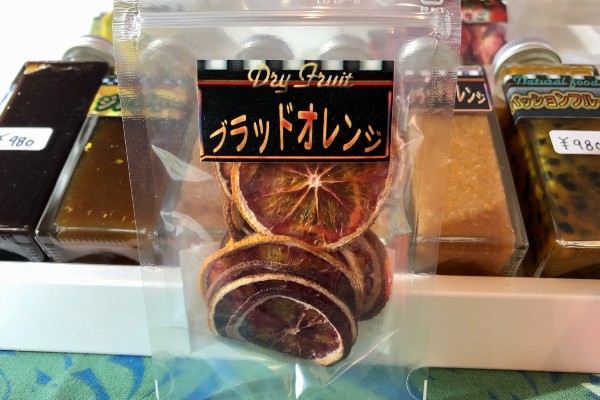 Blood oranges from the Ehime island of Uwajima of the tarocco and moro variety are sold at Orgavilla, both fresh and dried. The darker moro variety owes its distinctive colour to anthocyanins, natural pigments that act as antioxidants. Again, the flavour is incredibly concentrated.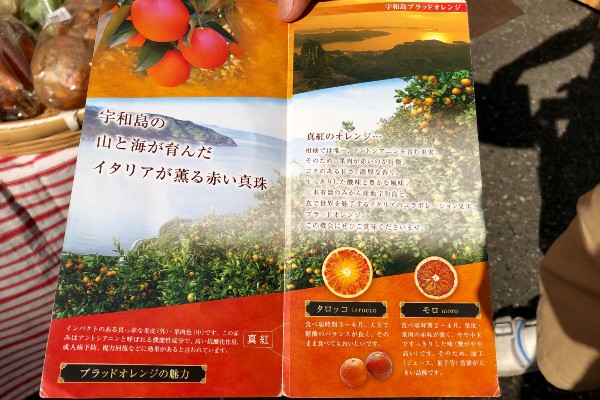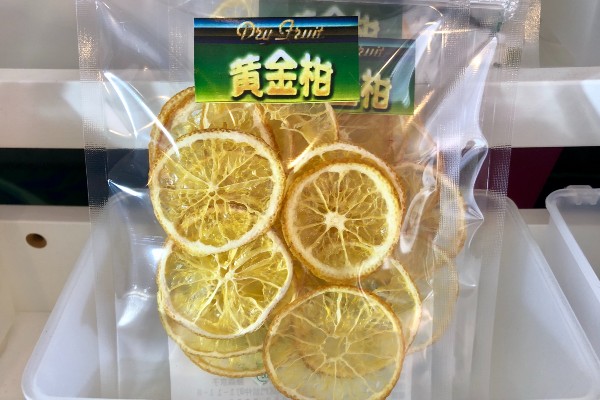 These ogonkan yellow tangerines (mikan) from Shizuoka were also very nice. There are many ways to enjoy dried fruit, but putting the citrus fruits in a summer sangria has to be the best. Cheers!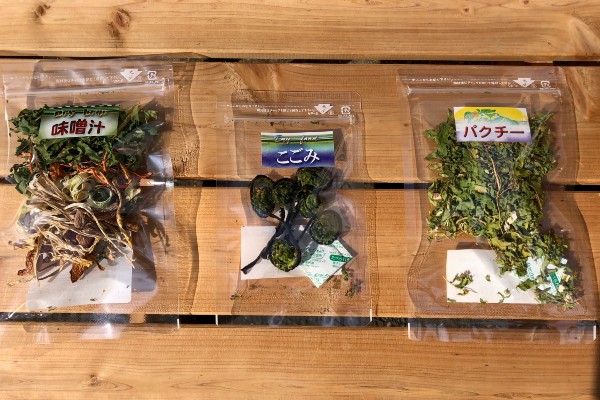 It's not only fruit that gets the drying treatment at Orgaville; dried vegetables are also available. On the left here is a selection of vegetables commonly used to make miso soup; carrots, burdock root, negi onions, Japanese mustard spinach (komatsuna), daikon radish, buna mushrooms, and nameko mushrooms. All organic, sourced from Chiba and Nagano prefectures. In the middle are ostrich ferns (kogomi), one of the popular edible wild plants range (sansai), with dried coriander (pakuchi) on the right.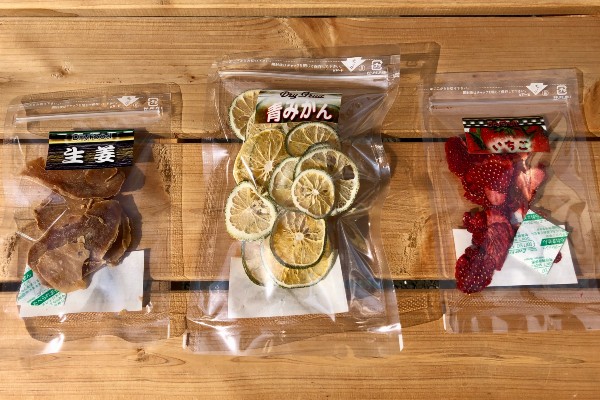 I was very taken by the dried ginger, which was intensely flavoured to say the least. Mrs. Fujimori recommended it be chopped up in some shochu or in cooking.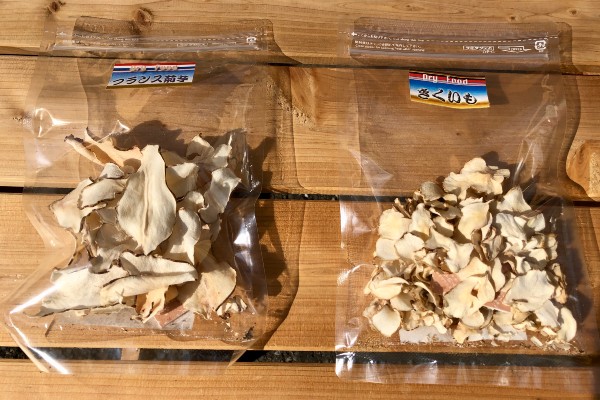 These dried Jerusalem artichokes (chiku imo) are neither artichokes nor from Jerusalem; in fact they're the roots of a species of sunflower native to North America. Quite rare in the dried form in Japan, they're high in iron and potassium. Mr. Fujimori recommends them for constipation! "A TV crew came to film a segment for a healthy eating programme. After the filming the crew bought all our stock," he said laughing. They have a pleasantly nutty taste. Orgavilla sells two varieties, regular Jerusalem artichokes on the right and the larger France variety on the left. The France variety tubers are purple in colour and its cultivation has increased recently in Japan.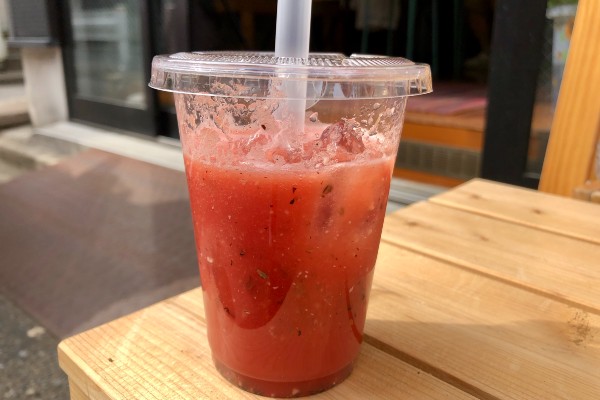 Watermelon smoothies are available for 450 yen. Tasty and extremely refreshing, they're perfect for the impending Tokyo summer.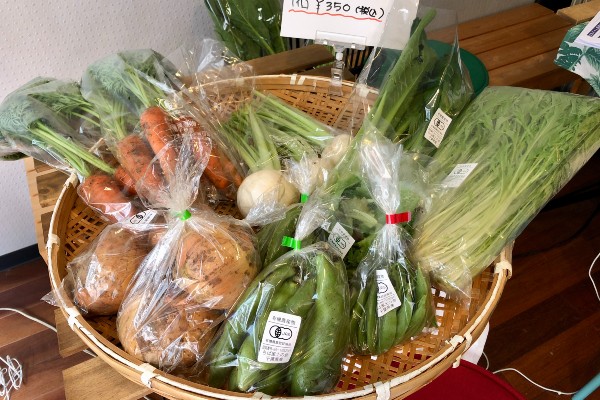 Orgavilla also offers a variety of fresh organic fruit and vegetables.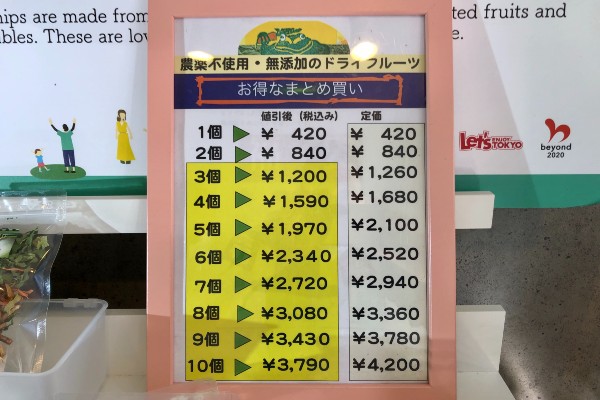 Prices are very reasonable, especially if you buy in bulk. One item costs 420 yen, with five for 1,970 or ten for 3,790 yen.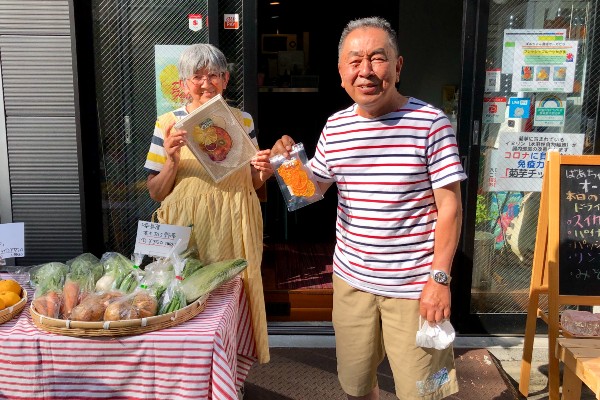 Mrs. and Mrs Fujimori are very busy, frequently attending organic food markets such as the weekend one at Citabria in Toyosu, or the Saintclair marché in Ochanomizu. Their monthly schedule is posted on the Instagram page below, so please check before visiting the shop; customers can also peruse and order from the online shop. The dried fruits and veg are both extremely tasty and healthful, while Mr. and Mrs Fujimori's passion for their work shines through. Vegetarian, vegan or just health conscious, everyone can enjoy a visit to Orgavilla.
Story and Photos by Stephen Spencer