Original Pasta & Desserts Takeout
Published: November 9, 2022
There's a new face on Sunamachi Ginza who's cooking up a storm: Ninja Pasta creator Mr. Kunio Suzuki. While not actually a real ninja, he is a vastly experienced chef who sailed the seven seas in search of delicious recipes to tempt the lucky locals and visitors to his latest venture, where he creates with ace patissier Ms. Kawashima.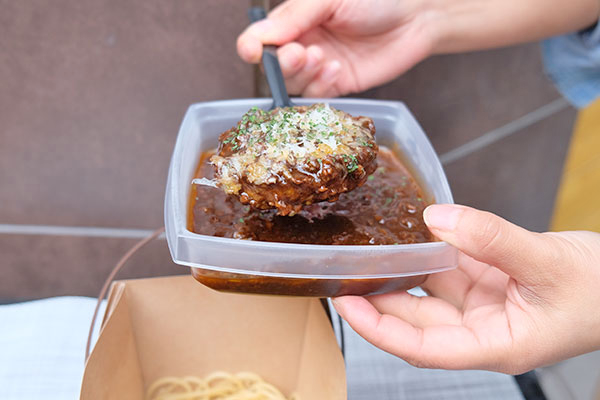 So, how does take-out pasta work exactly? "I use special spaghetti that only requires a short boiling time," explained Mr. Suzuki, "In order to serve each meal piping hot. Customers can walk and eat or take it home for lunch." This is the top-selling Jyukusei meat sauce (850 yen), featuring a rich, beefy sauce made with a touch of Kyoto miso for a Japanese flavour. The pasta is served al dente, but customers can request a longer boil.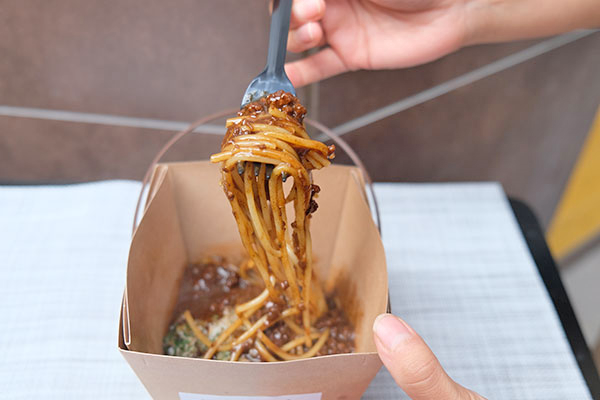 The juicy hamburg is made from matured minced beef. You can take it out of the sauce and eat it separately, or mash the whole thing up, whatever you like! It was extremely savoury and surprisingly filling, representing tremendous value for money. There were five varieties of pasta on the day we visited, including tomato and tuna and a kimchi carbonara. Top notch street food!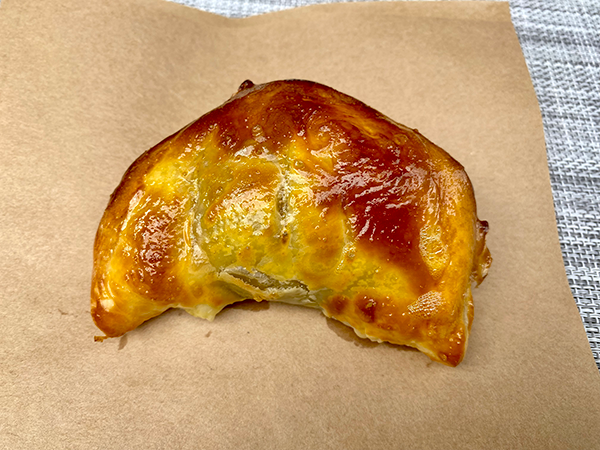 While pasta is the main dish, the menu also features an interesting selection of offbeat items. For instance, this crispy pastry (500 yen, named pulpo, the Spanish for octopus) contains minced octopus meat in a rich, savoury sauce. Mr. Suzuki spent several years as a chef on luxury cruise ships, visiting over 30 countries and learning to cook an astonishing variety of the world's food using all the ingredients available. While his grounding is in French cuisine, he utilises his vast experience to create original, unique dishes that can currently only be sampled on Sunamachi Ginza.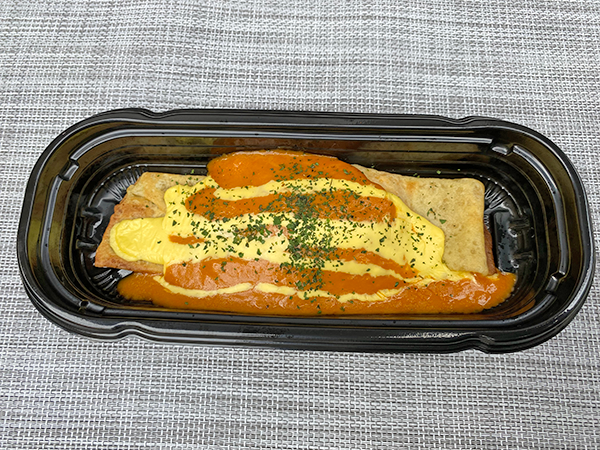 This "gratin on the palm of your hand" (600 yen) is another example of Mr. Suzuki's mix and match approach. It features a snow crab-stuffed sauce rolled in a crepe and topped with cheese. Again, very savoury and a perfect accompaniment for a glass of wine. In fact, everything we sampled at Ninja Pasta would go down well with a glass or two of vino.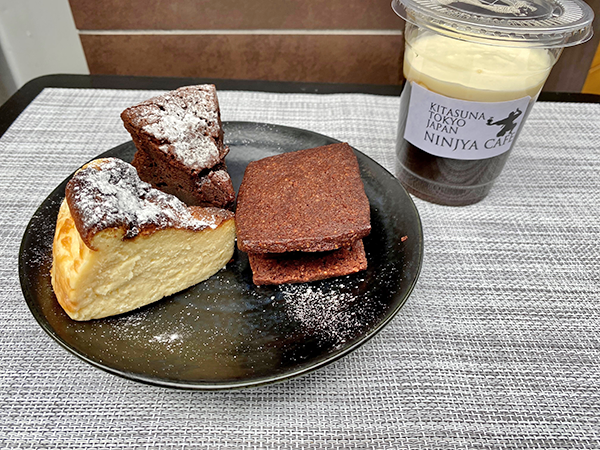 Following the unforeseen range of the main menu we were again startled by the desserts on offer at Ninja Pasta. All made by the fair hands of ace patissier Ms. Kawashima, the quality was remarkable at the astounding price of just 300 yen each. Clockwise from left: white chocolate Basque-style cheesecake, classic chocolate gateau with Madagascar cacao, and a double chocolate sandwich which features raw chocolate between two chocolate sablés. The latter is also gluten free. All three were terrific and represent amazing value!
The coffee jelly was another knockout. Using deeply-flavoured coffee made from beans roasted over bamboo charcoal, the jelly was topped with a creamy sauce containing mascarpone cheese (350 yen)!
Ms. Kawashima shows off the latest desserts.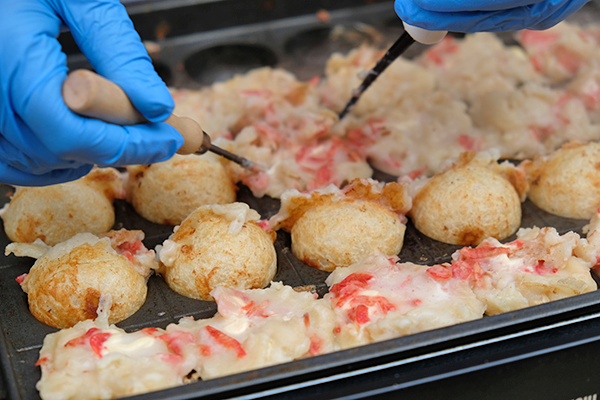 Patissier Ms. Kawashima proved to be a dab hand at making what seemed to be the Osaka classic takoyaki (batter dumplings stuffed with octopus) but turned out to contain shrimp instead. Known as Ninjyayaki, the dumplings contain lashings of mayonnaise which causes them to become plump and fluffy as they cook. 400 yen for a carton of six.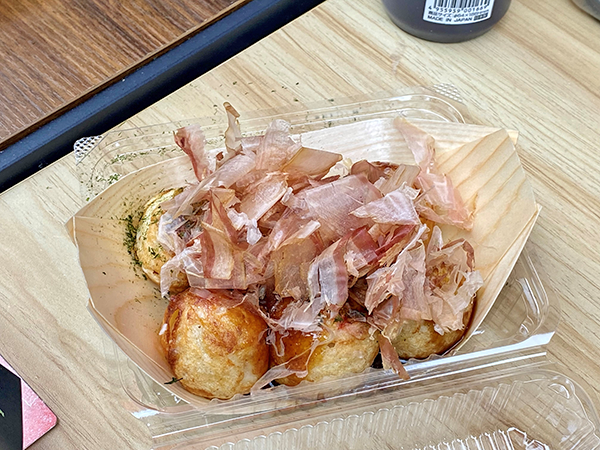 The key point was a final coating of sesame oil, with the fine savoury aroma turning the heads of passersby along the street. Unfortunately the ninjayaki are only available on days when Ms. Kawashima is working, which doesn't include weekends, so grab them if you see them!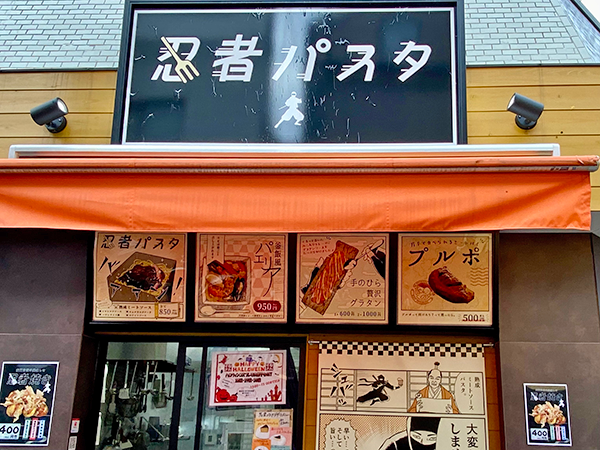 Ninja Pasta is located near the Meiji Street entrance of Sunamachi Ginza, right next door to Ginza Hall. It's hard to miss, especially with the tempting smell of sesame oil wafting across the street.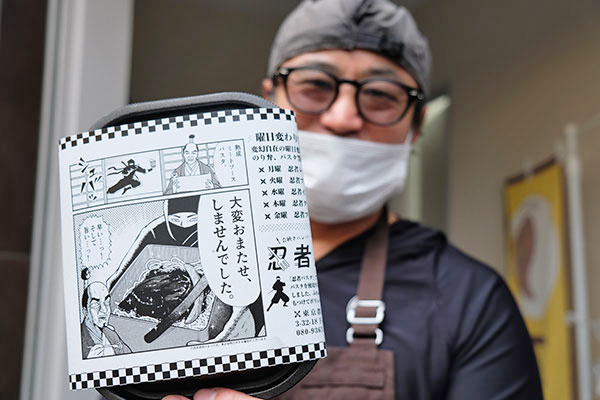 The menu changes frequently as Mr. Suzuki is tireless in his quest to create innovative and exciting dishes using seasonal ingredients. Sunamachi Ginza has been undergoing a renaissance of late and Ninja Pasta is yet another reason to visit.
by Stephen Spencer