In Monzennakacho, a shop where you can enjoy "Kakuuchi"
Published: January 30, 2018
In the small street leading up to the Fukagawa Fudoson temple in Tomioka sits Orihara Shoten, a "kaku-uchi" liquor shop almost wholly devoted to the sale of sake (Japanese rice wine). A kaku-uchi store is somewhat unusual in that it combines a bar, where alcohol is consumed on the premises, with an off-licence, where alcohol is purchased for consumption away from the premises.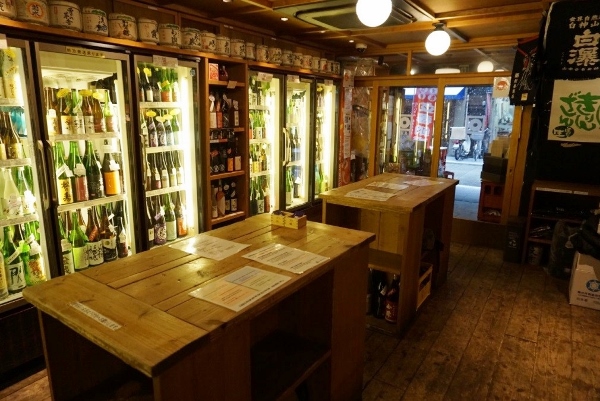 I had read that Orihara Shoten was famous for the number of different types of sake sold, but I was unprepared for the sight which greeted me as I stepped through the sliding doors into the warm and cosy interior on the cold and snowy January lunchtime I visited the shop.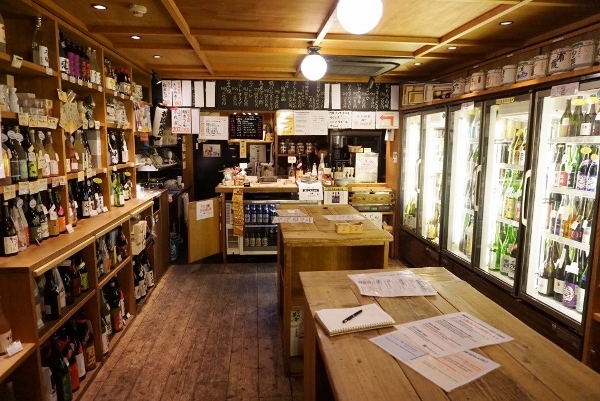 From floor to ceiling, colourful bottles lined both sides of the shop whilst in the centre, standing around one of the two counters there, was a group of salarymen enjoying a quick drink and some food. To me, this seemed a very un-Japanese way to spend a weekday lunchtime; but whilst I was there, several other people dropped in for a glass of sake and something to eat, and then left, sometimes carrying a bottle of sake.
Orihara Shoten primarily sells sake to take away, but customers can drink sake on site by the glass: generally 300 yen for a 50ml glass or 550 yen for a 110ml glass, although the price may be more for sake made by smaller brewers. This practice allows customers to sample a selection of brews before choosing a bottle to take away. Alternatively, you can just concentrate on sampling various brews of sake until you feel it is time to leave.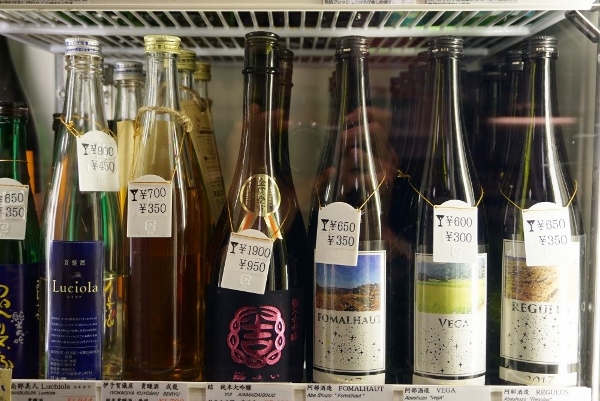 Orihara Shoten opened in Tomioka in 2011 and now sells around 150 varieties of sake, with the selection on offer changing with the seasons. The store manager, Mr. Takeshi Hashimoto, is a Sake Taster certified by the Japanese SSI (Sake Service Institute), and obviously enjoys his work. As well as serving customers and advising them on their choice of sake, Mr. Hashimoto spends part of his time travelling around the country visiting sake brewers and selecting brands to stock on Orihara Shoten's shelves.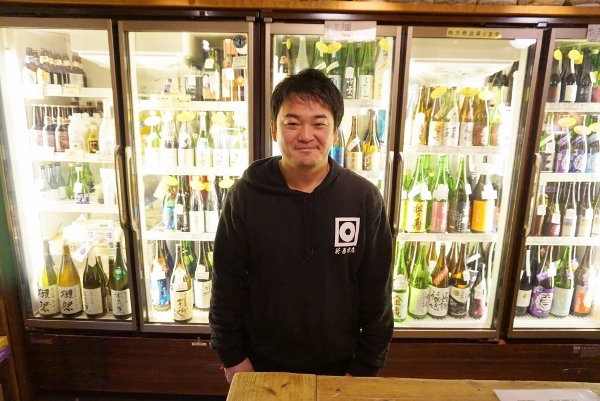 As he says, "Try one glass of something which catches your fancy and if you like it, you can choose the bottle." And if the atmosphere and the wide selection of sake isn't enough, to further attract clientele, the store regularly has events where sake brewers are invited to give a talk and people can sample their wares.
As well as sake, Orihara Shoten sells beer, shochu (spirits distilled from various crops), Japanese craft gin and liqueurs, such as cassis, umeshu (plum wine), matcha (powdered green tea) and fruit liqueurs, which apparently go down well with female customers.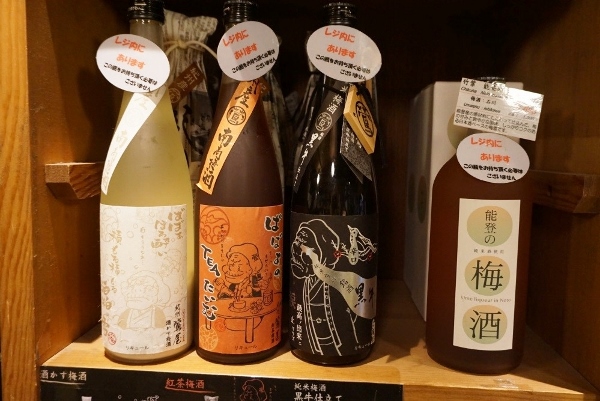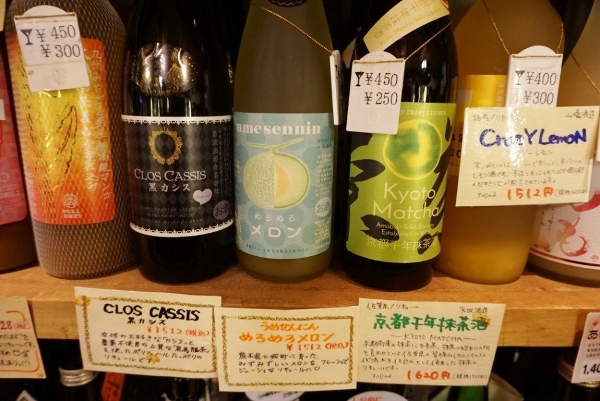 And if you are staying for a drink, why not have some food to go with it? A pot of oden (Japanese hotchpotch made with dashi soup stock and various ingredients such as Japanese radish, boiled egg, multiple types of fish cakes, and "konnyaku" – devil's tongue) sits simmering at the end of the store. Just the thing for a cold winter's day.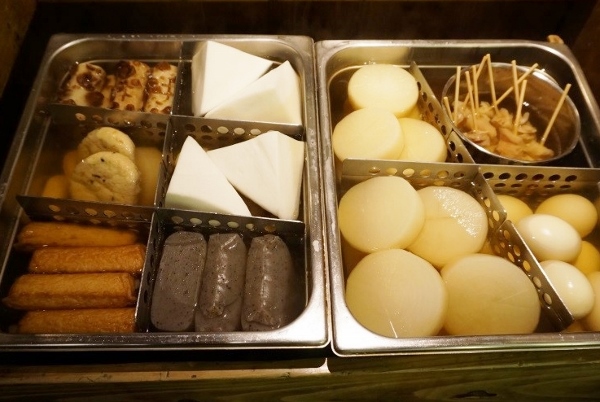 In addition, currently on sale is "tama konnyaku", a regional speciality from Yamagata prefecture.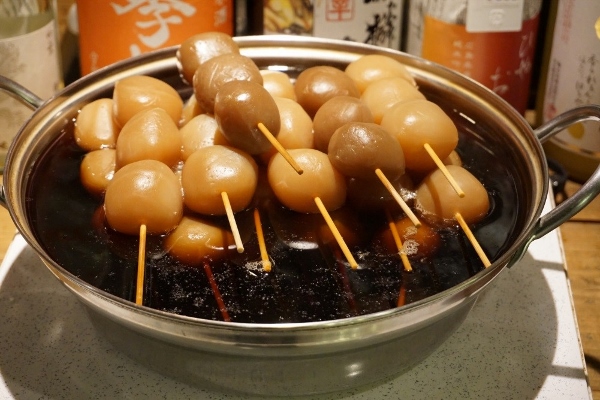 In the warmer weather, particularly, the shop also caters to families; parents can sit outside the sliding front doors with their children and enjoy the combined atmosphere of the shop and the street.
And for its foreign customers, there are instructions in English showing how to order drinks, as well as a guide to the types of sake on offer.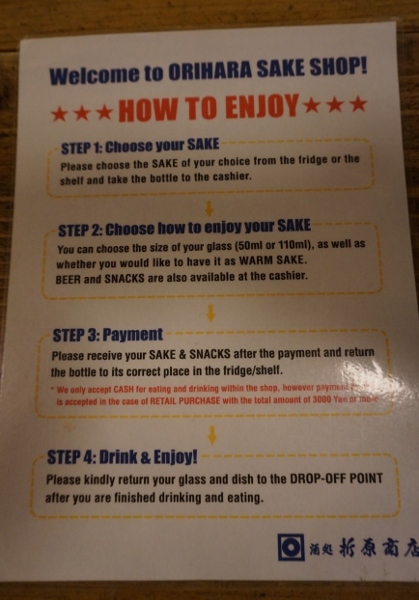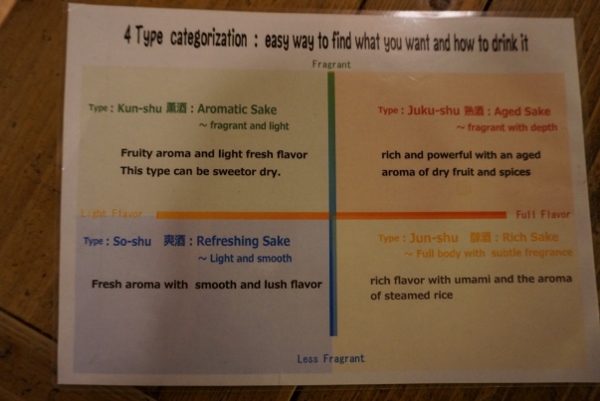 So why not come along to the store and sample some sake in a welcoming and traditional atmosphere?
Story and Photos by Jeremy Hutchinson