Calling All Campers! Skillet Cooking at Outdoor Cafe Tent.
Published: November 15, 2018
Koto-ku may be home to a vast array of restaurants, cafes, and bars serving a dizzying variety of food and drink, but it's safe to say there's nowhere like Tent: the intriguing indoor-outdoor cafe in Kiba. On a recent autumn afternoon, we dropped in to discover exactly why this most unusual establishment is causing such a flap.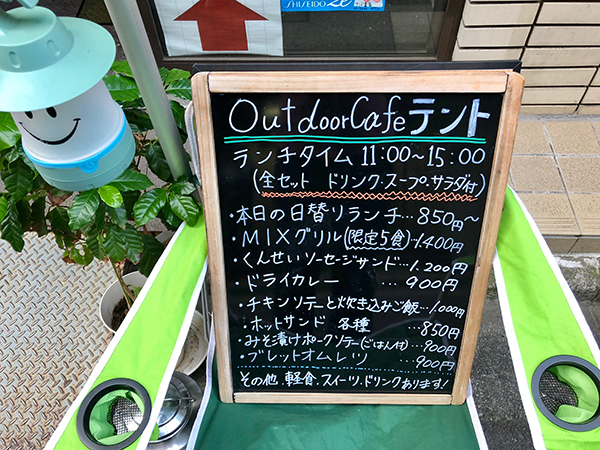 Situated just a minute's walk from exit 3 of Kiba station in an otherwise rather unprepossessing office building, visitors to Tent are greeted by a cheeky chappy nightlight and camping chair. Two other billboards mark the way to Tent so there's no chance of getting lost. Or you could also simply follow your nose as I did, since the building lobby and lift were aromatic with the heady fragrance of curry spices.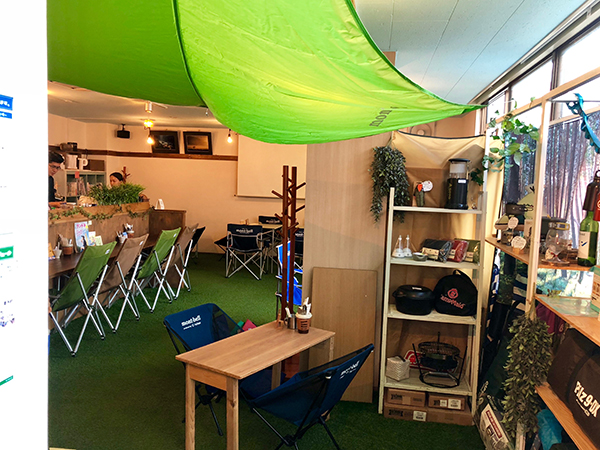 Up to the seventh floor and the doors open to reveal a remarkably green space which skillfully creates the illusion that one is actually camping in the woods. Shoes are removed as the flooring is artificial grass, the lighting is subdued, and tinkling classical music plays lightly in the background. I started to feel relaxed before I've even sat down in one of the deceptively comfortable chairs.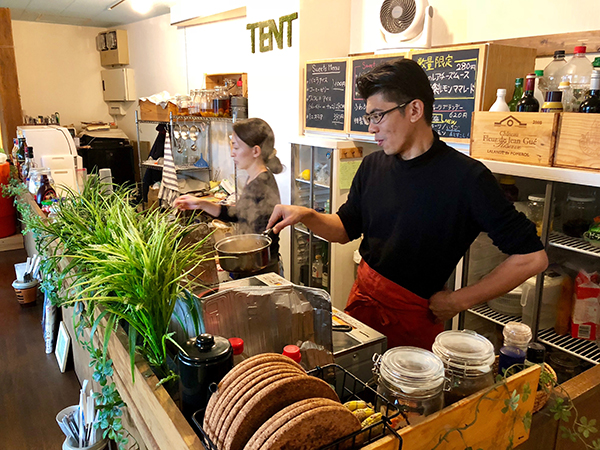 The couple behind this unique venture are Yusaku and Nozomi Fujii. Just how did they come to be running a Tent cafe? "Camping and the outdoor life had long been our hobby. After raising our two children we decided to turn our passion into a business and came up with this idea," said the eloquent and charming Ms. Fujii. "I studied skillet cooking under the well-known Japanese expert Yuko Kishida to hone my skills. Skillet cooking is our specialty and we mainly use the Lodge brand of cast-iron skillets. After opening in March of 2017 we've slowly expanded to now having five staff members."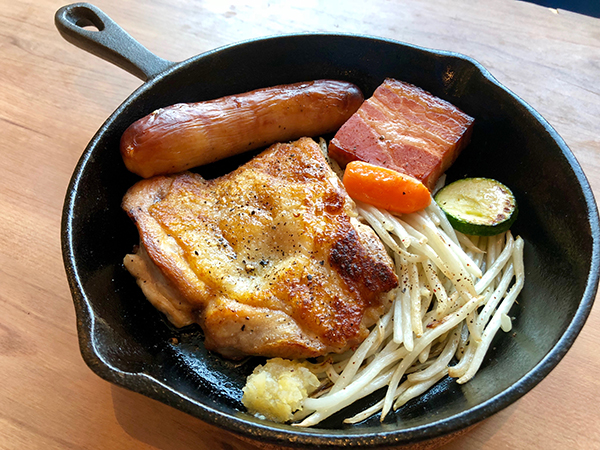 The lunch menu consists of five different items, all served with salad, soup, and a drink. This mixed grill of sautéed chicken, jumbo smoked sausage, smoked pork, and vegetables was not only delicious but incredibly filling. Exactly what you need after a long hike in the mountains and really good value at 1,400 yen! The Fujiis smoke their own food and even smoke the herbs and spices used in the recipes. The mixed grill is served with salty lemon which adds an extra piquancy to the flavours.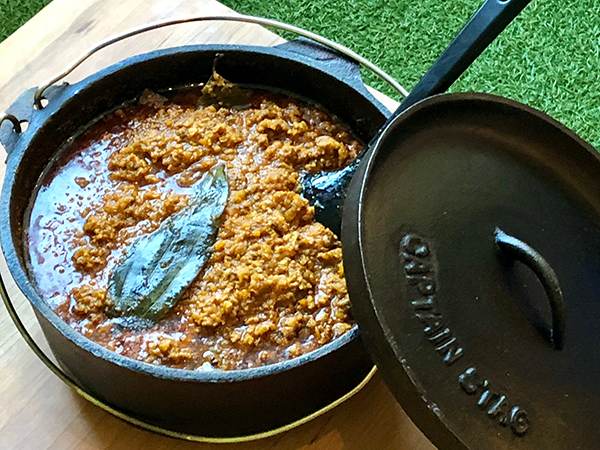 The dry curry is simmered for an entire day and left to absorb the flavours of the herbs and spices overnight. The basic lunch curry set costs 900 yen and other toppings can be added for an extra charge: the smoked sausage or spicy sautéed chicken for 300 yen, low temperature eggs (onsen tamago) for 150 yen, coriander, and extra hot sauce for 100 yen. This was the delightful aroma that had set my taste buds tingling in the lift.
Other lunch items include chicken sauté, pork sauté, omelettes, sausage sandwiches, and so on, all at reasonable prices.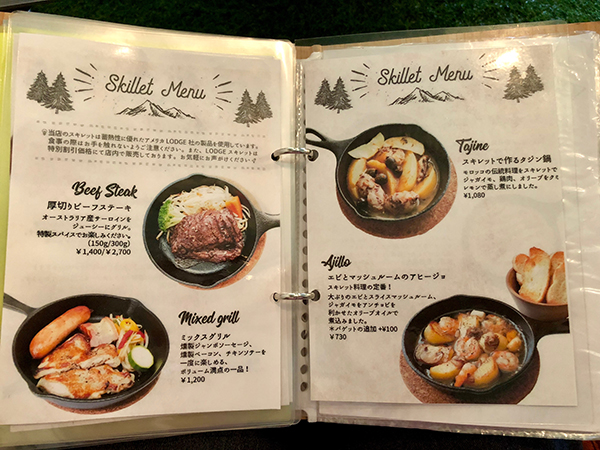 The dinner menu contains such favourites as beef steak, tajine, ajillo, acqua pazza, pot au feu and the like, all cooked in cast iron pots or skillets, as well as a wide variety of appetizers, salads, sandwiches, and even smoked curry.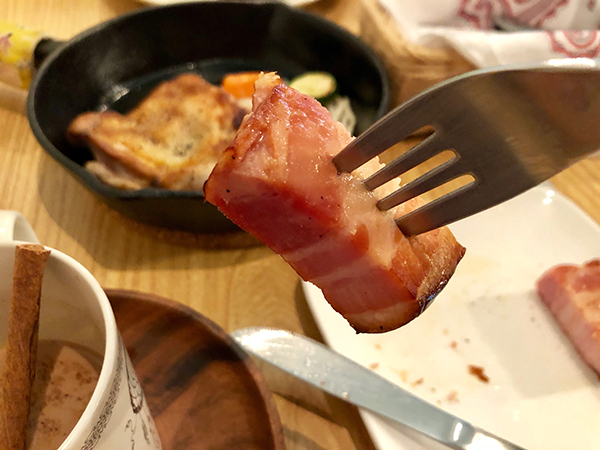 If you're a carnivore who misses a really juicy banger or flavoursome smoked pork, then Tent is the place for you.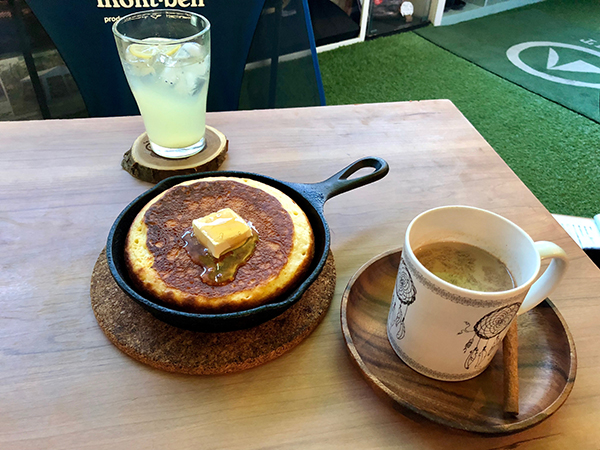 Skillets are perfect for making hotcakes and Mr. Fujii came up trumps with this one. Slow cooked so as not to burn, crisp on the outside yet soft in the middle, it was an absolute treat. Served with a dab of margarine and some honey, it was the perfect way to round off a meal. Whipped cream, chocolate, blueberry sauce, and homemade jam are also available as toppings. Yours for just 600 yen! The hotcakes take around 20 minutes to cook so make sure you have time to spare.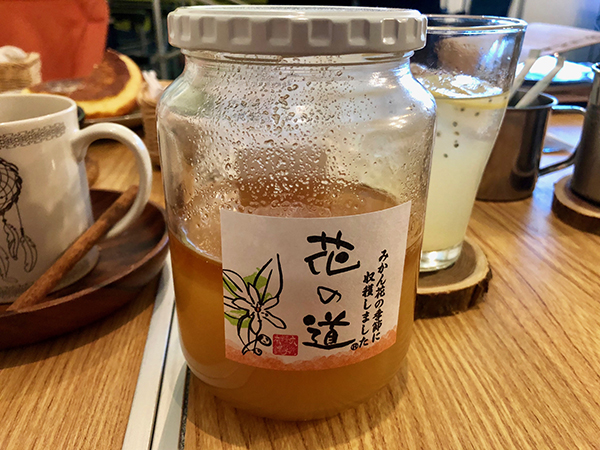 The honey pops up in the lemonade, on the pancakes, and in various other places. It's a very rare type of mikan flower honey from Kyushu, extremely smooth on the tongue, organic, and contains no preservatives.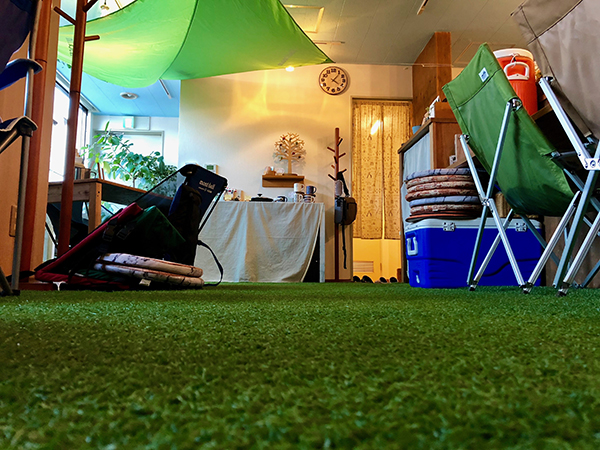 Tent isn't just about the outdoor life though. As you can imagine this is a great place for mothers and babies and there are a variety of events such as baby massage, hugging yoga, and baby sign language. Mothers can participate then enjoy lunch in the cafe. There are also classes on how to cook during emergencies, very practical given the recent history of earthquakes in Japan. The artificial turf is high quality and perfect for toddlers of all ages to roll around on. The entire cafe can be reserved for parties and there are frequent sports nights when important football games are shown on the big screen.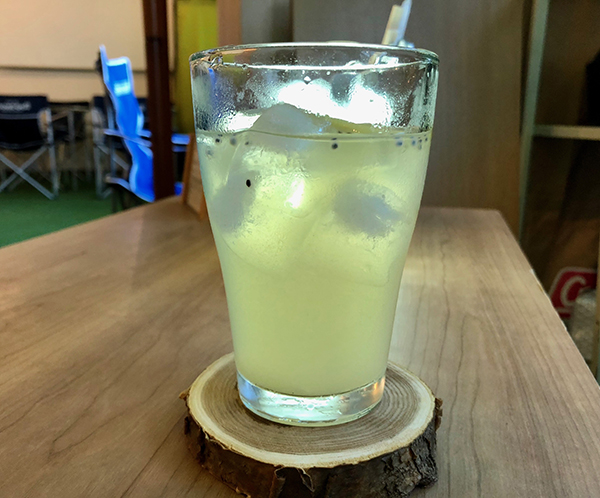 Tent also has a drink menu to satisfy any customers' needs, whether they're enjoying a mothers' lunch or watching the big match. We were mightily impressed by the homemade lemonade (again with a touch of honey) and the chai, made from a spice mix imported directly from India to Tent. Creamy, sweet and spicy, the chai is a perfect pick-me-up for tired minds and bodies.  There are also beers, both Japanese and imported, along with a selection of domestic, French and Italian wines. The Fujiis also make their own fruit brandies: Japanese apricot (ume), cherry, grapefruit, strawberry, apple and cinnamon, and kumquat in spring.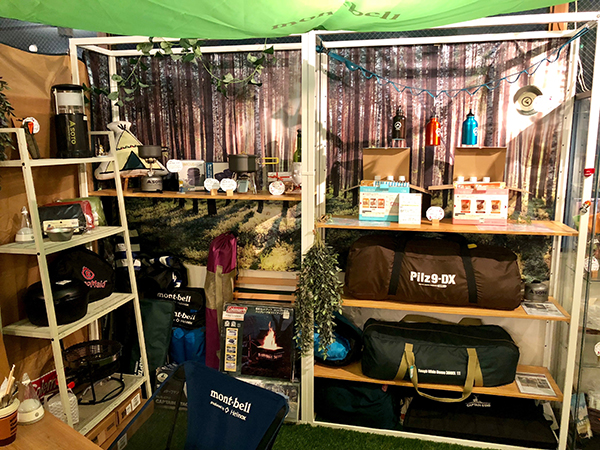 A wide variety of camping and outdoor goods are also available, from cooking equipment to chairs and tents themselves.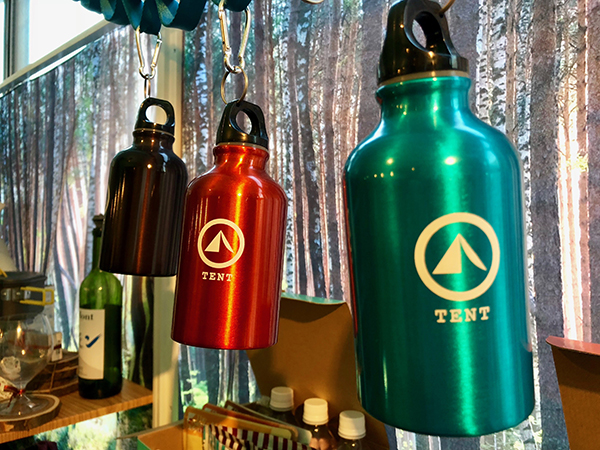 Original Tent bottles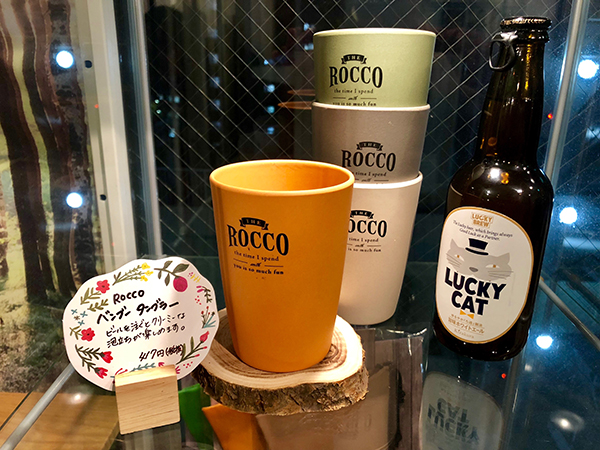 And these artfully created, easy-clean cups made from a mixture of bamboo and plastic by outdoor tableware brand Rocco.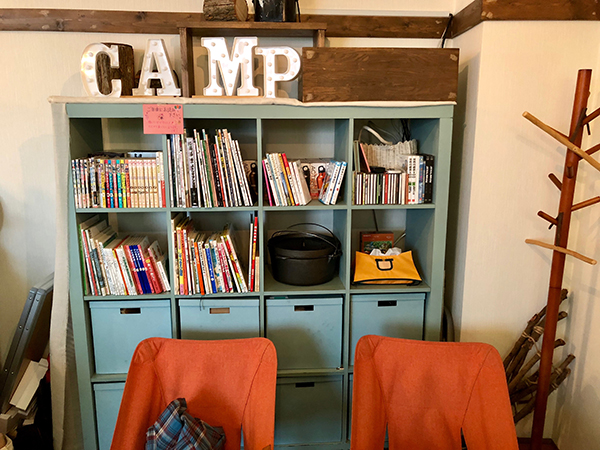 Above all though, Tent is a comfortable place to idle time away. The food is excellent, the drinks are piquant and refreshing and the Fujiis are welcoming hosts but it's the relaxing atmosphere that's the key point.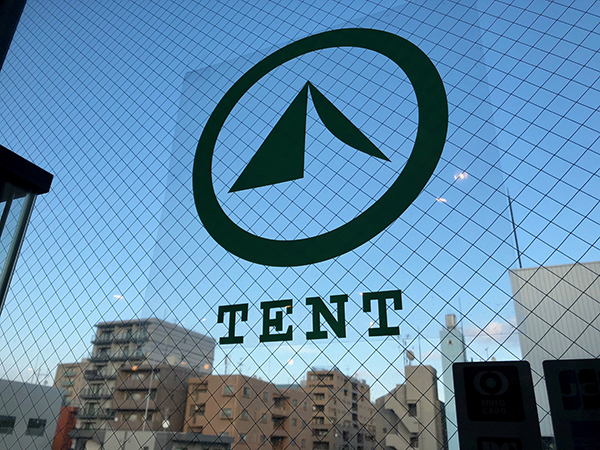 We sat around chatting and before we knew it the sun was setting and nearly three hours had passed. If you'd like a break from the hustle and bustle of city life without actually leaving the metropolis, then Tent is the place for you. And there's free wifi too!
Story and Photos by Stephen Spencer