5 minutes' walk from Monzen-nakacho station, on a quiet shopping street in Botan, is Patisserie Collage. At first sight this small cake shop looks like many others in Tokyo. However, step inside and a special treat awaits you.
The owner of Patisserie Collage is Tadahiro Iwakoshi, a native of Saitama where his parents run a cake shop. His first contact with the Botan area was when he was a student living in a dormitory there, and his affection for the area drew him back when he was learning his craft at local restaurants and cake shops. When asked why he chose the name Patisserie Collage, which opened in 2008, Mr. Iwakoshi said that he takes ingredients and combines them to create a collage of cakes which makes up the overall picture that is his patisserie.
The composition of Patisserie Collage's customers spans all ages; from kids with their mothers, through office workers–many of who are men–to pensioners. And the reason for this is the range of Mr. Iwakoshi's confectionery creations.
Mr. Iwakoshi and his kitchen team of four staff produce around 100 cakes and bread each day.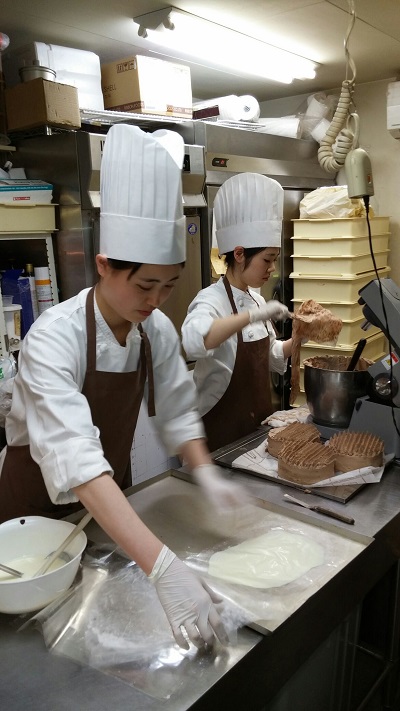 When I cast my eyes over the glass–fronted counter I was struck by the variety of size, shape and types of cake and bread. On the top row, there was an unusual family–sized Mont Blanc in gentle subdued shades, alongside a striking Black Chocolate cake. These were both in contrast to the white and orange colours which I see usually lining the shelves of cake shops.
On the next row I was met by the sight of square cakes. These stylish creations are smaller than regular family–sized cakes, but larger than individual slices.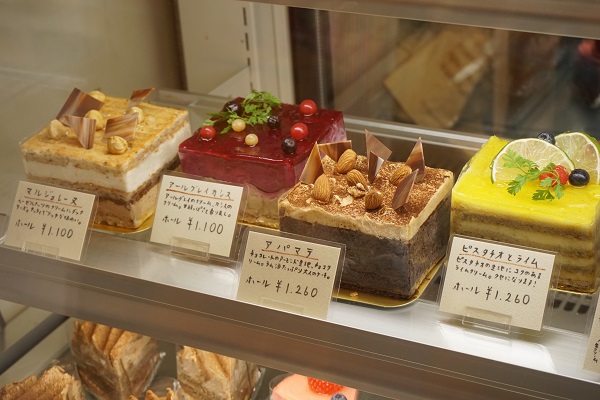 Mr. Iwakoshi explained that he designed these cakes to suit the needs of many of his customers who are couples and find these just the right size for two people. What is more, they are an attractive feast for the eyes as well as the palate. On the day I visited, they had Apamate (created using bitter chocolate, almonds, praline butter cream and rum; definitely a cake designed for adults), Pistachio and Lime, with its rich yellow colouring, the rusty–brown of a Chocolate Brick and a 'Kurumiruku' cake (Japanese word play combining the words for walnut and milk). These have all been designed to add a touch of sophistication to each couple's 'cake experience'.
The bottom row of the counter is taken up by individual cakes and slices, such as strawberry and white chocolate, raw cheesecake, and caramel mango. What caught my eye was the 'Otoko no Savarin' ('Savarin for Men'). This creation is a brioche, a light yeasty sponge, made from durum wheat and crowned with custard and cream and topped off with orange peel. I was jokingly asked by Mr. Iwakoshi whether I came to the shop by car and after digging into the savarin I realised why – it is steeped in Remy Martin cognac.
Sitting at one of the small tables at the rear of the shop with my savarin and an iced coffee, I could appreciate why this spongy delicacy is definitely 'for men' and is a delight to the taste buds.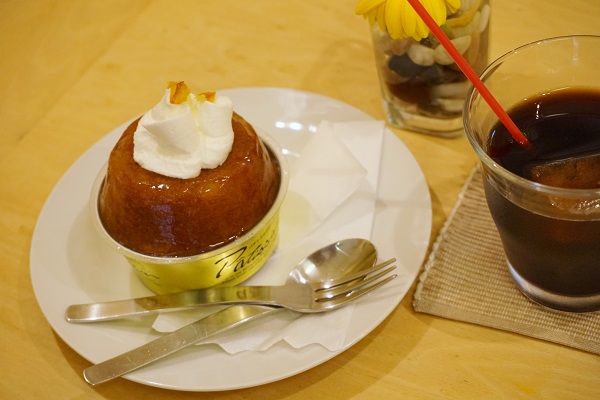 Another of Mr. Iwakoshi's creations is Earl Grey Cassis, a coming together of Earl Grey tea and cassis in a visual treat of colours gradating from wine colour to beige. This subtle–tasting mousse is smooth and light and has three different kinds of black currant adorning the top.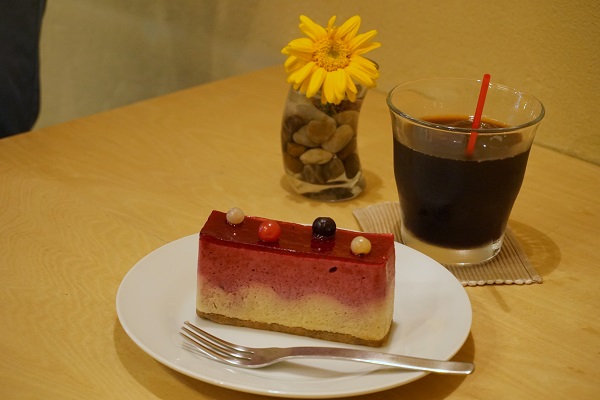 And let's not forget the bread. Besides the popular semolina bread, Mr. Iwakoshi and his team bake various types of German bread using rye, such as Berliner Landbrot and Flocken Sesam; this enables Mr. Iwakoshi to indulge his liking for rye bread.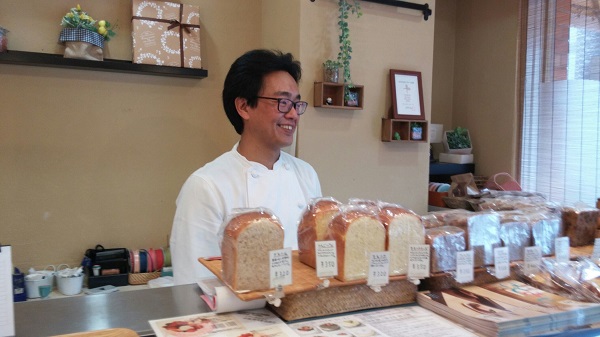 In addition to his staff in the kitchen, Mr. Iwakoshi is ably assisted behind the counter by Naoko Sugimura, a fluent English speaker, who honed her language skills working as a guide leading climbing parties on tours across the world. Now retired, she enjoys serving foreign customers in the low–lying land of Koto–ku.
So, if you are in the area why not call in and discover why Patisserie Collage's cakes and bread are so popular.
Story and Photos by Jeremy Hutchinson