Personal Therapy for Life
Published: October 7, 2021
Body Maintenance Salon Regain is the personal salon of the physical therapist Ms. Maki Yoshida. On a recent afternoon, Ms. Yoshida took time out from her busy schedule to explain and demonstrate her unique approach to helping her customers regain their physical well being.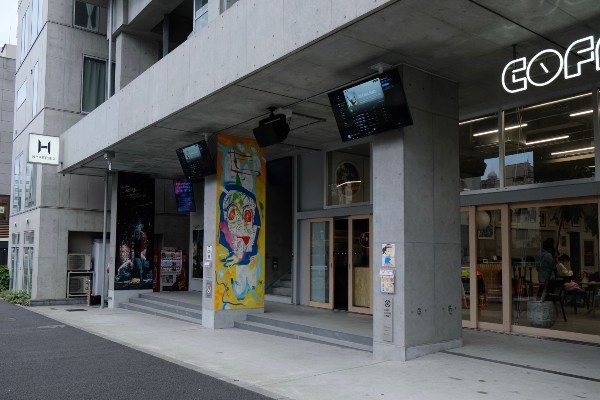 Regain is located in room 508 of Hypermix, a Good Design Award-winning building one minute's walk from Monzen-nakacho station. The elevator to the upper floors is located a few yards down the right hand side of the building (the Hypermix building is interesting in its own right as a contemporary combination of commercial space, rental space, and shared living community).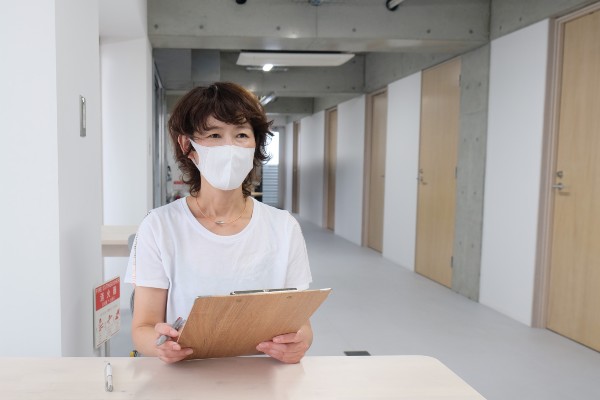 Each floor contains several rental rooms with a large communal kitchen and seating area. Blonde wooden tables by the floor to ceiling glass windows are available for meetings. Ms. Yoshida introduces herself and takes us through the beginning programme for a student. "The sessions are called lessons; the customers are students, there's homework and the ultimate aim is for them to "graduate" so they need only the occasional lesson to maintain health. I'm a qualified walking instructor and a master conditioning instructor; I have an osteopath licence too and have worked for many years as a personal trainer, therapist, and conditioning counsellor in sports clubs and culture schools in Tokyo."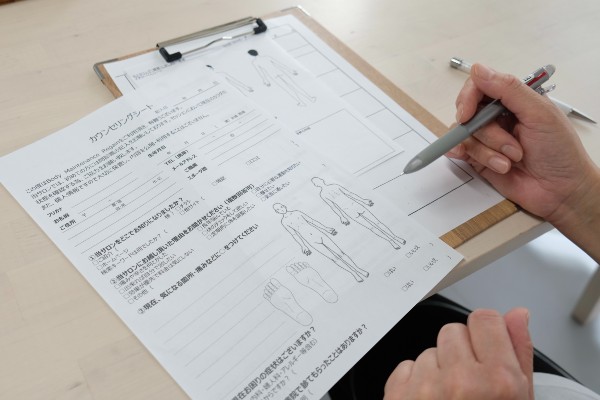 While Ms. Yoshida's qualifications and curriculum vitae are extremely impressive, she's very open and approachable. It's easy to see why she's so popular. Students begin with a lengthy, in-depth discussion of their condition, their hopes, and targets. "Everyone is different, so each student receives an entirely original, personalized programme suited exactly to them. I have a very wide range of students, both men and women, though most are ladies from 40 to around 80," she explains. "Some are so happy to discuss their situations that they actually cry," she adds. Dieting, posture improvement, lumbar and shoulder pain, pelvis and hip problems, overwork, stress relief, and therapy to prevent dementia are the most common programmes that Ms. Yoshida creates. Many female students take a course to adjust their pelvis after childbirth. Foot, hand, head, and stomach massage therapy is also available.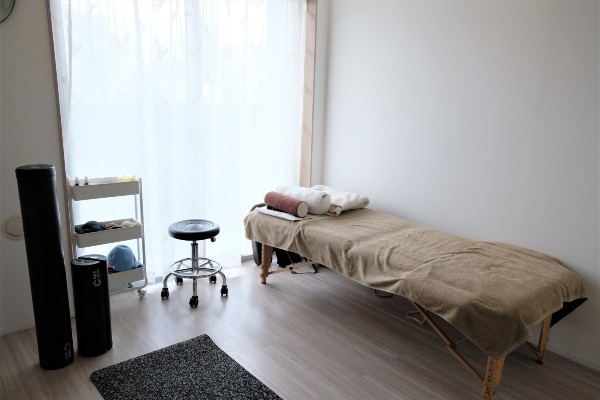 The therapy room is light and airy with brushed concrete walls and a high ceiling. The flooring is comfortable too. Surprisingly, there's little in the way of equipment, just a massage bed and some foam rolls, belts and towels.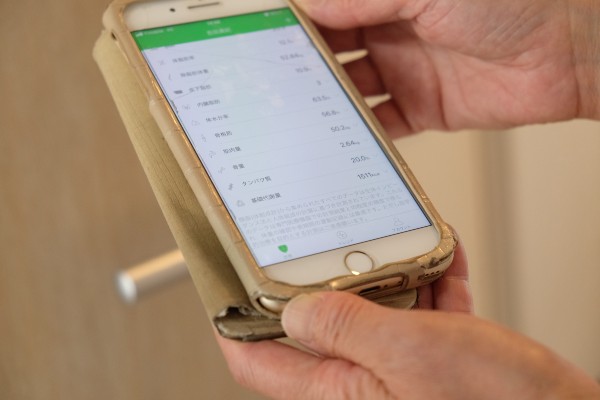 After the initial counselling procedure, the students download the application and take their measurements on the smart body composition scales. This way Ms. Yoshida can monitor all changes from week to week. Students also keep records of their daily diet and exercise programmes.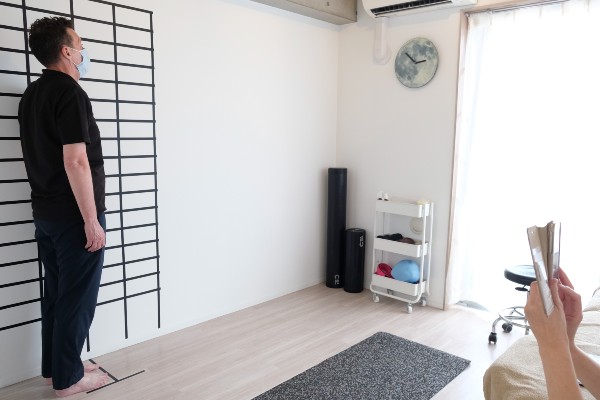 Ms. Yoshida takes photos (front and back, left and right profiles) against the taped wall, to both identify problems and to mark future progress. A few simple movements later she identifies several problems (muscle tension, misaligned spine, one shoulder higher than the other) and immediately begins a series of exercises to improve them.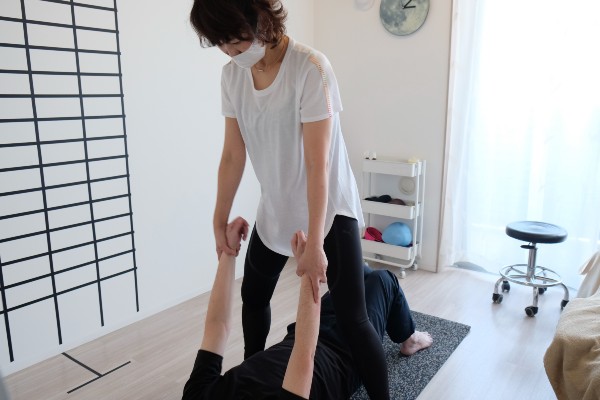 These exercises involve lying on a half round foam roller and deep breathing, before Ms. Yoshida stretches, pushes, pulls, and kneads my limbs. It's very comfortable and I can feel the tensions ease out of my muscles.
The great benefit of a one-to-one lesson is obvious here as she explains everything clearly and corrects my movement in fine detail.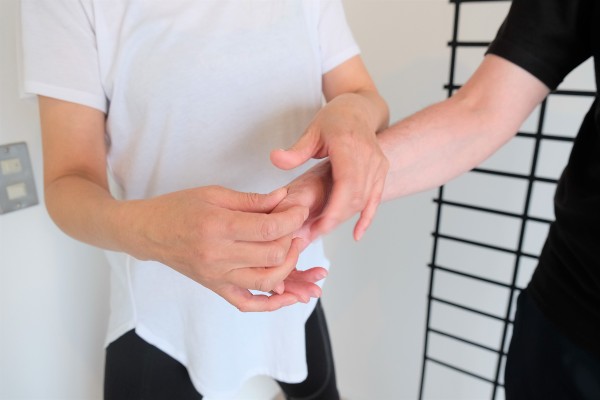 Ms. Yoshida emphasises the exercise of inner and outer muscles. "We have to reset our muscles," she says, "because we overuse some but under use others in daily life. This creates tension and imbalance which causes problems." She demonstrates with some simple but effective pushing exercises that work the inner arm muscles.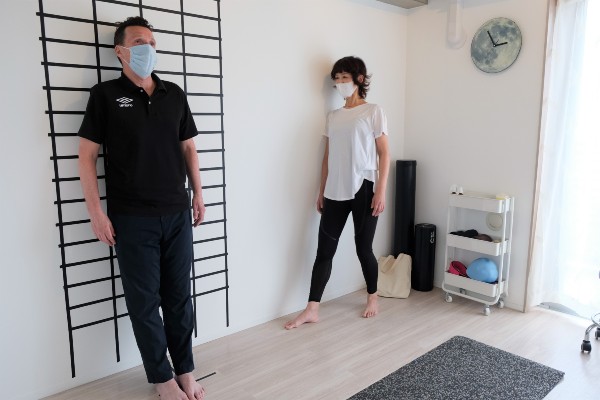 Amazingly, after just 30 minutes or so of stretching, movement and light massage my right arm, which was slightly bent at the elbow owing to some shoulder discomfort, feels fine and I can raise it parallel to the left. I also feel very relaxed and refreshed. Ms. Yoshida explains how these conditioning exercises comprise the first part of a lesson, with therapy the second part.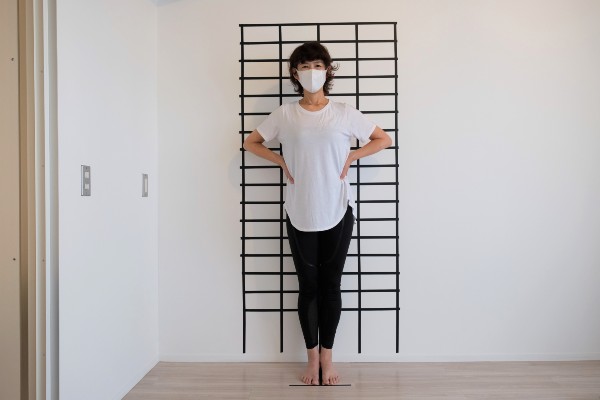 The conditioning is for pain relief, the therapy for weight loss and figure improvement, the stretching is for physical strength and flexibility, the pelvic adjustment improves posture and the bodyweight exercises help develop great legs. Ms. Yoshida has perfectly proportioned legs and indeed offered us a couple of tips on how to achieve them. She frequently trains dancers, athletes, performers, ballerinas, and basketball players. "I actually opened this salon as a place to treat private students outside of the sports clubs where I was working," she says.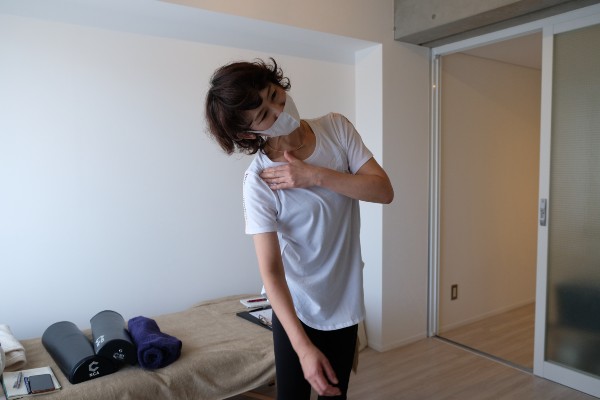 Ms. Yoshida kindly recommends some "homework" exercises to relieve stiff shoulders and other modern ailments caused by poor posture and hours spent in front of a computer.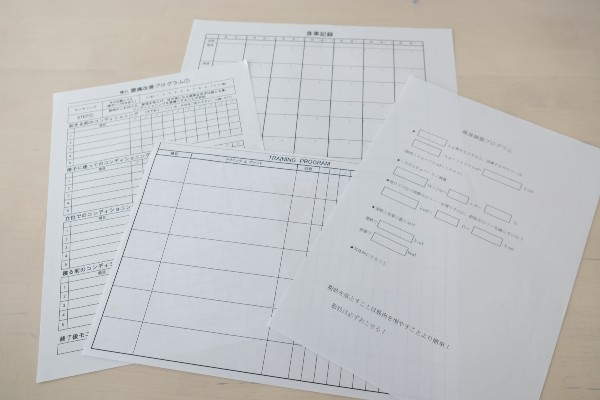 After each lesson, Ms. Yoshida discusses its content with the student and sets homework. This could be almost anything from the kind of muscle relaxing exercises I was recommended, breathing exercises, stretching and so on. Depending on their targets, all students receive a variety of forms to complete to chart their progress. As she says, "The data never lies," so it's easy to ascertain progress. The first class consists of counselling and monitoring only, and generally takes around one hour 15 minutes. The second class sees the start of the personalized programme; the two classes together are 11,000 yen, with each subsequent class 11,000 yen. Initial contact can be made by phone, with classes usually arranged in person or by the Line smartphone application.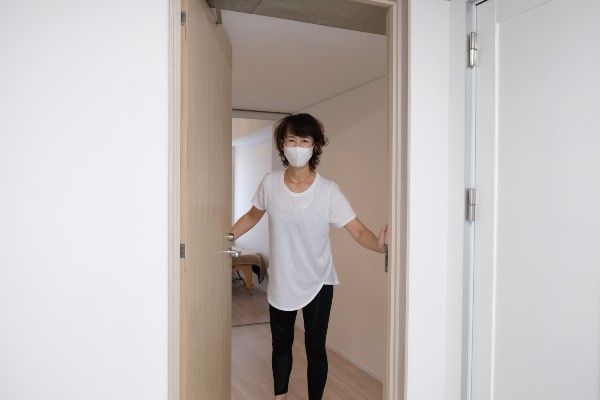 Ms. Yoshida is a highly-qualified therapist with years of top-level experience. If you have any health concerns or issues you'd like to discuss, then by all means make that call. (And the building is really cool, too!)
Story and Photos by Stephen Spencer