Pioneer of the sento-public bath house world
Published: December 27, 2017
If you have never experienced the pleasures of dipping yourself into the hot waters of a sento (public bathhouse) and becoming part of the local sento community for even just a short time, then I recommend you go along to Hakusan-yu, a 10 minute walk from Toyosu Station.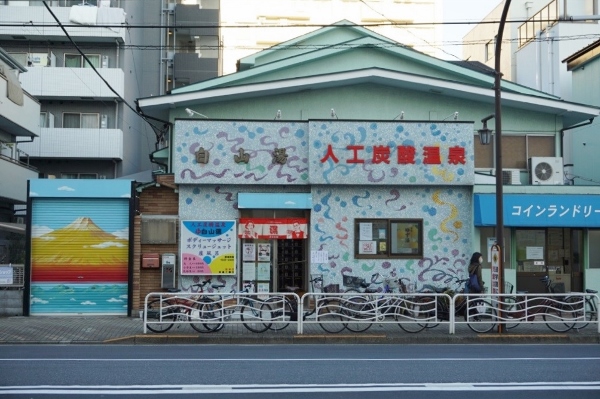 Once upon a time, sento were common in Tokyo, but as the quality of housing has improved over the years the need for sento has declined; and where there used to be five in the Edagawa and Toyosu neighbourhoods alone, only Hakusan-yu remains. Run by Mr. Toshihiro Shirota, the 3rd generation owner, Hakusan-yu opened on its present site in 1955.
Stepping under the colourful noren (sign curtain hanging over a shop entrance) is like entering an older world.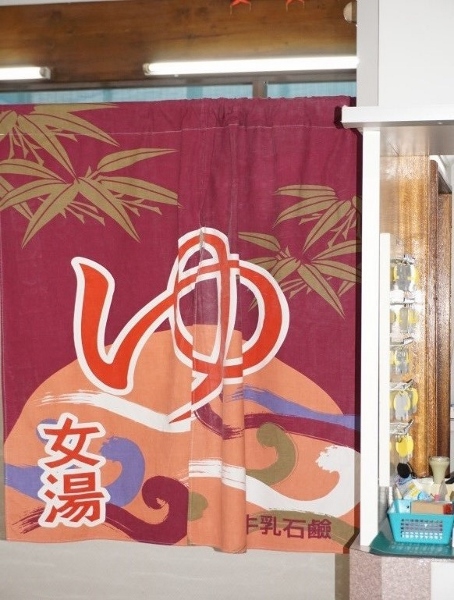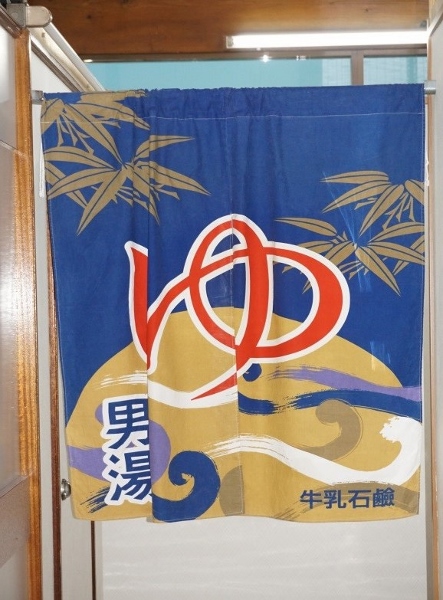 The highly polished wooden floors gleam and the light from the brightly lit bath area provides a welcoming atmosphere. And if you gaze upwards you will see the sento's high, white ceiling, criss-crossed with wooden lattice supports.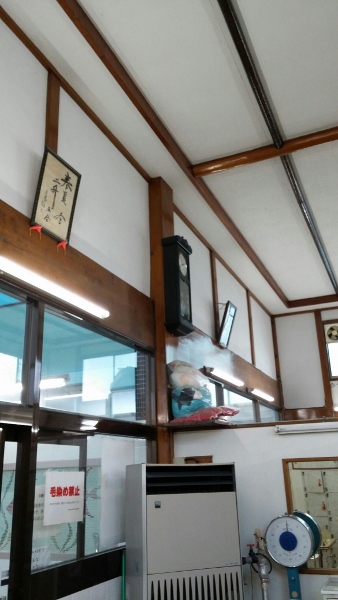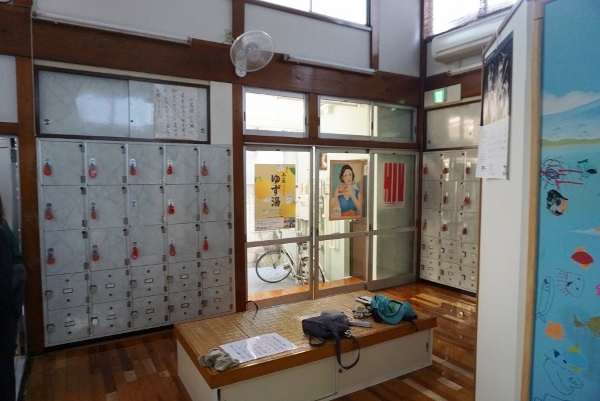 But, before you plunge into the bathing area, Mr. Shirota asks that a few simple, but essential rules be observed: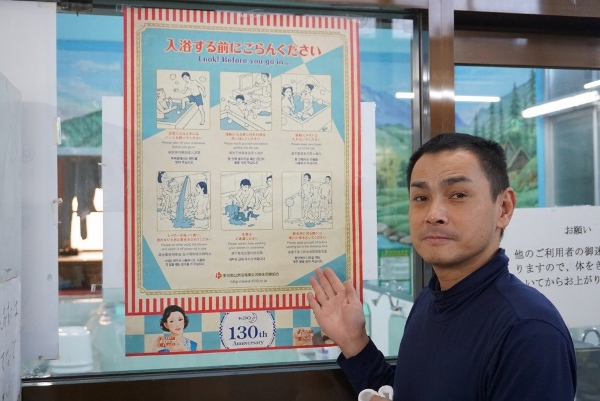 1. Please remove your underwear before entering the bathing area.
2. Please make sure to wash and rinse your body thoroughly before entering the bathtubs.
3. Whilst washing your body, please sit on one of the stools provided and switch the water off when not using it.
4. Please do not wash your clothes in the washing area or the bathtubs.
5. Please keep your washing cloth out of the bathtubs (folded, I find it sits comfortably on top of the head).
6. When leaving the bath area, please dry yourself properly before re-entering the changing area (the polished floor becomes slippery and other customers complain).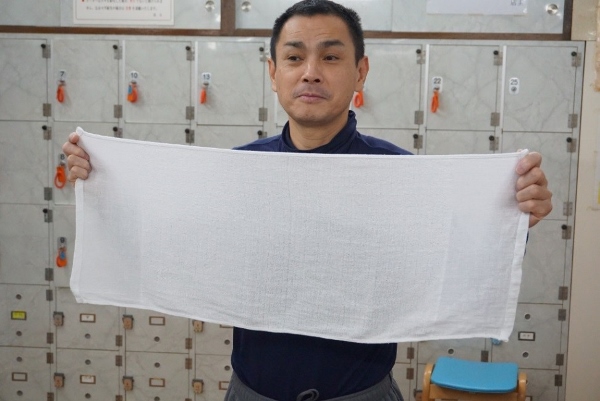 7. Please respect the other users of the baths.
8. Oh, and finally, no photographs, please.
On entering the men's bathing area, you are greeted by a tiled mural of a mountain range and a river running across the back wall. The river seems to flow directly into the two baths below it.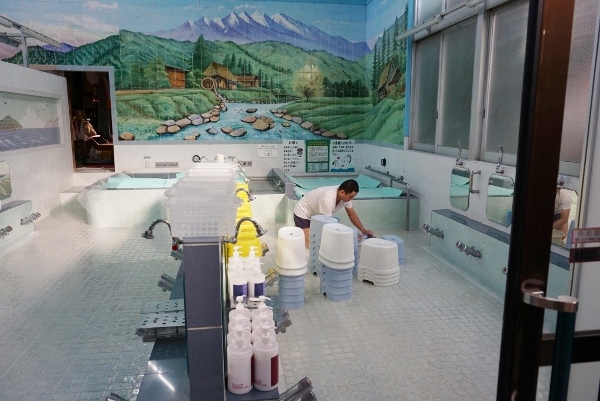 These two baths comprise a standard one and one of bubbling water. The water in the standard bath is at a relatively cool 38 degrees centigrade, whilst the latter is a piping hot, invigorating 42 degrees, with water swelling up and around you. This area is split between a "screw jet" bath which has the same effect on my back as a vigorous massage chair, and a relaxing "neburo" (sleeping bath). The bubbling water is carbonated and is claimed to be good for many ailments.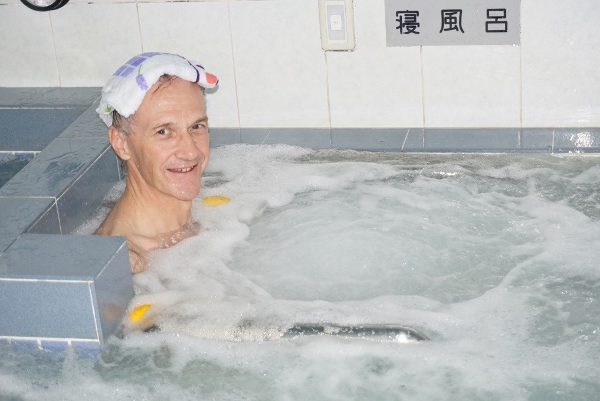 The back wall of the women's bathroom boasts a striking panorama of Mt. Fuji, and in the washing area, between the rows of faucets, is a passage lined with pebbles through which overflowing water passes and where you can massage your feet.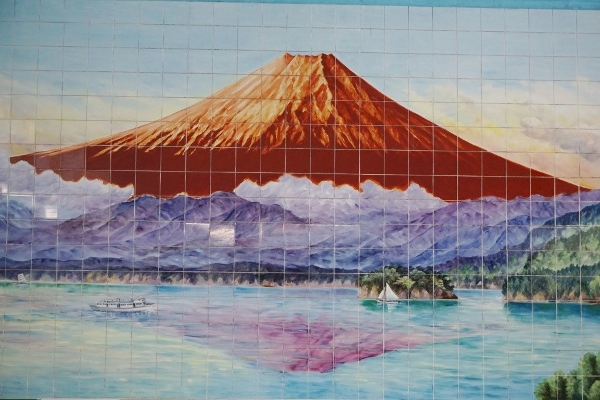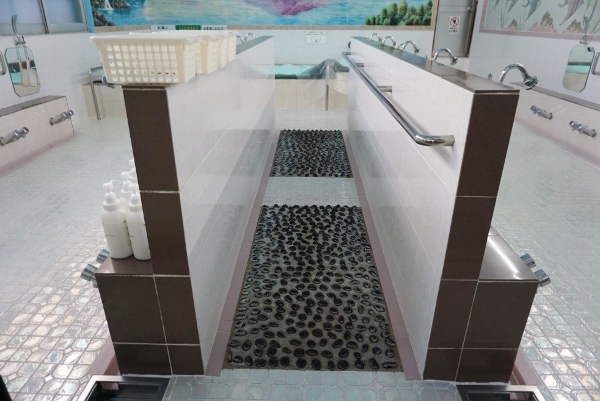 The busiest days at Hakusan-yu are Friday, the end of the working week, and Sunday or "ahiru" (duck) day, when the baths are filled with a flotilla of plastic ducks for kids to play with.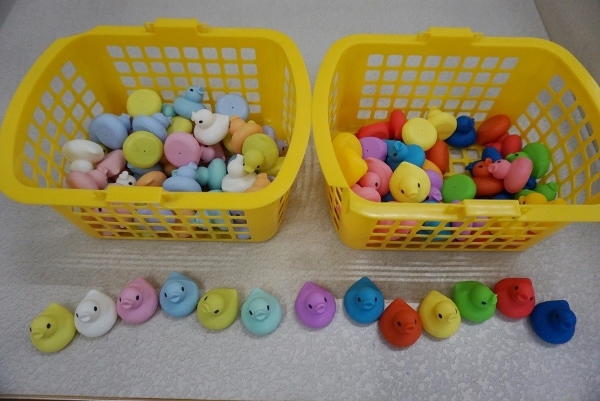 The entrance charge at Hakusan-yu is 460 yen for adults, 180 yen for children (aged 6 to 11 years) and 80 yen for children aged 5 and under. Please don't forget to bring a small towel to wash yourself with and a bath towel for rubbing yourself down. If you happen to forget them, you can purchase them for 100 yen and 500 yen, respectively. Hakusan-yu accepts charge cards, such as Suica, Pasmo, Waon, and Nanaco, and provides free wi-fi.
And for those customers worried about their fashion tattoos, as a sign of the changing times, Hakusan-yu accepts customers with tattoos.
So, why not take the plunge and experience a traditional Tokyo pastime. You'll feel much better for it.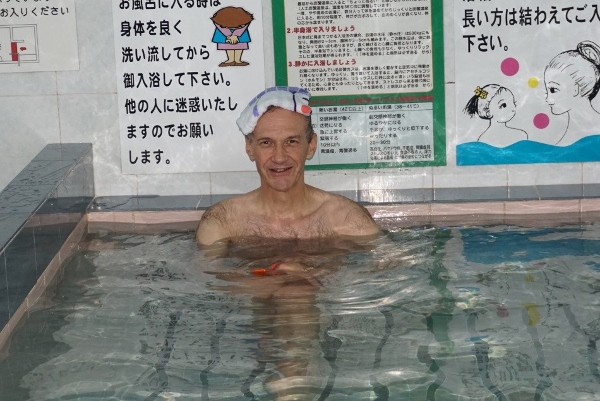 Story and Photos by Jeremy Hutchinson