Popular Italian with Stylish Atmosphere
Published: January 18, 2021
2021 will mark the 30th anniversary of the well-known Italian restaurant Pappatoria. Located just 50m from Monzen-nakacho station, it has been serving the finest quality Italian dishes and wine to its loyal customers since 1991. On a recent chilly autumn afternoon, we dropped in for a chat with the suave and courteous owner, Mr Hirotake Kudo.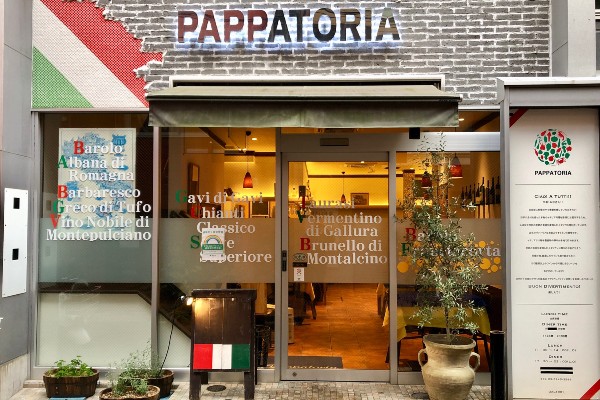 Koto-ku born Mr. Kudo studied Italian cuisine in Japan and started Pappatoria with his wife nearly thirty years ago. "We originally ran the place and cooked together; now we employ veteran chefs," he explained. "We offer dishes from all over Italy, using seasonal Japanese ingredients and foodstuffs imported from Italy. As much as possible we make everything by hand, including the pasta. All our pasta is handmade."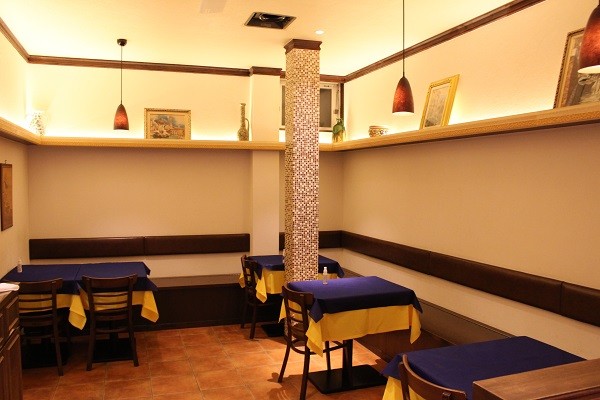 The number of tables in the downstairs area has been halved to comply with current health protocols, all featuring tablecloths in the distinctive Savoy azure. When we arrived, a table of diners were finishing a very late lunch, obviously loath to leave the warm and comfortable restaurant. After they finished, the tables were meticulously cleaned and tidied away against the walls.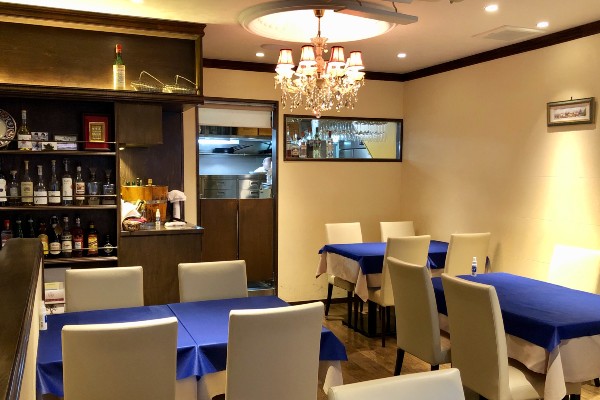 The second-floor room was another oasis of calm, featuring an olive bush and a splendid Italian crystal chandelier.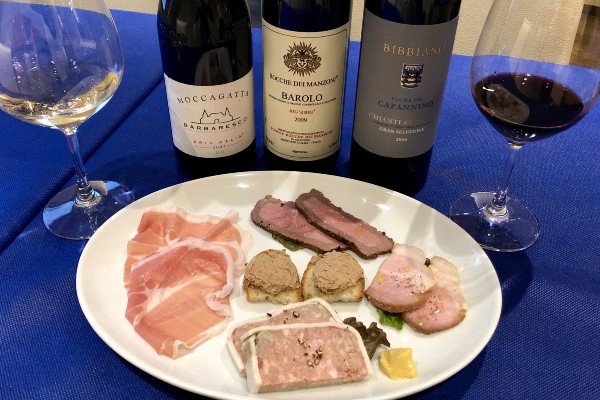 Mr. Kudo disappeared into the kitchen, quickly returning with this mouthwatering selection of meaty antipasto (oniku no zensai mori awase 1,760 yen including tax). Smoked Japanese ham (sangen buta), Italian prosciutto, homemade liver pate, country style pate and more; all were extremely tasty but the liver pate was just about the best I've ever eaten, while the slightly spicy coarse farmhouse pate was also wonderful. Except the prosciutto, all were handmade in the restaurant.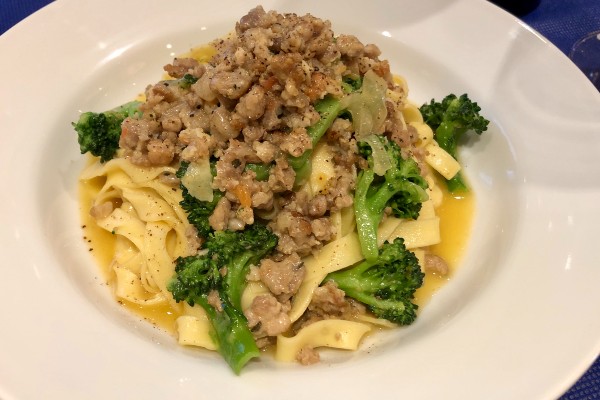 This pork and broccoli tagliatelle (1,595 yen including tax) was another winner. The rich, meaty sauce was a perfect match for the robust, handmade tagliatelle; an immensely satisfying dish indeed.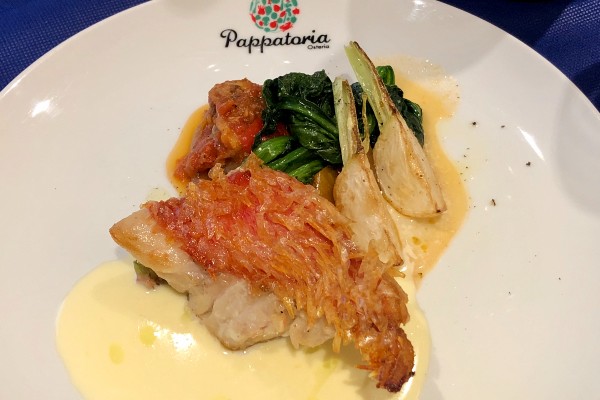 Mr. Kudo scored a hat-trick with this crispy-skinned splendid alfonsino (3,080 yen including tax). Perhaps more widely known by its Japanese name of kinmedai, the instantly recognizable bright red, big-eyed fish is a deep-sea denizen and sushi staple. The fish was delicious, as were the creamy sauce and sautéed seasonal vegetables.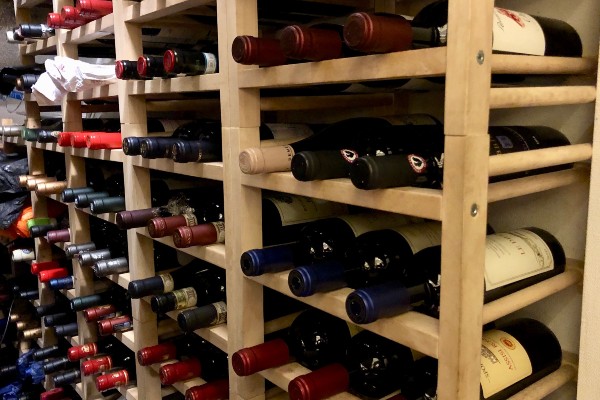 Pappatoria is justly famous for its extensive wine list which features around 150 varieties of Italian wine, from all regions of the country. There are some rare, unusual and quite expensive varieties – Pappatoria really is a haven for oenophiles with a taste for Italian wine.
I enjoyed a drop of 2015 Villa Fidelia Rosso, an elegant, rich, and fruity wine from Umbria that perfectly matched the antipasto plate. Highly recommended. My colleague had a glass of 2018 Trebbiano D'abruzzo, a crisp dry white with a delicate bouquet, which she declared excellent. At 3,600 yen a bottle it's very reasonably priced too.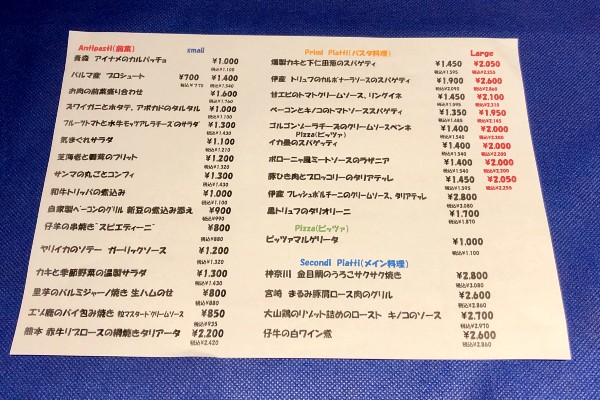 The large menu is bursting with tasty-sounding appetizers such as Aomori greenling carpaccio (1,100 yen), snow crab, scallop, and avocado in tartar sauce (1,100 yen), lamb spiedini (800 yen), spear squid (yari-ika) in garlic sauce (1,320 yen), oyster and vegetable salad, and Kumamoto "red-gyu" ribeye tagliata (2,420 yen). And those are just the starters! Pasta includes oysters and Shimonita negi onion (1,595 yen), Italian truffles in carbonara sauce (2,090 yen), shrimp and tomato cream linguine (1,595 yen), bacon and mushroom in tomato sauce (1,485 yen), and gorgonzola cream penne (1,450 yen). The fresh Italian porcini cream sauce tagliatelle is 3,080 yen, and I'd bet money it's fantastic.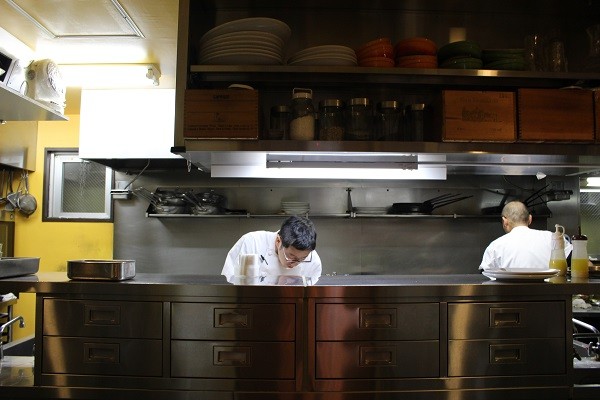 Main dishes include the alfonsino, grilled Miyazaki pork shoulder (2,860 yen), risotto-stuffed guinea fowl with mushroom sauce (2,970 yen) and veal in white wine sauce (2,860 yen). There's even a pizza margherita (1,100 yen)!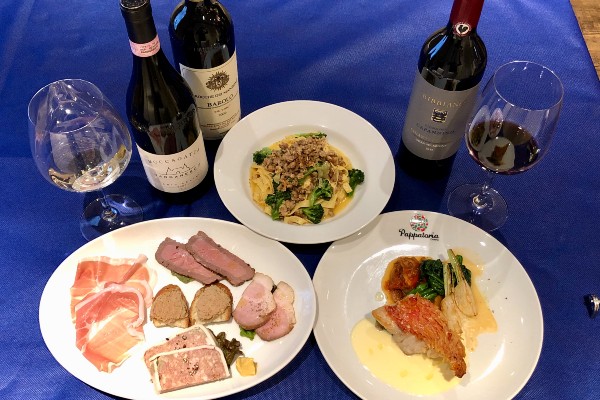 The lunch menu consists of four variations:
A: a choice from two daily pasta (100g), 1,100 yen
B: a daily pasta (60g) plus a daily main dish, 1,500 yen
C: antipasto selection, a daily pasta (60g), a main dish, dessert selection, 2,000 yen
D: a daily main dish, 1,100 yen
The lunch selections here are before tax. Experience suggests that lunch C is the best choice. Over the course of 30 years, Pappatoria has become firmly established in the local community, with a large number of regular patrons for both lunch and dinner. "Some of our most long-standing customers had children, and now bring their grandchildren here," said Mr. Kudo.
It's easy to understand why: the atmosphere is very comfortable and relaxed, the food is wonderful, the wine list extensive and the cost performance is outstanding. Whether enjoying a pasta lunch or a special dinner celebration, Pappatoria is an excellent choice. Italian customers who visit Pappatoria definitely agree, too!
Che buono!
Story and photographs by Stephen Spencer