Power Gemstones at Pure Pure!
Published: May 13, 2021
Pure Pure is a newly opened shop selling a vast array of gemstones, minerals, crystals and much more in original designs. On a recent sunny afternoon, we dropped in to meet managing director Mr. Masaichi Yamamoto and one of the staff, designer Ms. Masuko.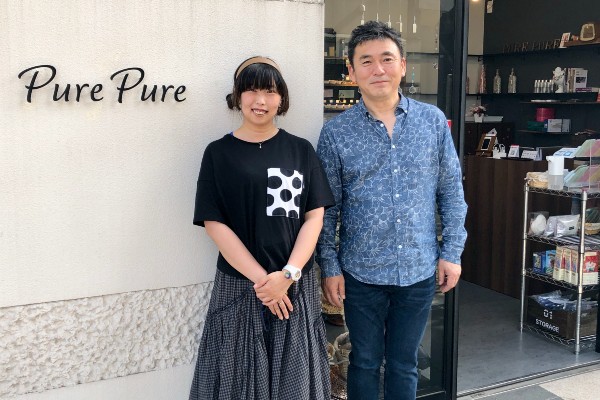 "We opened the shop here in December 2020," explained Mr. Yamamoto, a ten-year veteran of the gemstone business. "Most of our sales are online but we felt it was important to have a place where customers can view our products for themselves in natural light. Our office is just behind Olinas Tower in Kinshicho so when the opportunity arose to rent this new build space, we jumped at it. The staff and I can walk or bike it in just a few minutes."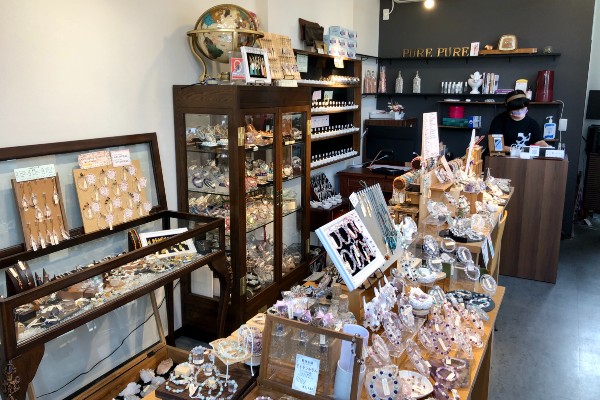 Located just north of Sumiyoshi station on Yotsume Street, the interior is light, airy and contains a veritable treasure trove of beautiful items. "All of our products are imported," said Mr. Yamamoto. "I used to travel abroad around ten times a year on buying trips but the current situation has prevented that. Fortunately, we have a large stock of items I selected personally for quality and price."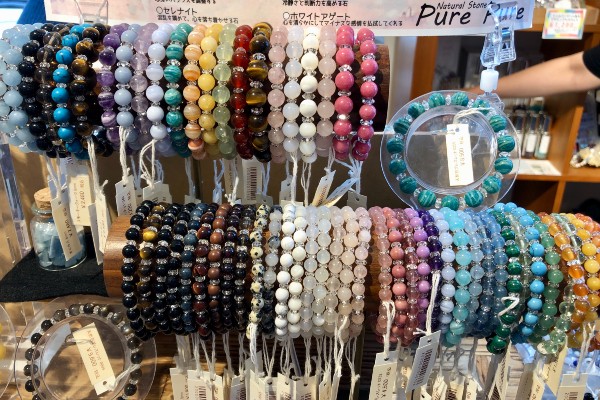 "We have over a hundred kinds of natural stones alone, plus we also have a gold and silver business too," added Mr. Yamamoto. Bracelets made with natural stones are the top sellers, with prices varying from a couple of thousand to several hundred thousand yen for rare, high quality stones.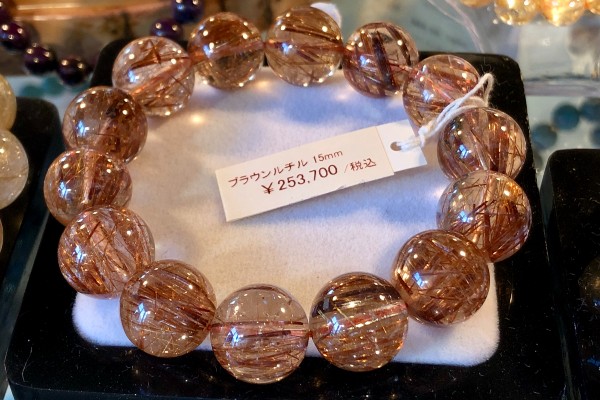 For example, Pure Pure has a wide selection of these beautiful taichin rutilated quartz bracelets. The quality of the brown rutile "needles" inside the quartz elevates the price!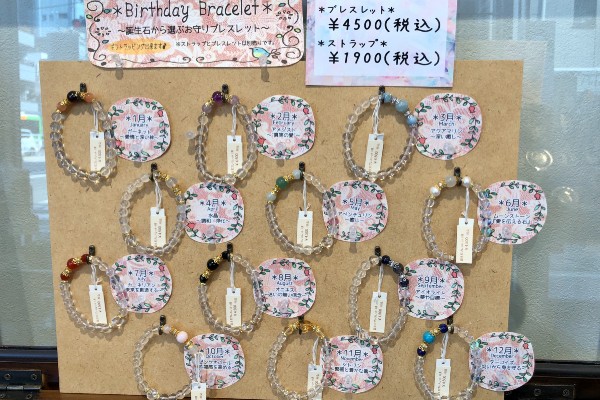 Birthstone bracelets are extremely popular as gifts. "We have many male customers," explained Ms. Masuko, "who buy birthstone rings, bracelets or necklaces for their partners or children."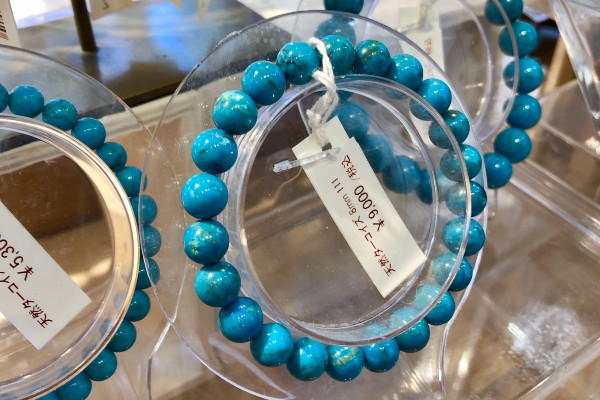 These turquoise bracelets (December's birthstone) vary in price depending on size and quality.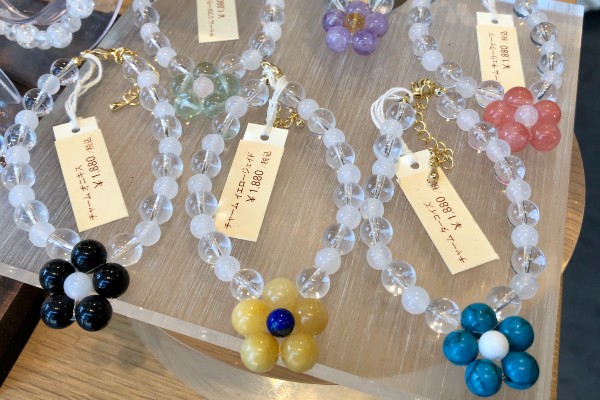 While the top end is certainly high, there are many reasonably-priced items. These charm bracelets featuring the likes of onyx, yellow jade, turquoise, cherry quartz and fluorite are cute and colourful at 1,880 yen including tax.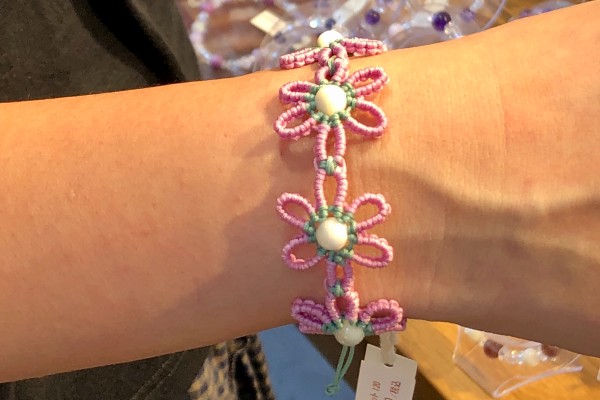 Ms. Masuko designed and made these macrame charm bracelets herself. Again, very reasonably priced at 1,780 yen each. "I'd say items priced at around 3,000 yen are our top sellers," she explained.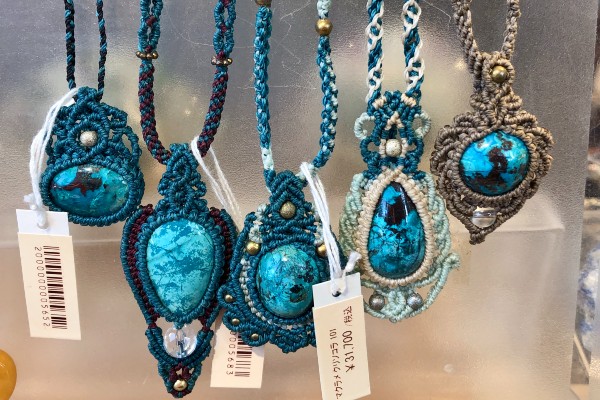 Fans of mineral gemstones will recognize the gorgeous cyan of chrysocolla, again set in Ms. Masuko's macrame.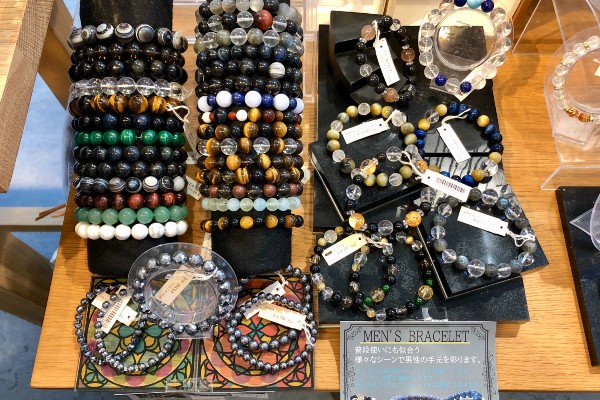 Pure Pure isn't only for ladies. There's a wide selection of chunky bracelets for guys too!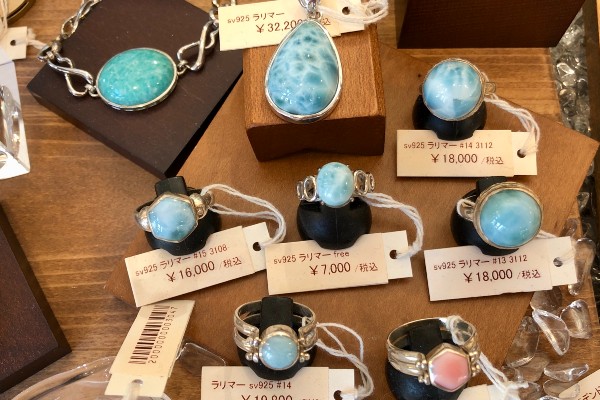 These beautiful milky blue stones are Larimar, a very rare mineral found only in the Dominican Republic in the Caribbean.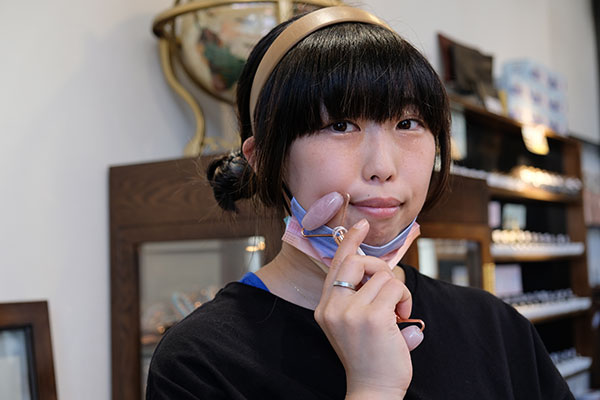 Here Ms. Masuko demonstrates how to use a face roller made from rose quartz (2,980 yen including tax). Rose quartz is a popular stone for cosmetic uses.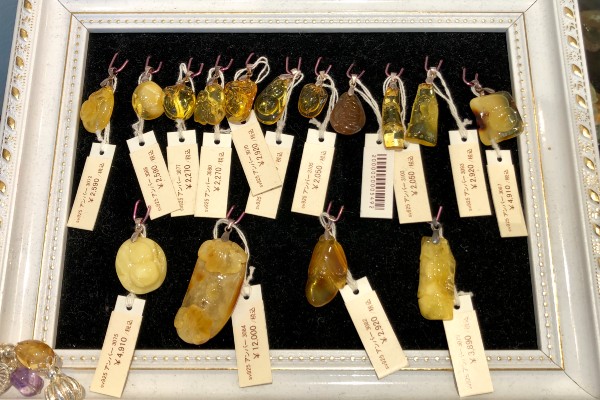 Pure Pure also offers a selection of gorgeous amber jewelry.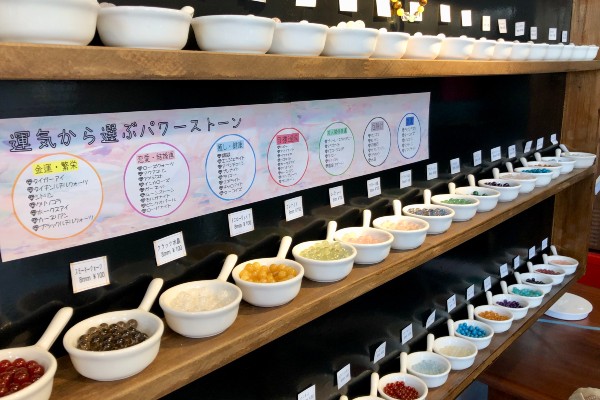 As Ms. Masuko explained, Pure Pure offers a huge choice of power stone beads for those who wish to create their own bracelet or necklace.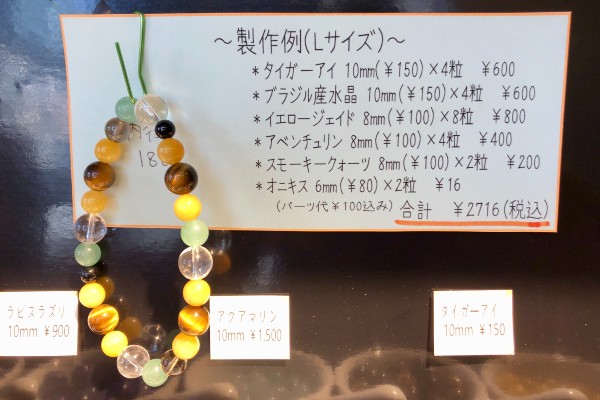 For example, this bracelet features 4 tiger eyes, 4 Brazilian rock crystals, 8 yellow jade, 4 aventurine, 2 smoky quartz and 2 onyx, for a grand total of 2,716 yen, including tax.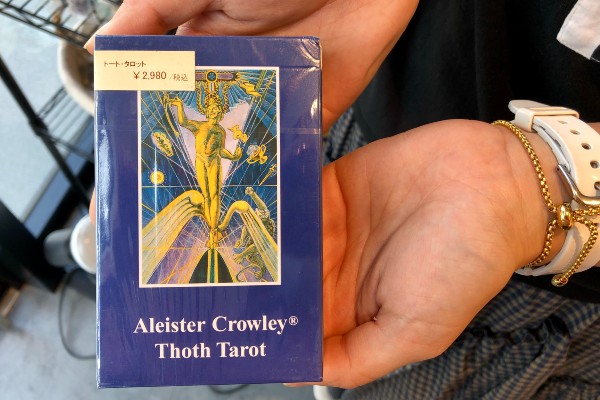 For those interested in the Tarot, Pure Pure has a few decks of the cards designed by the renowned English occultist Aleister Crowley.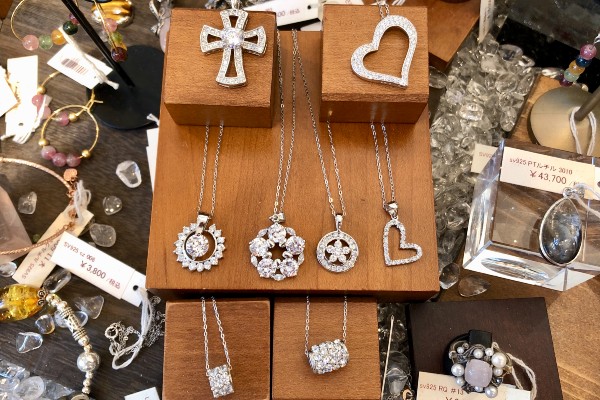 More traditional designs are also available.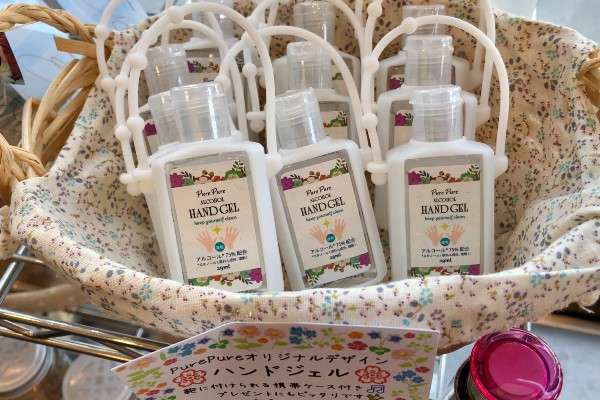 Pure Pure even offers its own brands of masks and alcohol hand gel.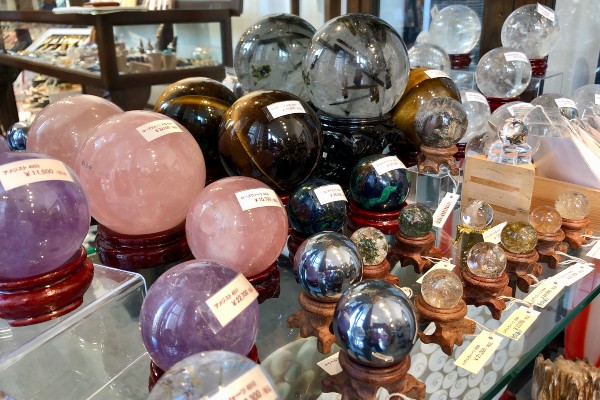 While gemstones at Pure Pure are mainly wearable accessories, there's also a large number for interior design use. These finely polished quartz, rutile, amethyst, malachite and crystal balls add a natural touch to any room.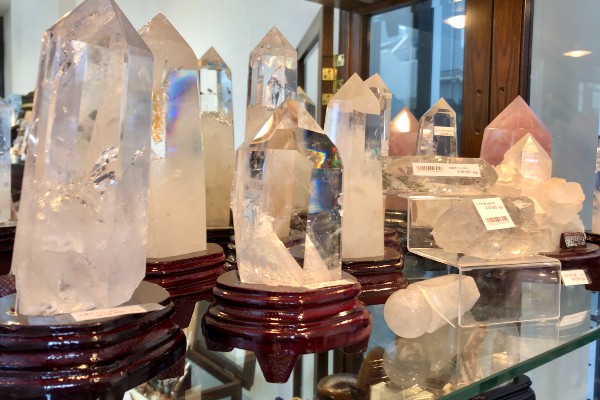 These large rock crystals refract light in a most appealing manner.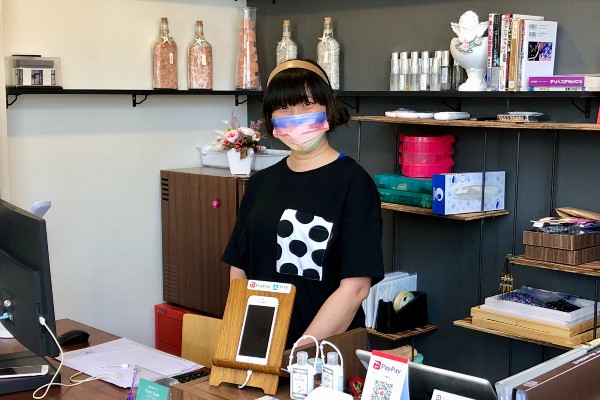 Pure Pure also offers a repair service. If your bracelet has broken or the settings have come loose, Ms. Masuko and the staff are always available for discussion and advice. We'd suggest setting aside a reasonable amount of time for a visit because there's so much to look at it could take all afternoon!
Story and Photos by Stephen Spencer