Premium Shochu, Sake and More
Published: April 28, 2022
Masudaya Kobayashi Saketen is a long-established liquor shop offering top-quality beverages and more to the lucky residents of the Ojima area of Koto-ku. On a recent sunny afternoon, I dropped in for a chat with second-generation owner Mr. Tsunemi Kobayashi.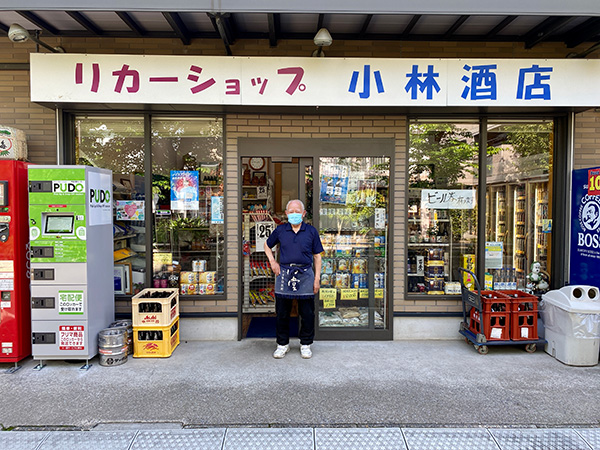 The shop is located on the Kameido Ryokudo Koen, a narrow greenway park that connects Nishi-ojima and Kameido, once the tracks of a Tokyo Toden tram line. The park is lined for its entire length by flowering cherry blossom trees which create a fabulous tunnel effect when they bloom in spring. There are also some wisteria which were blooming on the day I visited. It's a really nice location, leafy and quiet, yet just three minutes' walk from the thundering traffic of Shin-ohashi Street and bustling Nishi-ojima station.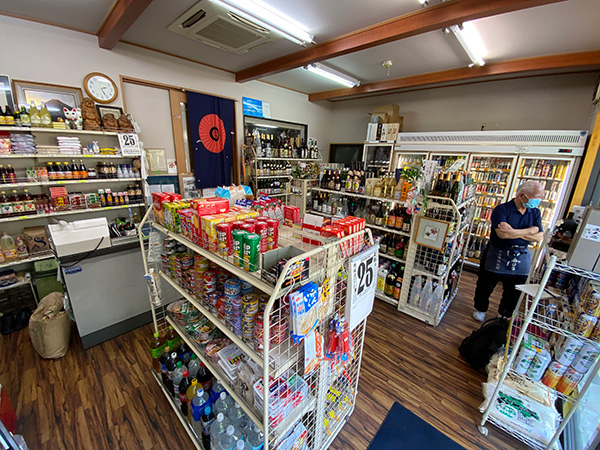 "My father took over the shop in 1951 from the previous owner, a Mr. Masuda, and we've been here in the same location since then," explained the youthful and ebullient Mr. Kobayashi. "In those days, this area was one of small factories and company housing, while the trams ran right outside the door. It was a lively, hard-working area and the residents bought their drinks and snacks here."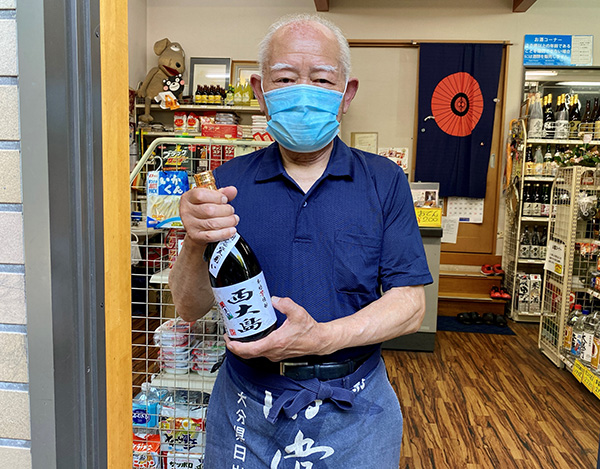 Here Mr. Kobayashi holds a bottle of Nishi Ojima, a unique brand of shochu produced for his shop in the southern prefecture of Oita. Unlike sake, shochu is a distilled spirit that can be produced from a variety of ingredients such as rice, barley, buckwheat, or brown sugar. The Nishi Ojima brand of shochu is made from sweet potatoes, a speciality of the southern island of Kyushu where Oita is located.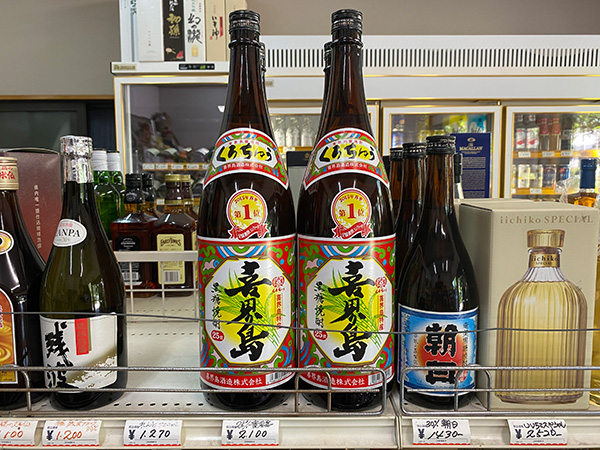 Top quality shochu is distilled only once so it retains the characteristics of its main ingredient. In the case of this Kikaijima Kurochu shochu from Kikaijima, a tiny island just north of Okinawa, that is kokuto, unrefined whole cane sugar. It's the number one top seller, according to Mr. Kobayashi.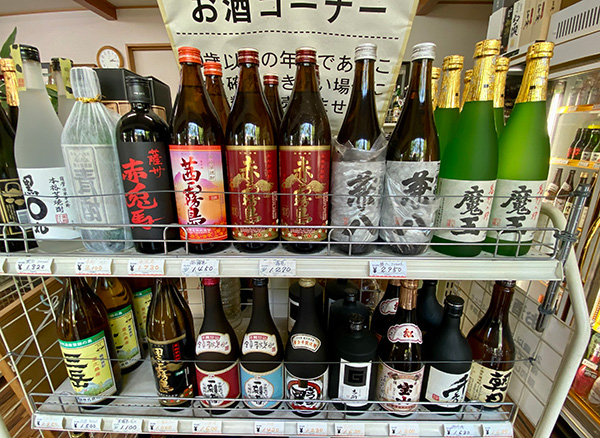 Several other well-known premium brands of shochu are available: Maou (sweet potato), Sato White and Sato Black (sweet potato), Sato Mugi (barley), Aka Kirishima (sweet potato), Sekitoba and Mitake, which is produced in small batches on the World Natural Heritage Site island of Yakushima south of Kyushu. There are many more in what is an excellent selection for shochu lovers.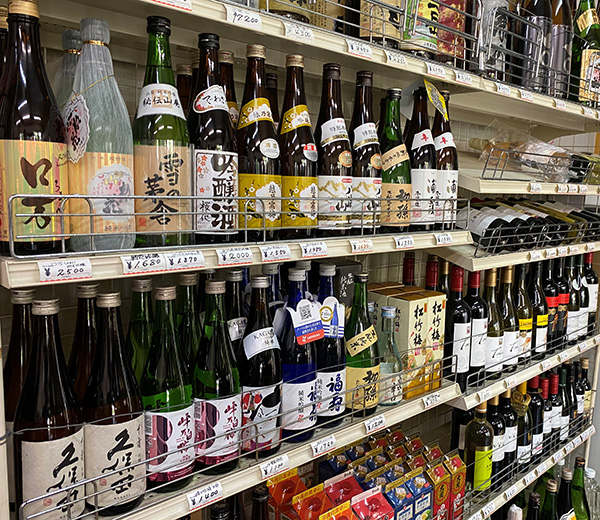 Sake is well-represented too, of course, with a wide selection of varieties from all over Japan.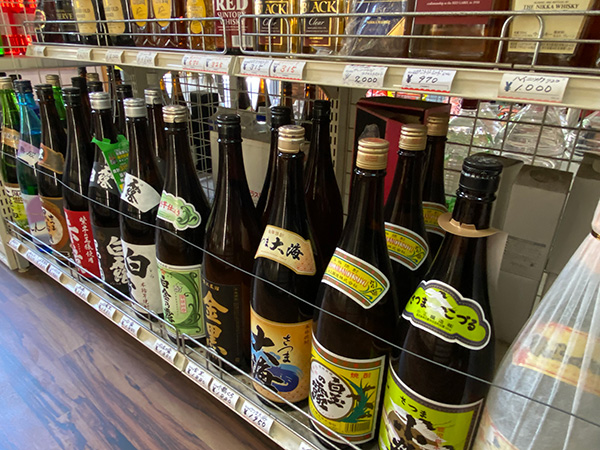 Mr. Kobayashi is always happy to offer his vast experience to suggest a particular brand of sake to suit customers' tastes.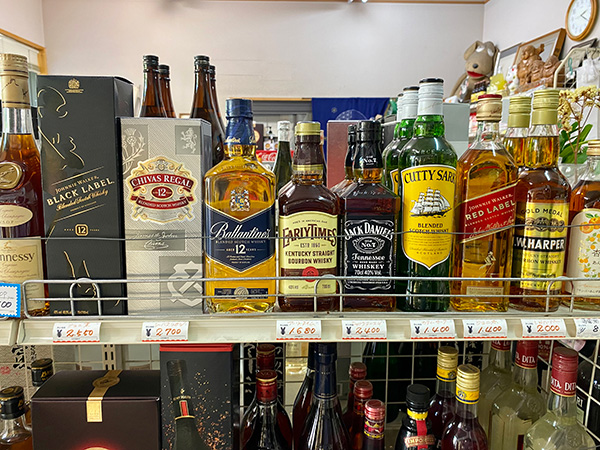 "I regularly order whiskey but under the current global situation it takes a while to be delivered, then sells out very quickly," explained Mr. Kobayashi. Many popular brands are available.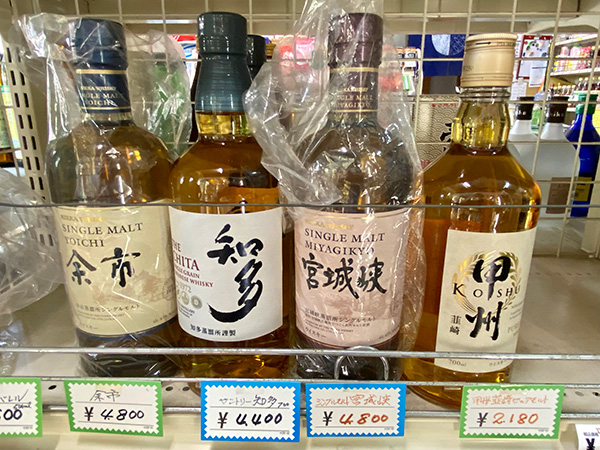 As for Japanese whiskey, it's just pot luck given the current huge demand. If you're in the area and looking for some, why not make a habit of dropping in the shop? You never know your luck!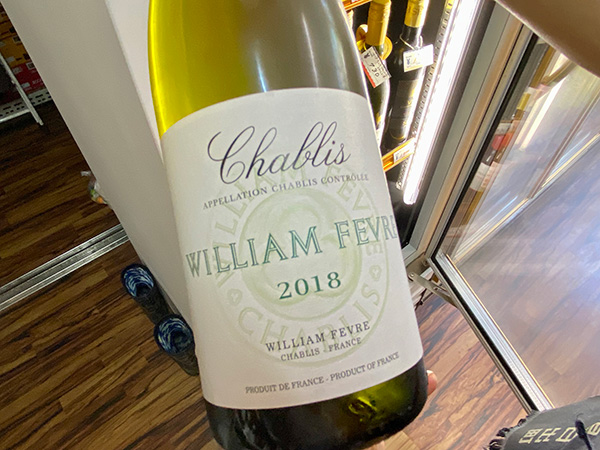 There's a selection of wine too, featuring domestic and imported wines. Mr. Kobayashi recommended this crisp and fruity Chablis.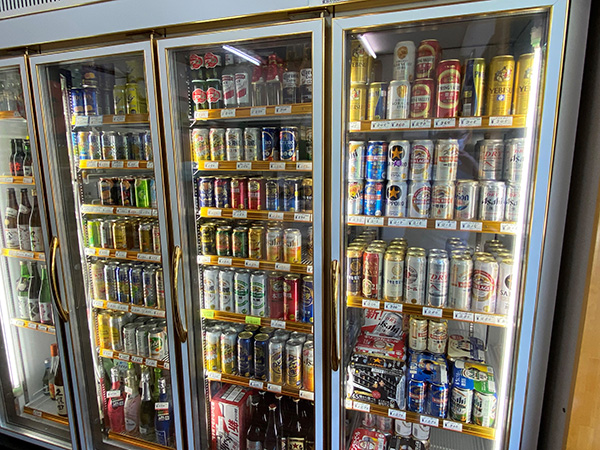 "I like beer best though," he replied when asked about his favourite tipples. Again, there's a wide selection of thirst-quenching,—mainly domestic—beers just right for the increasingly hot and humid weather as summer approaches.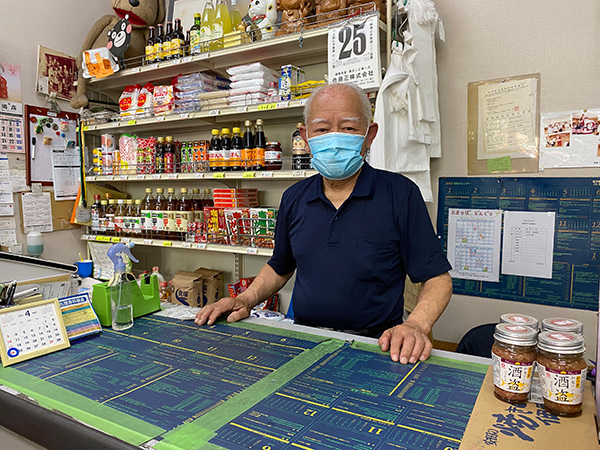 Masudaya Kobayashi Saketen also functions as a small general store, offering a choice of snacks to accompany your favourite beverages and such daily items as rice, soy sauce, seasonings, instant noodles, canned goods, soft drinks, and ice cream. Mr. Kobayashi is both an expert on alcoholic beverages and the local history of the Ojima area; he'll be more than happy to answer any questions about either.
Story and photos by Stephen Spencer