Prime Wagyu and Rare Cuts
Published: June 18, 2021
Gekiuma Horumon Damashii (literally: shockingly tasty offal spirit) is a restaurant specializing in the wildly popular cook-it-yourself charcoal grilling of meat and vegetables, with an emphasis on offal (horumon in Japanese). On a recent hot, early summer afternoon we dropped in to meet Mr. Ching the manager, to talk tripe and other cuts.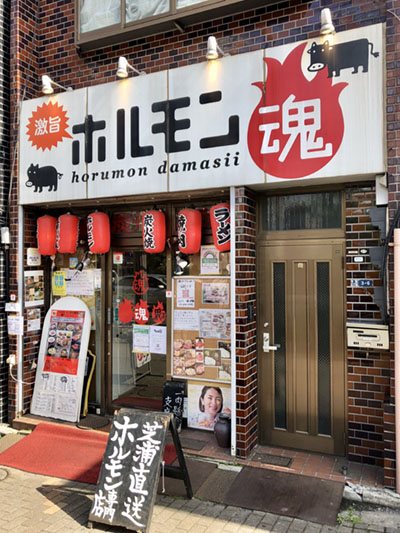 Horumon Damashii is located on Eitai Street, just one minute's walk from Kiba Station. You can't miss the blazing red and white signage, especially at night with all the lights on.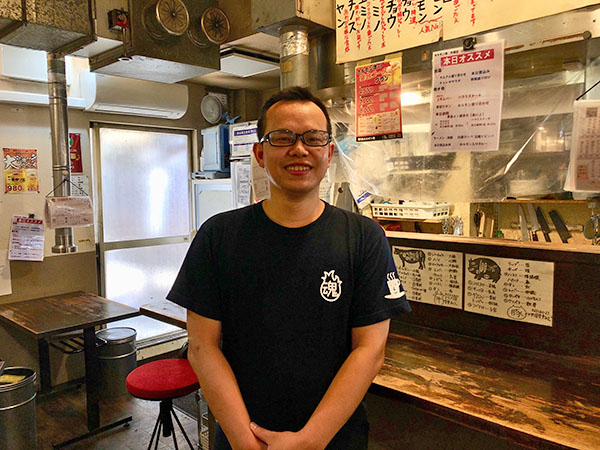 Hailing from Hokkien Province on the southeastern coast of China, the laid-back and friendly Mr. Ching has worked at Gekiuma Horumon Damashii since it opened ten years ago. "There are four restaurants in the group now, the original place opened up 12 or 13 years ago. All are in the Kiba and Toyocho area of Koto-ku. The menus are pretty much the same except here we have a few more shime dishes," he explained, referring to the final dish that ends a meal. Mr. Ching wears a mask while he's working of course, but Gekiuma Horumon Damashii is currently only open in the evenings.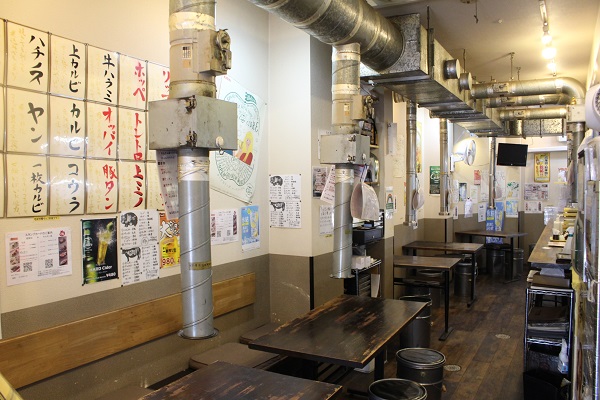 "All our meat is fresh and delivered directly here every morning from the Tokyo Meat Market in Shibaura. We season and prepare the various cuts, then serve them in the evening so our customers can enjoy the freshest possible grilled offal and yakiniku." These powerful extractor fans with ducts are positioned low over every table to whisk away the smoke.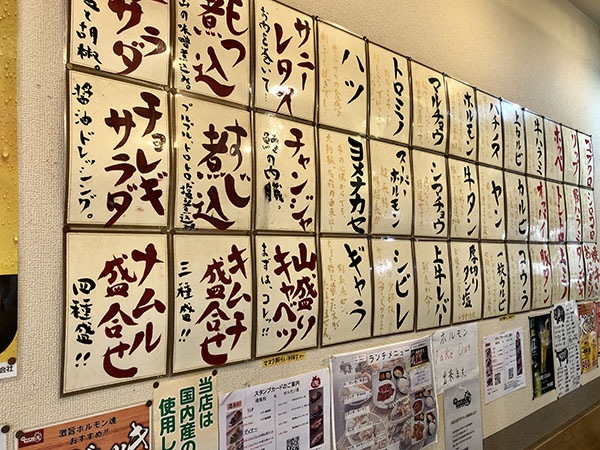 The bulk buying power of a four-shop chain allows Gekiuma Horumon Damashii to offer a wide selection of top quality meat and fresh offal at very reasonable prices. Yakiniku restaurant stalwarts such as short rib (calbi), loin (rosu), beef tongue (gyu tan), and skirt steak (harami) are all on the menu, alongside 30 items of offal. Some cuts, such as large intestine (marucho), heart (haatsu) and honeycomb tripe (hachinosu) are standard, but others like abomasum (gyara, a cow's fourth stomach), sweetbreads (shibire) and part of the aorta (yomenakase) are not, and attract hardcore horumon fans, of which there are many.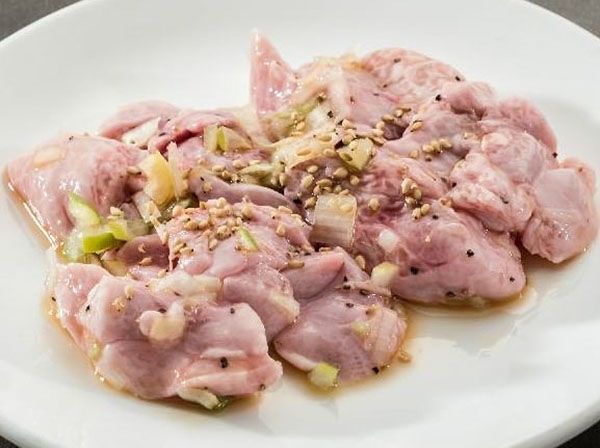 These are sweetbreads from a cow, a rare sight in Japan. Rich, creamy and resembling foie gras, they're an epicurean delight (650 yen)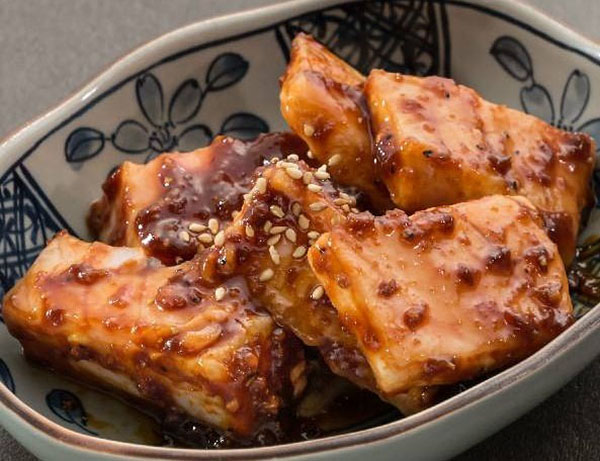 This popular cut of tripe is rumen (toromino), part of the first stomach of a cow. Chewy on the outside, it has a rich, juicy and slightly sweet flavour.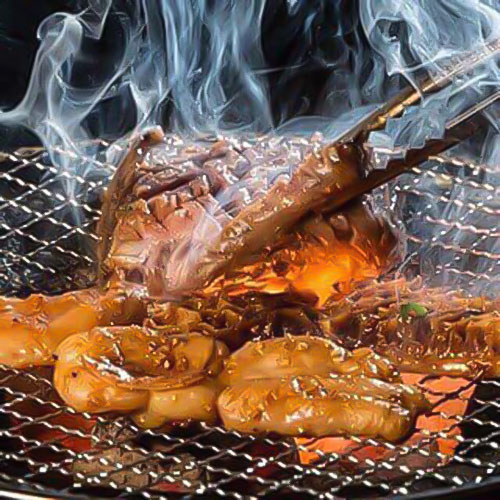 As with yakiniku, customers barbecue the meat themselves on a metal mesh over red hot charcoal in an earthenware pot. Horumon has a variety of textures, from the meaty richness of skirt steak, to the half chewy, half fatty softness of the small intestine (marucho). Many horumon cuts contain large amounts of collagen, hence the number of female fans.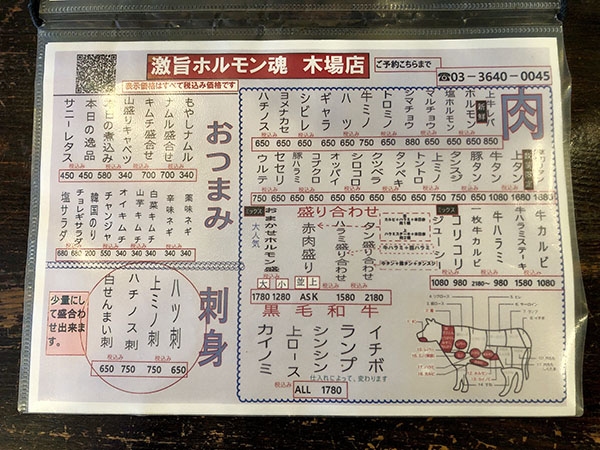 The menu at Gekiuma Horumon Damashii is extensive. On the right is the meat selection, beginning with the horumon menu at the top and the yakiniku meats at the bottom. On the left are the side dishes (otsumami) such as namul (Korean-style blanched vegetable dishes), kimchi, choregi salad, cabbage and the daily specials. At the bottom is a selection of horumon sashimi.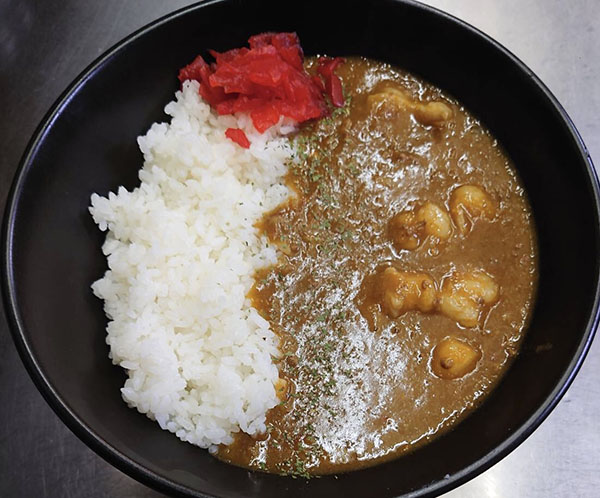 Unique to the Kiba restaurant is this horumon curry (900 yen), a slow-cooked, lightly-spiced meaty soup curry.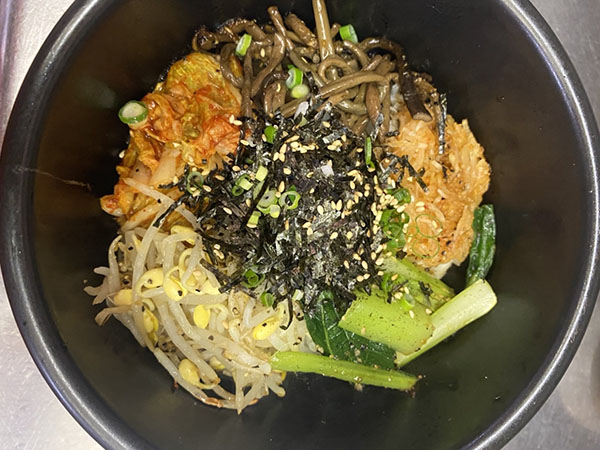 A bibimbap with homemade namul vegetables (1,100) and ramen with beef cartilage (nankotsu 970 yen) are also only available here.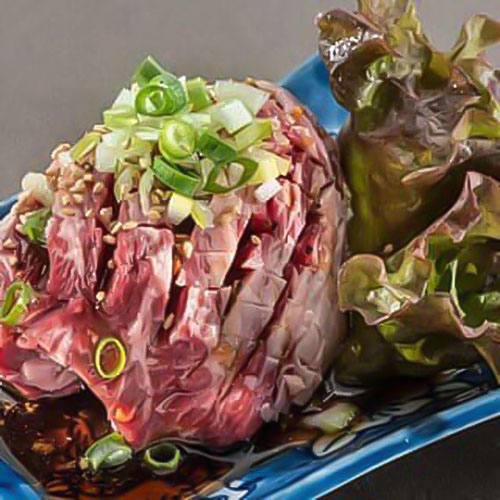 Wagyu is always on the menu, too. This thick and juicy cross-cut skirt steak is 1580 yen. Yakiniku and horumon restaurants pride themselves on their homemade dipping sauces (tare) and Gekiuma Horumon Damashii is no exception. They offer three varieties: a light and refreshing salt and lemon sauce that works well with the heavier, stronger horumon flavours, a matured soy sauce with fruit and vegetables and a deeply-flavoured sauce made with dark, fermented soybean paste from Aichi Prefecture (hatcho miso). Customers can vary the sauce depending on the meat.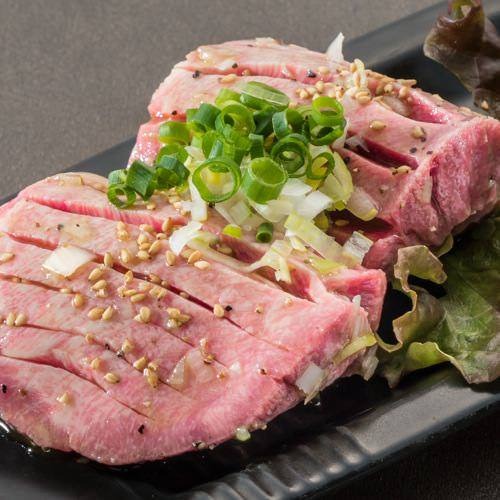 While this thick cut beef tongue, the traditional starter for a yakiniku or horumon meal, is 1,680 yen.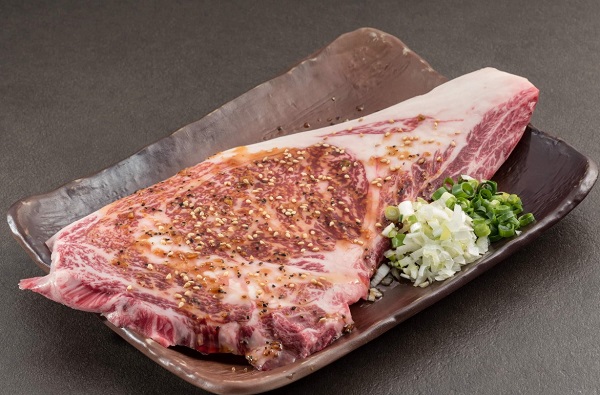 There's a limited number of these slabs of top quality marinated short ribs (calbi) at 2,180 yen.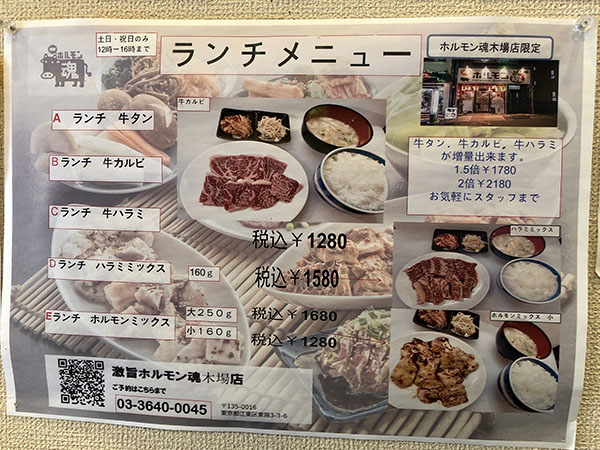 Gekiuma Horumon Damashii opens from 13:00 on weekends only, and offers a very appealing lunch set service. There are five varieties: tongue (gyutan), short ribs (calbi), skirt steak (harami), mixed skirt steak and mixed horumon. The first three are 1280 yen, the mixed skirt steak is 1,580 and the mixed horumon is 1280 yen for 160g of meat or 1680 yen for 250g. All come with rice, soup and two pickle dishes.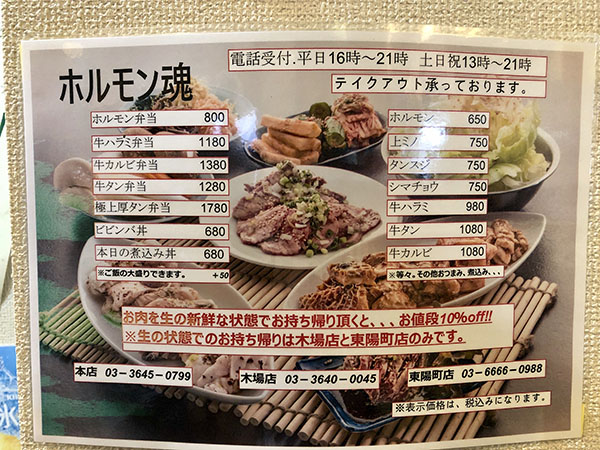 Take out lunch boxes are also available, ranging in price from 650 yen for a horumon bento to 1,780 yen for the top quality thick cut beef tongue. "On weekday evenings we get a lot of customers from local businesses in the Kiba, Toyocho and Monzen-nakacho areas, while it's mainly families and friends at the weekends. The parents enjoy horumon and sake while the kids tuck in to short ribs and tongue." Sounds fantastic. Prices are very reasonable and the quality is terrific; there aren't many better ways to beat the enervating heat and humidity of a Tokyo summer than with charcoal grilled beef, pork, horumon and vegetables. Yes, there are vegetables too!
Story and Photos by Stephen Spencer