Private Exercise Pool in a House
Published: November 8, 2022
Koto-ku is home to many splendid exercise facilities but none are as surprising as Pool no Ie, which is literally what its name means: a swimming pool inside a house. The exercise pool comes with a training gym and can be rented by the hour, as a totally private facility!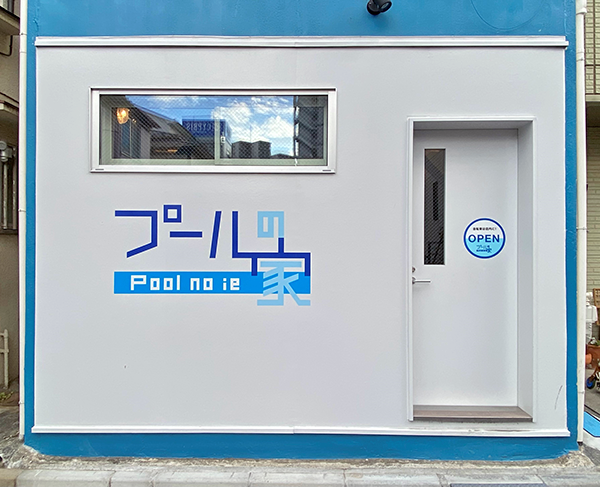 The house in question is a 1970s family affair located on a quiet back street in the residential Kitasuna area. Designed to resemble a beachside clubhouse commonly seen on many Japanese beaches, it's the brainchild of former triathlete Ms. Mariko Hirayama, who showed us around her remarkable creation on a recent afternoon.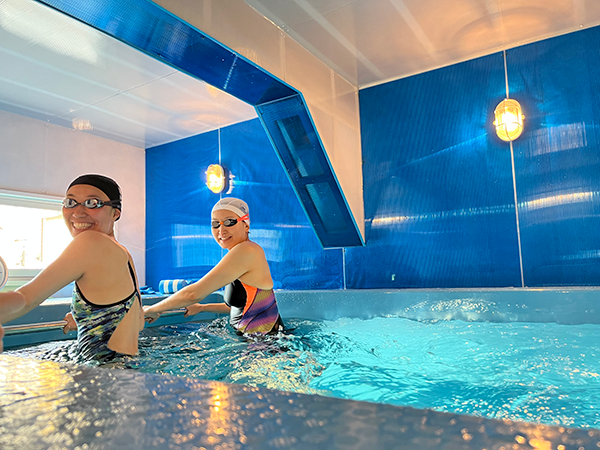 Stepping inside is quite a surprise: the entire interior has been completely rebuilt and there's a massive blue tank in the living room. The exercise pool itself is one metre deep, 1.8 metres wide, and three metres long. The made-in-Japan exercise pool is one of only three in Tokyo, the others being located in far more upscale (and pricey) areas than the homely Kitasuna.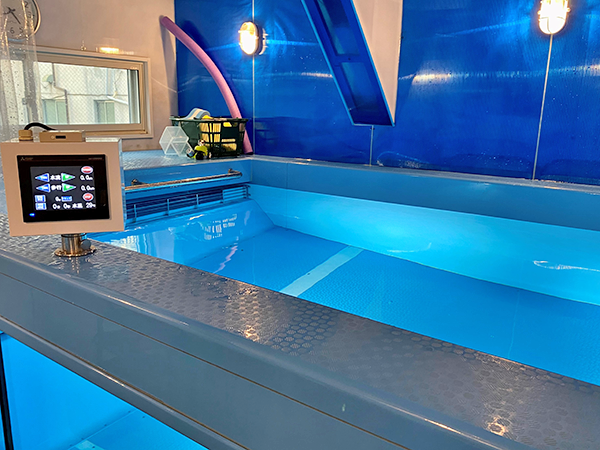 The water flows from the front of the pool, the speed is adjustable and there's a clear window set into the side so swimmers can film themselves to check their form.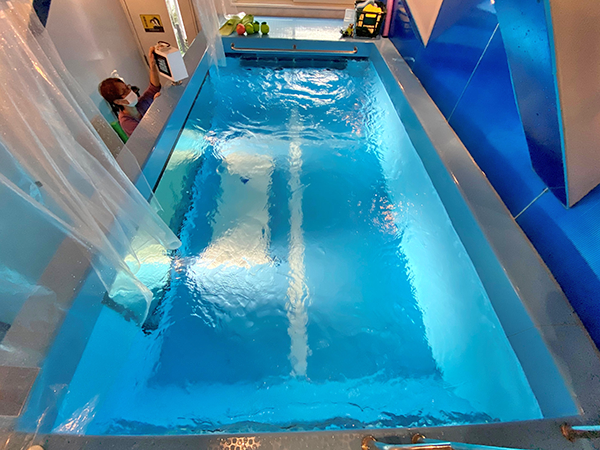 As Ms. Hirayama explained, "Pool no Ie is a personal training gym with the pool and a training room upstairs. Athletes can use it to improve their performance or for rehabilitation, while families, friends and couples can use it as a leisure spot."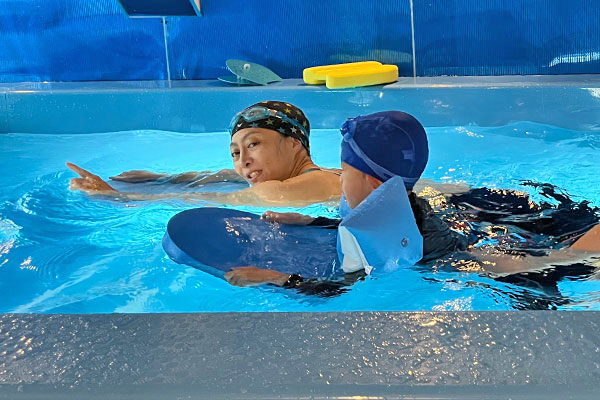 The pool is big enough for a family with small children or a couple to swim together.
The pool also features a built-in leading edge treadmill that is useful for both rehabilitation and improving performance. Walking in water reduces the load on the legs, relieving the joints and improving cardio-vascular stamina. It's an efficient way to exercise that also increases flexibility.
The pool is accessed from the second floor, which also hosts the lockers, shower rooms, and training gym.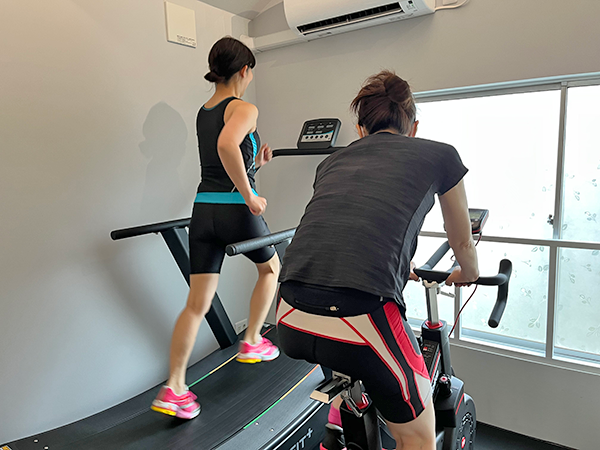 The training area features a treadmill and a rather stylish smart bike for yet more cardiovascular exercise.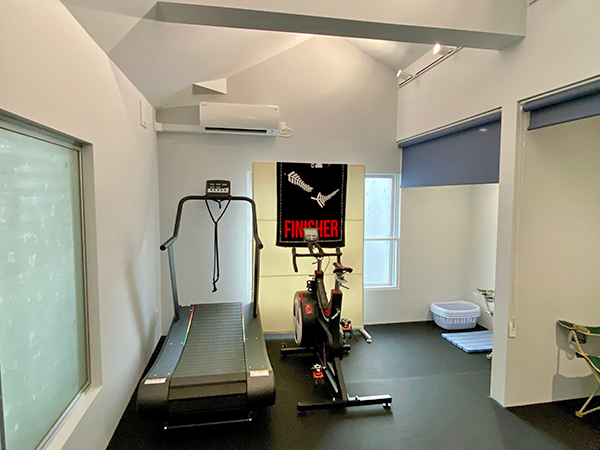 The second floor is spacious and entirely private for the period of use.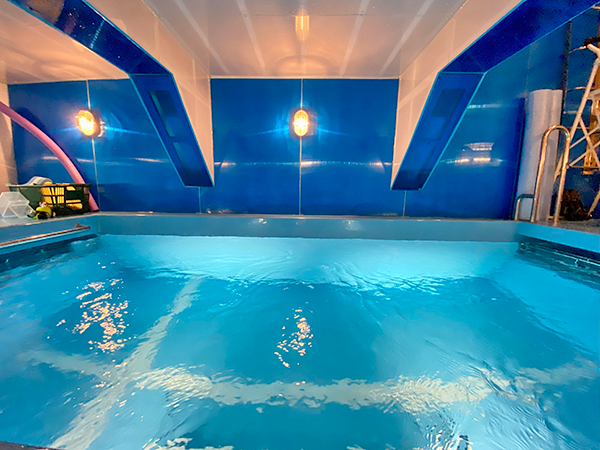 How did Ms. Hirayama come to put a pool inside a house? "I was unable to train after an injury so I volunteered as a pacesetter for visually impaired people. Many said they wanted to swim so I found a public pool we could borrow and started swimming classes. Unfortunately, Coronavirus broke out and we couldn't continue to use the pool any more, so I looked for an alternative and came up with this idea," she said.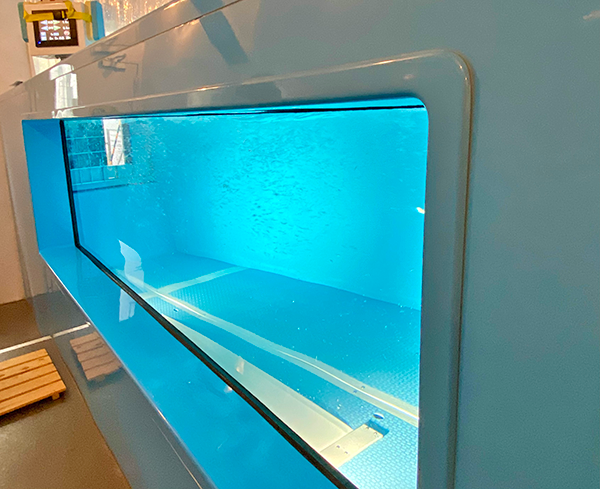 "Swimming in the exercise pool and training upstairs in what is a private gym for the time they're here is the perfect solution to many people's desire for exercise. Our customer base is incredibly wide: families with kids, athletes, people doing rehabilitation, people who need assistance, seniors who wish to swim privately, couples, friends and those working from home who don't get enough exercise. Some friends train and compete against each other in the pool. We like to think of Pool no Ie as a leisure facility, like a theme park or a movie theatre," Ms. Hirayama explained.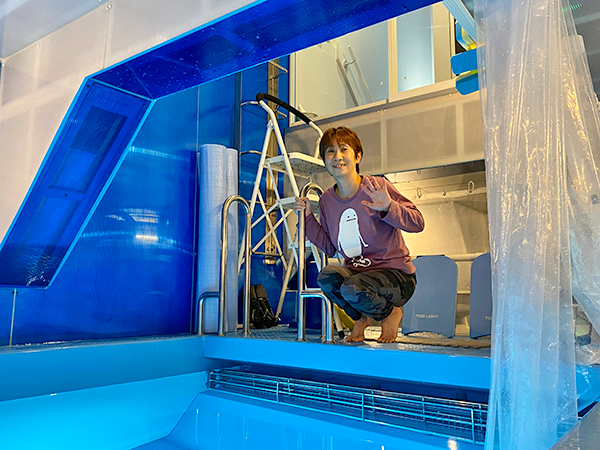 Pool no Ie doesn't charge a registration fee. The lesson and event information, together with the price list and schedules can be found here. Thanks to the exceptionally welcoming and outgoing character of Ms. Hirayama, Pool no Ie has a comfortable atmosphere where it's easy to relax. If you've ever wanted to swim in a house, Pool no Ie is for you!
by Stephen Spencer