Private Self-photo Studio
Published: December 6, 2022
Self-photo studios have been gaining in popularity recently, particularly among young women. Reasonably-priced and casual, with professionals on hand to prepare the setting and lighting, self-photos studios are an alternative to the more formal, traditional photographic studios, and they use professional-level equipment so the quality is excellent.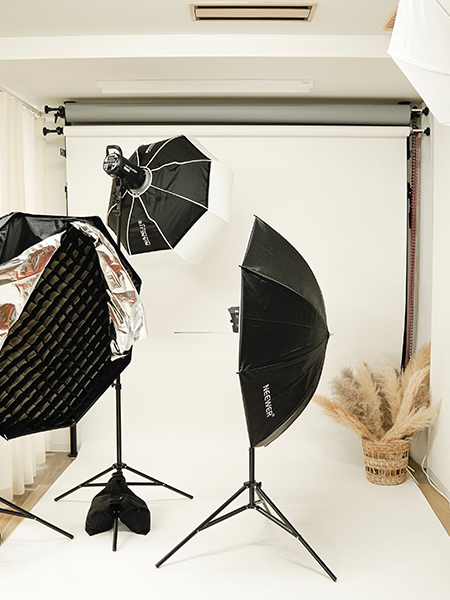 Studio elin is one such studio and on a recent afternoon I popped in for a chat with proprietor and professional photographer Ms.Tan Sei. The studio is located on the 4th floor of an office building just a one-minute walk from exit 1 of Monzen-nakacho station. Convenient!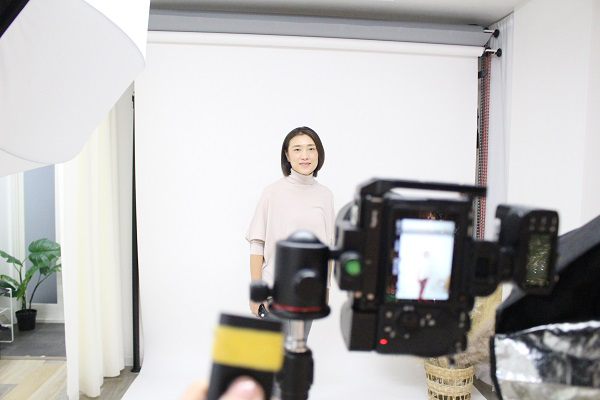 How does a self-photo studio work exactly? "Simply put, the customers make a reservation, and I prepare the lighting and all the settings. The customers can watch themselves in a monitor and then press the shutter with a remote control. From the first click of the shutter they have 15 minutes to take as many photos as they like. After they've finished, I edit the photos, send the data to the customers and they can print the ones they like," Ms. Sei explained.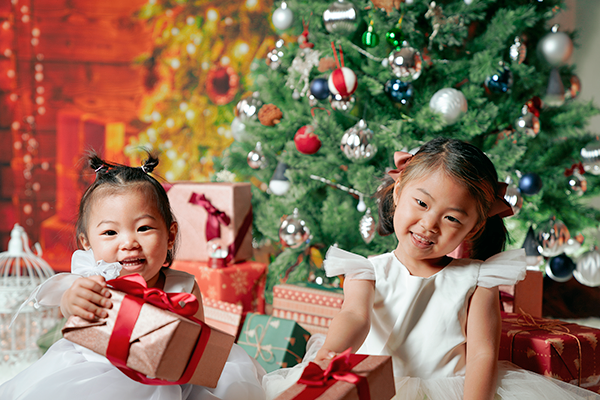 Monochrome is 3,000 yen and colour 5,000 yen. Fifteen minutes sounds fairly short but most customers can take around 100 shots in that time, as Ms Sei described. "The whole process takes around 30 minutes from start to finish. It's quick and casual, not stressful at all. Plus, all members of the group can be in the picture, including the one working the remote control."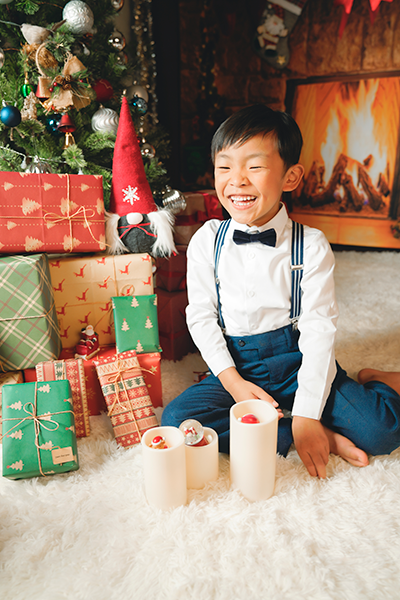 Studio elin is the result of a conversation mother-of-two Ms. Sei had with a couple of friends. "We were talking about how difficult it was to take natural photographs of children, to capture their unaffected smiling faces in a studio. They said wouldn't it be great if there was a studio with a casual environment where they could relax and be natural. That was the spur for studio elin, which opened in October 2022," she said.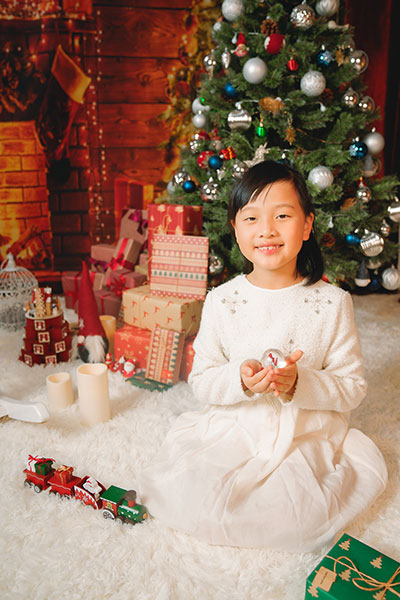 The results are clear to see. The children are happy, relaxed and smiling naturally, something difficult to achieve in a formal studio. "Kids are imaginative, they like playing, dressing up and larking about, even the boys get into it," said Ms. Sei. "The studio is entirely private for each customer's reservation period, so differently-abled children and their families can feel comfortable taking photographs here."
The customers are surprisingly wide-ranging: entire families, parents with young children, kids in their ballet tutus or football team strips, couples, seniors, friends, cosplay hobbyists and even pets. Pets are okay but only in the afternoon. Many people want to take photos with their dogs, which have a short attention span, so speed is of the essence.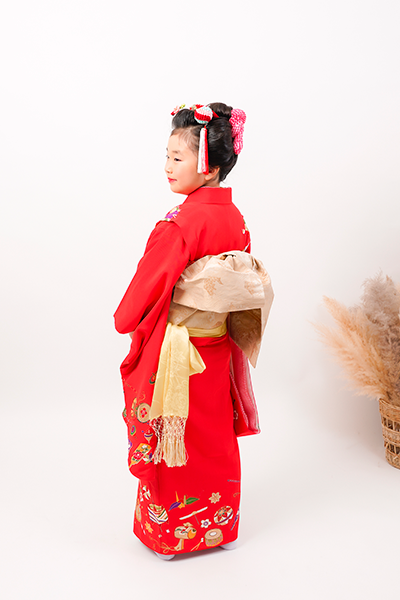 Studio elin offers a variety of other plans, with photos taken by Ms. Sei. Given its location near Tomioka Hachimangu Shrine, the studio is very popular for the autumn Shichi-go-san children's festival, where seven, five and three-year-olds dress up in colourful kimonos and visit shrines with their families. The shichi-go-san plan costs 17,800 yen, takes 40 to 80 minutes (for costume changes) and features 20~30 photographs.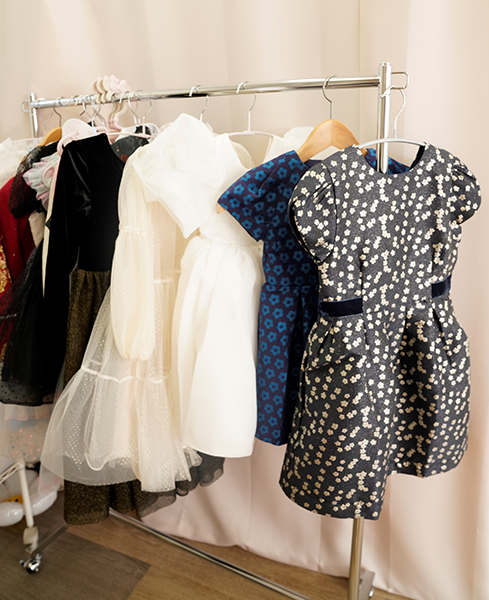 A whole range of clothing and other items are available for rental.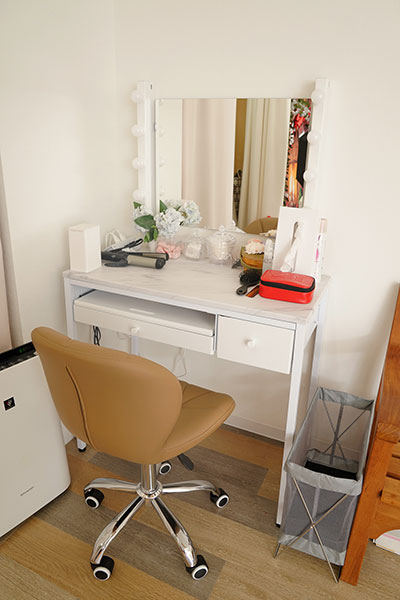 And there's a mirror table for repairing hair and make up. There are even some curling tongs for a little extra lift.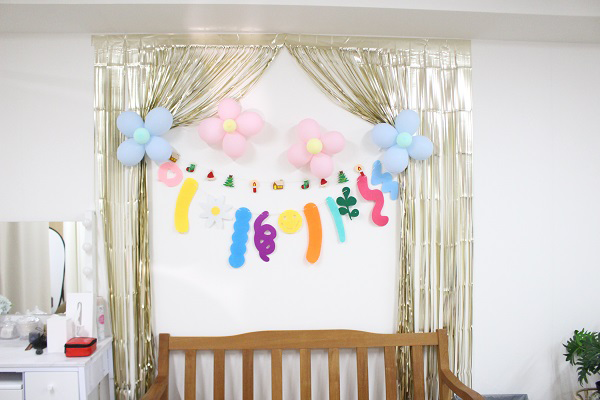 The family plan uses a white background which can be decorated any way you like, with balloons or teddy bears for example. The plan is 17,800 yen for 20 to 30 shots.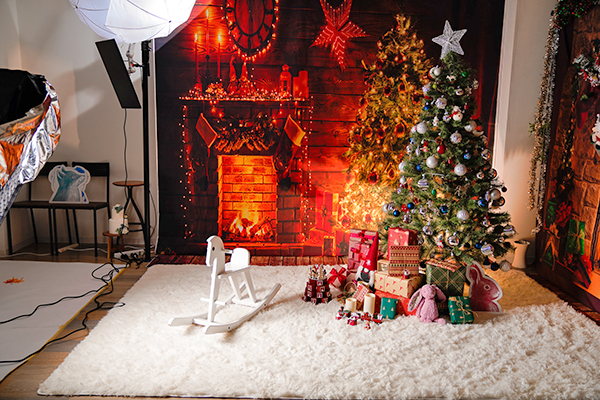 The most popular plan is the elin special at 24,800 for 30 to 50 shots. Backdrops or white backgrounds are both fine, but this gorgeous Christmas scene with a tree, presents and roaring log fire takes some beating. After the Christmas season is over Ms. Sei will prepare a Chinese New Year setting.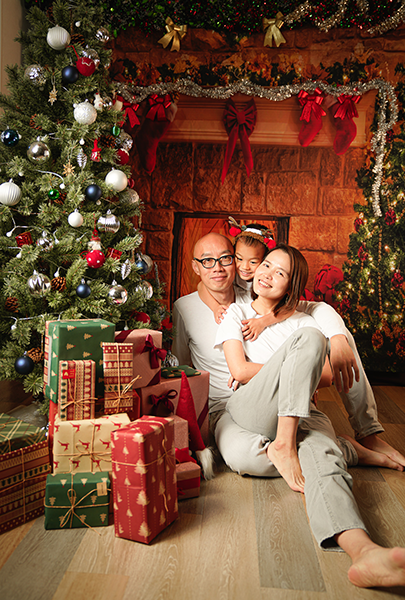 And this is how it looks with a family! Studio elin is light years away from the rigid formality of traditional photographic studios, while the natural, smiling faces are a testimony to Ms.Sei's skill as a photographer. Check out the gallery for the latest memories, as a famous advertising man once called them. If you've never tried a self-photo shoot before, studio elin is the place to start!
by Stephen Spencer