"RADISSON KASHI" a specialty store for scalp and hair quality improvement
Published: August 16, 2023
※Prices are subject to change from those in effect at the time of the interview. Please contact the store directly for the latest information.
"RADISSON KASHI" offers specialized head spa treatments with head immersion and personalized order treatments tailored to address scalp and hair concerns.
It is a minimalistic head spa that prioritizes the customer by creating a peaceful environment and building a connection with them.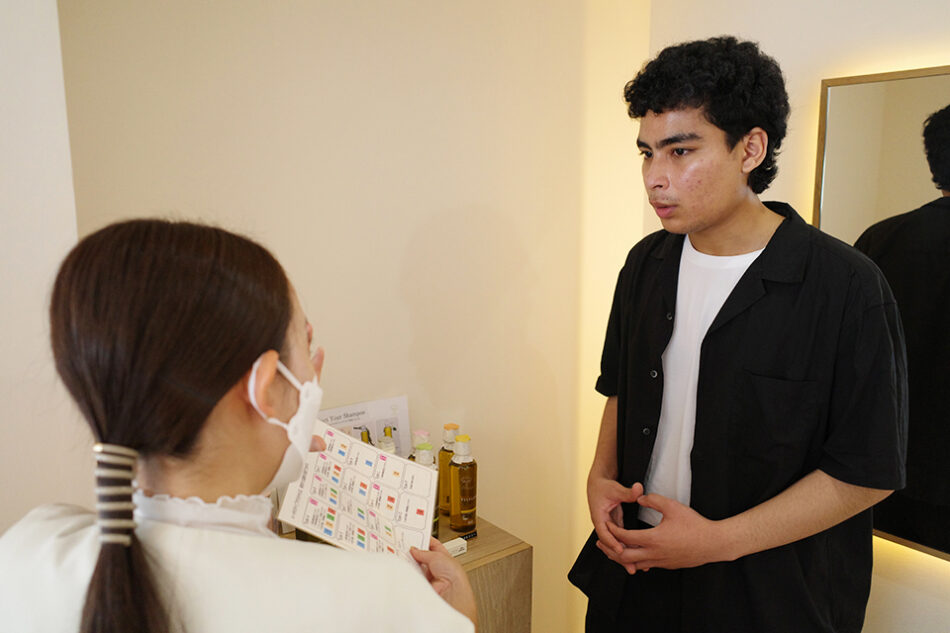 This salon is a completely one-on-one salon where customers and stylists conduct treatments in a private setting.
One-on-One service allows the customer to express their needs and concerns with maximum comfort, and Ms. Kana, the owner and hair care specialist, provides excellent hospitality and can accommodate all the needs you have.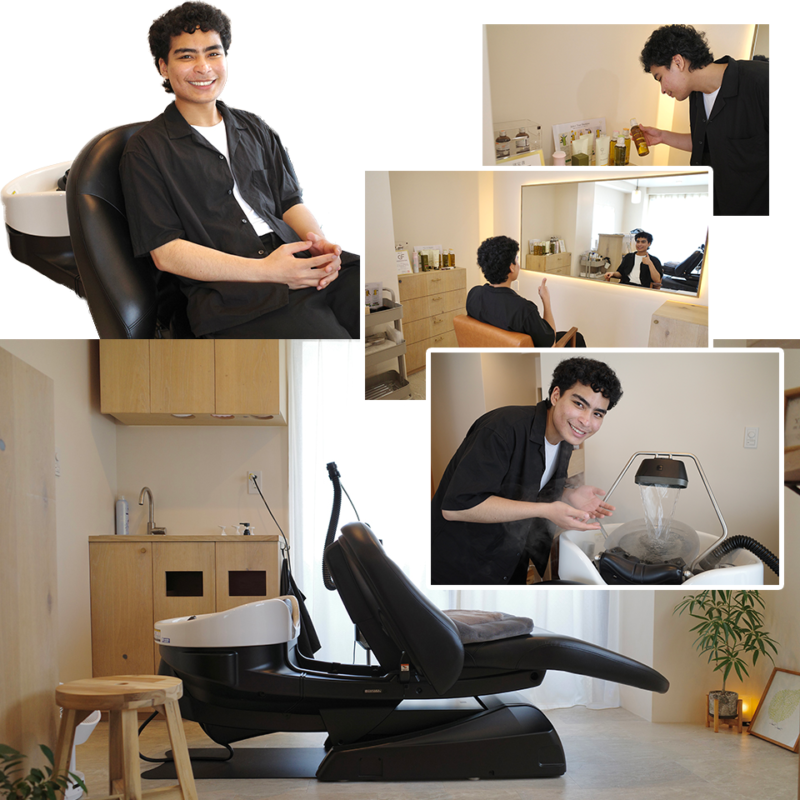 In this setting, customers can leisurely indulge in their own time and relax, adorned with the warmth of wood and a pleasant aroma.
Once you step foot inside the spa, you will feel the coolness and the gratifying aroma that alleviate you from the outside world. The interior design used wooden furniture that pairs well with the white walls and has autotrophic plants as an accent. The design uses space well to make anyone feel comfortable in the spa. The peaceful ambient music completes the ambiance in the setting and immerses you in the space. However, spas in America are loud because of the equipment and the customers. The one-on-one salon experience truly benefits from the setting.
This time, we will report the "Kotomise" staff's hair care experience.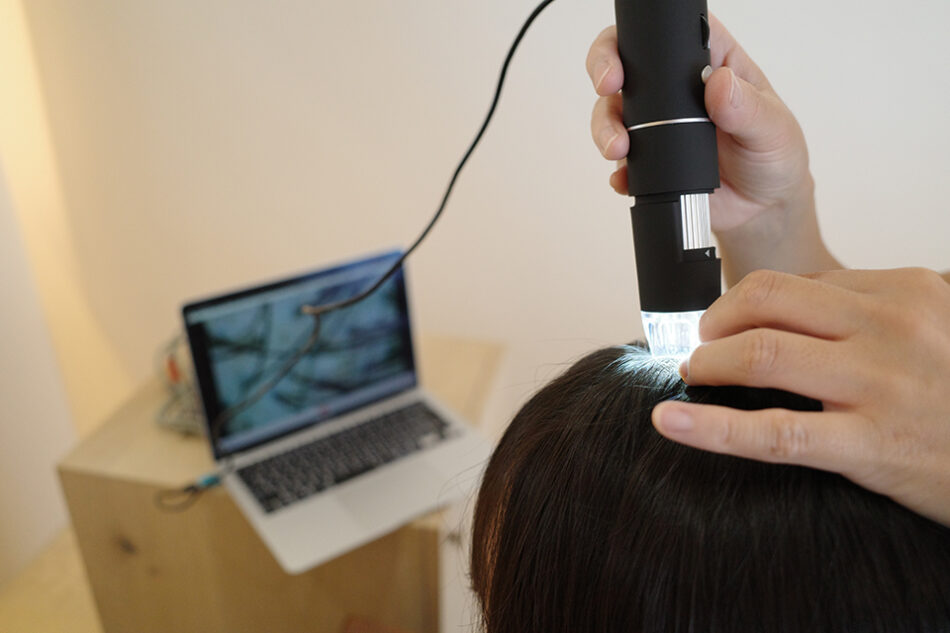 Scalp diagnosis using microscope.
They can examine your current scalp condition and any washing habits. Other than the diagnostic results, they offer counseling on specific concerns and home care methods.
With Ms. Kana's expertise and the microscope, you will be provided the best assessment of your scalp condition. She will also give you tips you can do at home continuously.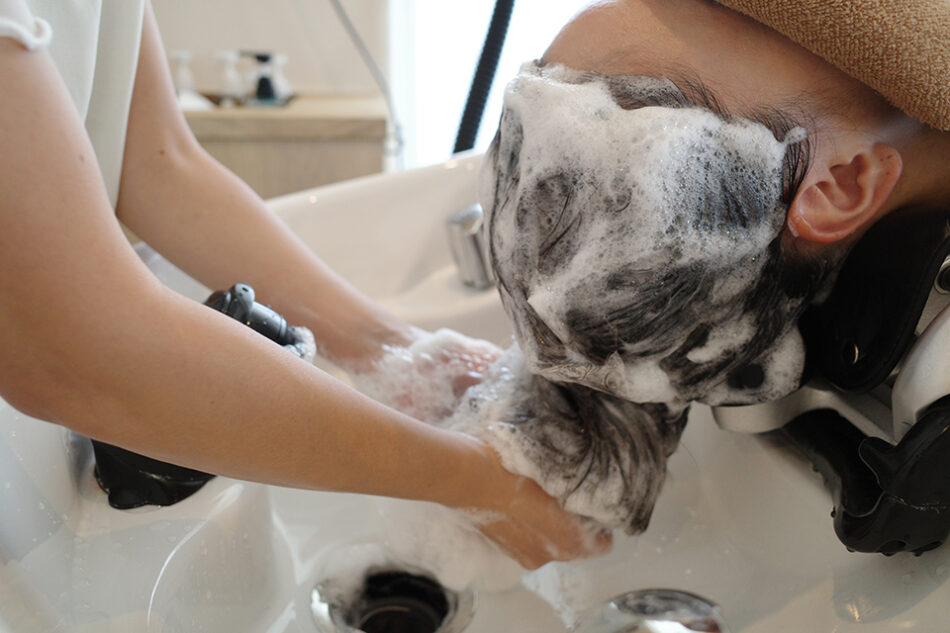 You can be in relaxation mode with their shampoo massage.
here is a selection of five different shampoos tailored to everyone's concerns. Enjoy a soothing massage and the delightful scent of the shampoo, which helps you transition into a state of relaxation. Our fully flat seat with a heater keeps your body warm and cozy throughout the experience.
Ms.Kana implements different massaging methods for your vital points on your head to treat the scalp and tension on your head. Throughout the course, you can talk about your hair and how you can implement the same massaging methods into your routine.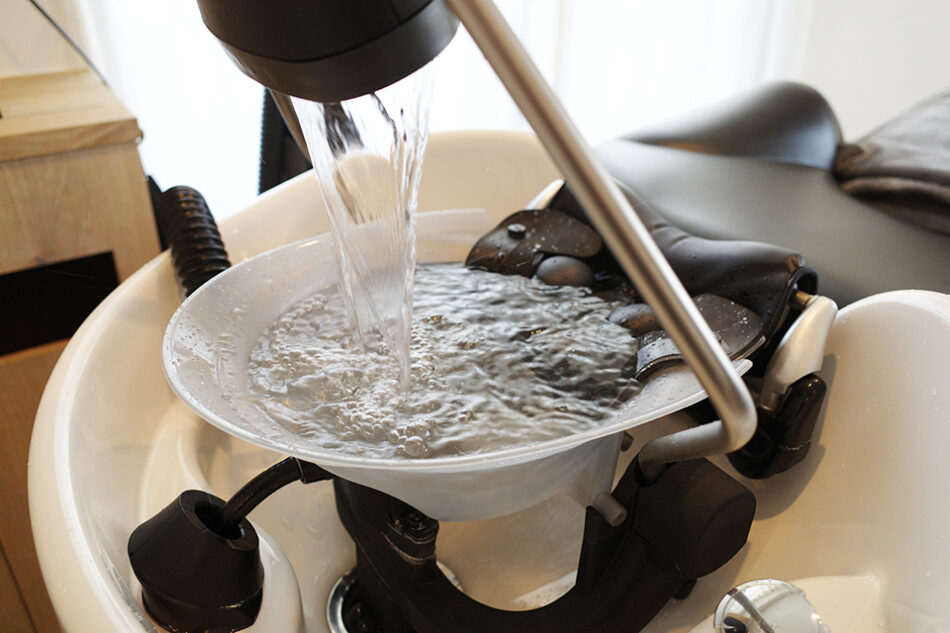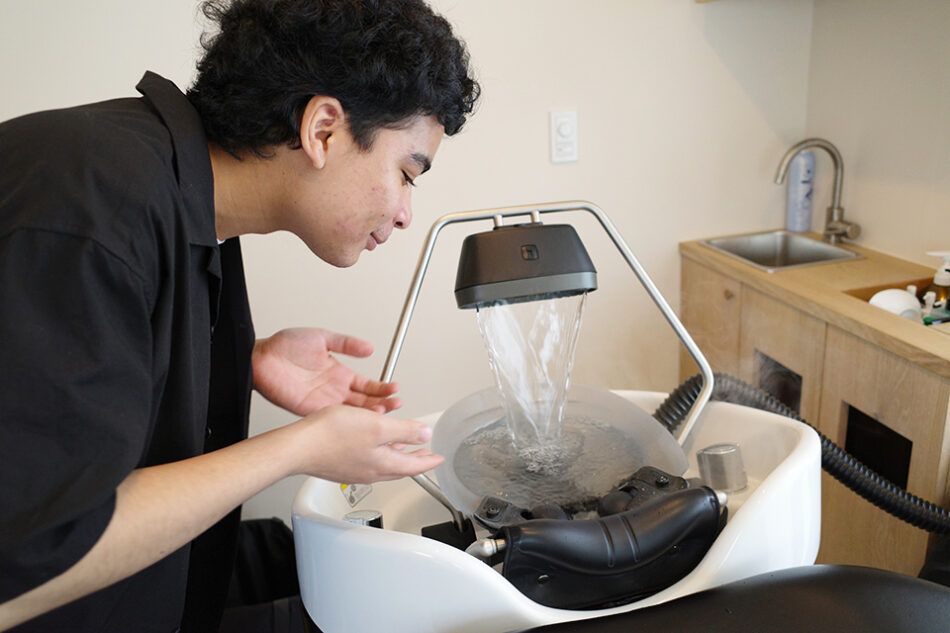 Experience a blissful relaxation time with the head immersion treatment.
As warm water pours down from the facial line, your entire head will be immersed in the basin of the warm water, providing a relaxation experience like no other in your daily life. The soothing sound of water flowing by your ears adds to the calming ambiance.
Not only does this treatment offer relaxation benefits, but it also effectively removes scalp and hair impurities, leaving your hair in a state closer to its natural, healthy condition.
The head immersion treatment is a time when you can take yourself to a calm, meditative state where you can be at peace. No matter what lifestyle you live, moments like this are invaluable.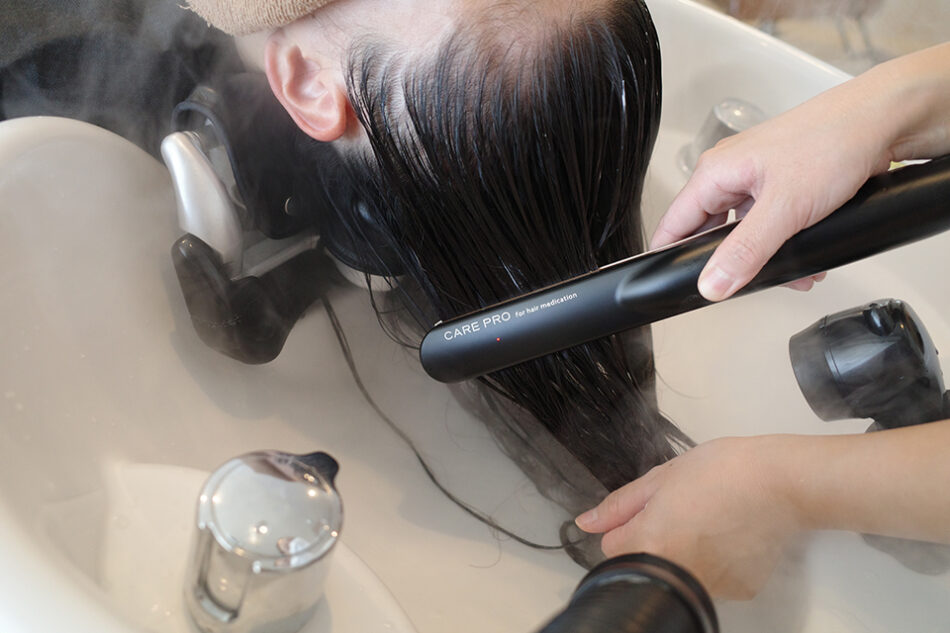 Special blended personal order treatment.
After using customized formulations tailored to individual scalp conditions and the current season for a relaxing head massage, they control the texture of your hair based on your specific needs, whether it's adding more volume and firmness or calming fizziness and fly away.
To further enhance the treatment's effectiveness, they utilize an ultrasonic iron that generates tiny vibrations. This process divides the applied treatment, allowing it to penetrate deep into the hair's inner structure, ensuring thorough and effective absorption.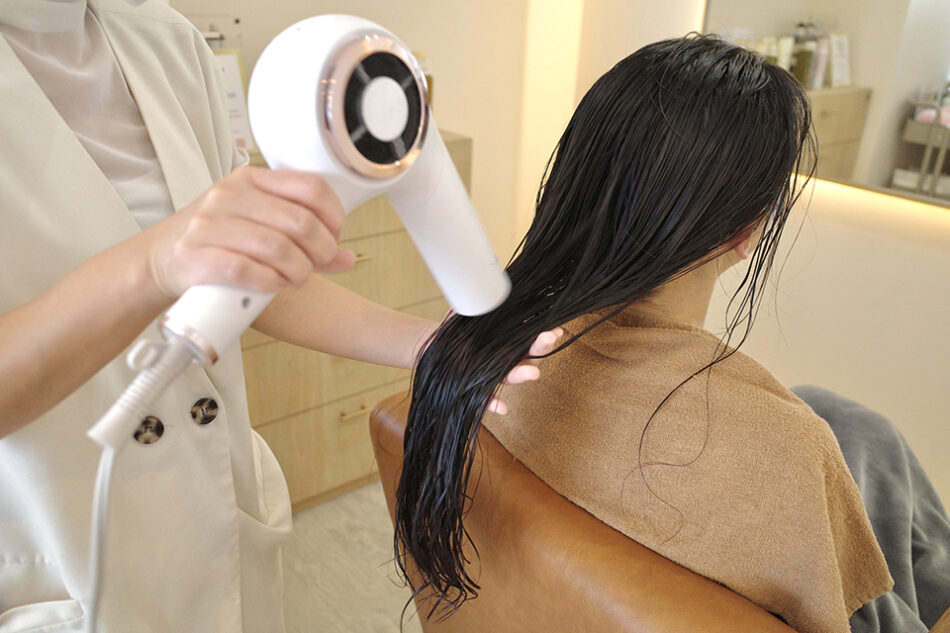 △Hair Drying
After the scalp massage, they provide hair drying and give advice on how to dry or style your hair at home, or provide guidance on your hair type and any other concerns.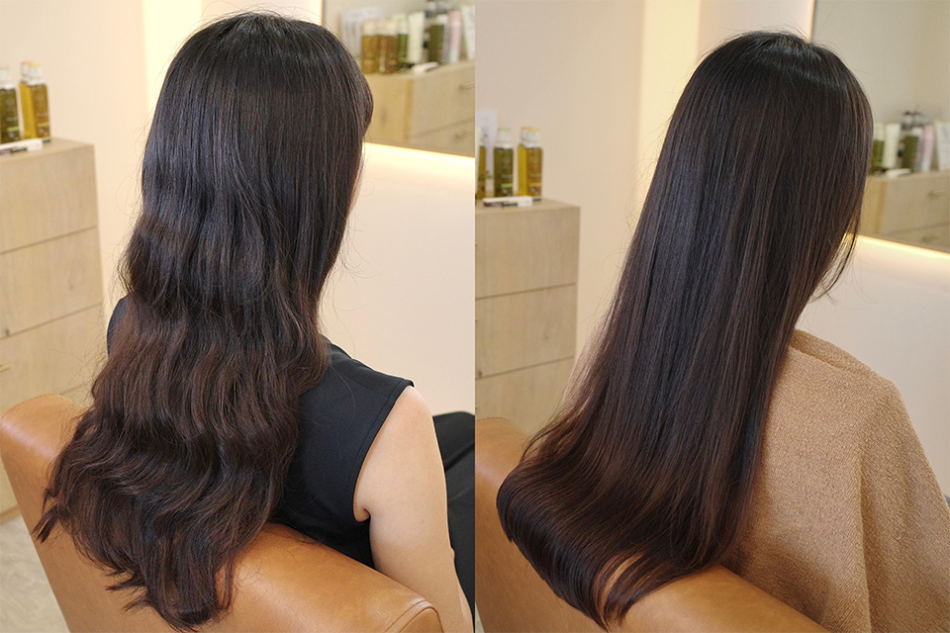 △Left:Before ・ Right:After
"I experienced noticeable changes just by looking at my hair. The frizz and waves at the ends improved, leaving my hair moist and smooth. Not only my hair, but I also noticed that my eyes seemed more open, and my face appeared slightly lifted after the treatment."
A testimonial from a person who struggled with frizz, dryness, and tangling hair.
In the last process of the course, drying and styling the hair, Ms.Kana was noticeably gentle, brushing through the hair with long strokes to get the smooth feel and look of the hair.
Ms. KANA, the owner and hair care specialist, mentioned, 'Since the scalp and face are connected, if the scalp is tense, you may feel heavy eyes or a dull complexion. When you feel tired, simply massaging and loosening your scalp gently at home can make a difference.'
---
At RADISSON KASHI, they offer three courses that can be chosen based on your time, mood, and concerns:
---
[Quick Care] 80 minutes – Silver Course
Head Immersion × Head Spa × Hair Quality Improvement Treatment
¥14,300
---
[Intensive Care] 100 minutes – Gold Course
Head Immersion × Head Spa × Hair Quality Improvement Treatment
¥18,700
---
[Ultimate Care] 120 minutes – Platinum Course
Head Immersion × Head Spa × Hair Quality Improvement Treatment
¥25,300
---
The concentration of the treatment increases as you move up in the course levels. Many customers opt for the "Ultimate Care" when they are concerned about hair and scalp damage or when they want thorough care. On the other hand, the "Quick Care" is popular for those seeking a quick and refreshing experience for their hair and mind. Additionally, they also offer Quick Courses and seasonal limited-time courses. Radisson Kashi offers flexible options to meet the concerns of the customer. Each course will provide you with an experience you'll want to have every day. If you are a returning customer, there are always new techniques you can experience and concerns you can focus on.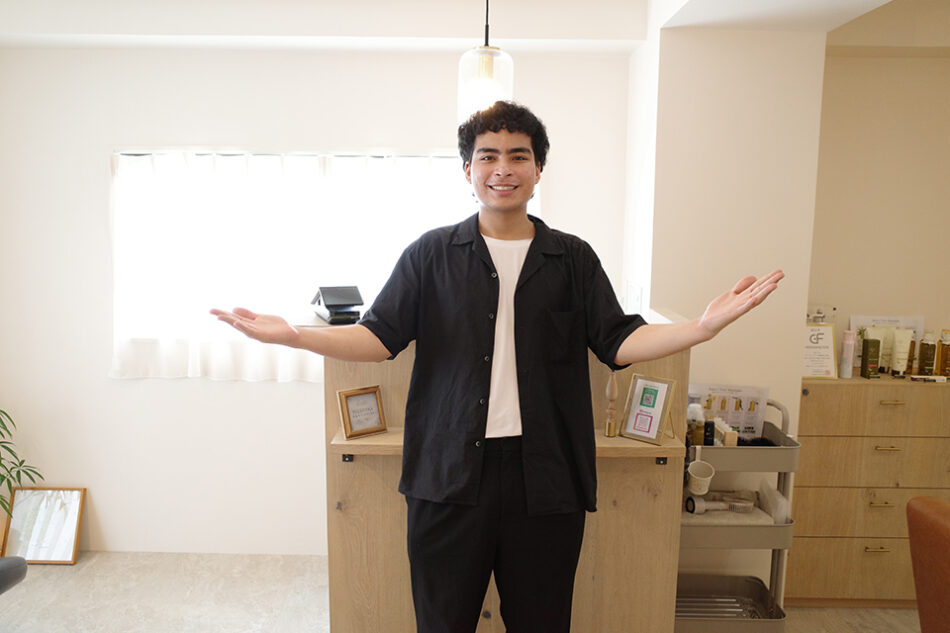 You can bring your children with you!
Since it is a complete one-on-one treatment, busy mothers who find it hard to make time can feel at ease bringing their children along without worrying about other people's eyes.
When you feel changes in your hair, it's the perfect time to review your hair care routine. Located just a 1-minute walk from Kiyosumi-Shirakawa, the salon offers a hidden retreat exclusively for you.
Ms. Kana is an expert and experienced stylist who can help take your hair to the next level, who can work with all hair types and colored hair. In addition, the experience and care of the head spa contribute to the brilliance of Japan.  Finally, if you want to treat someone you love to a gift or even treat yourself, I recommend visiting Radisson Kashi!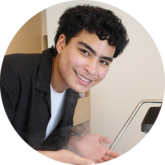 ≪English Article Journalist Profile≫
・Name: Jasper Savoy
・Age: 21 years old
・Nationality: United States of America
・Hobby: Playing basketball and Cooking
---
※Information is based on an interview conducted in July 2023. Prices and business hours are subject to change. Please confirm the details at the store.
※All prices mentioned in the article include tax.