Although fusion food is well-established globally, fusion restaurants are few and far between which is why we were thrilled to visit Menya Barao Minamisunaten, the remarkable establishment that combines a ramen noodle restaurant with an izakaya, or Japanese pub. It even has two entrances, depending on what you're going to eat! Our guide was the manager and chef, Mr. Satoshi Tanabe.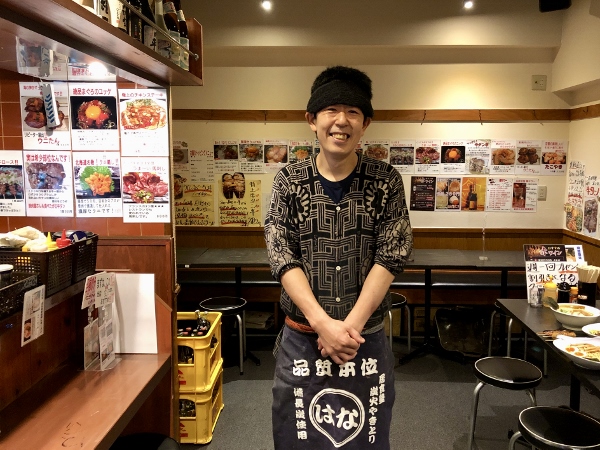 Sporting a tremendous hat on a damp morning, the affable Mr. Tanabe explained how he began his career in the restaurant business by training as a French chef, then became a patissier before joining Bara Corporation, the parent company of the Yakitori Hana chain. His skill and dedication saw him quickly promoted to manager/chef of his own place. "This restaurant opened just before Christmas in 2018," he explained, "and continues the flower-based nomenclature by being named after the rose (bara in Japanese)."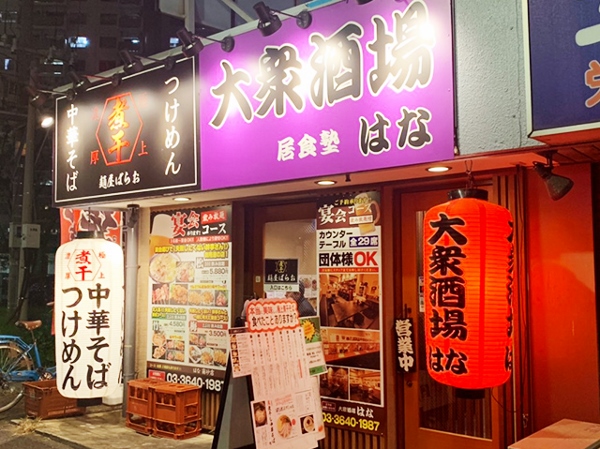 Located right at the crossroads of Eitai and Meiji streets near Minami-sunamachi station, Menya Barao has two front doors. What's all that about, Mr. Tanabe?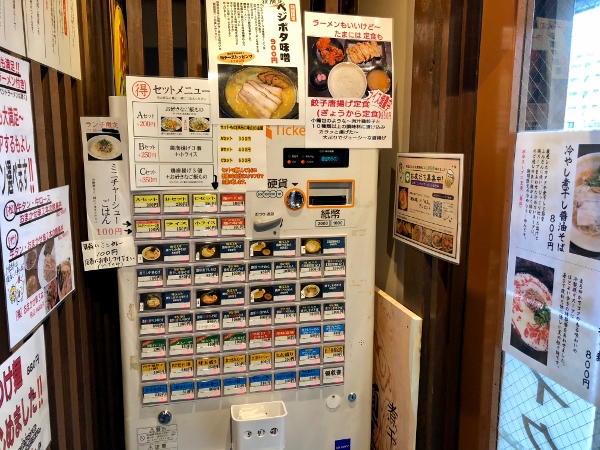 "Well, we're open from seven am, when we offer morning ramen. Morning ramen has a special menu with four varieties available until 8:30am. If you enter through the left door, the ticket machine for ordering ramen is right there in front of you. The right-side entrance leads directly into the restaurant space but is closed during the morning and lunch periods," he clarifies.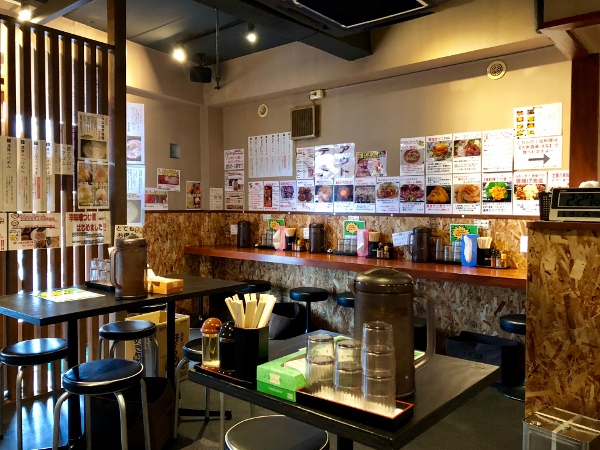 The ramen area forms the front of Menya Barao, with the kitchen counter and izakaya pub seating to the rear.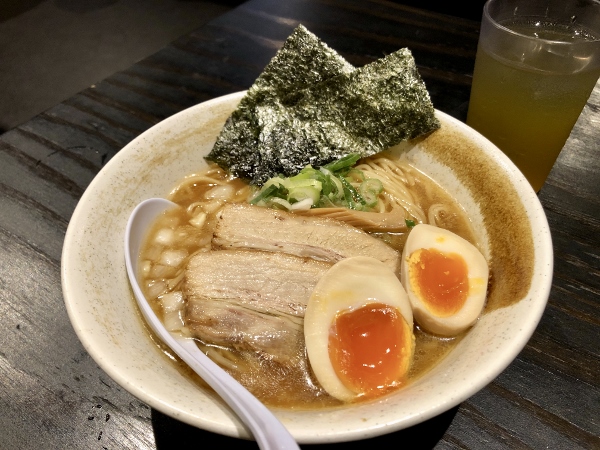 Mr. Tanabe disappears behind the counter where he whips up a steaming bowl of noodles with the deft, efficient movements of an experienced practitioner. "We create our soup from dried baby sardines (niboshi) sourced from a Kyoto-based manufacturer of 100 years standing. Dried mackerel and dried urume-iwashi sardines are also added to a base broth made from chicken." The soup is very robust, a savoury fishy delight that is both light but deeply-flavoured. Served with two thick slices of homemade chashu pork belly and a half-boiled egg, it's the top seller at a very reasonable 780 yen.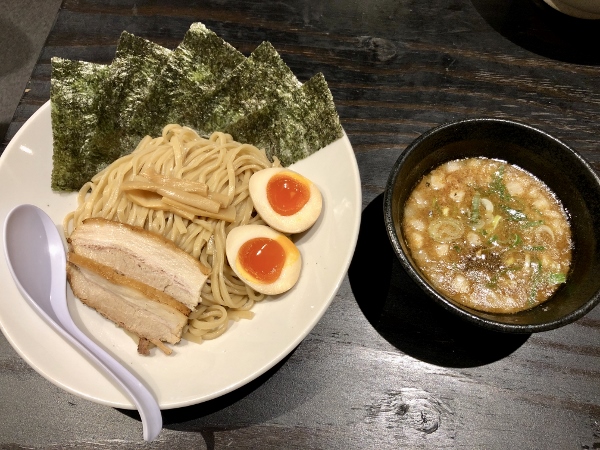 Using the same niboshi soup base, Menya Barao offers a series of variations on a theme: an extra-rich chicken soup ramen at 830 yen, a chili-infused spicy miso ramen at 800 yen, a popular, soupless mazé-soba at 800 yen and the beauty pictured here, a dipping soba (tsukemen) at 850 yen. All prices are including tax.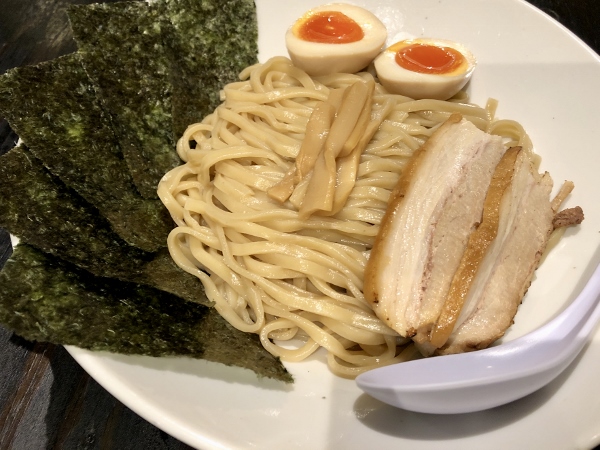 As is customary with tsukemen dishes, the soup is astonishingly thick and savoury. "We created the soup first and then searched for the perfect noodle to match it," explained Mr. Tanabe. "After much trial and error, we settled on these Hirauchi noodles." Hirauchi noodles are fat and flat, thick and wavy noodles that hail from the ramen paradise of Kitakata City in Fukushima Prefecture. For the very hungry, sets are available: your choice of ramen with raw egg on niboshi rice or chashu rice, 3 pieces of fried chicken and a small rice, or the fried chicken and one kind of rice. These sets cost an extra 200 yen, 250 or 350 yen.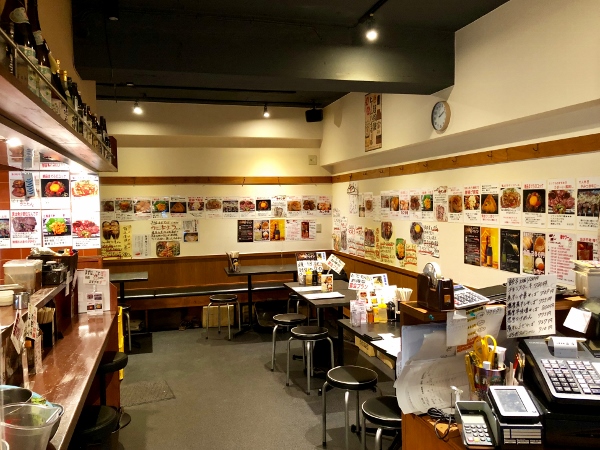 The interior of the room is surprisingly deep, encompassing the izakaya area. Closed at lunch time, this space opens in the evening as an izakaya, or Japanese pub. The menu is extensive and contains many delicious versions of traditional favourites, photographs of which adorn the walls.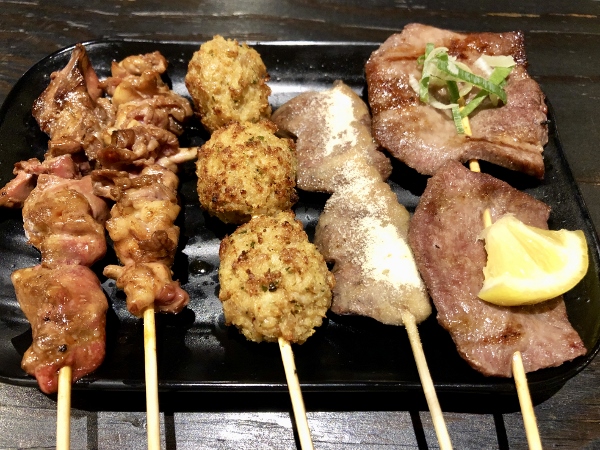 The yakitori is immensely popular. With around 22 items on the menu, prices range from 100 yen for negi onion to 300 yen for beef tongue. According to Mr. Tanabe, the rather unusual chicken giblets yakitori is very popular, as is the liver. So popular is the liver that some customers will order 10 skewers, then immediately order ten more! From left to right: liver, giblets, tsukune minced meat balls, heart with garlic powder, and beef tongue. Very nice with a cold beer! A selection of 10 skewers costs 1380 yen plus tax.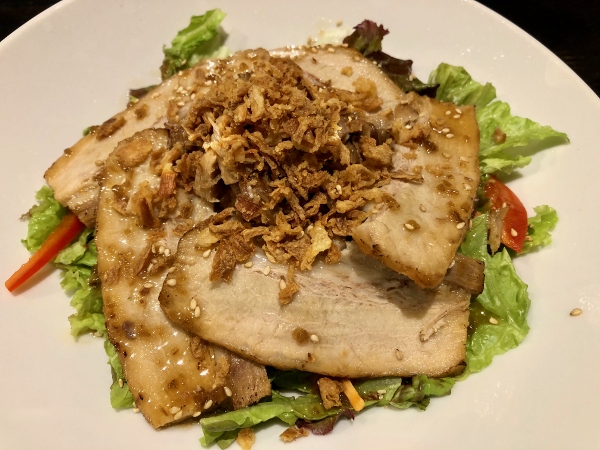 Besides yakitori the evening menu contains a range of deep-fried items such as shrimp, chicken gyoza, octopus balls, horse mackerel, chorizo, croquettes, potato fries and fried chicken. The fried chicken is another top seller, due to its "secret sauce". Salads are very attractive, with the most in-demand featuring the home made chashu pork belly, which is steeped in the same sauce as is used for the yakitori. At 780 yen plus tax, it's very tempting.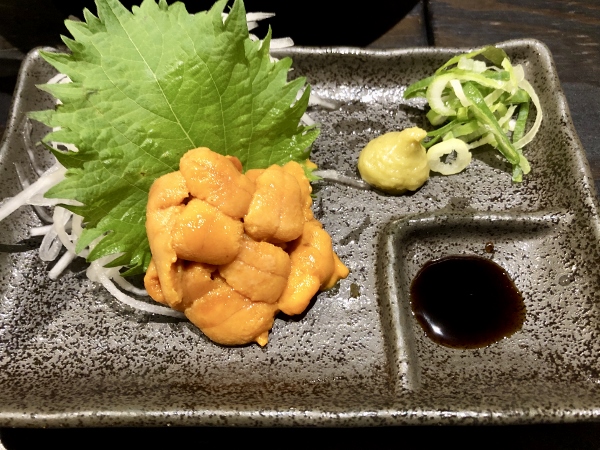 This Hokkaido sea urchin, straight from a long-established shop with a 50-year history at Tsukiji that now trades from the new Toyosu Market, is exceptional quality at the remarkable price of just 680 yen plus tax. Longstanding relationships with wholesalers allow Bara Corporation restaurants to acquire high grade produce at reasonable prices.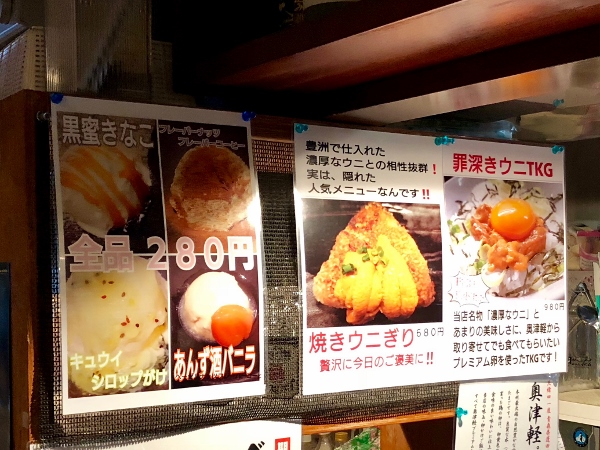 For hardcore sea urchin fans, there's the "unigiri", a combination of baked rice ball (onigiri) with sea urchin (uni) for 680 yen. Mr. Tanabe particularly recommended the chicken gyoza explaining, "It's garlic free so there's no worry about any after odour unlike regular pork gyoza. The chicken meat we use is really good quality, very juicy. The gyoza are cooked in the juices from the chicken meat so they are very succulent."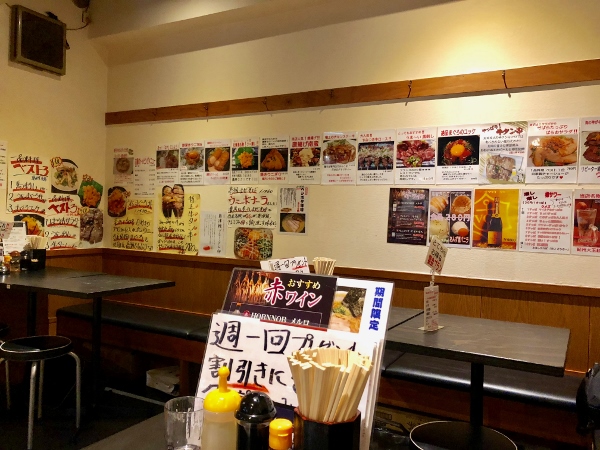 Amongst female customers the most popular items are the Barao chashu salad, the sea urchin sashimi and the beef tongue skewers. For men the top attractions are the horse meat sashimi (basashi 880 yen), sea urchin and tuna on rice bowl (uni maguro don) at 1480 yen and the tuna yukke at 680 yen. Yukke is a Korean tartare dish which combines raw meat or fish and raw egg.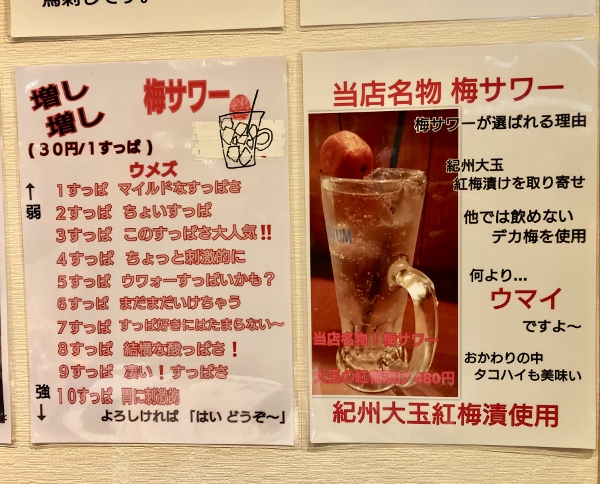 The drink menu contains all the usual favourites, with Premium Malts as the main draft beer. Maker's Mark, Jim Beam and Kaku whiskey are the featured highballs as the boom continues apace. The most ordered sours are those containing enormous pickled plums from the Shinshu region of central Japan, which roughly corresponds to modern day Nagano Prefecture. Customers can increase the sourness level from one to ten with each level costing an additional 30 yen.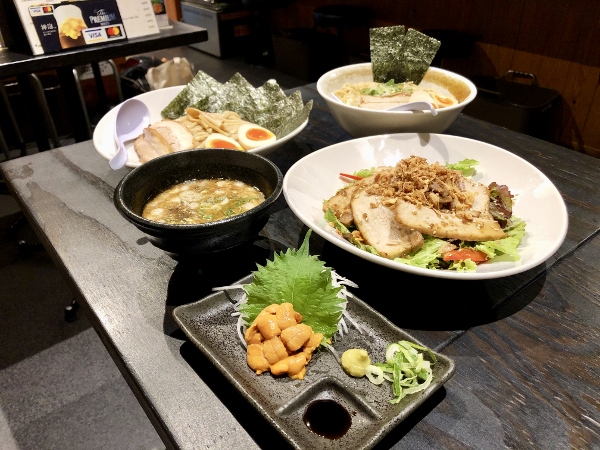 All things considered, Menya Barao Minamisunaten is far from the typical ramen restaurant or Japanese-style pub, yet it combines both into an intriguing whole. Customers can enjoy ramen for breakfast, lunch or dinner with the vegetable potage version available only in the evening! In fact, there are specials all the time, depending on the season and the creativity of Mr. Tanabe and his staff. If you're in the Minamisuna area and in need of some seriously tasty noodles, yakitori or top value izakaya food at prices which won't break your wallet, then this is the place for you!
Story and photographs by Stephen Spencer