Futsal – Start Them Young
Published: January 7, 2019
Many people will have heard of Ruy Ramos, the Brazilian-born soccer star with the flowing hair and beard who played for the Japan national team in the 1990s. If you step out of Shinonome Station, on the wonderfully-named Tokyo Rinkai Kousoku Tetsudo Rinkai-sen (Tokyo Waterfront Area Rapid Transit Waterfront Line), you can spot his face beaming down at you from the front of a large warehouse-like structure.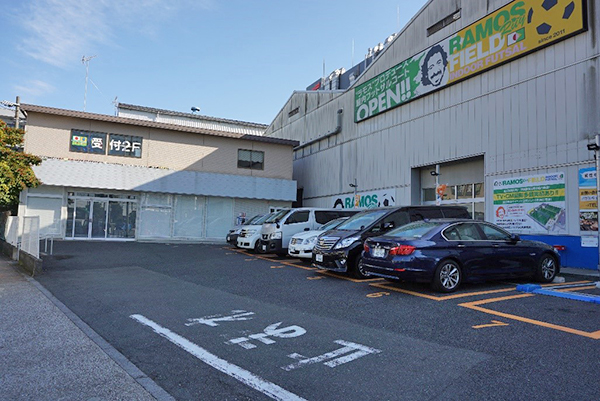 This is Ramos Field Indoor Futsal, where kids from  2  to 12 years old come on weekdays to practice the art of futsal.
Futsal is similar to 5-a-side indoor soccer, but uses a smaller pitch, and is played with a small hard low-bounce ball. The playing surface, ball, and rules together favour ball control and passing in small spaces.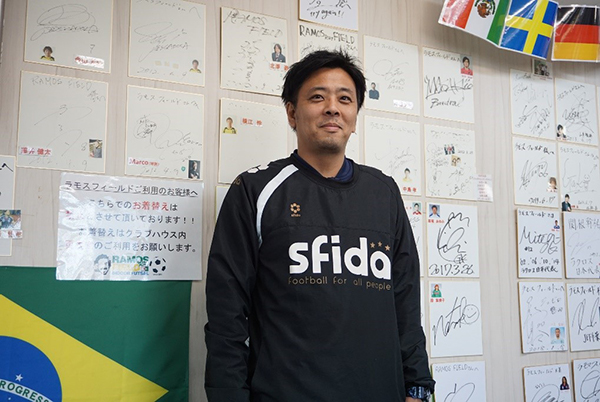 The facility was started in 2011 by an acquaintance of Ramos who was happy to lend his name to the project; in fact, not only does Ramos lend his name, but occasionally makes appearances at the centre, whilst his son is an instructor.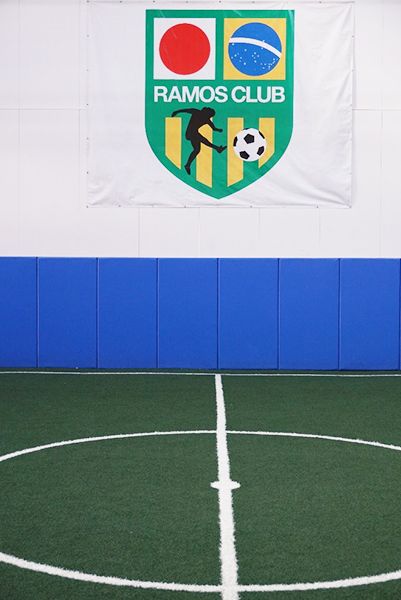 The centre comprises three all-weather covered futsal courts; A, B and VIP,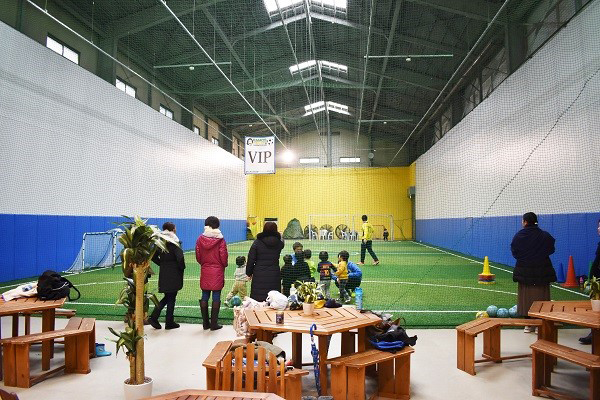 Photograph courtesy of Hachi Kizuki
the latter having air conditioning, its own toilet, showers, and a changing room. There is also a reception area with toilets and a communal changing area where visitors using courts A and B can relax before and after a strenuous game.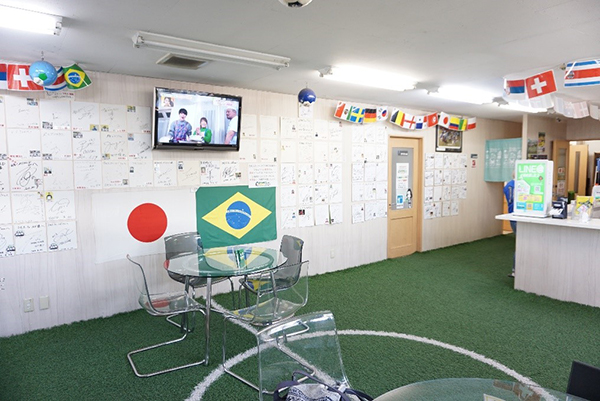 The day I visited the centre there were no lessons for the kids unfortunately. However, on the VIP court filming of a game of futsal was taking place, whilst on another court a group of students was energetically tussling for control of the ball.
Ramos Field Indoor Futsal provides daily classes for the different age groups of children, and currently there are around 220 boys and girls who attend these classes. When I asked the branch manager, Mr. Riki Ishiguro, if he wasn't starting them a bit young at 2 years old, he laughingly explained that these tots learn to play with and kick the small coloured balls that the centre provides, and to jump over small cones set out on the court. In this way they can develop motor and coordination skills.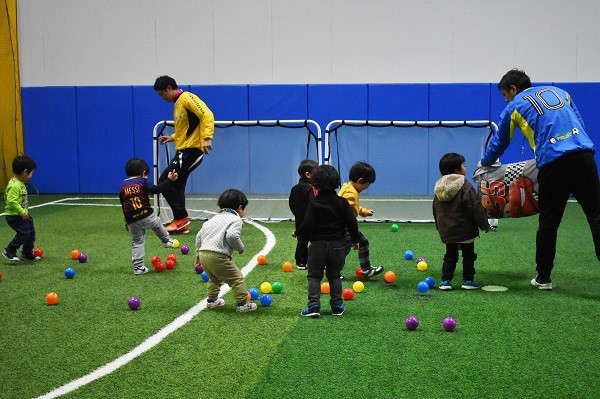 Photograph courtesy of Hachi Kizuki
At all times parents can view their children's activities and progress, and in this group environment the children also learn social interaction skills.
Mr. Ishiguro told me that unlike the rigorous training at school, where the emphasis is on results and selection for teams, at Ramos Field Indoor Futsal the coaches encourage their charges to relax and enjoy themselves; anyone can join in and there is no pressure to succeed.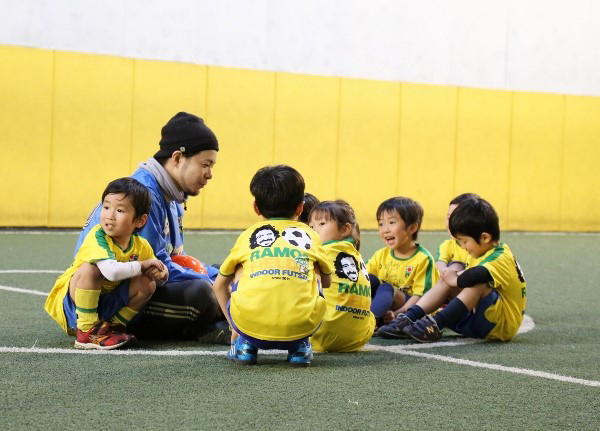 Photograph courtesy of Kotomise
One other opportunity offered by Ramos Field Indoor Futsal is to rent one of the courts which are available on evenings and weekends. In addition to adult games of futsal, external companies and groups organise activities, such as bubble soccer, school lacrosse, and "archery hunt".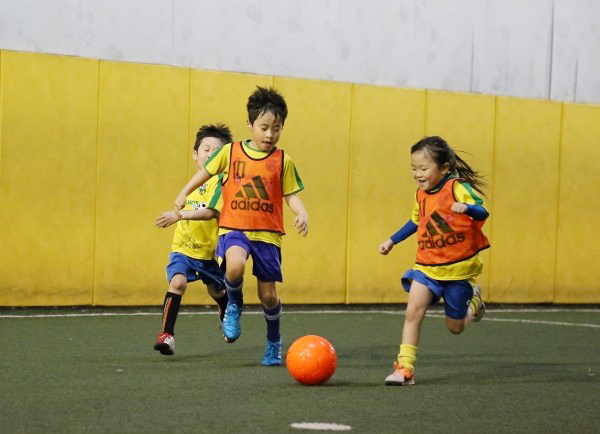 Photograph courtesy of Kotomise
But Mr. Ishiguro gets most satisfaction from watching the kids having fun and enjoying themselves whilst at the same time developing their playing and life skills. And, just maybe, providing the kick-off for a future career as a player on one of Japan's men's or women's soccer teams?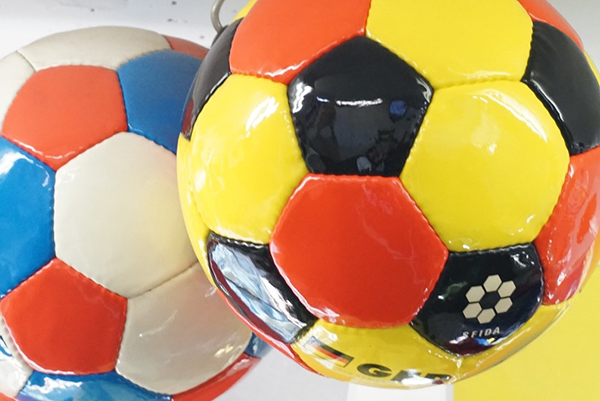 Story and photographs by Jeremy Hutchinson