The Kurosawa Chiropractic Clinic is located on a narrow backstreet behind Kameido Station in what used to be a karaoke and "snack" bar. That's not the only unusual thing about the place, as I found out on a recent visit.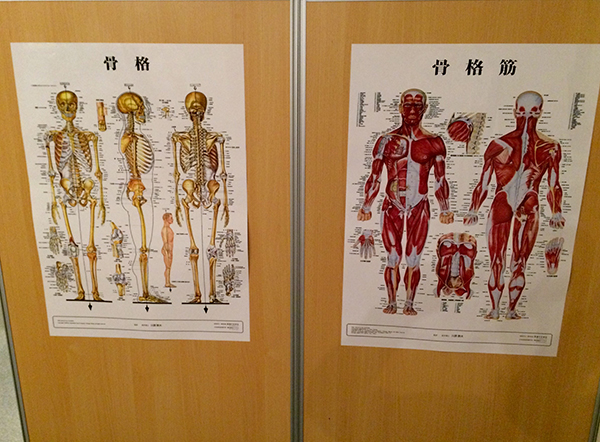 The young and dynamic proprietors are Mr. Kurosu and Mr. Nishizawa, with the first and last parts of their names combining to create the joint name of their business. "We met when we both worked for a major high street chiropractic chain," says Mr. Kurosu. "We realized we had similar ideas about chiropractic so we decided to team up and take the plunge into opening our own place."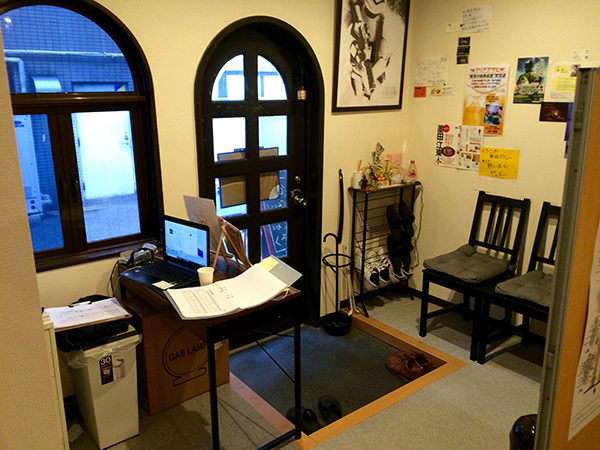 How did you come to be involved in this kind of work? "I trained as a sports physiotherapist and then joined the chiropractic company after that," said Mr. Nishizawa. Mr. Kurosu's route was more roundabout, "I was a company employee, working in an office. The 2011 Tohoku earthquake and tsunami changed everything for me. I saw clearly that I wanted to do some work that would improve people's lives, so I retrained as a chiropractor. I was 27 at the time. I quit my job and joined the same company as Mr. Nishizawa."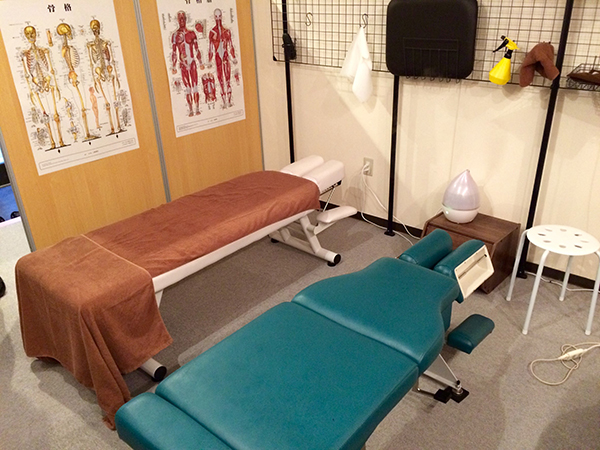 So, what exactly is chiropractic? "Well," says Mr. Kurosu, "It's a way of rebalancing the body by manipulating the musculoskeletal system and the spine in particular. It began in the United States in the late 19th. century and came to Japan during the Taisho Period (1912-1926). We work on the joints, muscles and bones, realigning them, stretching and massaging to reduce pain, increase movement and improve performance. Over the years we've developed our own method we call Kurosawa Style, which is a mixture of these parts."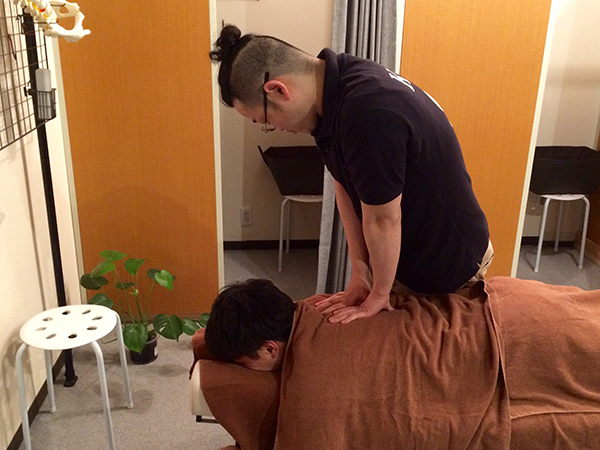 Mr. Kurosu goes to work on his partner, who lies face down on the treatment table. There are changing rooms in the office where patients can slip into something more comfortable. The treatment begins with pressing along the spine and shoulder areas. "We think of our way as a 'long style'," says Mr. Kurosu. "It's very effective. It's about control not strength. If people have immediate pain, particularly in the lower back, we can treat that quickly."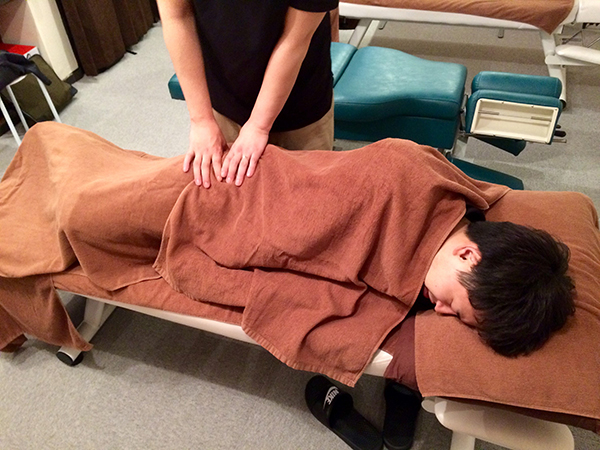 Mr. Nishizawa turns onto his side as his partner manipulates his hip area. "Our patients are a variety of people, mainly locals, or those who work here in Kameido. We selected this area because we worked in Kitasuna before and liked it, but wanted a place with better transport. I'm a local and live near Kameido Tenjin Shrine, while Mr. Nishizawa lives near Shinjuku. During the day most of our patients are locals, while working people, particularly those working in manual labour, come in the evening. We see our function as supporting the neighborhood community by improving their health so they can be free from pain and stress in their daily lives."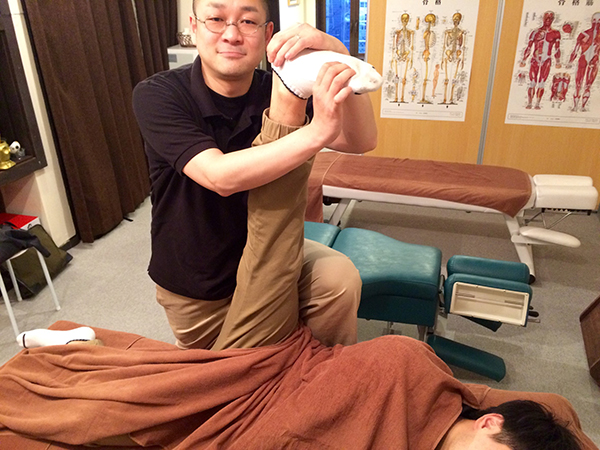 Mr. Kurosu stretches a leg out to 90 degrees and then twists it. Remarkable. Mr. Nishizawa seems none the worse for the experience and bounds off the table, looking refreshed. "That was really good," he says. "We've been busy recently and I haven't had much time to relax. A powerful stretch and massage really does you the world of good."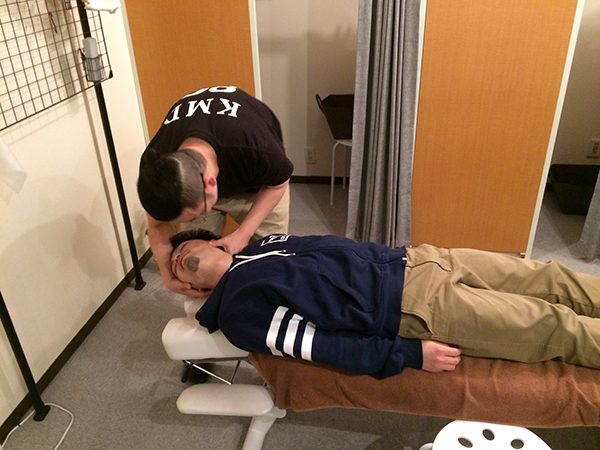 "Our hope is that people will come to see a visit to the chiropractor as part of their lifestyle. Just as ladies visit a nail salon or both sexes visit hair and beauty salons, we view going to a chiropractor in the same vein. It's a valuable way to reduce stress for both your body and mind. If your body isn't balanced that leads to physical discomfort which feeds stress further and prevents one from enjoying life to the full," says Mr. Kurosu. Here he manipulates and then "clicks" Mr. Nishizawa's spine back into place.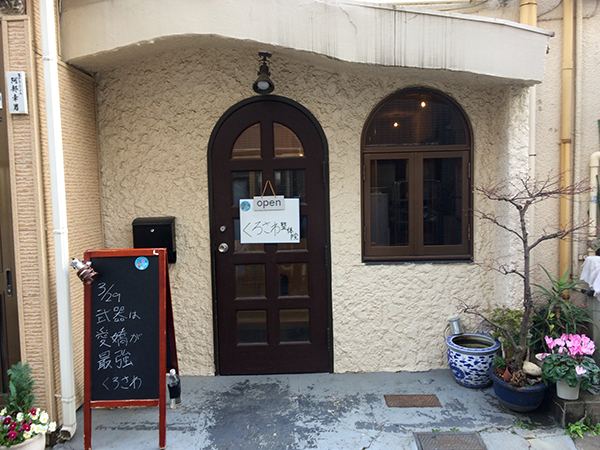 For beginners they recommend an introductory course of three one-hour sessions for 10,000 yen. This represents excellent value for money. These can be taken over any time period depending on the condition of the patient. They recommend about a month. Although the patients can drop in or make appointments, they prefer the third session to have a reservation so that future treatment can be discussed. Thereafter, anything from once a week to once a month may be suggested. "People can think of it as a way of protecting themselves from pain in the future," says Mr. Kurosu.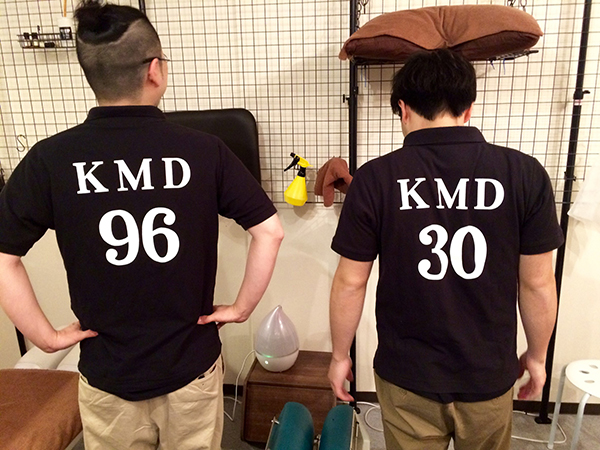 And what about the future? "I have a dream," says Mr. Kurosu. "In the future I'd like to teach chiropractic to juvenile offenders so that they can have a career to go straight in. At some point I'd like to open another clinic where people like that, or even former gangsters, can rejoin mainstream society through chiropractic. I'd like to give back to society in some way."
Mr. Nishizawa says he'd like to improve his chiropractic skills and find a nice girlfriend.
If you're looking for pain relief, to improve your general health or are just curious, why not drop in and take advantage of the beginner's course? Mr. Kurosu and Mr. Nishizawa are great guys, in the real old town mould; and they even have team shirts: Ka-Mei-Do Kuro-sawa. How cool is that?
Story and Photos by Stephen Spencer