Had a hard day fighting the crowds on Sunamachi Ginza shopping street? Well, why not do what my wife and I did recently and call in at Kitasuna Seikotsuin.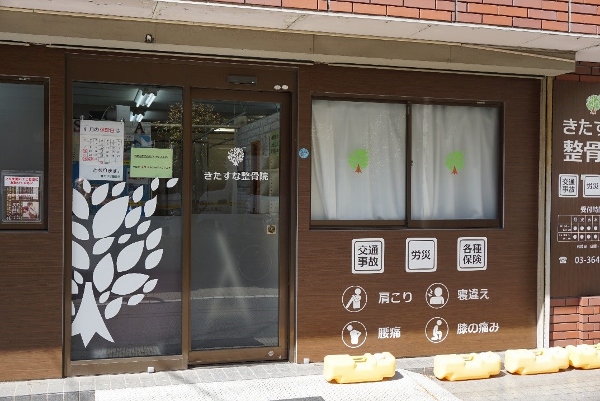 Run by Mr. Kenichiro Nakamura, this chiropractic clinic, located across Meiji-dori avenue from the entrance to Sunamachi Ginza, offers a range of treatment from pure relaxation therapy to manipulation; all supported by an assortment of modern technology. Mr. Nakamura has been in the chiropractic business for ten years; after qualifying as a judo therapist he joined Kitasuna Seikotsuin, which he took over and refurbished in September 2017.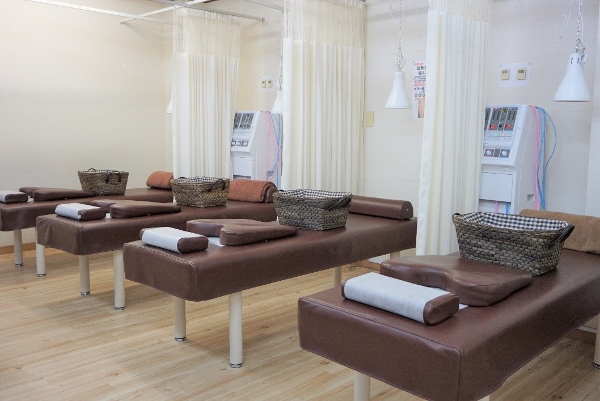 Roughly 70% of his customers are women in their 40s to 60s, many of who come in for a gentle massage and relaxation therapy after work or surviving a shopping trip along Sunamachi Ginza. However, he is happy to treat all, regardless of age or gender, and also handles muscle trouble, back and shoulder pains and sports-related and other injuries. Insurance cover is available depending on the nature of the problem.
As treatment is on a first-come-first-served basis, it is not necessary to book an appointment apart from Sundays, national holidays and for treatment outside regular hours. Mr. Nakamura says his business has grown largely by word-of-mouth, which must mean he is doing something right.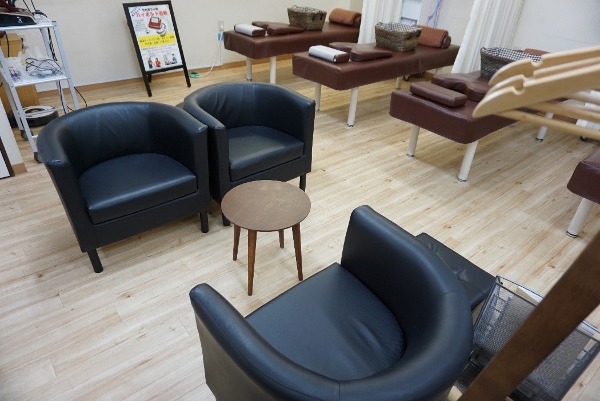 The clinic has a relaxed, airy and light atmosphere. Customers wait in one of the comfortable chairs in the centre of the clinic whilst a selection of jazz music plays gently in the background (aside: why do so many establishments in Japan play jazz, which is so much better than muzak?) and a humidifier dispenses orange-fragranced air.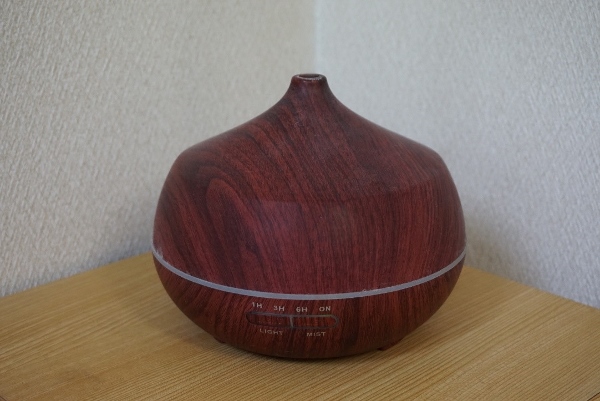 Mr. Nakamura currently runs the clinic with the assistance of one receptionist. When I asked him how he manages to cope, he said that with the judicious use of the various equipment available he can handle several patients at once, so that they do not have to spend a long time waiting to be treated.
We were given a sample of the kind of treatment patients can expect and saw first-hand how Mr. Nakamura manages to handle multiple clients. First off was his latest acquisition, the "denki-bari" or electronic acupuncture high voltage machine, which sends an electric pinpoint pulse to an affected area of the body to stimulate muscle impulse and blood circulation.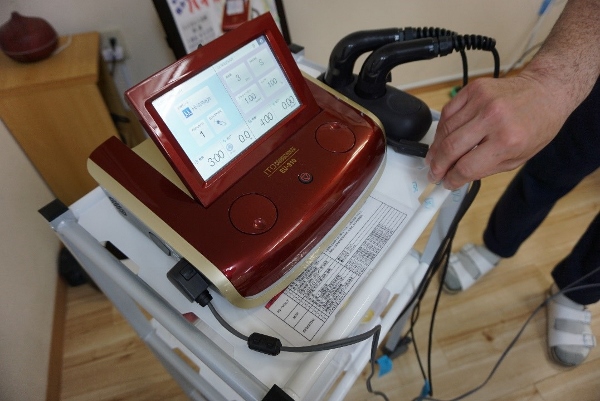 Mr. Nakamura rubbed conductor gel on my palm, stuck on a pad connected to the console, and then applied a round-headed prong-like instrument. Adjusting the power, he asked if I could feel anything. At first there was nothing, but gradually a tingling sensation grew into a pulsation around the area he was touching, and I could see my thumb twitching. An interesting sensation.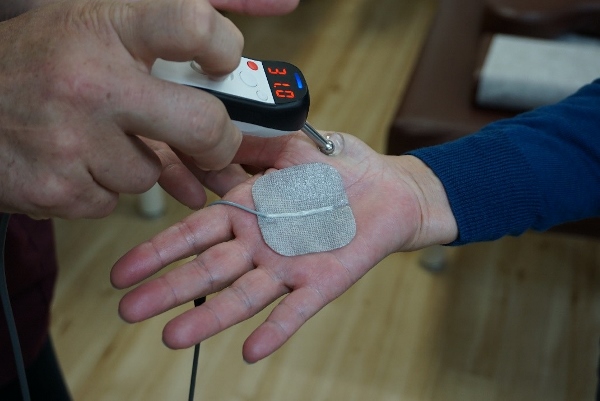 This little instrument is apparently useful for sprained necks, caused by sleeping awkwardly, stiff shoulders (the famous "katakori"), back strain, bruising etc.
As the clinic has a large female clientele, Mr. Nakamura offered my wife some of his manual relaxation therapy. Varying the pressure of his palms and thumbs to suit the client, Mr. Nakamura massages away the tiredness and stresses of everyday life.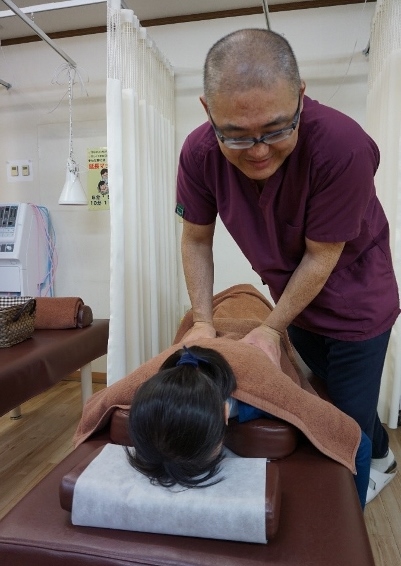 From the reaction, or lack of it, coming from the dozing form on the couch, I could tell that Mr. Nakamura's massage was having its desired effect on my wife.
He then introduced her to his infrared light therapy. Notwithstanding the towel and her clothes, my wife said she could feel heat building up from the lamp placed above her and found the experience very soothing.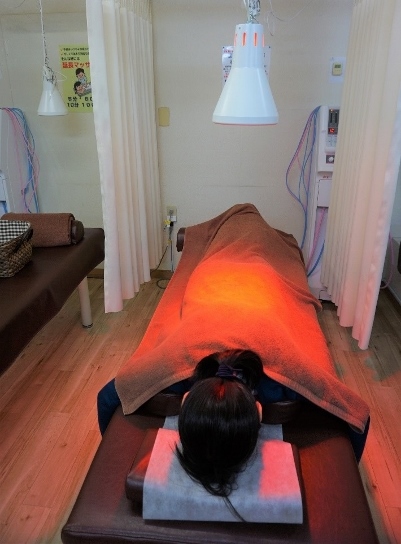 Keeping on with the heat theme Mr. Nakamura demonstrated another instrument which focuses heat on a patient's shoulders and back.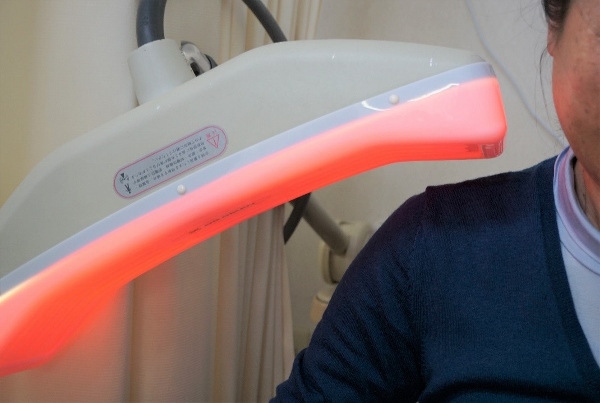 Not to be outdone, I had a go at the air massage leggings. After zipping me in, Mr. Nakamura turned on the machine. I felt the air pressure tighten around my legs, gradually building up from my feet, moving up my calves and thighs, and then, with a "whoosh" the pressure was released, only for the process to repeat itself several times. This is supposed to help reduce swelling in tired legs and boost blood circulation. Very good for those of us who have been on our feet all day.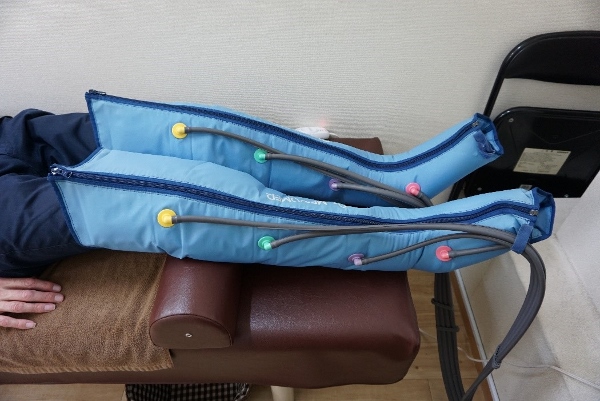 And lastly, Mr. Nakamura demonstrated the machine he uses for "cupping" therapy.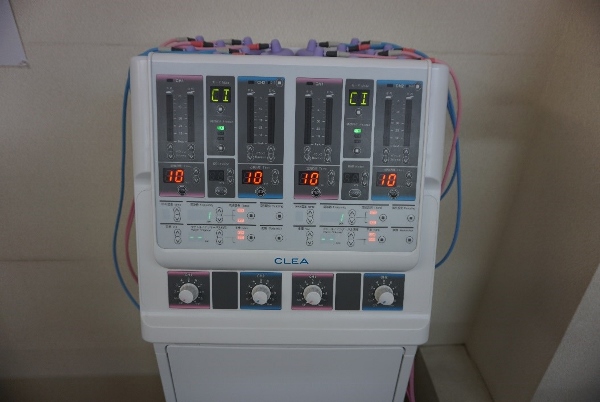 With its suction pads placed strategically on the body this machine stimulates blood circulation and is said to be effective in combatting muscle stiffness, raising a person's body temperature, and generally strengthening the body's immune system.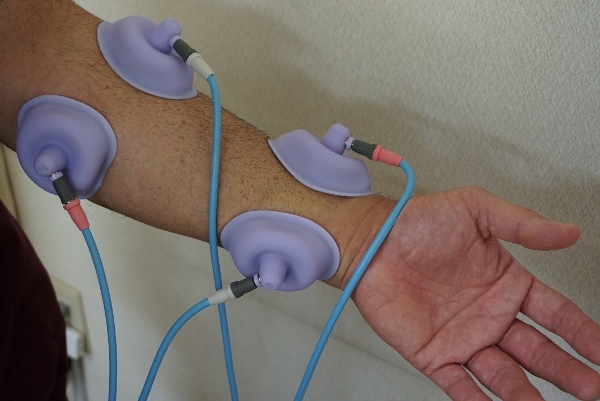 And there you have it. Among its various programmes, Kitasuna Seikotsuin offers a 30-minute course of relaxation, which can be tailor-made to your individual needs. So, go on. Put yourself in the hands of Mr. Nakamura and his therapy machines!
Story and photographs by Jeremy Hutchinson