Lomilomi Massage: An Invitation for Total Relaxation
Published: January 4, 2019
The soothing experience offered by lomilomi massage might best be explained using the definition of the word: lomi is Hawaiian for "massage" but can also mean "to knead, rub, or soothe; to work in and out, as the paws of a contented cat." Now, take a moment to picture a happy cat stretching its paws in a slow, rhythmic motion… The sense of comfort you get from this mental image should give you an idea of what lomilomi (said twice for emphasis) massage feels like.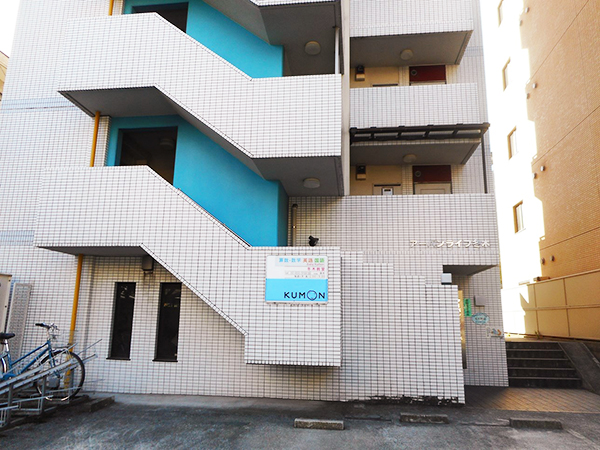 Within Koto City, lomilomi massage can be experienced at Relaxation Salon Warmingtouch, run by massage therapist Ms. Miho Suzuki. Oil treatments, hot stone massages, facial massages and reflexology are all on the menu.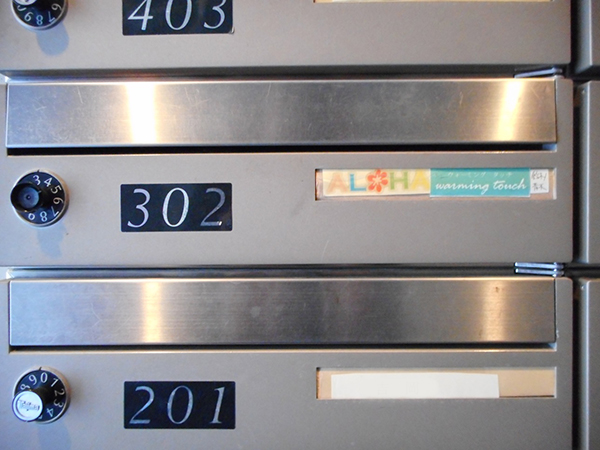 Pro tip: small businesses in Japan that are located in apartment buildings sometimes don't have any signs out front, but you can always check the mailboxes to make sure you're in the right place (*'▽')b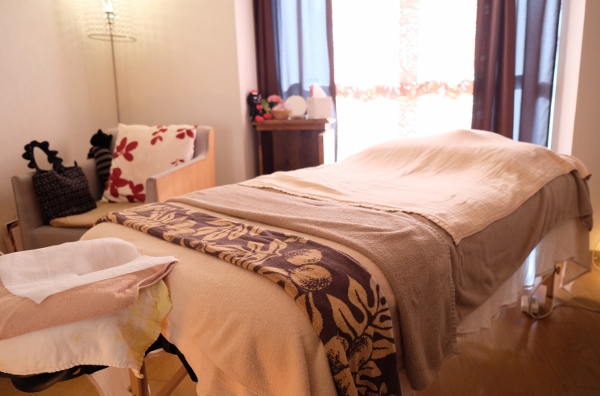 Relaxation Salon Warmingtouch is a single-room operation, guaranteeing privacy to individual clients. The whole place felt warm and alive from the moment I walked in, and I could smell something delightful in the air.
"I'm glad you like the aroma. I've gotten too used to it to notice, myself!" Ms. Suzuki laughed when I pointed this out.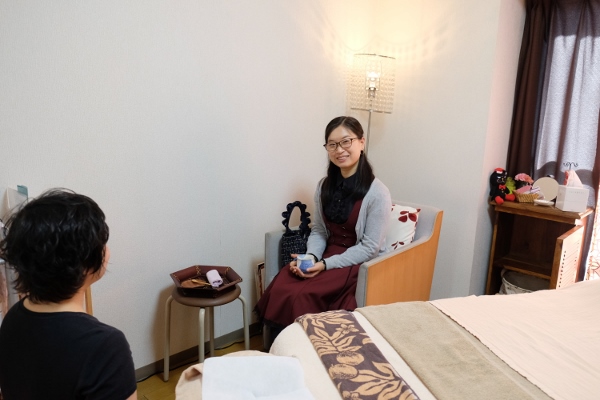 Each session begins with a friendly chat and a cup of tea. On this day I was served a yuzu (Japanese citrus) tea, perfect for warming up the body.
I was also able to ask Ms. Suzuki a bit about her history, including her early studies in social psychology—something I found particularly interesting. I wanted to know if her education had made it easier for her to communicate with customers.
"Social psychology doesn't make me an expert at counselling," Ms. Suzuki said modestly, "but I do believe communication is a skill picked up and honed in all career paths." That be said, her open mannerism and quiet friendliness while we were talking was really comforting, making me feel at ease before the session began.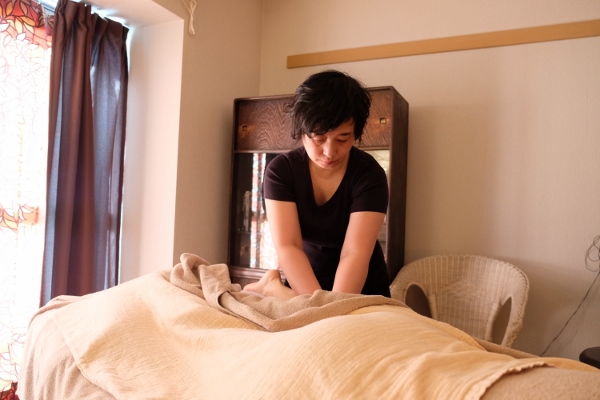 Ms. Suzuki offered to do a basic 60-minute full-body massage so I could get a good sense of what lomilomi entails. "It just so happened that the person who taught me massage therapy was a lomilomi masseur," she said as she began. "But I think it was a happy coincidence. I resonate deeply with the healing principles of lomilomi, which has a lot of historical and cultural importance as well."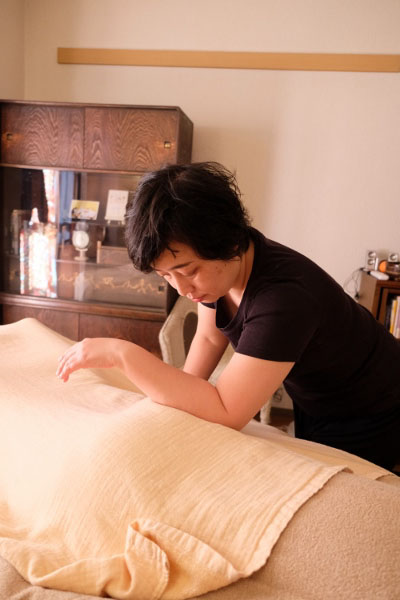 I noticed that a key characteristic the lomilomi massage techniques is the use of the forearms in addition to the hands.
"That works great for me, because I have small hands!" she joked. "I also don't have a strong grip, like some masseurs do. For lomilomi, that isn't a problem."
The use of the forearms also made it feel like a wave was washing over me, particularly as she was working on my back, and I could tell where the tense spots were as she applied a steady, gentle pressure evenly over the skin. It was almost like a massage-based body-scan.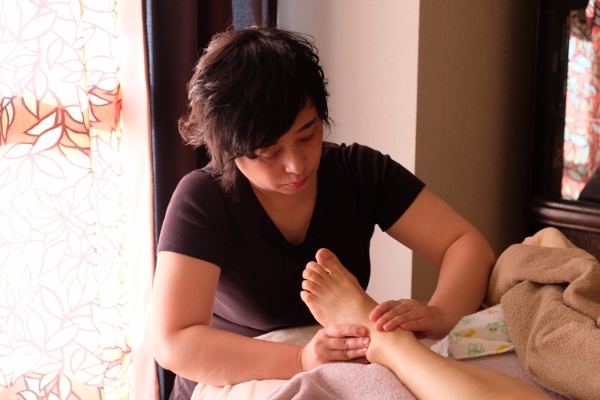 The full-body menu also included a little bit of reflexology…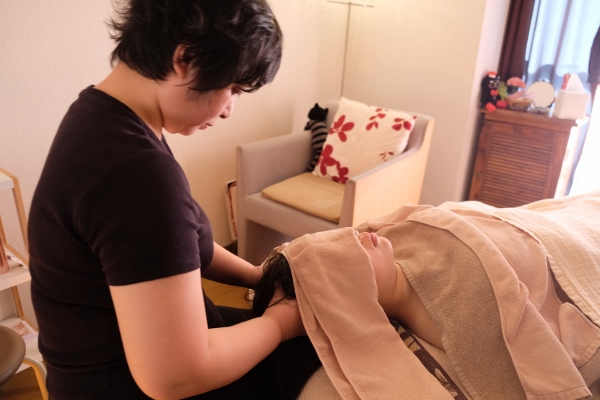 And a soothing head massage! Everything was so relaxing, if we weren't chatting, I would definitely have fallen asleep (and many people do. This is not a problem, and actually encouraged).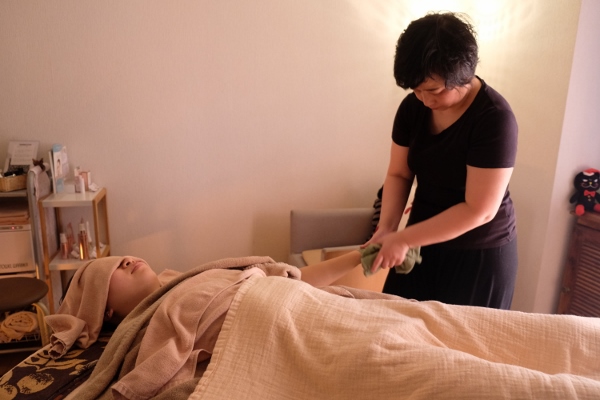 Lomilomi is all about promoting self-healing by using the power of touch to remove anything that is blocking your energetic pathways (muscle knots, tense joints), helping your body to reset. Once the 60 minutes were up (too soon!) and Ms. Suzuki had wiped off the excessive oils, I really did feel like my body had been re-activated.
Furthermore, I felt hungry, as though the experience had given my body an exercise, waking up my cells and causing all systems to work more fluidly than before.
"Many people are hungry after a massage, because your metabolism has increased and your body's ability to intake nutrition has gone up," Ms. Suzuki said. "But I suggest waiting a little bit before eating, to prevent overloading your system, and to avoid greasy foods for the next meal."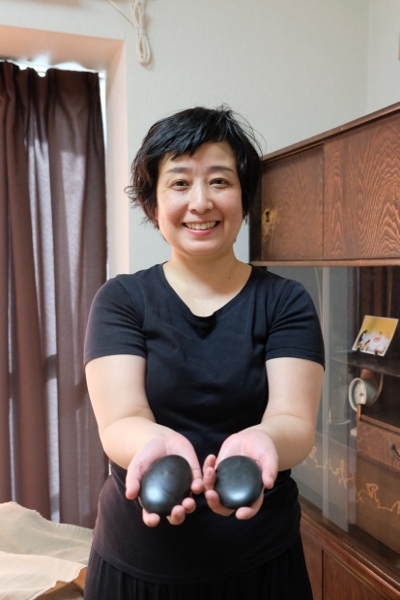 And although we didn't really have time for it, Ms. Suzuki also told me about the relaxing properties of hot stone massages. The hot stones—volcanic rocks she has imported specially—store and radiate heat for a long time, encouraging better blood flow and wiping away muscle tension when placed on key areas of the body. Given that my experience with the lomilomi massage was so great, I would definitely like to come back and try them next time!
By the time I left, having been treated to one last cup of tea (black beans this time), I felt light and fresh. Warmingtouch is a great salon in which to lose oneself for a while, surrounded by an atmosphere of total relaxation and touch-promoted healing. True to its name, this is a salon where you can feel warmed by the touch of a kind and dedicated massage therapist—in both body and soul.
Story by Xianru Shen(Koto City Office Coordinator for International Relations)