Coffee Culture in Kameido
Published: June 20, 2017
Most cafes don't have a 31-year-old Harley Davidson motorcycle parked inside, but then Rose Cafe, the specialty cafe and coffee roaster in Kameido, is no ordinary coffee shop. As owner Kosuke Kawano explains, a number of extraordinary things occurred during the history of the café.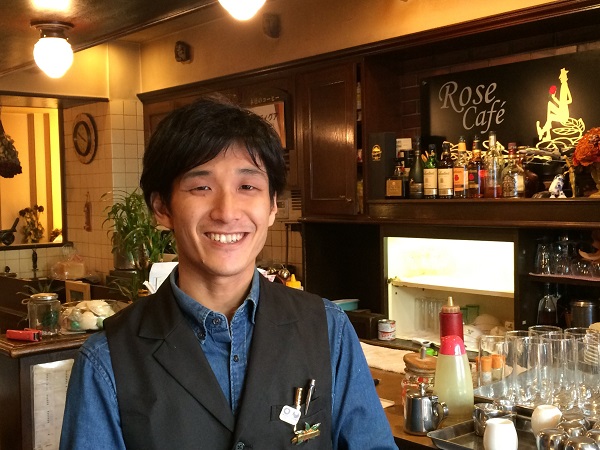 "My father started the business in 1986 and ran it for 26 years. I was born that same year so the cafe and I are the same age. After graduating, I worked as a company employee for six years and then returned to take over for  my late father. I'm a qualified coffee sommelier. That's an extremely difficult qualification to acquire and it took five years of hard work; we have to know bean origins, the roasting process, the brewing process, how to blend different coffees, and  how to distinguish aromas and flavours. As you can imagine,  it's tough. You need an  incredible amount of knowledge to pass."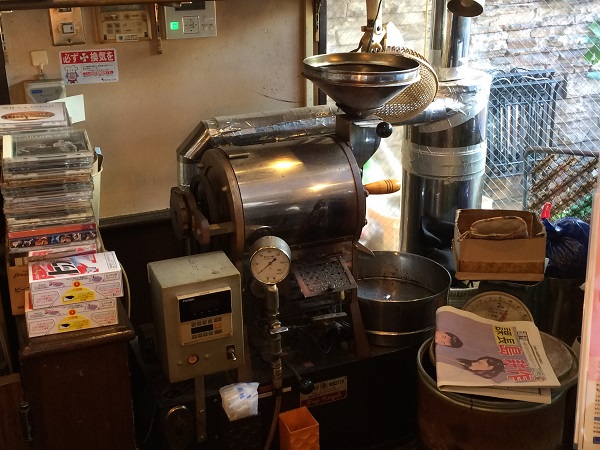 "We roast and sell about 20 kinds of beans here. Our regular blend is a Brazilian and Colombian mix. We also offer a variety of coffees from such places as El Salvador, Peru and Mexico, and always have a daily special. Today it's Antigua. Personally, I prefer  coffee with a slight hint of acidity or tartness. I think I usually drink about five cups a day."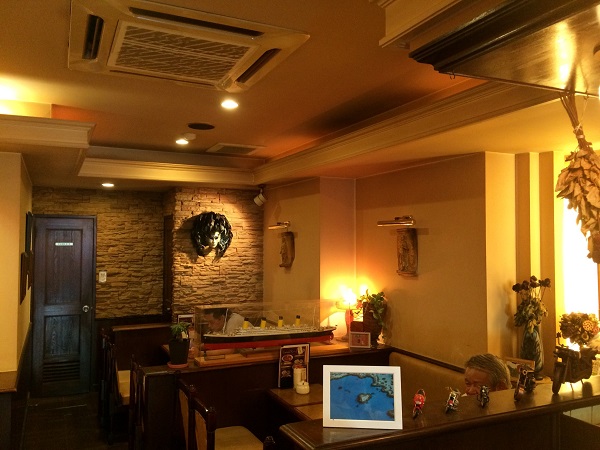 As Mr. Kawano waxes lyrical about coffee his passion for the brew shines through. He casually mentions that his brother is running a Rose Cafe in Taiwan."He's doing well. We can't grow coffee here in Japan so it's always been an imported thing, like coffee culture. However, we can export our own understated, subtle cafe style and it's proving popular in Taiwan. The most important thing for us is the quality of our coffee; we'd obviously like to spread the Rose Cafe name all over the world but it's the quality of our roasts that we want to be known for." Having tasted the coffee at Rose Cafe one can attest to its quality–deep and rich yet refreshing.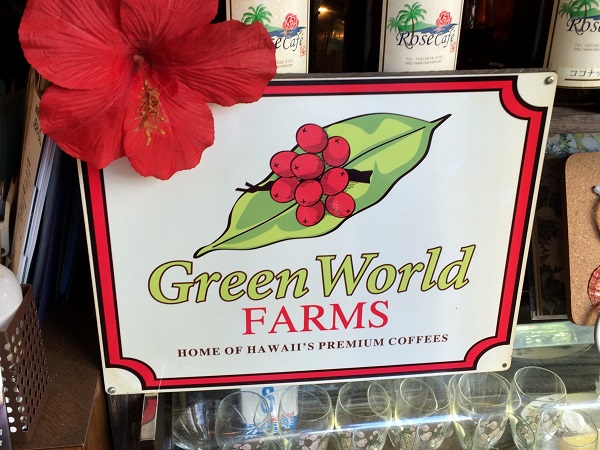 Rose Cafe also serves meals throughout the day, from breakfast at 7:30 to lunch and bar time in the evening. Pasta, stews, curry and sandwiches feature prominently, as does Hawaiian beer.
Late afternoon, after the lunch crowd have eaten and returned to work, is a comfortable time at Rose Cafe. Jazz tinkles, newspapers are read and the pace is pleasantly slow. The interior decor is eclectic and varied: Venetian masks, art deco style lamps, dried roses, a large model liner and several motorcycle models.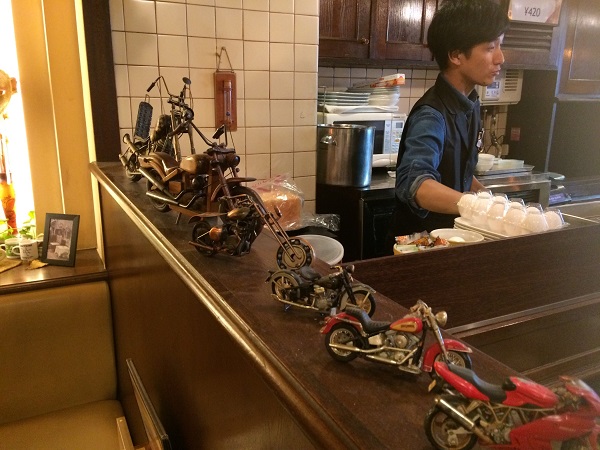 "I love motorsports," says Mr. Kawano,"I used to make a living through tennis and motorsports was my hobby. Then I had an unfortunate accident that put paid to my tennis career but I still love touring on my bike. I bought t he Harley Davidson in the window as a present to myself; it's the same age as both the cafe and me. We all grow a year older together."
In these times of chain stores and franchise shops with identical styles and flavours, it's reassuring to find that individuality and character still command a place in the world. Mr. Kawano's commitment to producing the best coffee at reasonable prices in a comfortable atmosphere is exceptional. "That sign sums up everything that we are about," he says, pointing to a weathered board by the cash register. "Never stand between me and my COFFEE", it says. Truly a sentiment we can all agree on.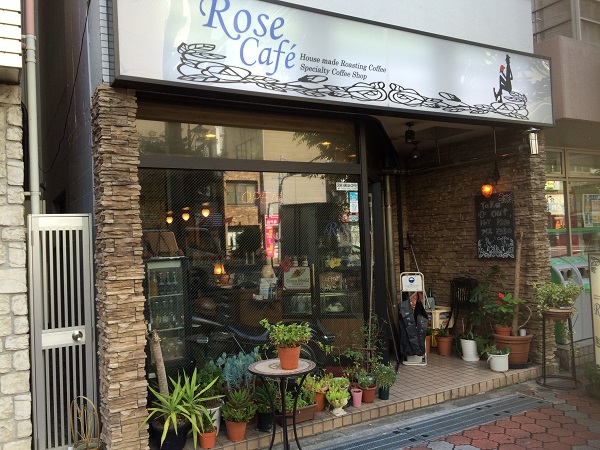 Story and Photos by Stephen Spencer