Sun Road Nakanohashi Shopping Street in Ojima is home to many shops selling top quality food at remarkably reasonable prices. "Ginza quality at Ojima prices," as a shop owner said when I first visited the area. Heading north towards Katakawa Kaisenjiki park one finds, on the right of the street, yet another well-kept secret in the Round Bake-house and its affable owner Mr. Saito.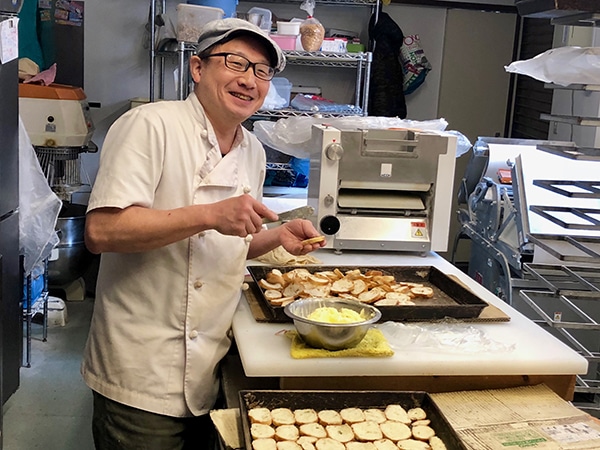 On a bitterly cold afternoon, I found Mr. Saito merrily buttering slices of French bread for rusks to the strains of 80s and 90s pop music in a back room,  blissfully warm from the ovens. "I'm Koto-ku born and bred," he said. "I grew up in Nishi Ojima and still live over there, about 10 minutes away by bicycle. My family weren't bakers; my father was a barber, but I never really fancied it myself, largely because I found having to make conversation with the customers difficult. As a student, I got a part-time job in a bakery and really enjoyed it, so I joined the company and worked in four different shops, including Ueno. I worked there for about ten years and then opened my own place near Joto High School. I moved here in April 2018."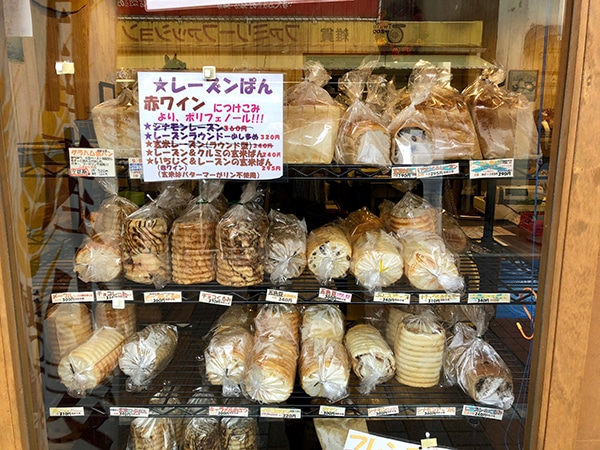 "It's hard work doing everything by myself, but far less stress, which is good," he says. Hard work it certainly is; up at 3:15 am every morning and in the shop from 4:00, mixing the dough and baking the bread for the day. "I make about 200 a day: regular loaves, whole wheat bread, brown rice bread, round bread, baguettes, and some special baked items as well."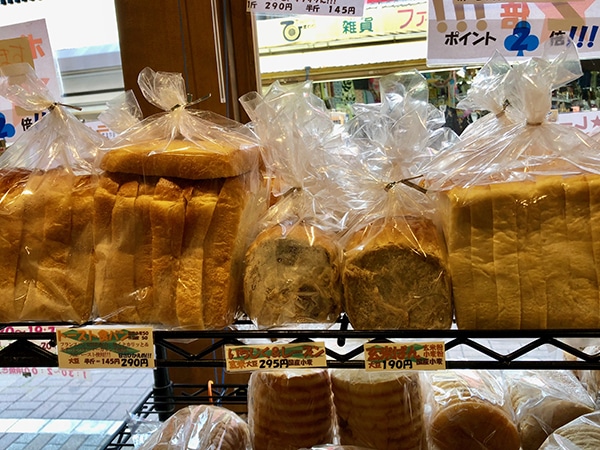 Mr. Saito's bread contains no eggs, butter, margarine, or yeast food. They are all made with 100% Japanese wheat except for two, which contain a little non-Japanese wheat, and the toast bread which is 50-50. The toast bread also contains a little soy bean paste. The various types of bread are labelled with their contents and Mr. Saito is more than happy to answer any questions.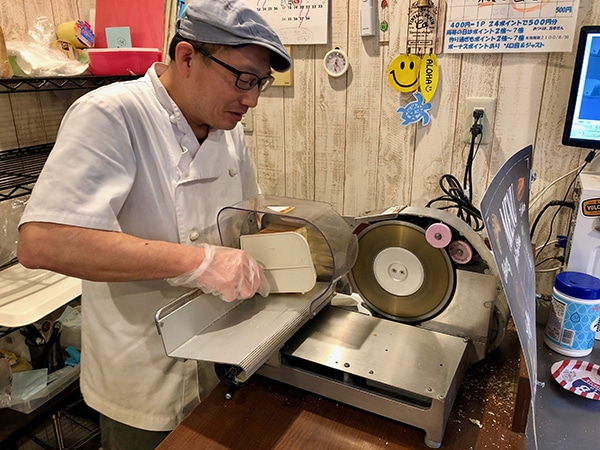 One of the loaves is labelled "nama", which has various meanings in English, including raw, pure, or unprocessed. Mr. Saito quickly cuts a slice of the incredibly soft and springy bread, which is chewy and a little sweet from the addition of honey. It's so good one can eat it without any other topping; raw, in fact. The slices shown here are thick cut, but you can specify the thickness you desire: doorsteps for breakfast or thinner for sandwiches.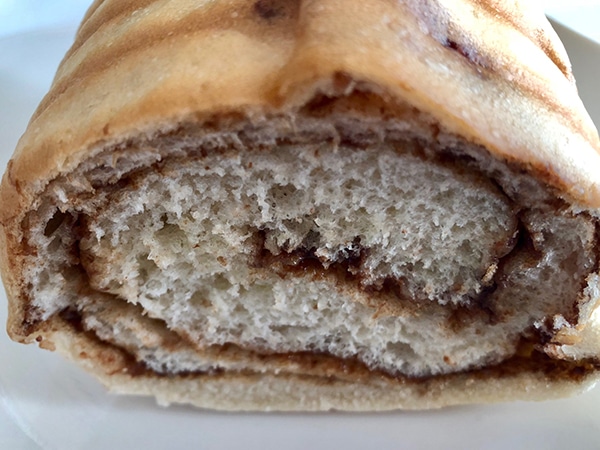 It's the round loaves that gave the shop its name. Just why did you decide to make round bread? The answer is surprisingly simple: "Because the bakery just down the road here sells square bread," says Mr. Saito. There are close to 20 varieties available daily; maple syrup, chocolate, cinnamon, cinnamon and raisin, sweet potato, cheese, cheddar cheese, chocolate and nuts, apple and raisin, caramel, and so on. I took home a loaf of cinnamon, which was very good. In fact, it was so good that I ate half of it untoasted and without any butter at all for breakfast the next day. It was exceptionally moreish and impossible to stop at just one slice.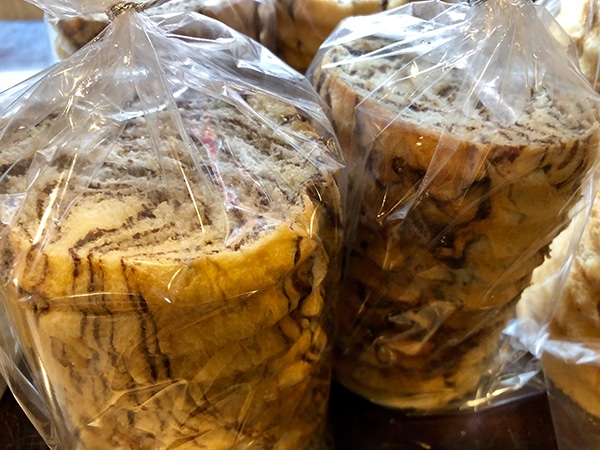 The round loaves are so tasty they sell themselves. A steady stream of customers enters the shop: mothers with young children picking up an afternoon snack, homemakers, seniors, businessmen, and a North American gentleman who walks over from Kameido once a week to pick up a supply.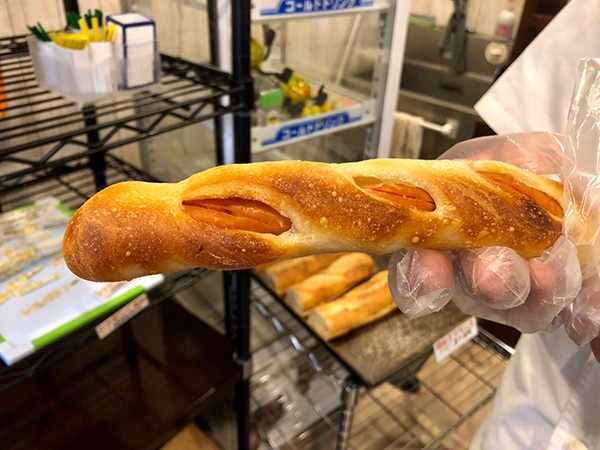 Mr. Saito also bakes a few choice items, such as these spicy chorizo sausage sticks, French toast with cream, and the ever popular pollack roe baguettes.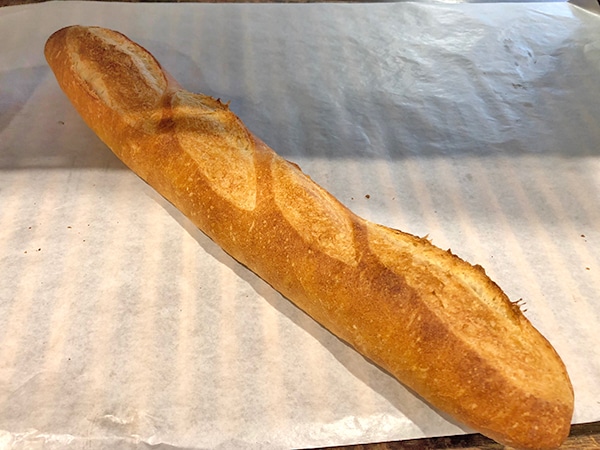 Prices are very reasonable. Baguettes are 210 yen; round loaves vary from 300 to 370 yen, and the regular loaves are a similar price.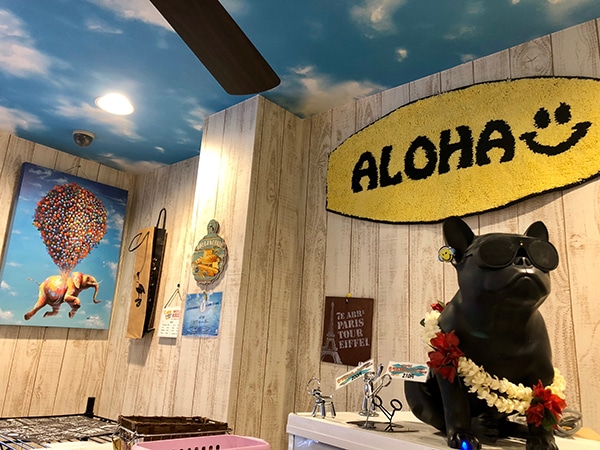 The interior of Round Bake-house is as eclectic as the bread line-up. A Magritte sky ceiling, aloha surfboards, overhead fan, smiley faces, and speakers disguised as a dog. Nice.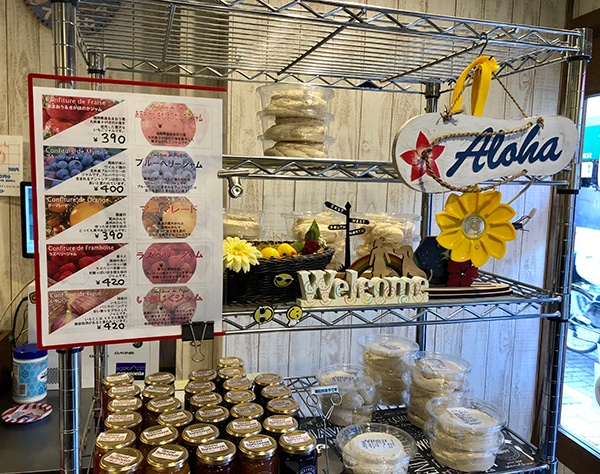 If you're looking for something to put on your bread, there's a fine selection of jams and peanut cream.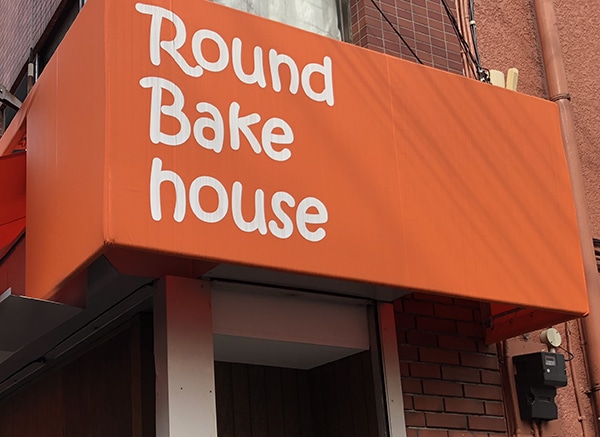 The bright orange sign makes Round Bake-house impossible to miss. As is so often the case in Koto-ku, the number of smaller, independent shops that create wonderful products is astonishing. Mr. Saito is a most friendly chap and keen to chat; if you're in the area and looking for some Ginza quality bread at Ojima prices, then this is the bakery for you!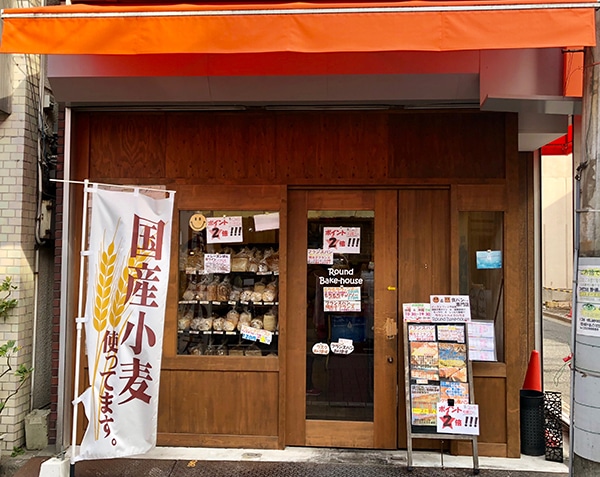 Story and Photos by Stephen Spencer