Miso -soybean paste- sommelier who professional chefs rely on
Published: June 19, 2017
Miso, the fermented soybean paste, is a Japanese culinary staple; and Sano Miso is the biggest and best miso store in Tokyo. Located a few minutes' walk from Kameido Station in Koto-ku, the shop has been purveying miso in the same location since 1934.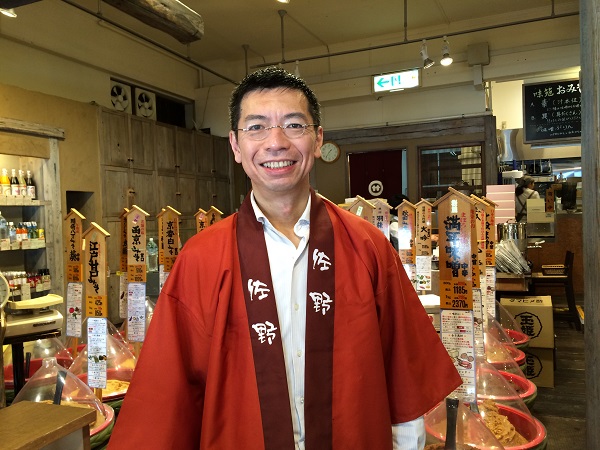 "When my grandfather opened the shop this was an industrial area,", says third generation owner Masaaki Sano. "The factory workers and their families shopped here then. It was a good location for a shop even though it's a few minutes away from the station. In the 1960s the factories relocated, apartment buildings replaced them and more families moved in."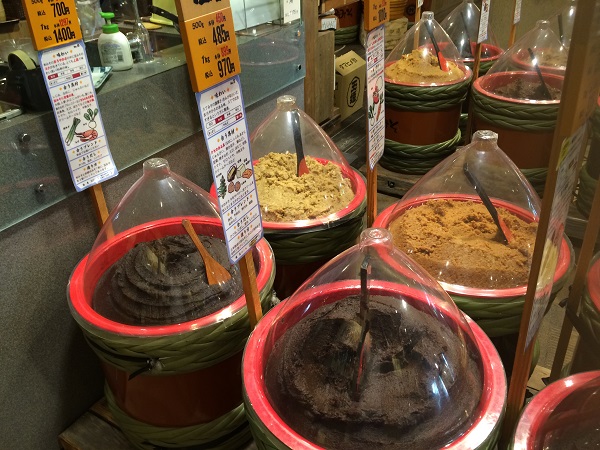 "The store now contains wooden beams rescued from the original shop that was destroyed by fire and has since been rebuilt twice. We sell over 70 different kinds of miso, made all over Japan, from Hokkaido to Okinawa. We've been buying from many of the same manufacturers since the shop opened; they still make miso in the same traditional way they have for hundreds of years."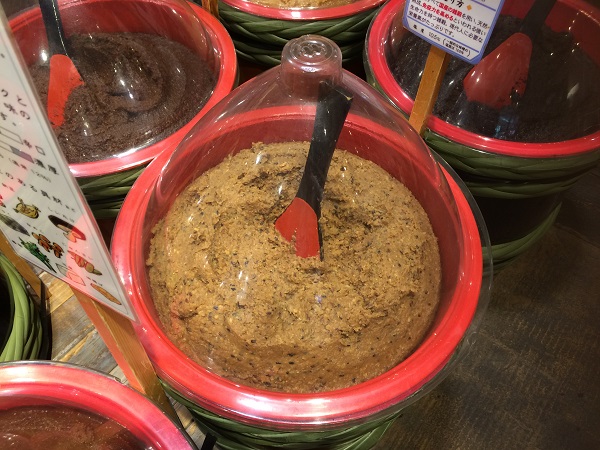 Miso is made from soybeans but can also be produced from a variety of ingredients. In differing parts of the country the soybeans are mixed with rice, barley and other grains to create a wide variety of flavours, from sweet to sour to rich, deep and savoury. Mr. Sano indicates a thick, chunky miso made from ten different cereals. "This is close to the kind of miso made in ancient times".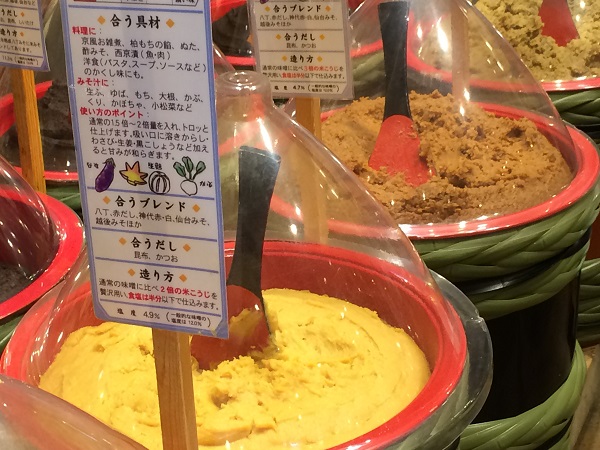 "Basically, miso from Shinshu (Nagano Prefecture) is the standard miso. It's made with rice. Nagano is the bellybutton of Japan and the local products are aged only a few weeks, resulting in a light beige colour and a mild, creamy taste. Not too salty or strong. Miso from Aichi Prefecture, on the other hand, is aged for up to three years which results in an almost black colour and an intense, powerful flavour."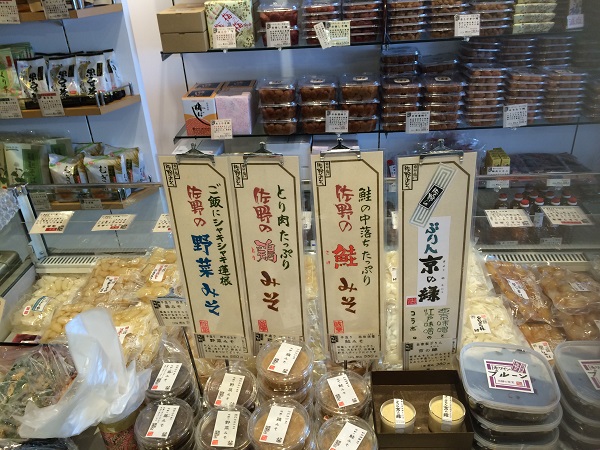 Not only does Sano Miso sell a vast array of miso paste, it also has an astonishing variety of products related to miso soup, the salty and savoury mainstay of Japanese home cooking. From kombu seaweed to katsuobushi (dried bonito flakes) for the broth, you can purchase everything you need in one place. "Miso soup isn't only food," says Mr. Sano. "It's a connection to our roots, our family and our heritage. People remember the flavour of the soup made by their mother or grandmother all their lives. Perhaps more than any other food, miso soup has a special place in our hearts."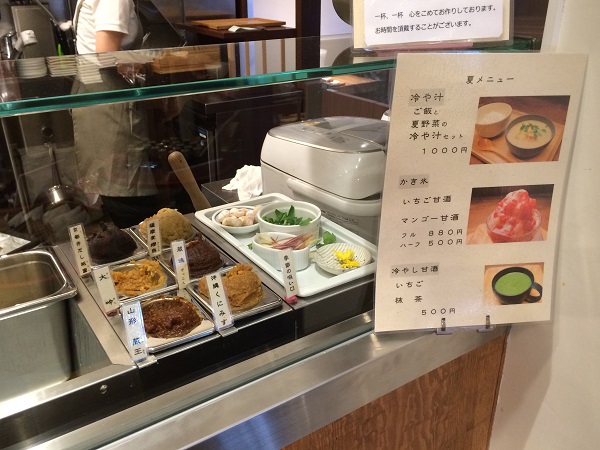 To reintroduce people to the delights of miso soup, Mr. Sano opened a soup bar where customers can select whichever miso they like as well as the ingredients for the soup. The staff members then make individual soups–hot in winter and cold in summer— served with rice, while the customers wait. "In the summer, a light soup with ham and seasonal vegetables is very enjoyable: zucchini, tomatoes and young corn, for example. I favour a dark miso with shijimi clams myself," says Mr. Sano.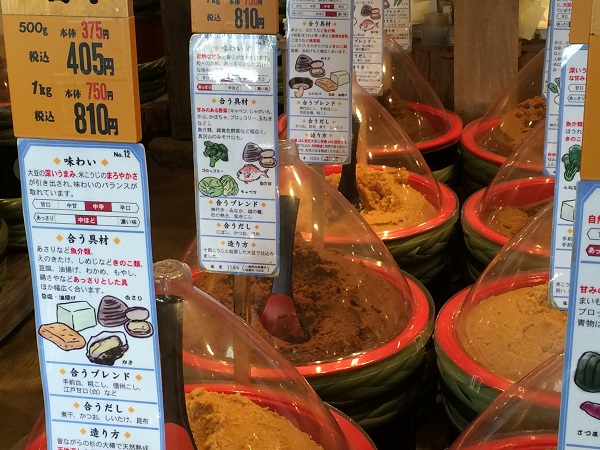 The central area of the shop is filled with squat tubs filled with miso and covered with conical, clear plastic covers. "The miso is shaped into a cone like Mount Fuji to display it better. Everyday we smooth down the surface with the spatula to prevent it from drying out. At night the tubs stay as they are and we leave the cooler on." Each tub has information about the miso, which others it blends well with and what kinds of ingredients are most suitable for a soup. They are also reasonably priced.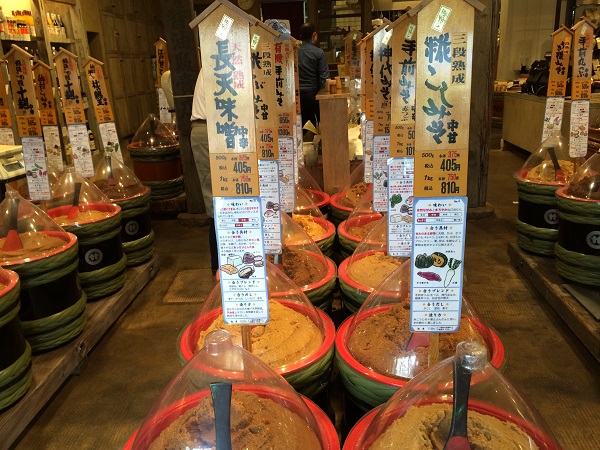 And what about the future? "Well, first of all we want to reacquaint Japanese people with miso. Miso is extremely good for your health and also your nerves. It calms the spirit. Then, we want to spread the joys of miso throughout the world. We're working hard to improve our English so that we can communicate with the many non-Japanese visitors to the shop. So, everyone is welcome to come on down and sample our wares."
No visit to Tokyo is complete without a visit to this fascinating and remarkable shop. And it's not only miso. The store also sells a bewildering variety of pickles, umeboshi (pickled plums), seaweed, amazake (a sweet non-alcoholic drink made from rice), smoked fish, seasonings, sauces and condiments.
As Mr. Sano says, laughing, "We really want to be the Amusement park of miso!"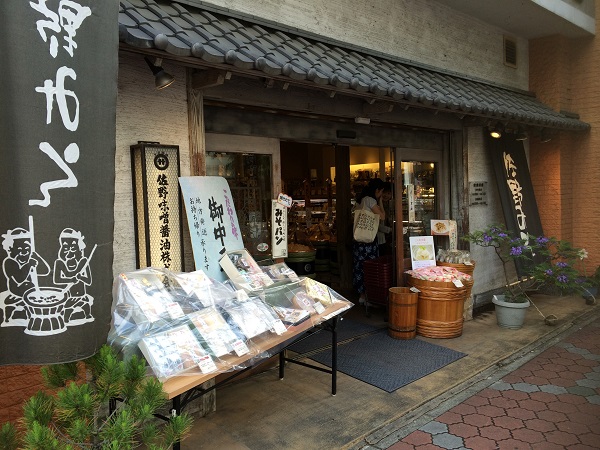 Story and Photos by Stephen Spencer