Sanzenri Kameido: Top Quality, Reasonable Prices
Published: November 9, 2021
Sanzenri is a major charcoal grilled barbecue restaurant group based in east Tokyo. For some 50 years now the restaurants have been serving top quality Japanese wagyu beef at reasonable prices to millions of satisfied customers. Two establishments are located in Koto-ku, the Minamisuna branch near Toyocho station and the Kameido restaurant, which we recently visited for a chat with manager Mr. Nozaki.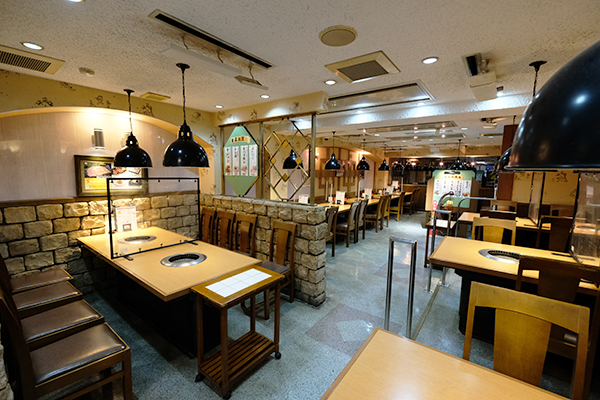 The first floor contains seats for around 30 customers.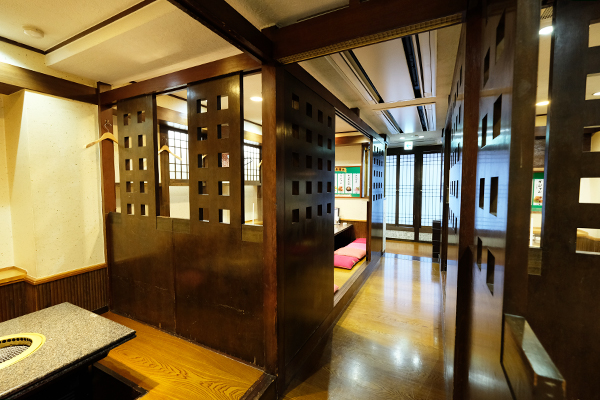 The second floor is vast, containing eight large semi-private seating areas with sunken tables. The sliding partitions can be removed to accommodate parties of up to 50 people, making Sanzenri Kameido the largest yakiniku restaurant in the area.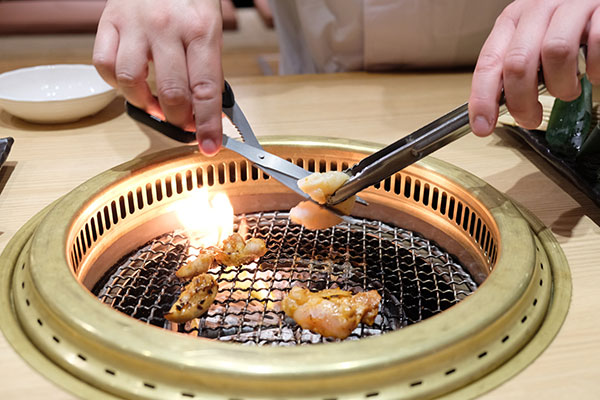 Both Sanzenri Kameido and Sanzenri Minamisuna feature top-of-the-range smokeless grills that whisk the smoke down and away through underfloor ducts. Customers needn't worry about smokey clothes or hair, making the restaurant a top choice for workers in the area. Weekdays see largely working people, local residents and couples, while weekend and holiday customers are mainly families.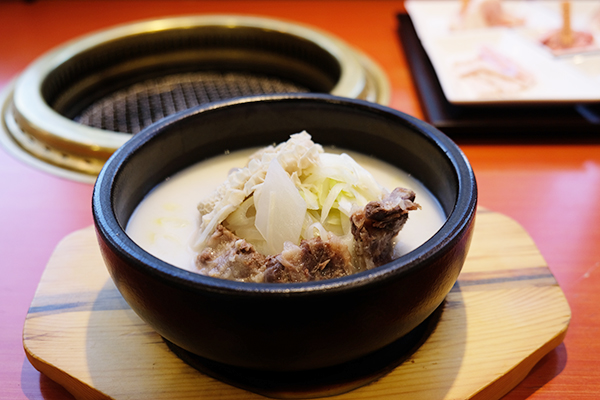 The Sanzenri menu is extensive, with a huge variety of treats to delight the senses. Wildly popular since the first restaurant opened its doors in the early 1970s, this komtang soup is unmissable. Bones from beef cattle specifically chosen for the richness of their marrow are cracked and simmered for eight or nine hours, producing a gorgeous milky-white soup that is rich and deep, yet refreshing and reviving. The soup contains oxtail, tripe, and vegetables, together with a large amount of collagen from the bone broth. Collagen is vital for a healthy body, yet as we age our bodies struggle to absorb the nutrients needed to produce it. Not only is the komtang soup delicious, it's extremely good for our skin! Just 880 yen for a large bowl shareable by two people, or 530 yen for a single. Fabulous!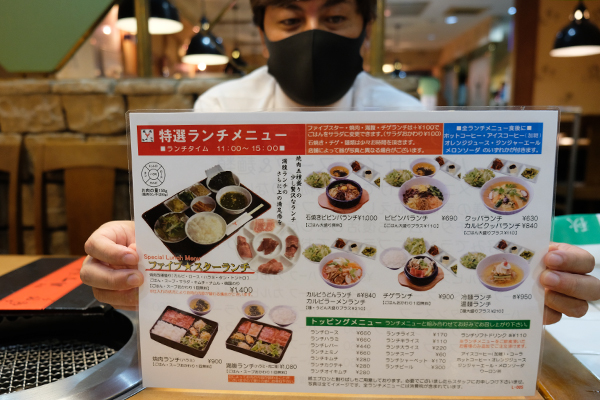 Lunch at Sanzenri Kameido represents great value, from a kuppa set (pronounced koopa, it's a hearty soup served over hot rice in a bowl) at just 630 yen to the Five Star Lunch at 1,400 yen. The Five Star features five kinds of meat, soup, rice, salad, kimchi, namul vegetables and Korean seaweed paper (nori). According to Mr. Nozaki, the top selling lunch is the Full Stomach (manpuku), which features skirt steak plus two kinds of meat, with rice, soup, kimchi, salad and namul vegetables for just 1,080 yen. Lunch time is 11:00 to 15:00 but, "It gets really busy at lunch time, so we'd suggest that those customers not in a hurry arrive after 1pm," he said.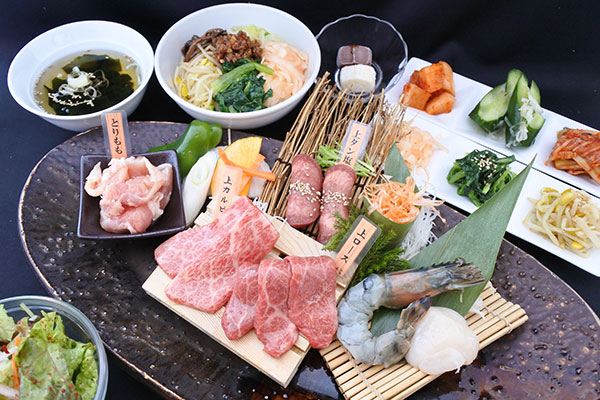 For a seriously special treat, Sanzenri has created Kiwami Gozen (roughly, supreme meal for royalty in Japanese), a monumental spread that features a vast array of premium meat, seafood and much more. For 3,960 yen including tax, customers can enjoy premium beef tongue, premium short ribs (calbi) and premium loin (rosu); the seafood is a plump shrimp and a fat scallop, with tender chicken thigh meat in a miso sauce. Liver can be selected instead of chicken for those who prefer it. Then there's three kinds of kimchi pickles, three varieties of namul vegetable dishes, seasonal vegetables for grilling, a choregi salad and a light seaweed soup. Customers can also choose between a half-size bibimbap or a half-size chilled noodle dish (reimen), and to round it off there's an ice cream dessert. Astonishing!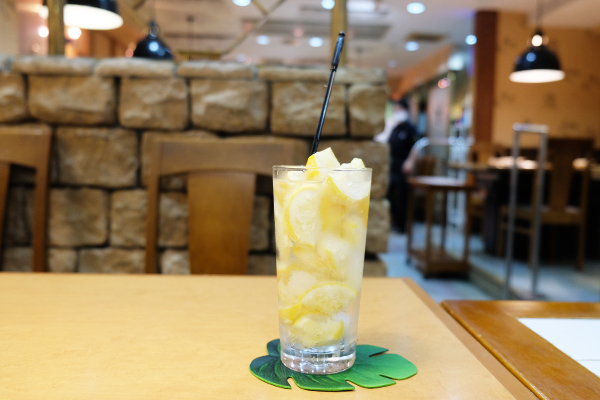 Yakiniku perfectly matches all manner of drinks. Each restaurant in the Sanzenri group has its own speciality; in Kameido it's this Super Lemon Sour (715 yen). Instead of ice the large glass is filled with frozen chunks of chopped lemons. As the lemon melts the flavour spreads, becoming increasingly stronger. Sounds great, especially in the hot and humid Tokyo summer. Customers can then enjoy a refill in the same glass for an extra 515 yen. Mr. Nozaki is a great admirer of the drink, too.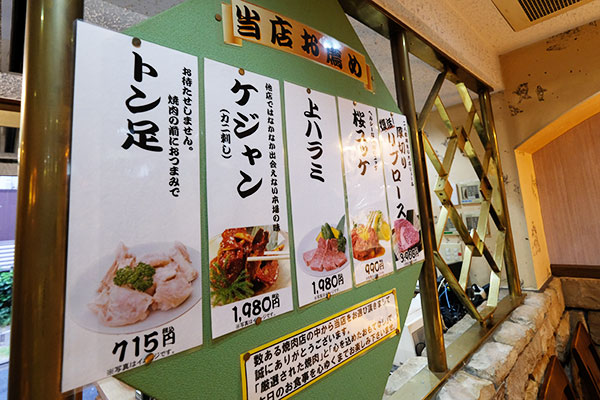 The walls are plastered with pages from the menu. There's pretty much something for all tastes and all budgets.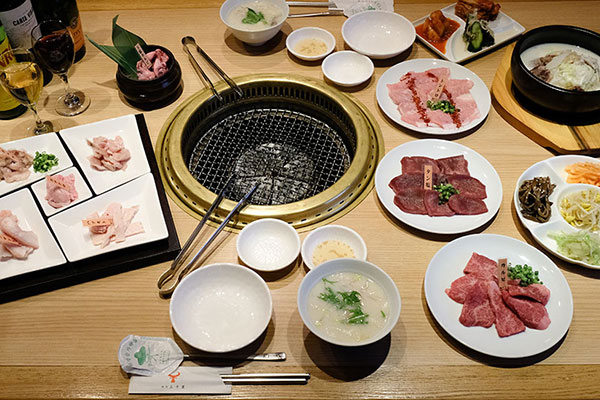 While many people enjoy yakiniku for energy and stamina during the dog days of summer, it's wonderful any time of the year. With the pandemic finally fading in Tokyo, thoughts will soon turn to year-end parties, New Year celebrations and opportunities to catch up with friends and family. It's guaranteed that Sanzenri is going to be busy, so it's advisable to book early to avoid disappointment.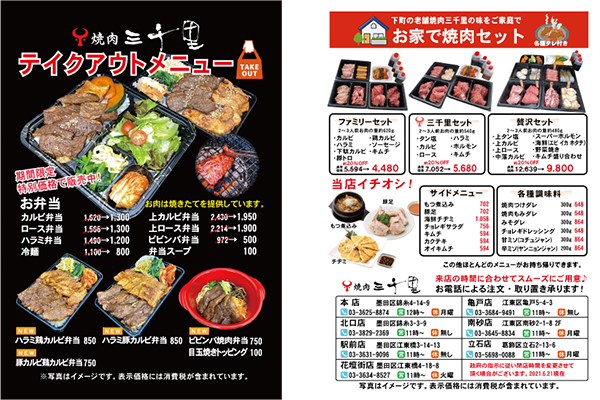 Sanzenri Kameido also offers a variety of reasonably priced take out lunch boxes to enjoy at work or at home. There's even a take out meat menu, for those who wish to enjoy the great taste of Sanzenri around their own table, with a home yakiniku party. Wherever or however you choose to eat it, Sanzenri offers wonderful food and great value. Don't forget to order the komtang soup!
Story by Stephen Spencer