Satisfy Your Sweet Tooth In a Gluten-Free Style At Kome Co.
Published: September 28, 2018
Even the most casual visitor to Japan will be aware of the vast number of confectioners, patisseries and cake shops that abound in every corner of the land. Japanese people love their sweets, whether traditional homegrown wagashi or the latest creations from Paris, New York, and Milan. Koto-ku is no exception, with enough skilled practitioners of the sugary arts to satisfy even the sweetest of sweet tooths. Sadly though, an increasing number of people are unable to enjoy sweets owing to allergies or disorders such as Celiac Disease. If you're a sufferer or just want to eat healthier sweets, then help is at hand in the person of Ms. Rie Utsunomiya and her shop Kome Co.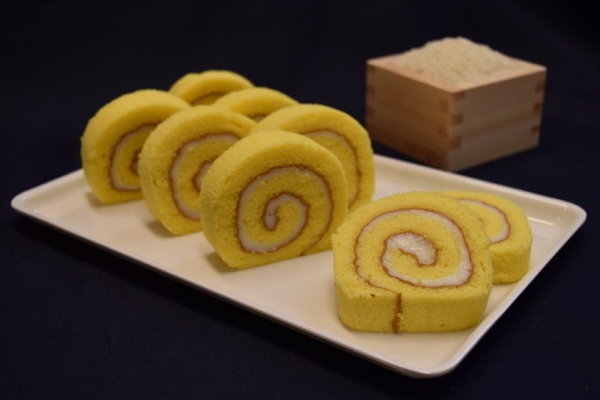 Located on a side street just off Kampachi Street near Kameido Station, Kome Co. specializes in cakes, bread, cookies, and other items made not with wheat flour, but with rice flour. On a recent afternoon, the sole proprietor, Ms. Utsunomiya, spared some time to discuss her work. "To be honest, at first I had no particular plan or intention to specialize in making confectionary with rice flour instead of wheat flour. I was born and raised in Ehime Prefecture, studied at confectioner's school in Osaka and then worked in Tokyo for several years. I decided to take the plunge and open my own shop; purely by chance, I found these premises which had been a cake shop before and were fully equipped. The very first order I received was for a batch of cakes made with rice flour and I was intrigued by the possibilities I saw."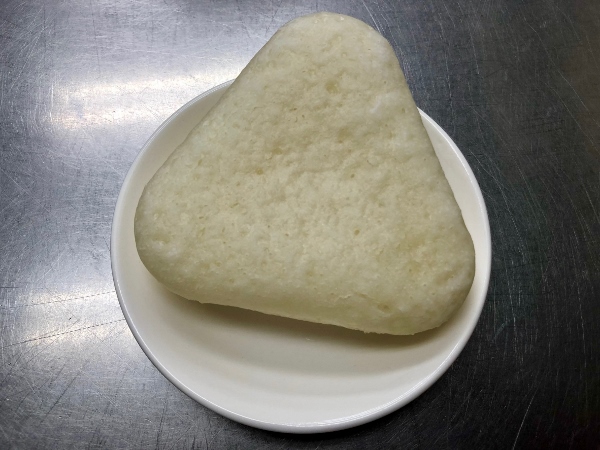 Is there much difference in taste between rice flour cakes and wheat flour ones? "Very little. They may vary slightly but not much. I try to make them as alike as possible. I also use less sugar in my baked goods. The biggest difference is in bread. Since rice flour is gluten-free it doesn't rise so we have to mix the flour with rice oil, sugar and yeast to begin with. It's allowed to ferment and then baked for 18 minutes."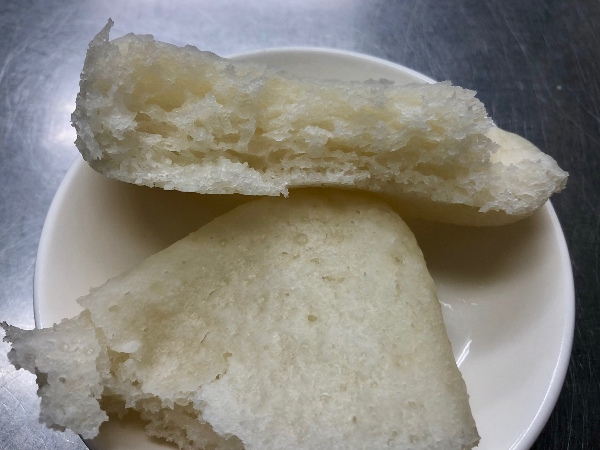 The rounded, triangular shape is similar to an onigiri rice ball and is surprisingly heavy. "Wheat based bread is fluffy whereas rice flour bread tends to have a chewier texture. We sell the bread frozen. You can pop it in the microwave to defrost and then slice it in half to toast. My friends make sandwiches with sliced chicken, cream cheese and miso or egg mayonnaise, potato salad and even kinpira gobo, the spicy carrot and burdock root side dish. Bread made with rice flour seems to suit Japanese food very well." The bread has a much firmer texture than wheat bread, is more doughy, dense and slightly salty. I ate one piece and found it both tasty and filling. It's somewhere between ordinary bread and the popular Japanese steamed bread, known as "mushi pan"; it's tasty and very good news for those who can't eat wheat products.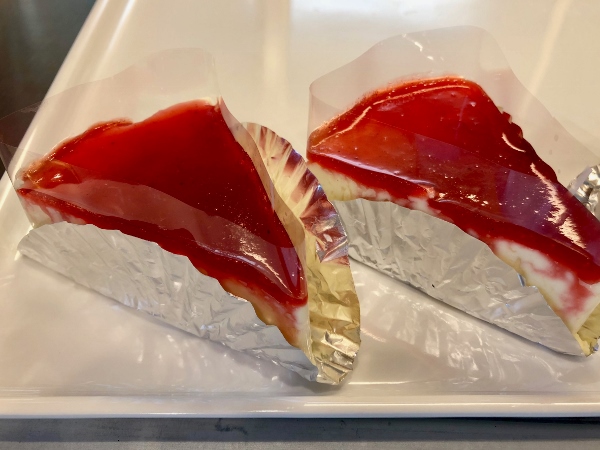 "I make seven or eight varieties of cakes every day," says Ms. Utsunomiya. "Strawberry cheesecake, chocolate cake, Swiss rolls, waffles, and cookies. Our top seller right now is chiffon cake. In autumn I'll start making the popular Mont Blanc chestnut puree cakes and in winter it'll be baked cheesecakes."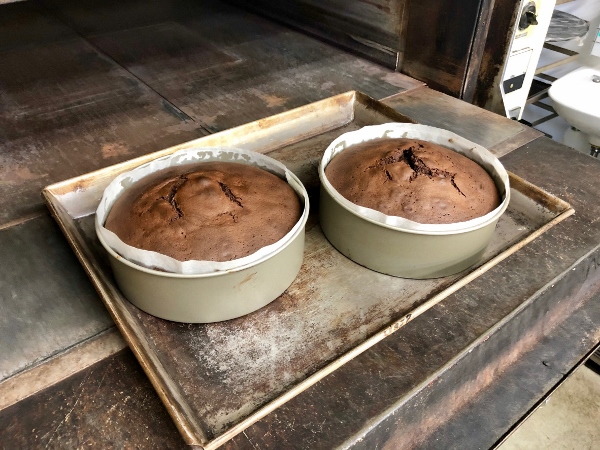 As if on cue a bell rings and Ms. Utsunomiya removes a pair of freshly baked chocolate cakes from the oven. The smell is heavenly; warm, sweet and fragrant.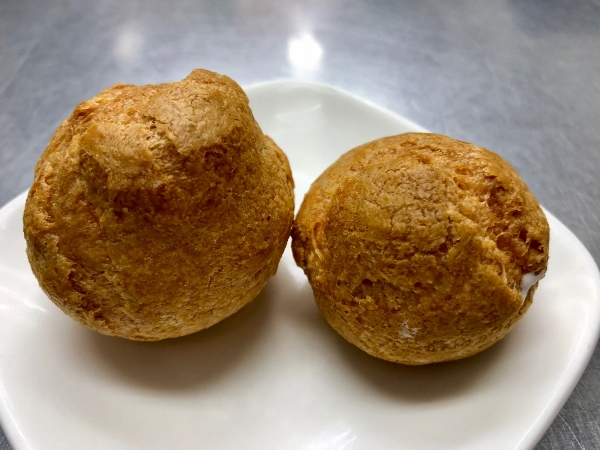 The choux creams are an absolute treat as well. The shells are crisp and firm while the cream filling is rich but not overly sweet. It's a winning combination, perfect for those who want a lower calorie afternoon tea time or something sweet to round off dinner. There's no way I would have known the choux was made with rice flour if I hadn't been told already.
Chiffon cake provides the base for these mouth-watering trifles.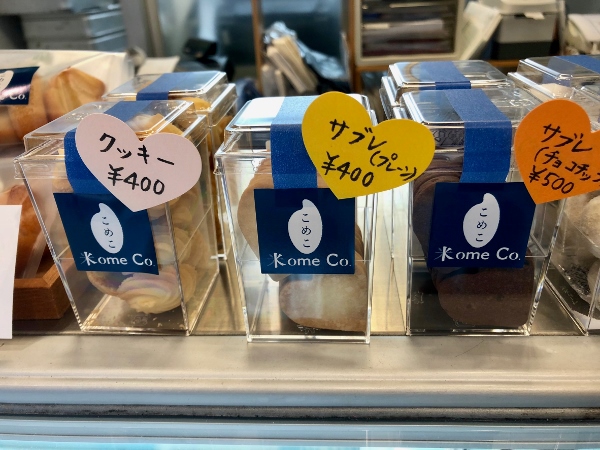 Apart from cakes and bread Ms. Utsunomiya also weaves her magic on a variety of cookies. These are also gluten-free and non-allergic, containing rice flour, almonds, shortening, soy milk, sugar, and rice oil.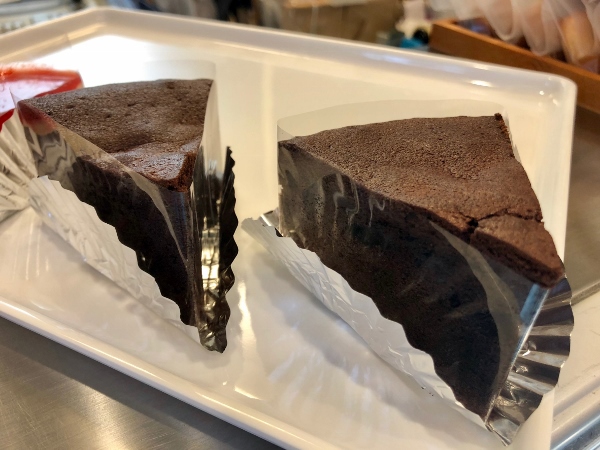 And what does the future have in store for Kome Co.? "I'd like to contribute to the general dissemination of knowledge about rice flour and its healthful properties through classes in schools and the like. I'm thinking about new kinds of rice noodles as well; noodles, in all their varieties, are immensely popular in Japan, yet many people are unable to enjoy them because of soba or wheat allergies. At some point in the future, I can envisage Kome Co. as being a kind of "antenna shop" for rice flour products, specializing in a variety of items made by myself and other manufacturers."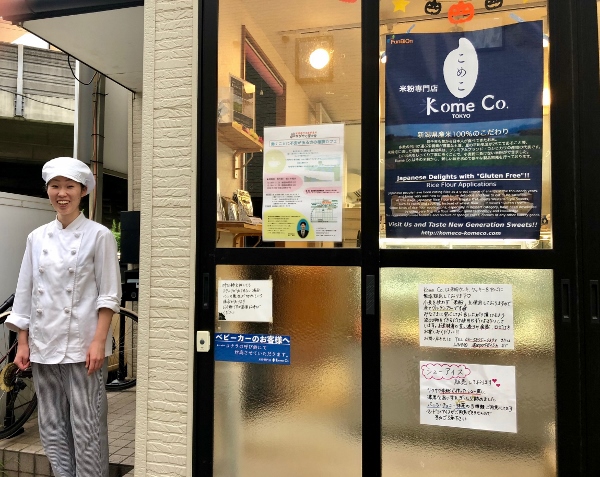 The brisk and practical Ms. Utsunomiya already has dedicated customers who visit her shop from all over Tokyo, as well as loyal local customers. "The people here have been extremely kind and helpful since I opened and I'm trying to give back to the local community," she says. Her products are delicious, and her enthusiasm is infectious. If you're in the neighbourhood, why not drop in and treat yourself!
Story and Photos by Stephen Spencer