The shop Senbei (rice crackers) lovers ultimately gravitate to.
Published: August 1, 2017
Seikado Arare, a family-owned company with its shop located close to exit A1 of Kiyosumi-shirakawa Station, sells arare, okaki and senbei: different types of Japanese rice crackers, to those people who, like me, are untutored in the niceties of Japanese traditional rice snacks.
The company is unique in being the only one in Japan that makes rice crackers using high quality organic rice. The rice is cultivated by farmers in Miyagi Prefecture and delivered to Seikado Arare's factory in the prefecture, where it is combined with other organic ingredients to produce the various types of rice crackers which are distributed throughout Japan from the shop in Kiyosumishirakawa.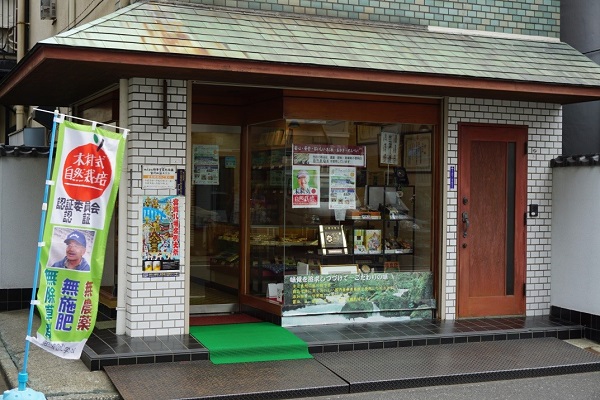 Founded in 1935 in Sumida Ward, the shop moved to its current premises in 1951 and is today run by Mr. Keitaro Shimizu, the 3rd generation owner. Arare, okaki and senbei used to be made here on the premises, but to give the neighbours a rest from the noise of the machinery and to enable increased output, production was moved to the Miyagi factory.90% of the rice crackers produced is sold wholesale to department stores to major department stores in Japan or through a cooperative online delivery service.Nevertheless, the shop still caters to its neighbours and individual customers passing by, and its shelves are crammed with all types of rice snacks in various shapes and sizes.
When I visited the shop, Mr. Shimizu carefully explained the differences between arare, okaki and senbei; for those interested, arare and okaki are made from mochi or glutinous rice, whilst senbei are made from uruchimai or ordinary non-glutinous rice. On top of this, the processes for making each type of rice cracker differ significantly.
Seikado Arare, as its name suggests, specialises in the manufacture of arare, the small, cube-shaped crackers which come attractively packaged and are often sold in boxes of assorted varieties.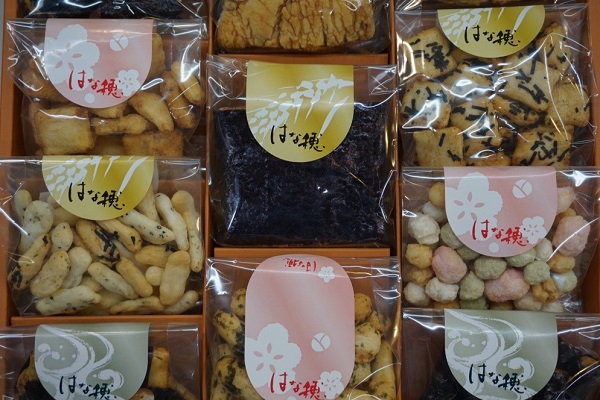 
Okaki are arare's cousin: larger, thin, handmade rice crackers, again attractively packaged….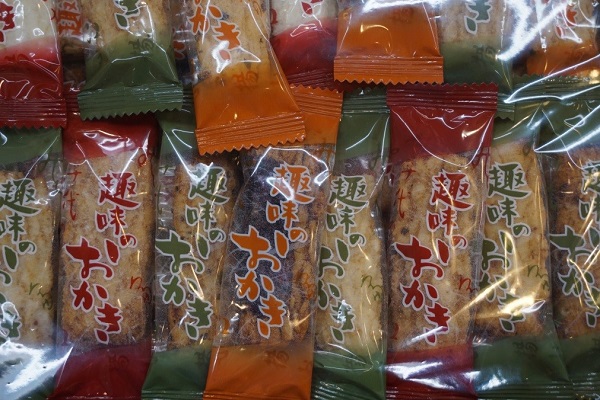 whilst senbei tend to be the larger, round, and crispier crackers.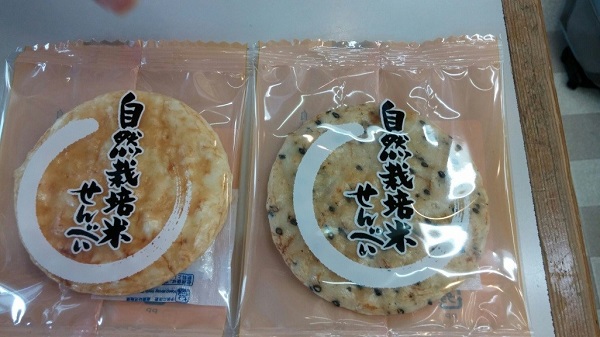 At the same time as making traditional crackers, Mr. Shimizu is continuously looking for new products and markets. 3 years ago his company launched its Arare no Re range of rice crackers, tastefully boxed and targeted at foreign travellers departing from Narita Airport. These crackers steer away from the more traditional tastes and sell well under exotic names such as Camembert Tart and Spicy Curry.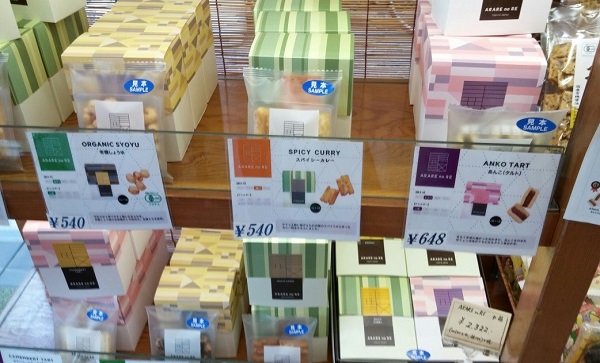 Mr. Shimizu laughed as he told me how, after a member of a pop group mentioned Arare no Re on a television programme, there was a surge in orders placed through the internet which crashed the company's  server–ah, the price of fame…
Macaron okaki is another new and intriguing-sounding product thought up by Mr. Shimizu, and is on my wish list to try next time I visit the shop.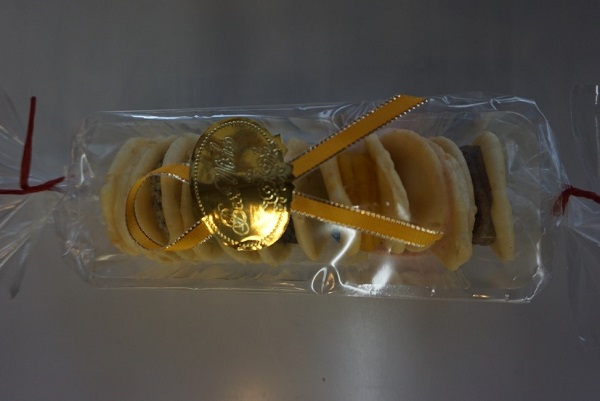 Unusual orders from wholesale buyers are also catered to, and on the shop's shelves can be found packets of hijiki (edible Japanese seaweed) okaki and anko (adzuki bean paste) okaki.
In keeping with the growing demand for gluten-free food, particularly for children with allergies to modern food processes, Seikado Arare produce "kids Senbei" made from gluten-free mochigome. Mr. Shimizu recommends eating them as it is to enjoy the natural taste, or to add jam or sauce. Apparently, kids love it.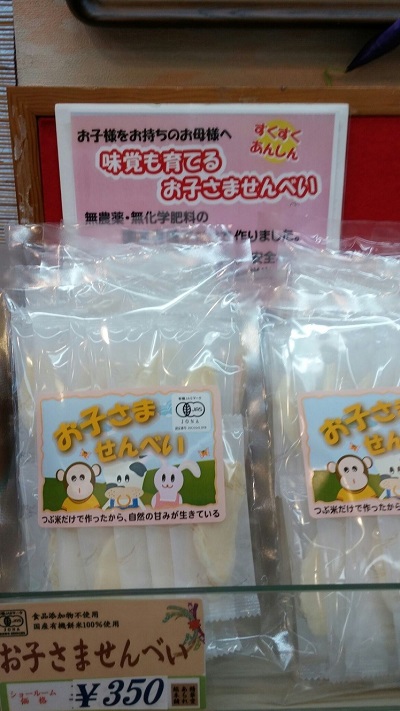 I tried the top 3 best-selling arare: genmai ageshio (salt flavoured arare), tenoshi kaki no tane (hand rolled seed-shaped arare) and kurozato karin (sweet deep fried arare). All were crisp and tasty, without being tooth-breaking or too rich.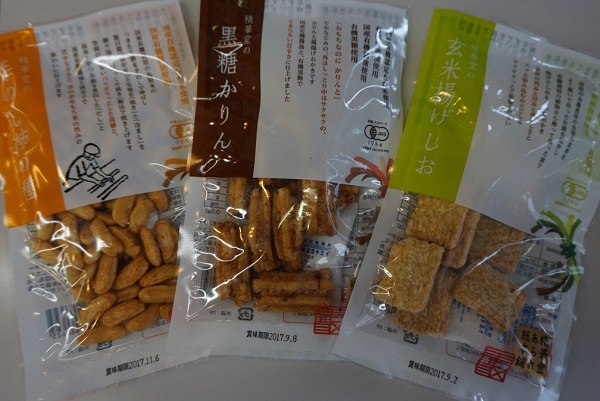 Whilst Mr. Shimizu is looking to broaden the appeal of his rice crackers by introducing new tastes and concepts, he says that his real wish is to protect the traditional methods used in making these snacks, by using high quality organic rice and other ingredients which are chemical free, so that the world can appreciate the taste of this unique aspect of Japanese culture.
With a shelf life of 30 to 60 days, these rice crackers make ideal presents and bring a taste of Japan into your home. But be careful: once you start nibbling them it is very difficult to stop!
Story and Photos by Jeremy Hutchinson