Not Just a Butcher's Shop
Published: February 5, 2018
I have come to Sekikawa Nikuten in Kiyosumi-shirakawa, which is reputed to be more than just a butcher's shop. The shop started out as a butcher's in the 1950s in what was previously a bustling shopping street; but as the years passed and shops closed, Sekikawa Nikuten remained in place, taking over the fruit and vegetable business of a retiring neighbour, and extending its repertoire so that it now sells not only meat but also croquettes, ready-to-eat salads, packaged dishes and fruit and vegetables.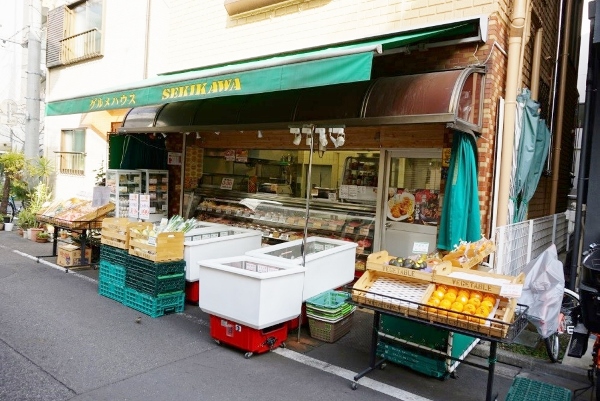 This 3rd generation family-run enterprise (with the 4th generation standing in the wings) is very popular with the local residents, and whilst I was there customers were continually coming to the counter to be served.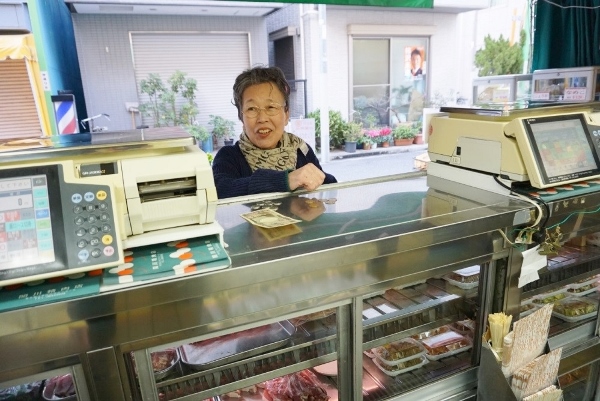 The shop prepares the meat onsite; cleaning, cutting and mincing it. During the time I was there Mr. Kazuo Sekikawa, father of the current owner, was diligently cutting and slicing pork when he wasn't serving customers…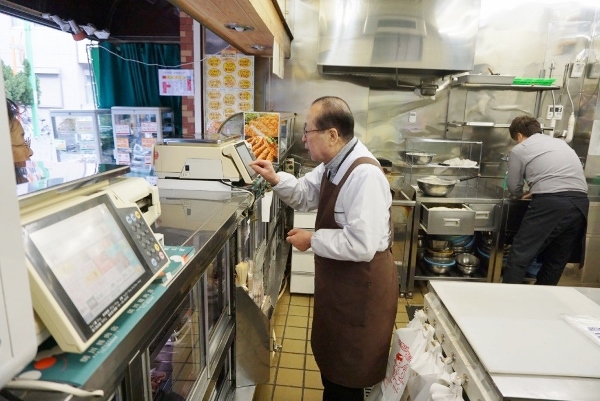 …whilst Kazuhiko, his son and current owner, explained the business to me between breading and frying the croquettes.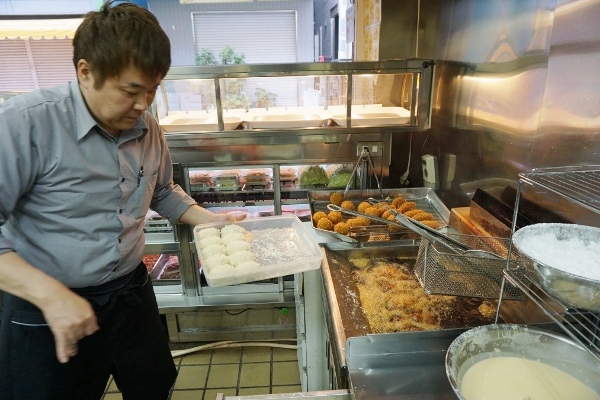 There is a wide selection of quality meat on sale, and in addition to selling beef, pork and chicken cuts, the family also prepares and vacuum packs chashu (roast pork), as well as flavouring some of the meat with ginger or miso, etc.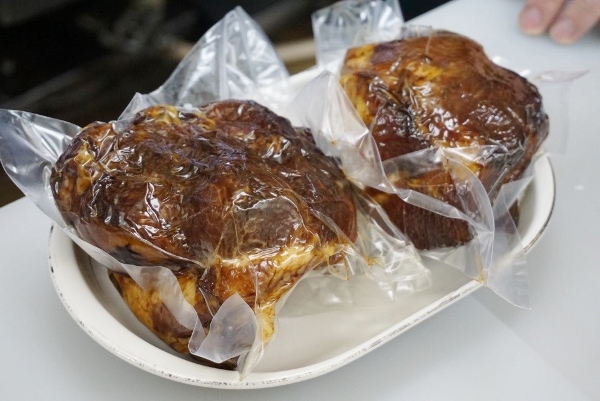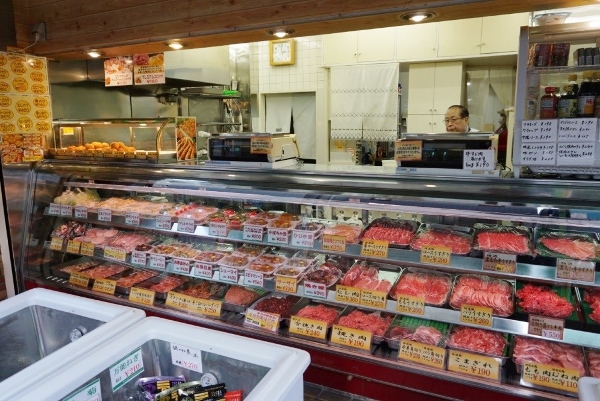 I bought some already-prepared pork ginger slices for an evening meal, and they were delicious and tender served with rice, shredded cabbage and one of Sekikawa Nikuten's homemade egg salads, which comes topped with their homemade mayonnaise.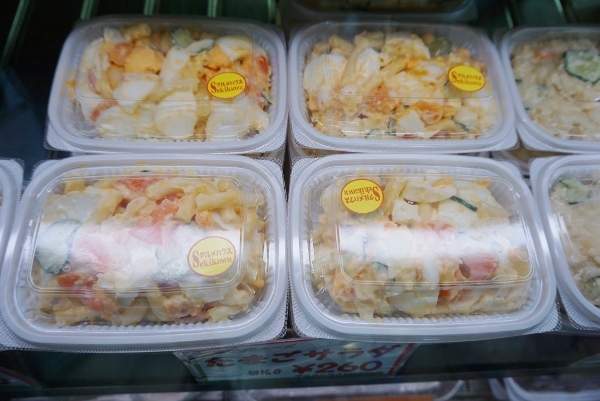 And then there are the croquettes for which the shop is renowned. These days many women are too busy to cook meals for themselves or their families in the evenings, and so they call in at Sekikawa Nikuten on their way home and buy the fried croquettes. Kazuhiko's wife spends much of her day in the rear of the shop, busy preparing croquettes in time for the evening rush of commuters returning home.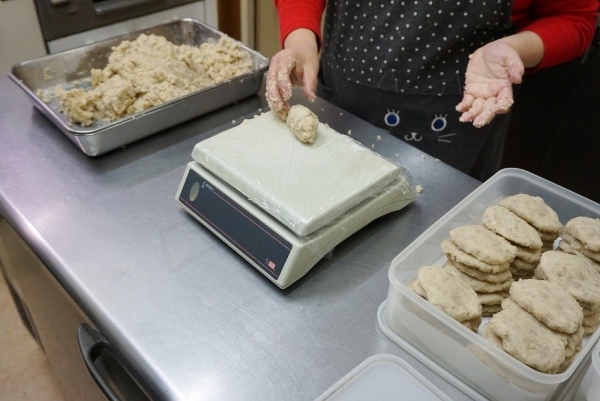 On average, the shop produces 200 handmade croquettes every day. There is a choice of potato, premium (2 types of potato with Japanese meat) or real crab cream croquettes and they all "sell like hot cakes" (!).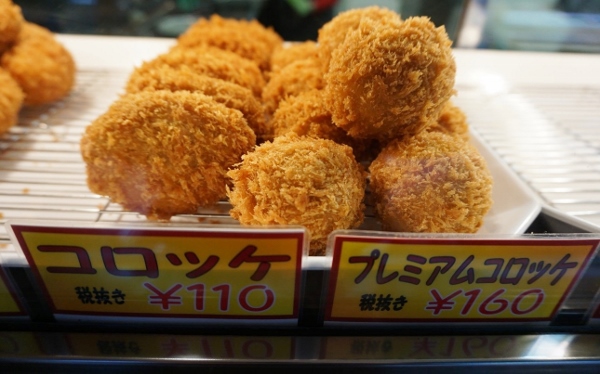 I tried the potato and premium croquettes, which were both delicious, with their crisp outsides and slightly sweet-tasting potato fillings for the former, and potato and minced meat fillings for the latter.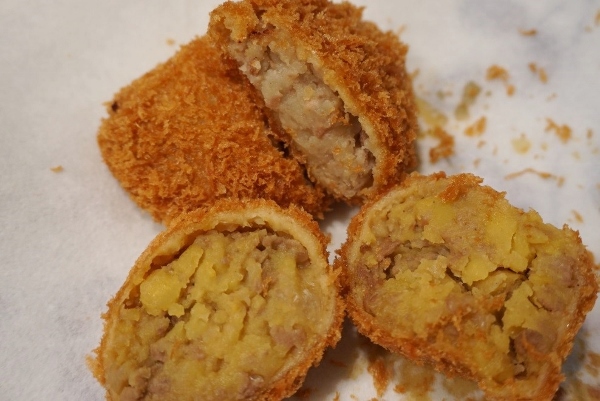 As well as the croquettes, Sekikawa Nikuten also sells individual packs of pre-cooked dishes, such as spicy mapo tofu ("mabo-dofu" in Japanese, a combination of tofu with a spicy chili-and-bean-based sauce topped with minced pork or beef), fried meat and vegetables, shumai (small steamed dumplings) and prawns in chilli sauce. Just put them in the microwave or frying pan, and you have your evening meal.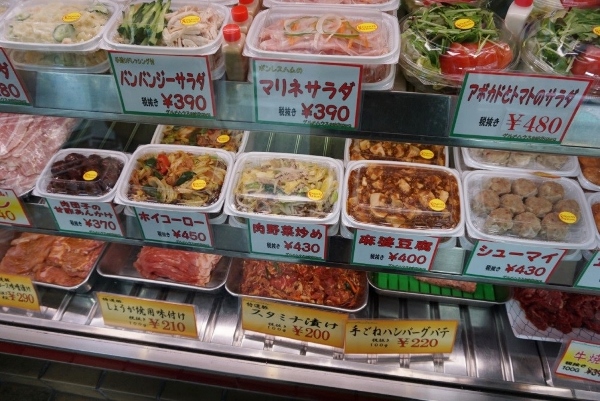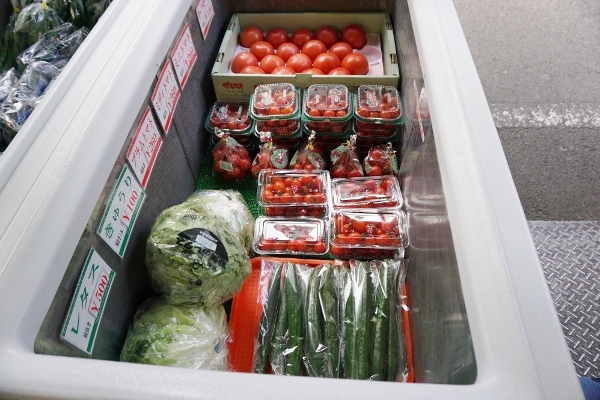 So for those of you who live alone and don't have the time or inclination to cook a meal from scratch, why not call in at Sekikawa Nikuten and pick up a meal if you happen to be in the area.
Story and Photos by Jeremy Hutchinson