Soba noodles are one of the great pleasures of eating in Japan. Whether it's a tray of chilled zaru soba with an ice-cold beer in the sweltering humidity of midsummer or a steaming bowl of toshikoshi soba on New Year's Eve, the ancient buckwheat noodles are not only tasty but healthy as well. It's said that the preponderance of soba restaurants in Tokyo dates back to the Edo Period, when Tokyoites tucked into the noodles to ward off beriberi, caused by a thiamine deficiency from eating too much white rice. On a recent balmy afternoon, we dropped into Sagacho Chojuan in the Saga area of Koto-ku to talk noodles with Mr. Kazuki Noji.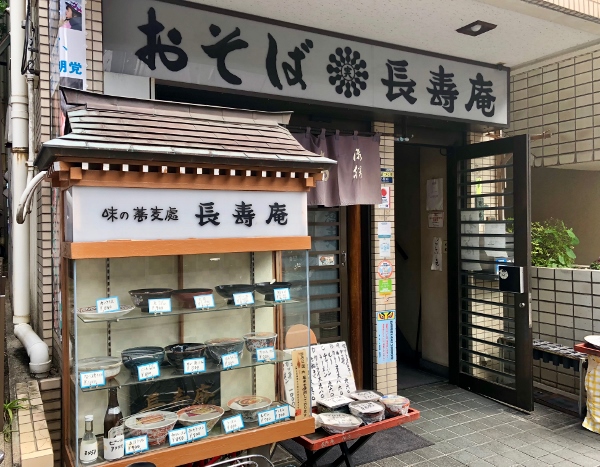 "My father opened the restaurant here in 1966," said the loquacious and enthusiastic Mr. Noji. "He started off working in the Ryogoku Chojuan restaurant, learned the trade and then went independent. There are several Chojuan restaurants; they're not a chain or anything but are loosely affiliated and each shop is autonomous. We're also distantly related, in some cases. We can choose our own menu, develop our own blends of buckwheat flour and wheat flour and serve what we want, really."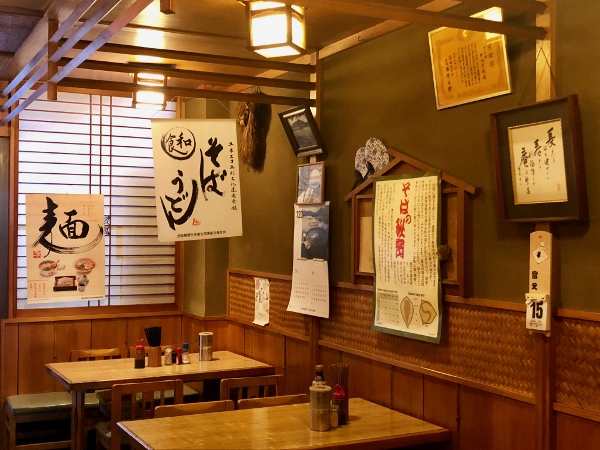 As Mr. Noji explains the Saga area of Koto-ku has changed dramatically in the intervening years. "This used to be a warehouse district and there were also many small companies. The truck drivers, warehouse staff, and company employees used to come here for lunch and we also had a delivery service. In those days we employed three people just to do deliveries. It was incredibly busy. Don't forget, in those days there weren't the number of convenience stores there are now. One of the newer office buildings just around the corner has its own in-house convenience store that only employees can use. They can buy their lunch in five minutes without having to leave the building." Sagacho Chojuan can seat a maximum of 40 people on two floors.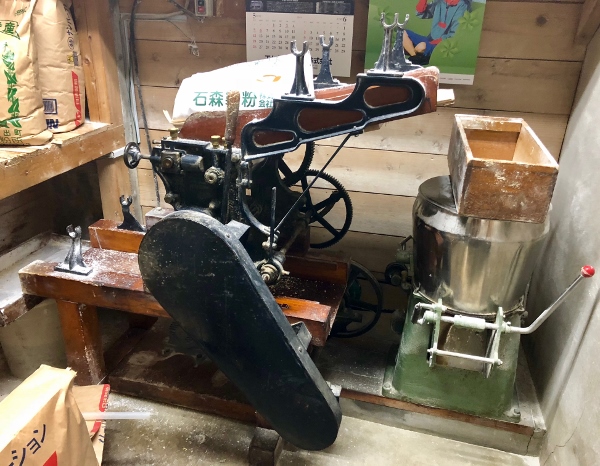 Mr. Noji leads us down a narrow, winding staircase into the bowels of the building and this remarkable Heath Robinson contraption, which is a noodle making machine. "I come down here in the morning and whip up a batch of soba flour and wheat for the daily noodles. 100% soba flour noodles are brittle, so we use a 70-30 mix. Our soba flour is from Etanbetsu in Hokkaido, renowned throughout the country for the quality of its products. Places with the best water grow the finest soba plants and they make the best noodles," he explains.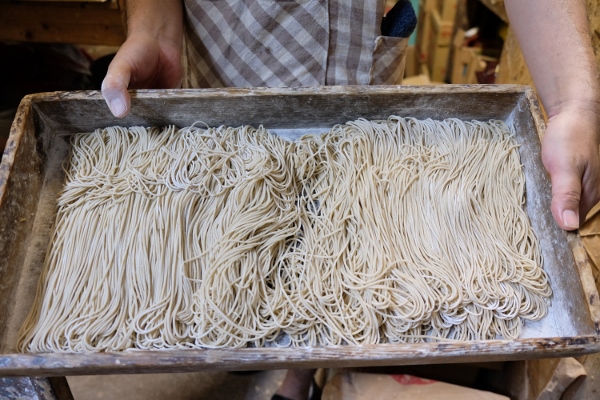 "I generally make soba every day and ramen every other day, " he adds. "The machine can be calibrated to make udon as well." Exactly what flours Mr. Noji uses and in what proportion are a trade secret, although he did venture that the stone-floored room was comfortably warm in winter but a furnace in summer. The noodles look wonderful and the whole room had a pleasant, rich smell. "Good soba flour has an earthy aroma if the water is good quality. We use special soft water to prepare the dough," he said.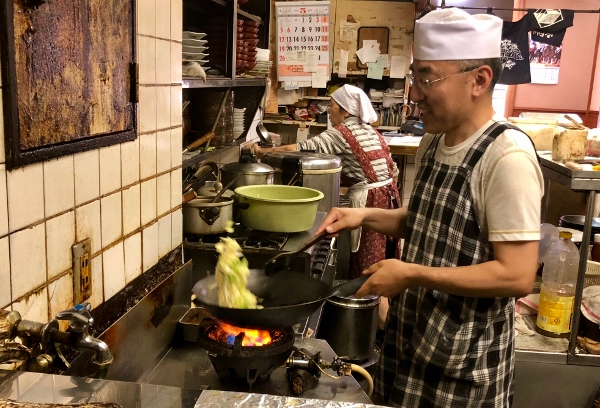 While the menu at Sagacho Chojuan features all the most popular soba dishes Mr. Noji kindly offering to cook us something quite uncommon, soba with fried vegetables and pork. That's not yakisoba, which is wheat noodles with fried pork and vegetables, but regular soba topped with the fried mix. "Soba meals tend not to contain as many vegetables as other noodle dishes, and we had requests from some female customers, so I came up with this."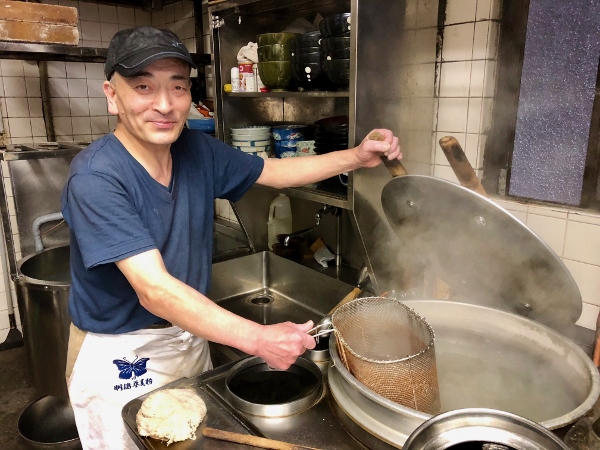 As Mr. Noji deftly cooks, the noodle boiler Banto San presides over a range of steaming cauldrons.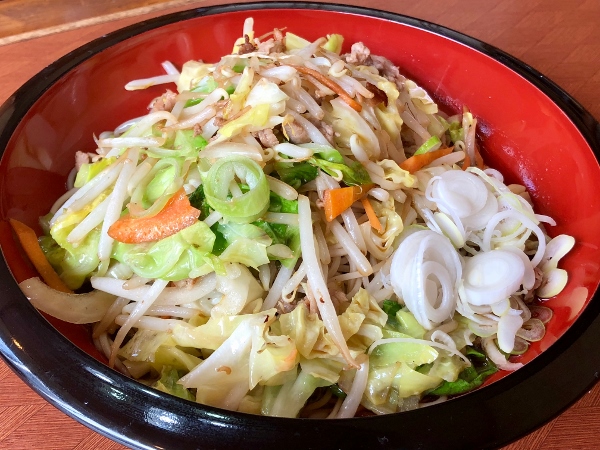 Sagacho Chojuan uses a  homemade dipping sauce featuring broth made from dried bonito and mackerel, together with soy sauce and mirin, a type of sweet, low-alcohol rice wine used as a condiment in Japanese cooking. The exact contents are a secret, of course.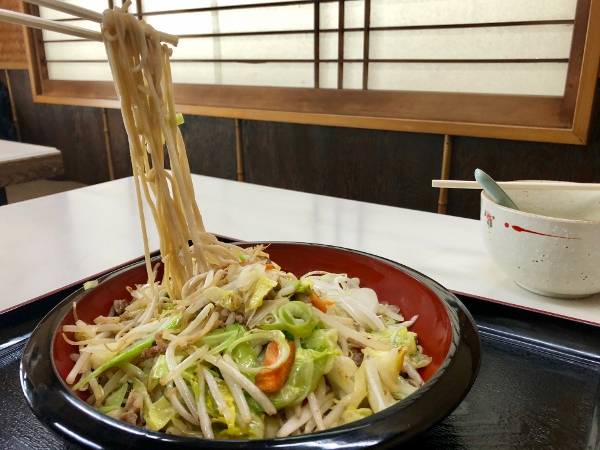 The soba was great, firmly toothsome, and exceptionally good value at 800 yen. The sauce was rich and strong, with the kind of distinct flavour that develops over many years. We polished off the plate very quickly, with some tasty cucumber pickles made by Mr. Noji's kindly mother and a drop of sobayu, the hot water the noodles are boiled in.  Excellent.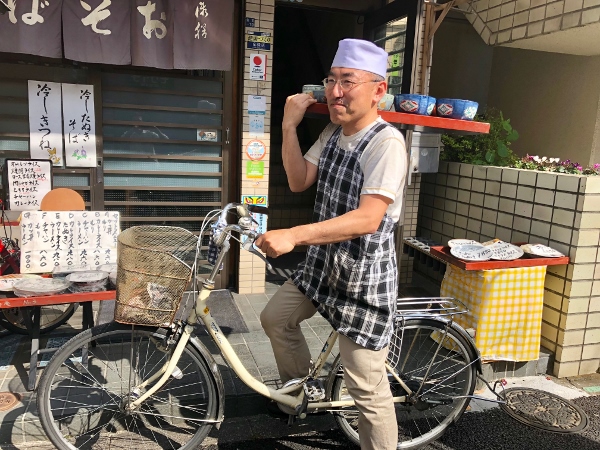 Now here's something you don't see every day. Until quite recently the sight of soba or ramen being delivered by bicycle or scooter was commonplace in the city, especially on weekday lunchtimes. Now, for a variety of reasons including demographic change and the ubiquity of convenience stores, the number of places offering the service has declined dramatically.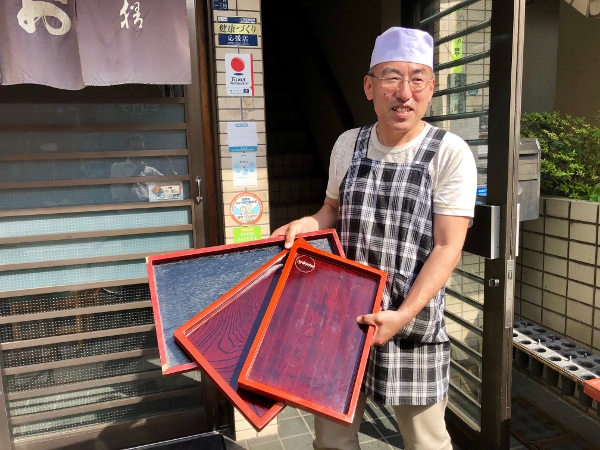 Sagacho Chojuan still makes deliveries though, with Mr. Noji battling through wind, rain and snow to bring lunch or dinner to his customers. Such is the decline in the delivery business that the special trays used to carry the bowls (bakadai in Japanese) aren't manufactured any more.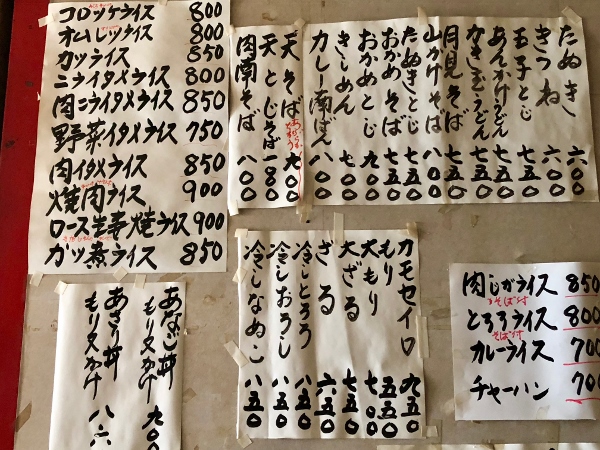 The menu is extensive, running to over 50 items. The best sellers are the fried pork cutlet with egg on rice (katsudon) and mori soba set for 1,000 yen, which is excellent value and mainly ordered by hungry men. The ladies favourite is the 850 yen hiyashi oroshi soba, chilled soba noodles topped with grated daikon. Miso ramen is also popular! When we express our surprise Mr. Noji explains that his mum likes it and prepares a special miso mix with Shinshu fermented bean paste, chili peppers, and lard. Apart from soba and Mrs.Noji's special miso ramen, the menu contains such favourites as curry rice, chikara udon (made with the thick udon wheat flour noodles), fried pork cutlets and stir-fries. Pretty much something for everyone, in fact.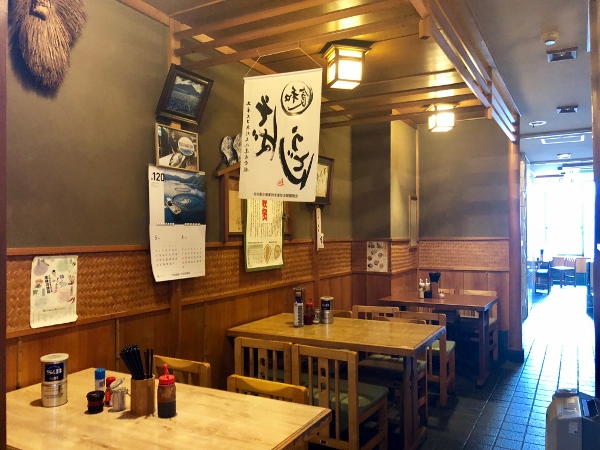 Sagacho Chojuan is a classic example of the traditional soba restaurant. According to Mr. Noji though, it's one that's in decline. "There used to be 57 soba shops in the Fukagawa area association but now there are only 18. Most can't get the staff to do deliveries anymore and rising rents and land prices are pushing people out of the business. Soba flour is four times more expensive than ramen flour which makes our prices higher and profits lower. How to revitalize the soba business is the great issue for us right now. I'd like to modernize the image and attract more general customers, such as families with children." If you're in the Saga area of Koto-ku why not drop in for a delicious bowl of soba and help to maintain a timeless culinary tradition.
Story and Photos by Stephen Spencer