Yoshoku Treats at Ichibanboshi
Published: August 15, 2022
Ichibanboshi is a long-established restaurant serving hearty yoshoku dishes to the lucky residents of the Kiyosumi-shirakawa area. Yoshoku is the Japanese word for Western food that was introduced to Japan in the late 19th and early 20th centuries, then adapted to suit the Japanese palate. Perhaps the most well-known yoshoku dishes are rice omelettes (omuraisu), pork cutlets (katsu), curry rice, croquettes (korokke), hamburg steaks, and spaghetti Napolitan (which was created in Yokohama).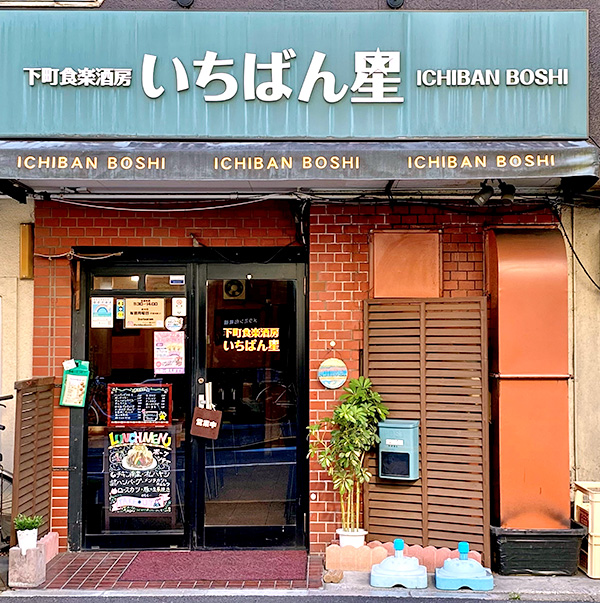 All Kotomise coupon holders spending over 800 yen will receive a complimentary side dish, selected by the owners. Nice!
Located just five minutes' walk from exit A3 of Kiyosumi-shirakawa station, Ichibanboshi began life in 1999 as a Japanese pub (izakaya) serving both Japanese and Western-style dishes, then developed into a yoshoku restaurant over the years. It's become a firm fixture in an area perhaps now best known for its cafe culture.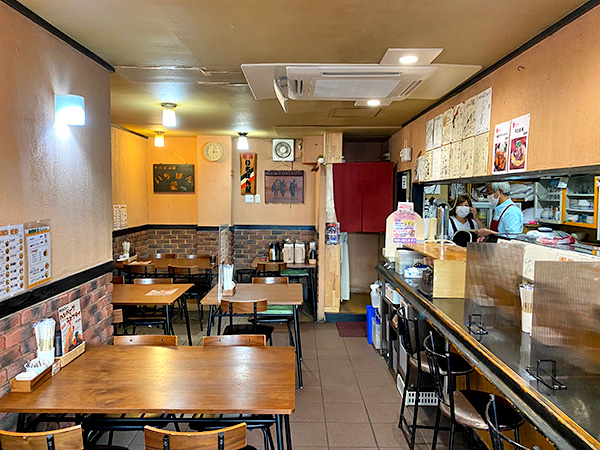 On a recent baking hot afternoon, we dropped in for a chat with owners Mr. Isao Miyasaki and his charming wife Masako. Ichibanboshi has a very comfortable, laid back atmosphere created by the Miyazakis, who first met through a shared love of surfing. Mr. Miyazaki was born and raised in the Kiyosumi-shirakawa area and comes from a family of chefs.As a child, he admired their cooking of Western food and was inspired to take up the profession himself.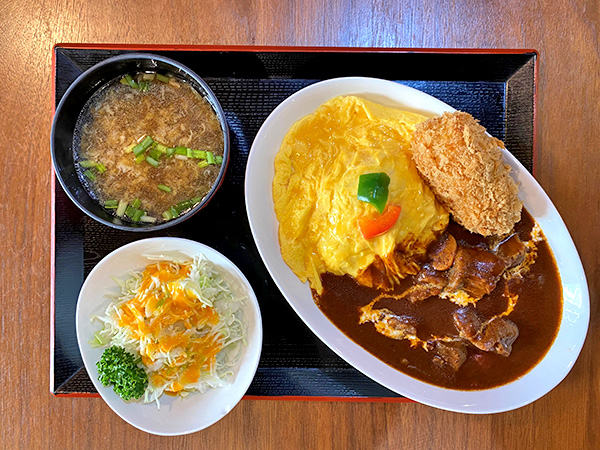 This is the wildly popular omuraisu with potato croquette (1,100 yen including tax). It features a fluffy omelette atop a mound of rice, a large serving of beef tendons (gyusuji) slow cooked for hours in a demi glace sauce and a freshly deep-fried croquette made from potato salad. It comes with soup of the day and a crunchy fresh salad, and it's fantastic!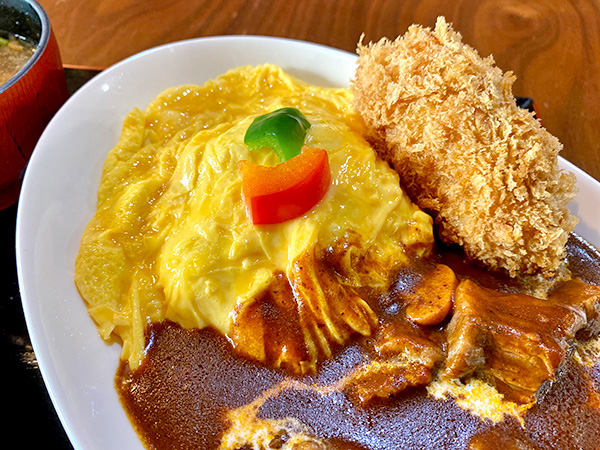 "We cook after taking the order, which takes a few minutes," explained Mr. Miyazaki. "The beef tendons are slow cooked for 10 hours in the demi glace sauce with tomatoes and mushrooms, while the croquettes are deep-fried as ordered." The demi glace sauce was rich, mild and smooth, while the beef was so soft it literally melted in the mouth. "It's a large lunch that's just as popular with female customers as male, and like everything on the menu, it's available to take out too." Such is the popularity of Ichibanboshi that when the pandemic began they were making 70 to 80 lunchboxes a day for those working at home!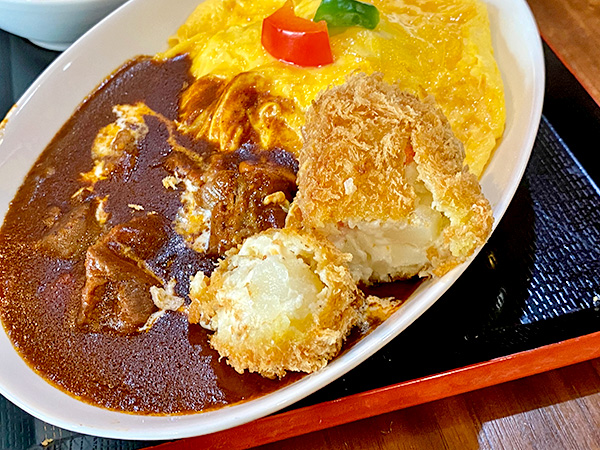 "We originally served the potato salad as a side dish and it was popular," commented Ms. Miyazaki, "but one day I tried making a croquette out of it and I was really happy with the result. The mayonnaise in the potato salad is the key, I think." Deep fried in crunchy panko breadcrumbs, the chunky potato salad is exceptionally tasty and oil-free.
The omelette is so light and fluffy it nearly floated off the spoon! The rice is from Yamagata and Miyagi Prefectures; customers can choose from a large, medium or small serving when ordering the meal.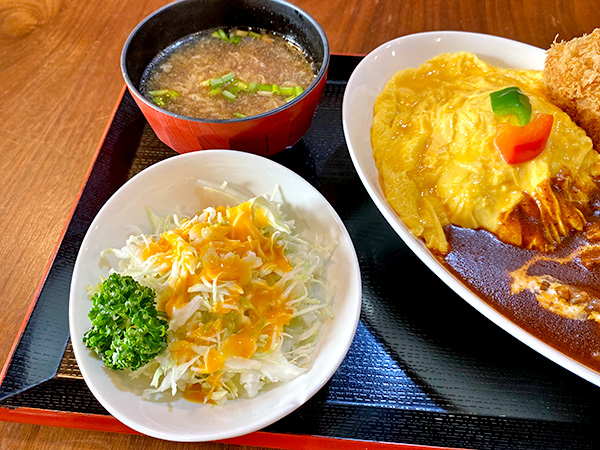 While the main dish was a yoshoku classic, the supporting act was tasty too. "We have a different soup of the day every day," explained Ms. Miyazaki. "Today it's a Chinese style soup with egg and onion, on other days we'll have miso soup, minestrone or pork and vegetable soup with miso (tonjiru). It depends on the time of year and what seasonal vegetables are available." There's a dish of crispy shredded cabbage in a tangy sauce too. These side dishes also vary from season to season.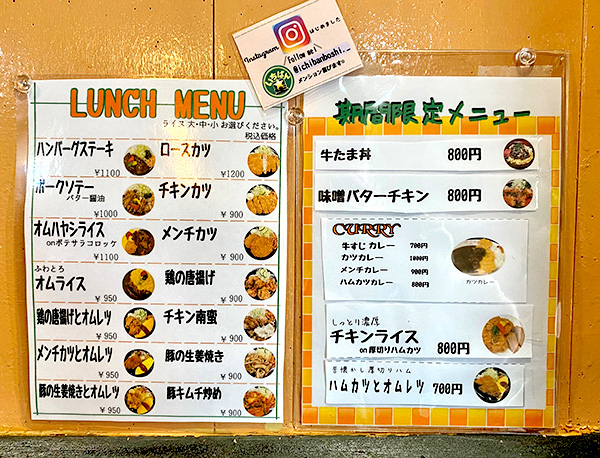 Ichibanboshi is currently only open for lunch (Mondays to Saturdays, 11:30~14:00) and it's busy during the peak lunch hour of 12:00 to 13:00. All items on the menu are available to take out, including such yoshoku classics as hamburg steak (1,100 yen), pork loin cutlet (rosu katsu 1,200 yen) pork sauteed in butter and soy sauce (1,000 yen), chicken cutlet (900 yen), and many more. There's a very popular beef tendon curry (700 yen) which can be ordered by itself or together with a pork cutlet (1,000 yen), a minced beef and potato cutlet (900 yen), or a ham cutlet (800 yen).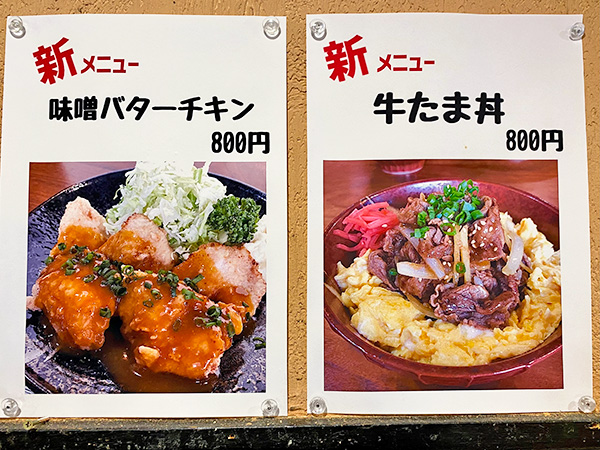 New faces on the menu include the miso butter chicken (800 yen) on the left and a beef and egg on rice bowl (gyu tama don 800 yen), which both look very tasty indeed, and appealing for the Tokyo summer when the heat and humidity tend to overwhelm appetites.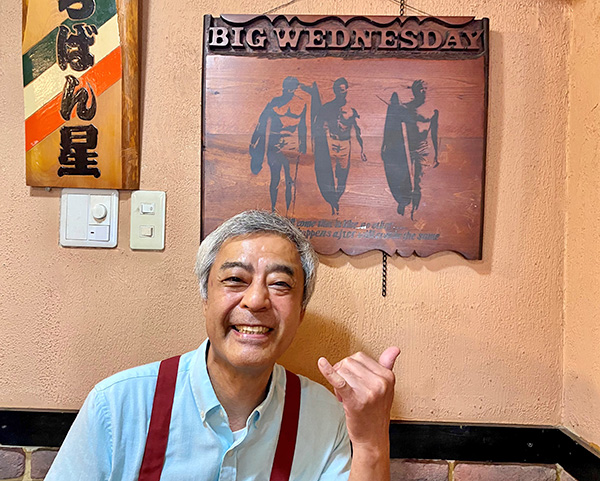 The food is excellent, the portions are generous and the atmosphere is very comfortable. As Mr. Miyazaki said, "The number of yoshoku restaurants has been decreasing recently, so I'd like everyone to have a chance to come down and try our delicious traditional Japanese western food." We heartily concur; Ichibanboshi really is the number one star! You can even talk about surfing, too.
Story and photos by Stephen Spencer