Showa Style in Higashisuna: Home Cooking at Chikurin
Published: December 18, 2020
Chikurin is a small family-run restaurant near the Arakawa River in the east of Koto-ku, a brisk 12-minute walk from Minami-sunamachi station. Presided over by its matriarch, the redoubtable 81-year-old Noriko Nakamura, it has been serving Japanese seasonal dishes and top quality fish for over 40 years now. On a recent autumn afternoon, we dropped in for a chat with Mrs. Nakamura and her son Naohito.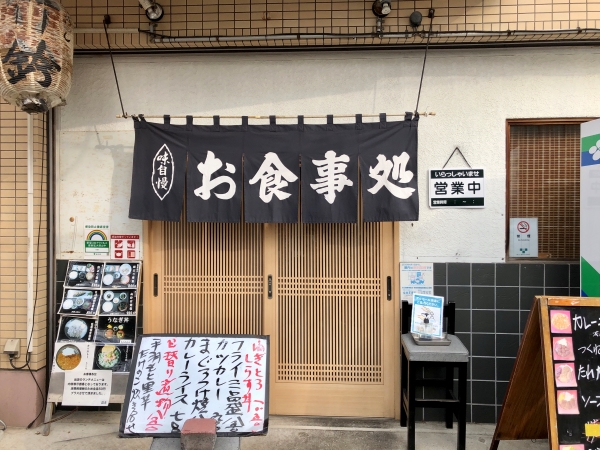 Mrs. Nakamura hails from a family of restaurateurs based in Tsukiji, where she lived and worked when she was younger, and later as she raised her children. "Chikurin opened in 1980 in Nishi-shimbashi, we were there for 30 years until the building burned down in a fire in 2010," she explained. "The shop relocated to Higashisuna because we live just 'round the corner here. I make traditional Japanese home cooking (katei ryori), which people call "Showa style". Showa-style refers to the Showa Period (1926~1989), which is currently enjoying a huge retro-boom in Japan.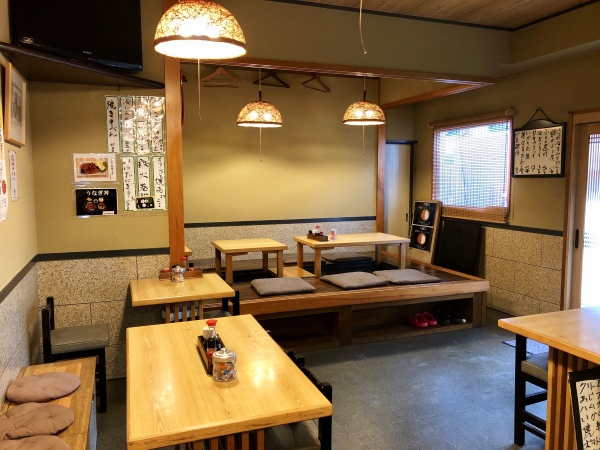 Mrs. Nakamura makes original Showa-style food of course; simple, lightly-seasoned dishes using fresh seasonal ingredients such as seafood, meat, and vegetables. The interior of Chikurin is homely and comfortable, with a counter behind which Mrs. Nakamura weaves her magic, a raised dais with a couple of tables and a couple more against the other wall.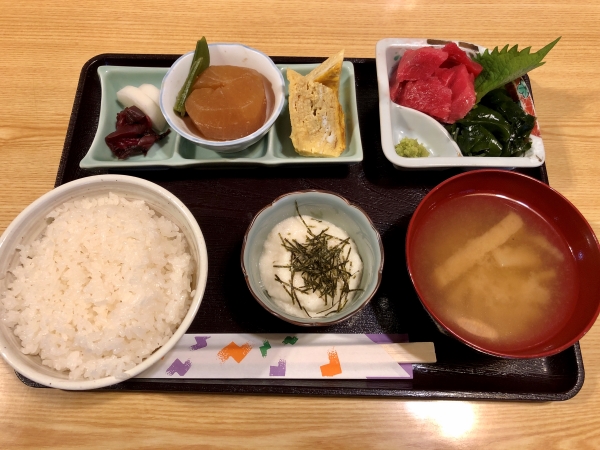 Chikurin attracts many loyal customers who visit every day for the set lunches (teishoku). This is the Muramatsu lunch set, apparently named after a Mr. Muramatsu, the first customer who ordered it. At just 850 yen, it's tasty, healthy and very filling: big chunks of tuna, sweet egg roll, simmered daikon radish, pickled turnips and eggplant, miso soup with deep-fried tofu skin, rice and the immensely popular grated yam (tororo). At night the lunch sets are upgraded with the addition of another dish and cost 1,000 yen apiece. The extra dishes tend to be deep-fried items, according to Mrs. Nakamura.
Mrs. Nakamura's eldest son is in charge of sourcing the ingredients used at Chikurin, which means he spends his early mornings in the Toyosu Market buying fish and seafood. The family's long and deep connection with the merchants of the old Tsukiji Fish Market, now ensconced in their new home in Toyosu, guarantees top quality produce at reasonable prices.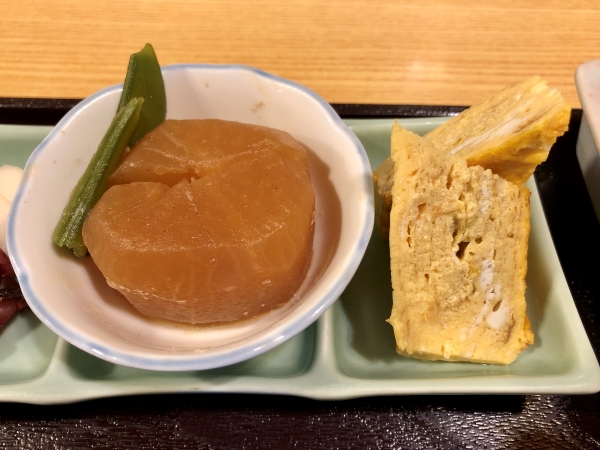 The egg roll was exceptionally tasty, rich, and soft but not too sweet, as many tend to be these days, while the simmered daikon radish, slow cooked for hours, had my Japanese colleague purring with pleasure. It's highly regarded in the neighborhood, by all accounts.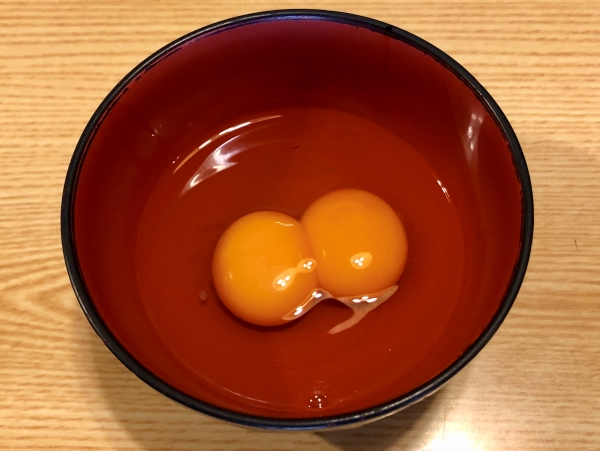 The branded eggs used by Mrs. Nakamura, from Kakegawa in Shizuoka Prefecture, have double yolks. Each egg roll is made with 5 eggs. Customers can also buy the eggs, which cost 350 yen for a carton of ten.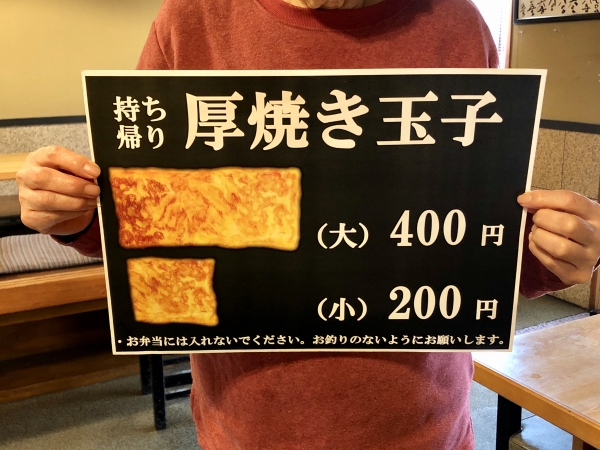 The egg roll is also available to take out. At 400 yen for a large and 200 yen for a small, it's excellent value.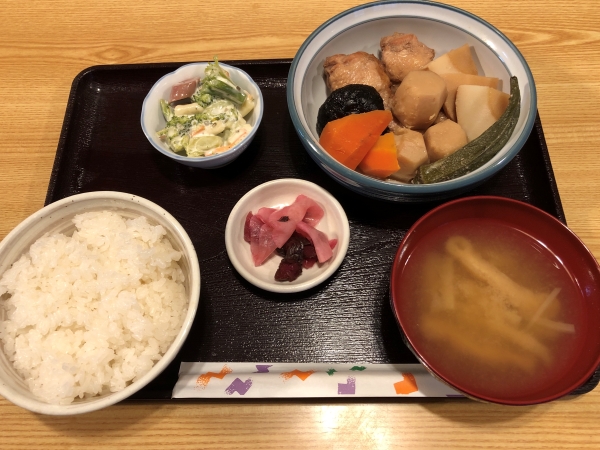 The second lunch set featured chicken wings simmered with taro potatoes (satoimo), bamboo, carrot, shiitake mushroom, and okra.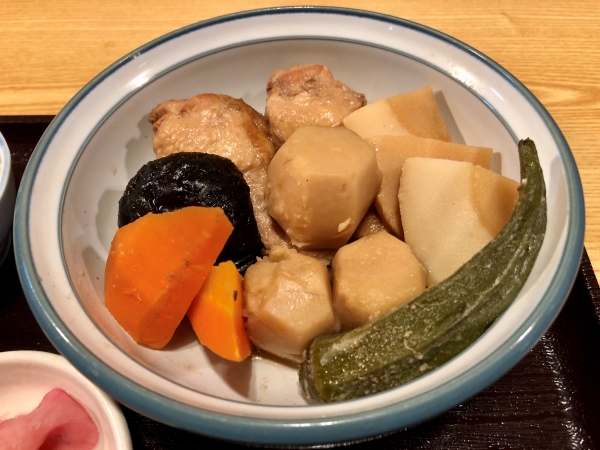 Again, the seasoning was light but rich. It's easy to see why Chikurin has so many repeat customers: it takes a lifetime of experience to create dishes so skillfully flavoured.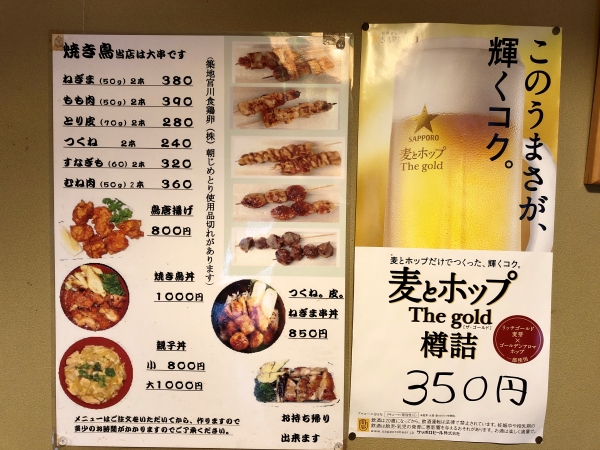 The menu at Chikurin is extensive, containing many dishes which feature tuna and seafood. Such traditional Showa-era classics as curry rice, grilled mackerel, grilled eel, and pork and ginger are also available. There's yakitori too, the grilled bamboo skewers of chicken loved by all ages, six varieties priced from 240~390 yen for sets of two. Deep-fried chicken costs 800 yen, while a hearty bowl of yakitori chicken on rice is 1,000 yen. All the usual drinks are available, with Sapporo Gold as draft beer at 350 yen a mug.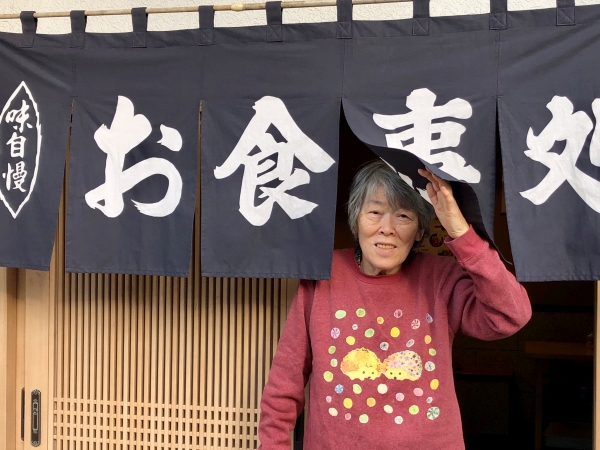 Ably assisted by her two sons Mrs. Nakamura still works every day, sharp as a tack and fit as a fiddle. She's full of colourful, highly entertaining stories of Ginza, Roppongi, Tsukiji, and environs in the boom years of the Japanese economy. At 81, she's also a living advertisement for the healthiness of Chikurin's home cooking. If you're in the mood for some fantastic tuna and seafood, together with Showa-style favourites, just head to Chikurin!
Story and photographs by Stephen Spencer