Sichuan Delights at Kōri
Published: November 24, 2022
Shisen Ryori Kōri is exactly the kind of Chinese restaurant everybody wants in their local neighbourhood: quick, tasty, reasonably priced, and laid back. If your neighbourhood is Kiyosumi-shirakawa then you're in luck! On a recent sunny afternoon, we dropped in for a chat with the friendly and welcoming staff.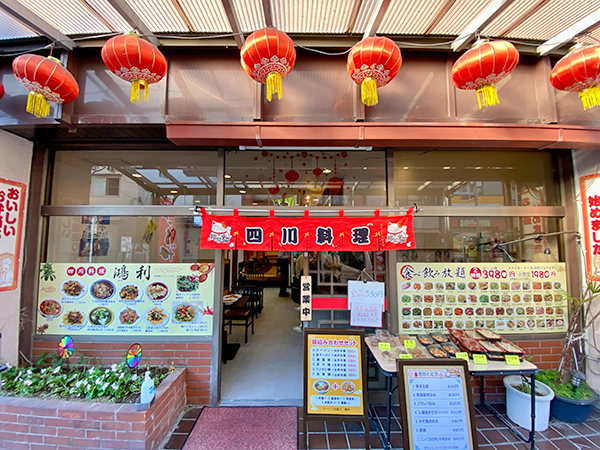 Shisen Ryori Kōri is located right on Shiryokan Street, just four minutes' from Kiyosumi-shirakawa station. Opened in 2019 it's yet another place to visit in the ever-burgeoning Kiyosumi-shirakawa area. You can't miss it!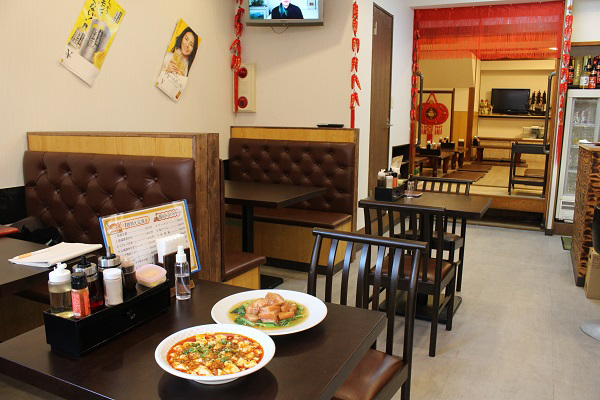 Shisen is the Japanese transliteration of Sichuan, the wildly popular Chinese regional cuisine noted for its use of the pungent, fragrant Szechuan peppercorns. The interior was surprisingly spacious, with a high-ceilinged front room containing banquette tables.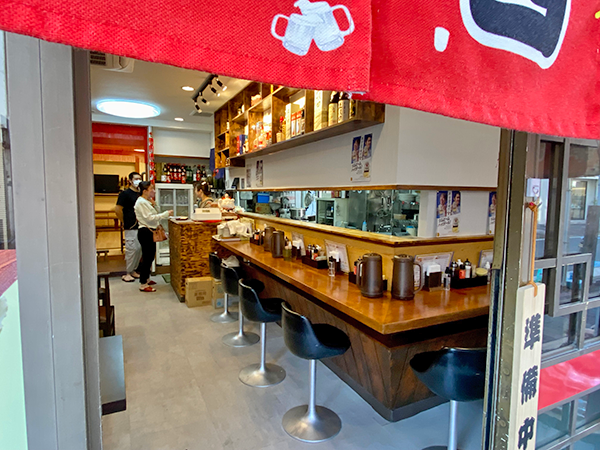 While another large room was available in the back.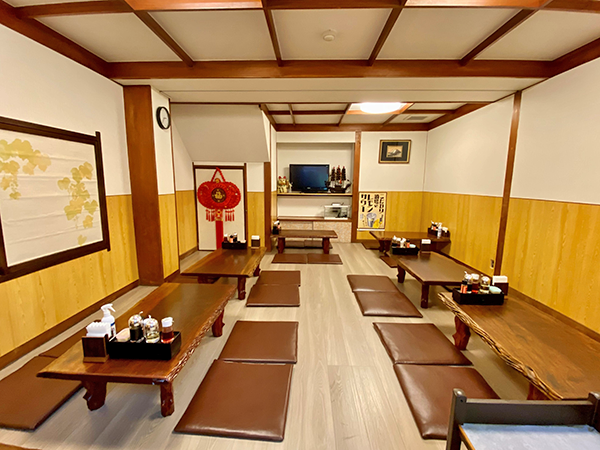 And a counter for solo eaters or those in a hurry.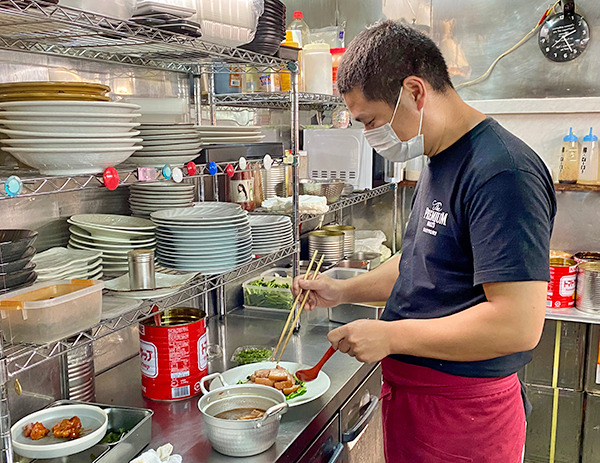 Behind the counter in the kitchen works Sichuan-born chef Sō, a 27-year veteran of restaurants in both China and Japan, with a vast repertoire of some 100 dishes. Mainly Sichuan, but he can prepare all the Chinese favourites too.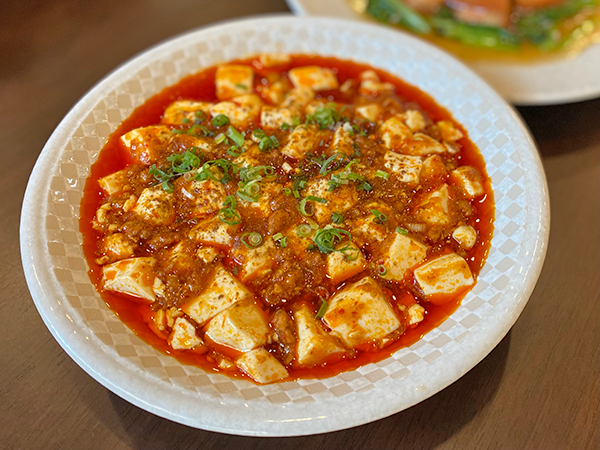 Chef Sō quickly whipped up a steaming plateful of perhaps the definitive Sichuan dish, mapo tofu (880 yen).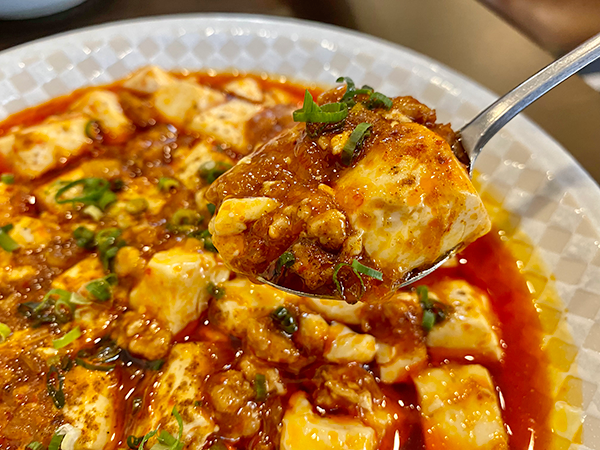 All seasonings at Kōri are imported from China and were combined to perfection by the veteran chef to create a richly-flavoured but not overly hot mapo tofu. The Sichuan peppercorn makes its presence felt but doesn't have you reaching for a glass of water immediately. We were very impressed; great with plain white rice!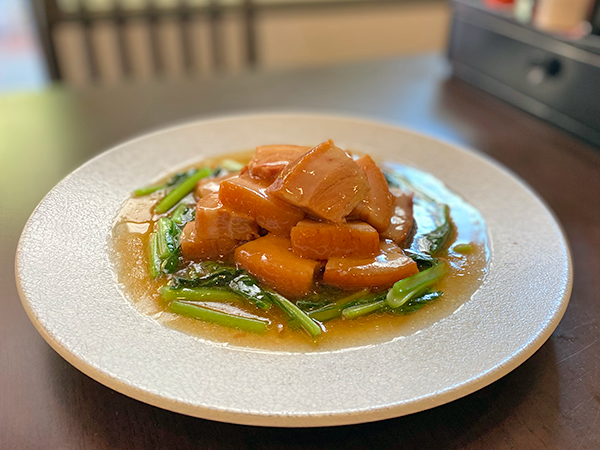 Chef Sō scored another winner with this braised pork belly (buta no kakuni, 1,380 yen). It's fine Japanese pork belly with a great balance of red meat and juicy fat, gently braised for hours in a rich sauce lightly flavoured with star anise.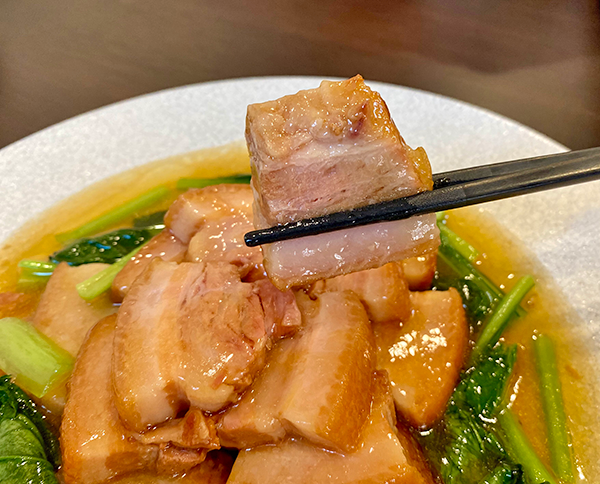 The pork belly was melt-in-the-mouth soft with an explosive savouriness that had us purring with pleasure! Knockout!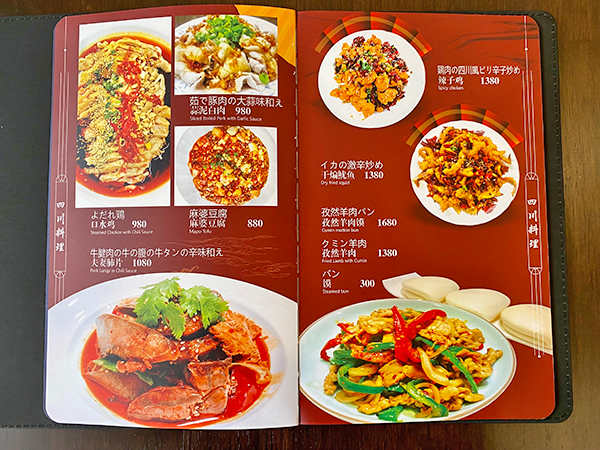 The menu at Shisen Ryori Kōri is trilingual and packed with colourful photos of Sichuan and Chinese favourites. Hot and spicy!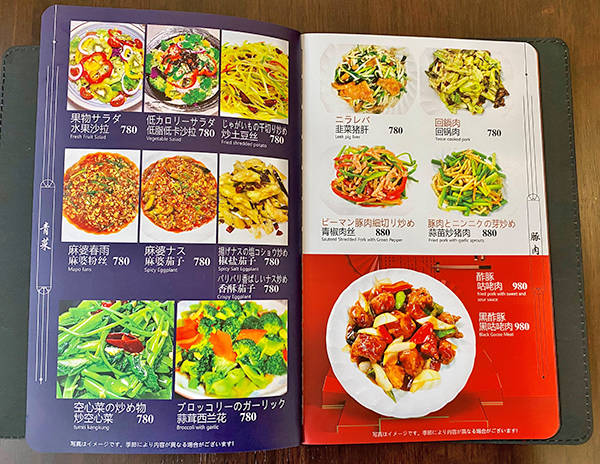 Or with more vegetables.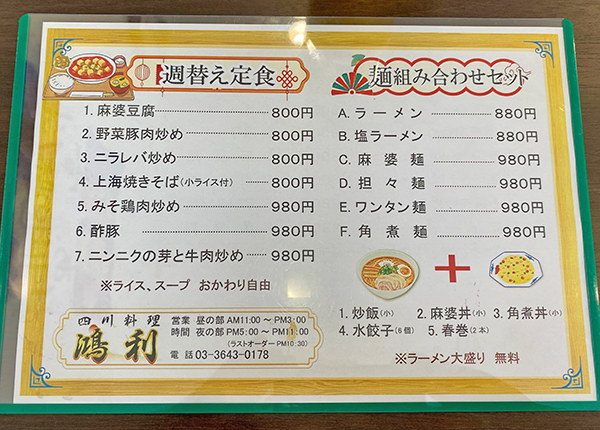 There are 13 daily lunches ranging in price from 800 to 980 yen. On the left are the main sets (mapo dofu, pork and veg stir fry, liver and garlic chives, Shanghai fried noodles, chicken stir fried in miso paste, sweet and sour pork and beef with garlic sprouts). All are served with rice and soup, of which second helpings are available for the very hungry. On the left are six noodle dishes (ramen, salt ramen, mapo dofu noodles, tantan noodles, wonton noodles, and braised pork belly noodles). All the noodle dishes are served with a small side dish customers can choose from the five at the bottom: fried rice, mapo dofu on rice, braised pork belly on rice, six gyoza or two spring rolls. All represent great value!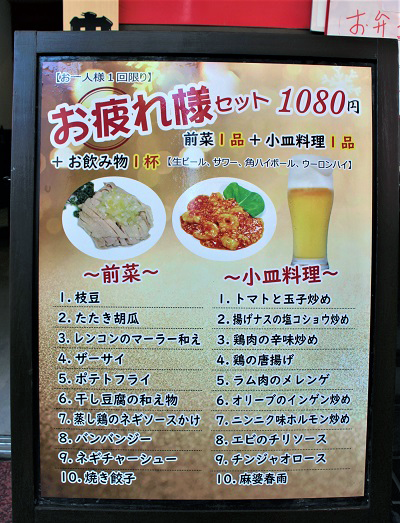 Evening customers can enjoy an after work "otsukare sama set" in which they can choose from 10 hors d'oeuvres and 10 small dishes plus an alcoholic drink for just 1,080 yen.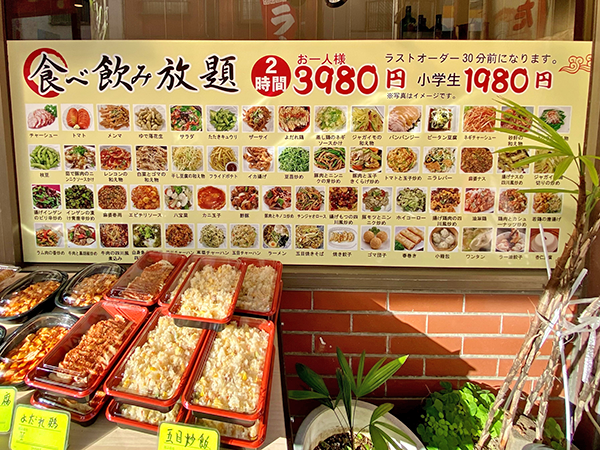 For the really hungry Shisen Ryori Kōri has an all you can eat and drink deal (3,980 yen for adults and 1,980 yen for junior school children). There's also a daily selection of lunch boxes and take out items for those working from home or very busy. Whatever your needs, from a hearty lunch or an after work drink and snack to a full scale blowout, Shisen Ryori Kōri has it all.
by Stephen Spencer