Sing Like a Pro at Subaru
Published: March 23, 2022
While music, movies, and fashion from the 1980s has enjoyed a global revival in recent years, even to the extent that brand new "Showa retro" style places have sprung up across the country, some establishments have continued as they were since those halcyon years. One such place is the fabulous Karaoke Kissa Subaru in Monzen-nakacho. On a recent sunny afternoon, I dropped in to talk tunes with owner and manager Mr. Kenji Hori.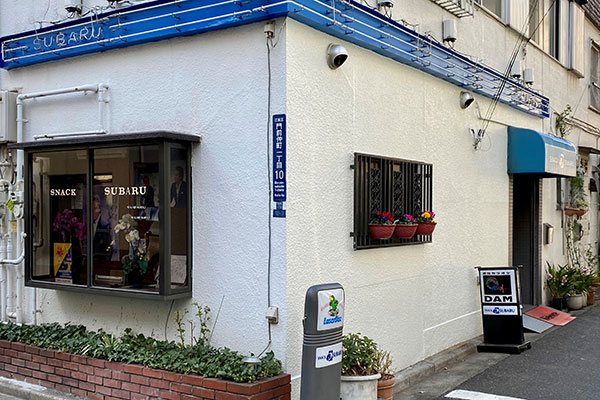 As professional singer Mr. Hori explained, "I run the business with my wife. We took over in 2019, but the place itself has been here for around 40 years, under different management and in different lines of work but always with the same name, Subaru." Subaru, the Japanese name for the Pleiades star cluster in the constellation Taurus, is located just 3 minutes' walk from exit 3 of Monzen-nakacho station..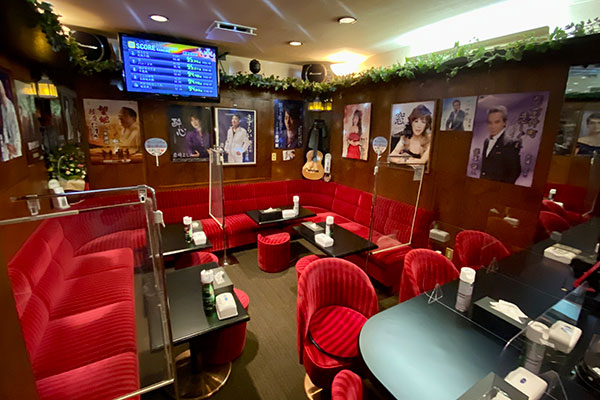 Inside is a plush red velvet dream. Banquettes, swivel seats, and pouffes transport customers back in time to the 70s or even earlier. The walls are decorated with glossy posters of enka singers; sharp-eyed readers may even spot Mr. Hori on the right.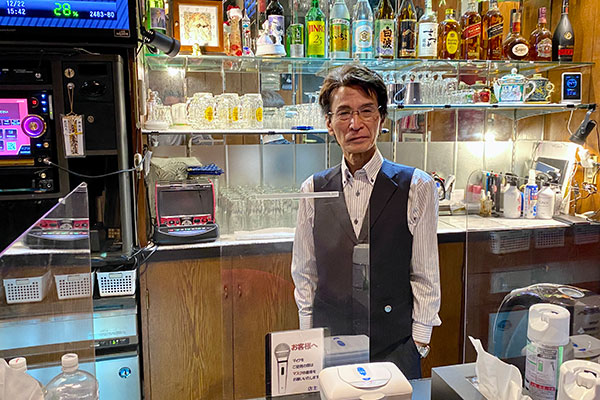 Okinawa-born Mr. Hori came to Tokyo in the early 1970s at the tender age of 15, to work and enjoy the big city life. He found employment in a printing company, learning the trade and singing in the evenings as he was blessed with musical ability, like so many people from his native islands. He later left the company and turned professional, recording his own CDs, before taking over at Subaru.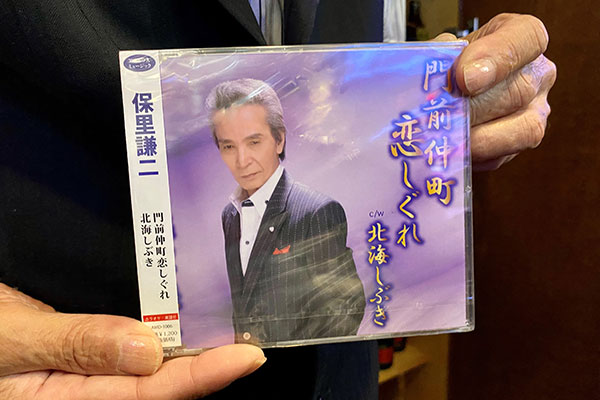 Mr. Hori's latest release is Monzen-nakacho Koishigure, which roughly translates as Monzen-nakacho Cuckoo. Mr. Hori sings enka, a form of sentimental ballads that developed in the post-war period. Enka has often been compared to blues in subject matter: the songs are about lost love, separation, hardship, loneliness, and perseverance in the face of adversity. When asked which songs he preferred, Mr. Hori replied, "Quintessential enka (doenka), the saddest of the sad, like Hokkai Shibuki where the singer cries as they sing."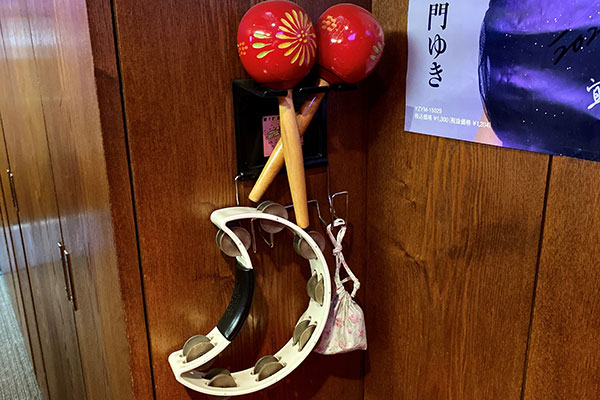 Kissa in Karaoke Kissa Subaru is short for kissaten, which literally means tea room but has a nostalgic connotation, conjuring an image of woody, smokey interiors, with dim lighting and jazz or classical music, a far cry from the bright and shiny trendy cafes of today. There's no smoking inside Subaru, of course. Customers are encouraged to accompany the singers with the tambourine or maracas.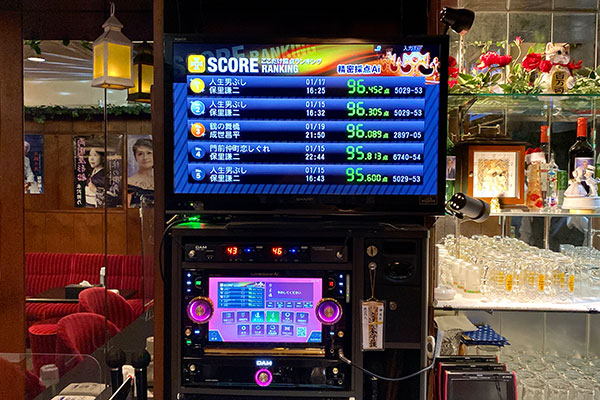 Subaru uses a DAM karaoke system with Pioneer speakers for a  high quality audio experience. "Most customers are Japanese," he said, "but we have several regulars from Taiwan, China, Korea and The Philippines, where enka songs have a popular following, as well as guests from the US and Europe. Everyone's always welcome at Subaru!"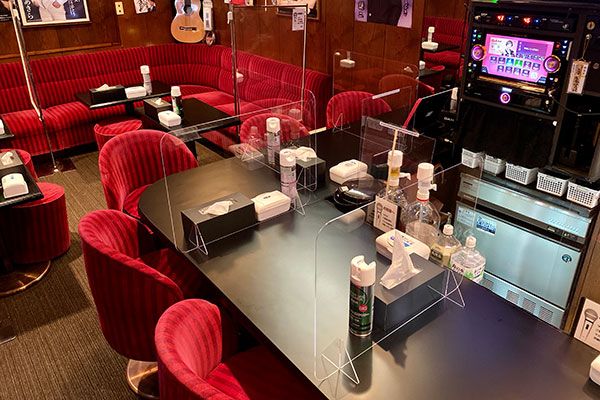 Mr. Hori has taken the pandemic extremely seriously, closing the shop entirely whenever the government introduced restrictions. It's now open again, with sprays, wipes and sanitisers on every table.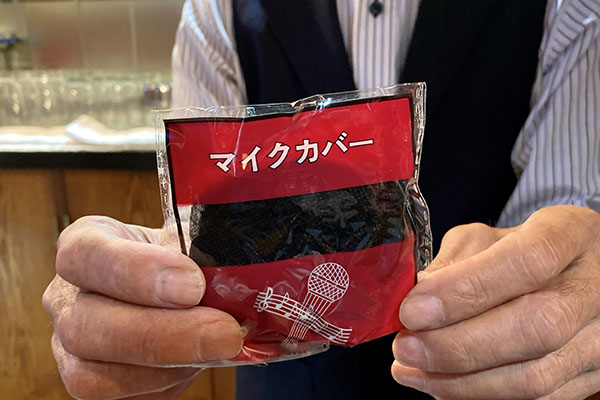 After each singer has finished, the microphone covers are changed and the mikes themselves are sanitised.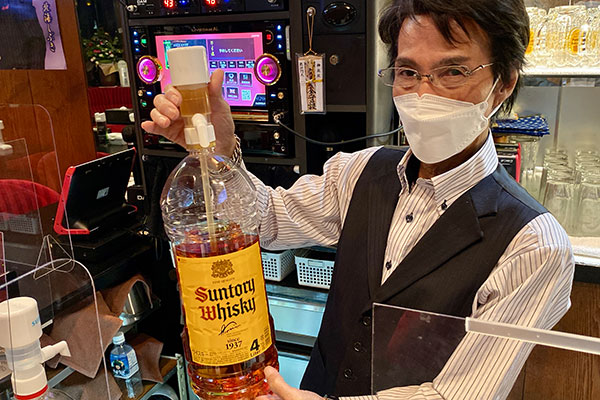 The payment system is both easy to understand and of exceptional value. Men pay 3,500 yen for all-you-can-sing and all-you-can-drink, while ladies pay 3,000 for the same. That's from 7pm to midnight. There's also lunchtime karaoke from 13:00 to 17:00 with free green tea, oolong tea or orange juice for 1,500 yen. The evening all-you-can-drink menu is whiskey and shochu, plus green tea, oolong tea or orange juice. Other drinks are available but most men drink whiskey highballs, according to Mr. Hori.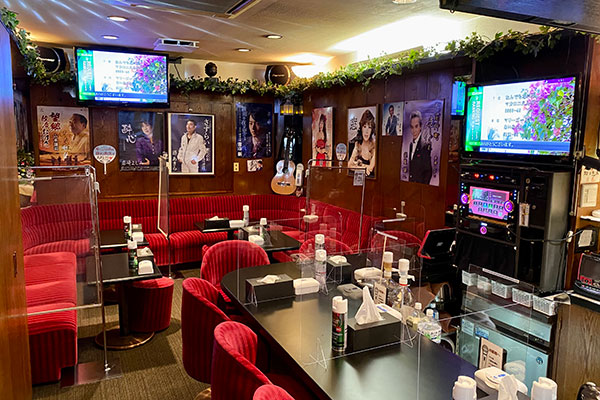 Mr. Hori is a great character who has enjoyed a long and eventful life, but is still living it to the full in a second career as a professional singer. He performs at concerts and events from Osaka to Aomori, while also singing at Subaru, of course.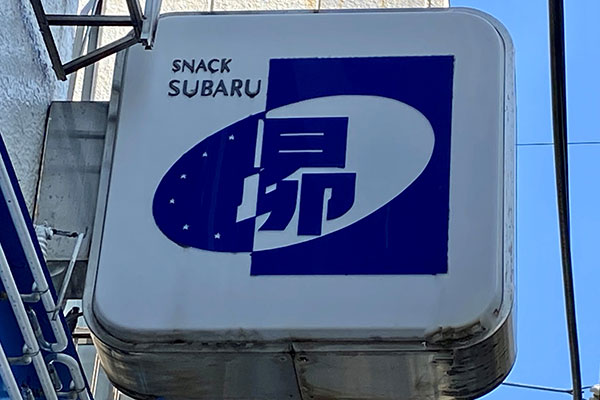 "Enka will never die," he said, with great passion. "Music moves in a cycle; young people have their own music now, but enka will return once more. Great music that touches the heart never dies." If you'd like to sing your heart out in Monzen-nakacho, just head for the Subaru sign.
Story and photos by Stephen Spencer