It has returned! After a 12-year absence, the indoor tennis school VIP has returned to the central Koto-ku area with the grand opening of a sparkling new building. A few days before it opened to the public, we were lucky enough to be given a sneak preview of the club and facilities by head coach Mr. Masato Nishikatsu.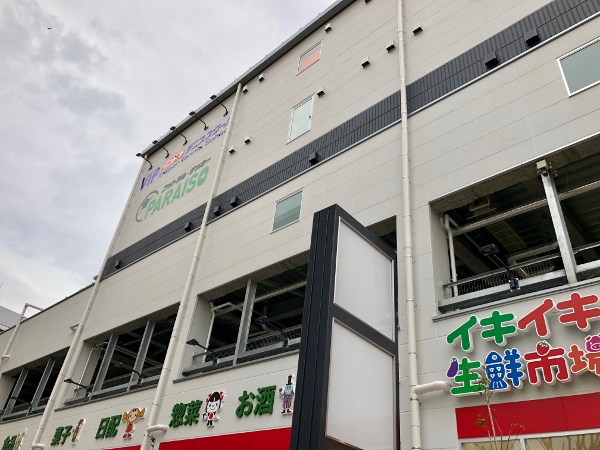 Located just behind the Koto-ku Ward Office and five minutes' walk from Toyocho station, VIP occupies the top floor of a five-story building. "We're all delighted to return to the place where Japan's first indoor tennis school was launched in 1975," commented Mr. Nishikatsu. "I was a coach here before so to come back as head coach twelve years later is a great honour. We have five members of the previous staff returning too, together with a large number of customers who are as overjoyed as we are to be back."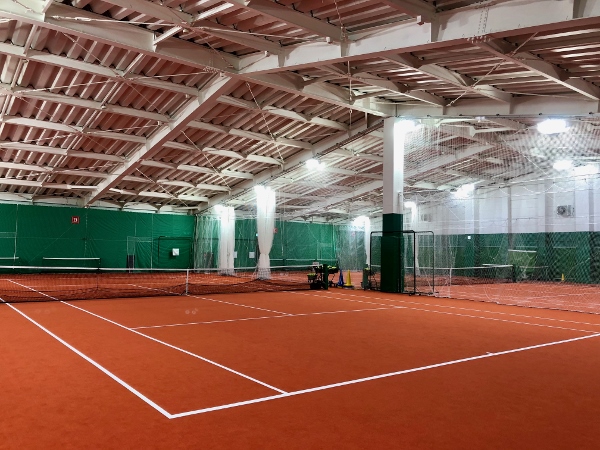 Visitors are initially struck by the cavernous size of the room and the reddish-brown colour of the flooring. "The design theme is Roland-Garros," explained Mr. Nishikatsu, referring to the home stadium of the French Open Tennis Championship where the courts are made from hard-packed crushed brick of a similar colour. Of course, the flooring at VIP is an extremely comfortable carpet with a rubber underlay that is very gentle on the knees.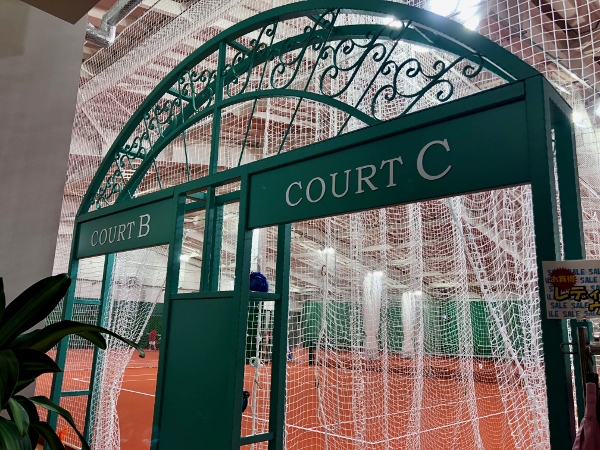 The entrance gates to the courts, in dark green wrought iron, are similar to those found at the recently refurbished Roland-Garros.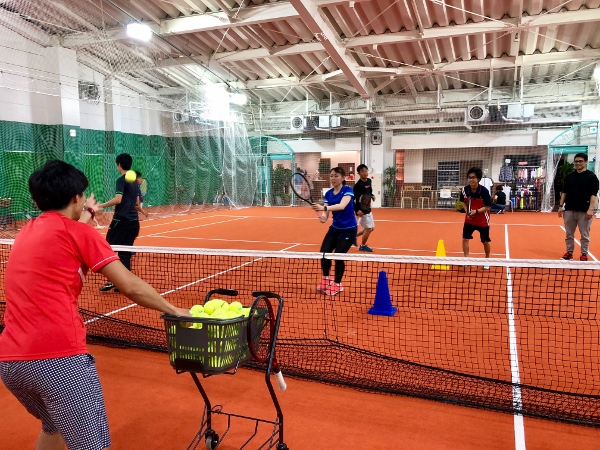 While the appurtenances and decor are definitely smash hits, VIP Indoor Tennis School's strengths are in the high level of coaching, the wide variety of classes available and the flexible schedule. As we spoke to Mr. Nishikatsu, the junior coaches were being put through their paces by another senior coach. "Training is a continuous process," he emphasized. "They have to learn how to hit with customers of all levels and practice makes perfect, as we say."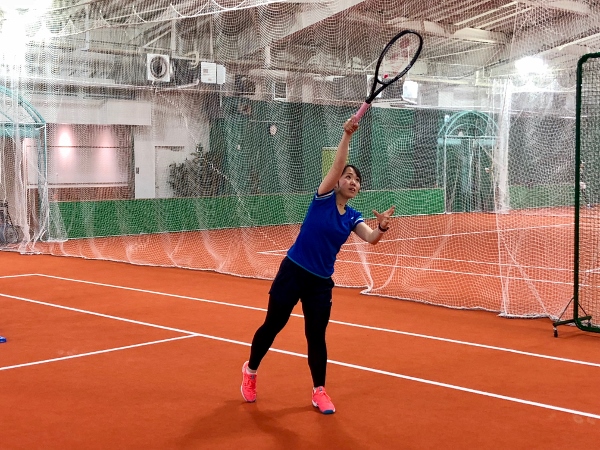 Ms. Isaka, the youngest coach at VIP, showed her power and form with a fearsome display of smashes.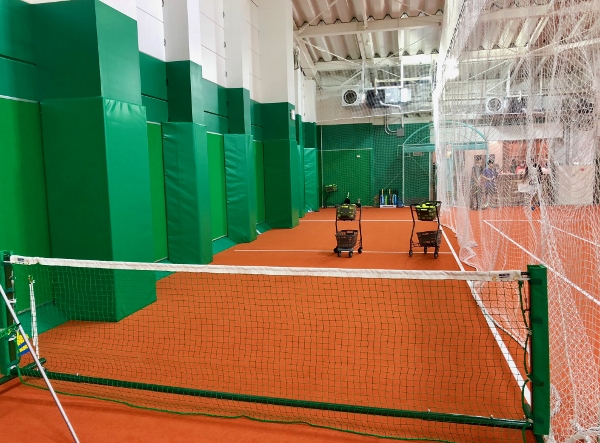 Under a motto of "enjoyable, kindly, beautiful," VIP offers a remarkable range of classes. Beginners start on the mini court, a half-sized version where they can learn the basics with close coach-to-student instruction. This aspect of man-to-man instruction is emphasized throughout VIP's many classes and levels. There are Absolute Beginners, Beginners, Low Intermediate, and Intermediate classes, all at 80 minutes each. Lesson fees are very reasonable, varying from 12,600 to 14,733 yen, depending on factors such as the number of classes (either twelve or thirteen) and time (weekdays or evenings, weekends).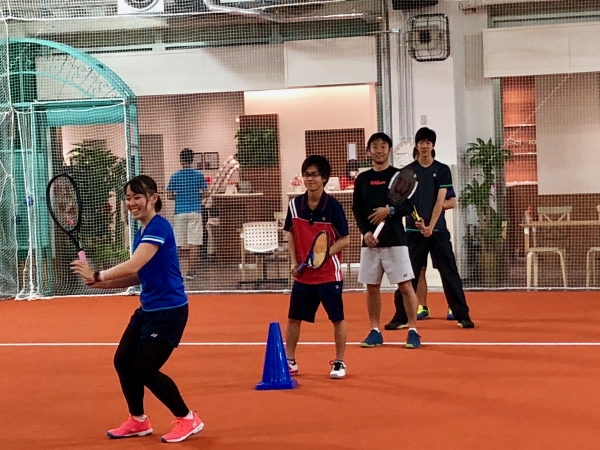 Then there are special classes: for over 65s, rally classes, and no-level classes which are 50 minutes each. All students are taught the various aspects of tennis, from the basics of shape, form, hitting, movement, and so on to improve their level of play. Juniors are divided into groups by age: 4~6, 6~10 and 10~15. There are other classes for only junior high_schoolers, as well as discounts for families and people taking more than one course.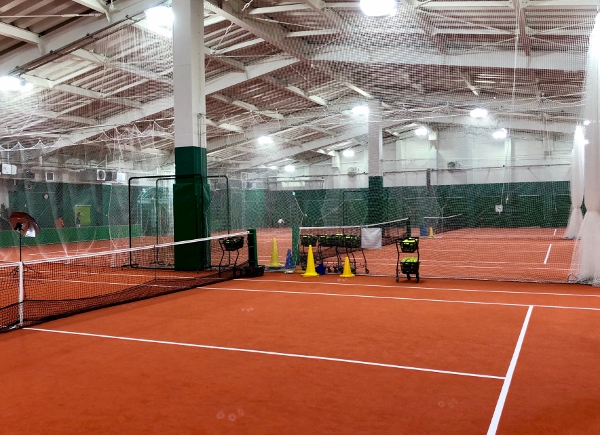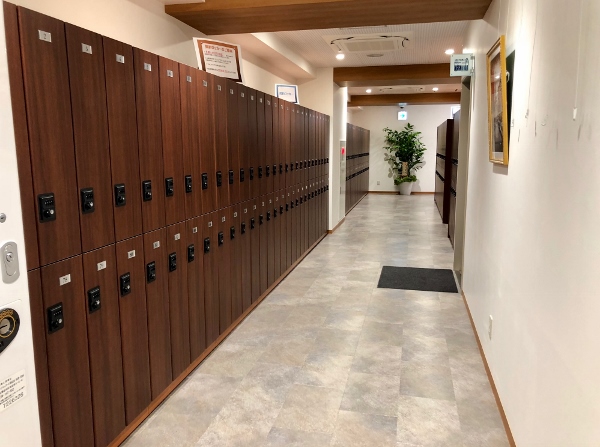 The facilities are spotless, with a long corridor of rentable lockers for members.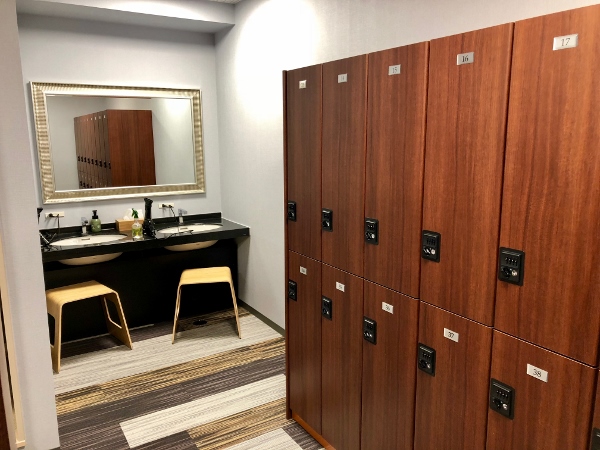 The mens' locker room is smart and stylish.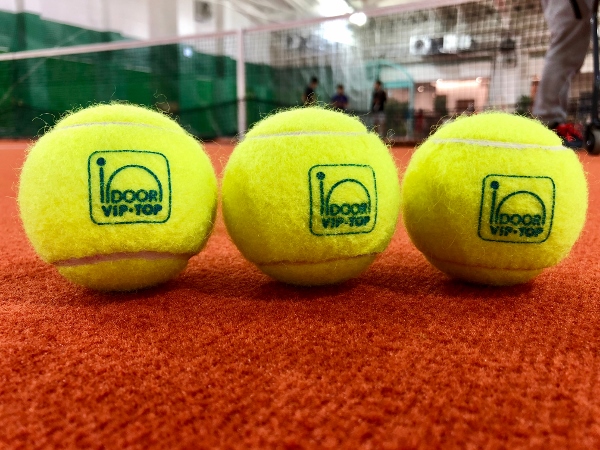 One of the most popular classes is the parents/guardians and kids' class (oyako in Japanese), for children from three up to six years old. The adults can practice with a coach or play while the kids are taken care of by qualified nursery staff in another room. The kids then dance to warm up, before enjoying a fun class with the mini-net, child-size racquets and super soft balls.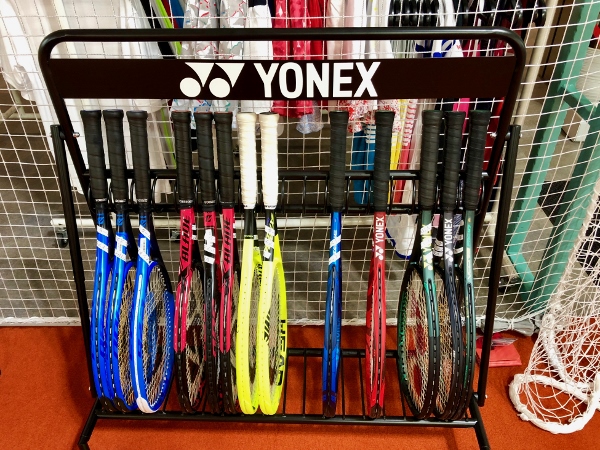 Racquets can be borrowed, as can tennis wear and shoes. "You can come down and play with nothing except your socks. You've got to bring your own socks," says Mr. Nishikatsu, laughing.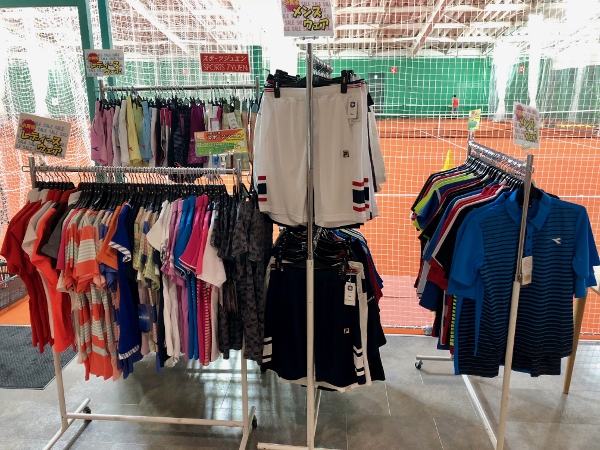 Tennis wear is available for purchase at a discount. If you're interested in unleashing your inner Roger, Kei or Naomi, Mr. Nishikatsu recommends arranging a trial lesson, which costs just 1,000 yen. Guests can get a feel for the courts and gain an understanding of the coaching style. While spring and autumn are both very pleasantly temperate in Tokyo, the summer can be brutally hot and humid, far too extreme to play outdoors for all but the hardiest (or craziest).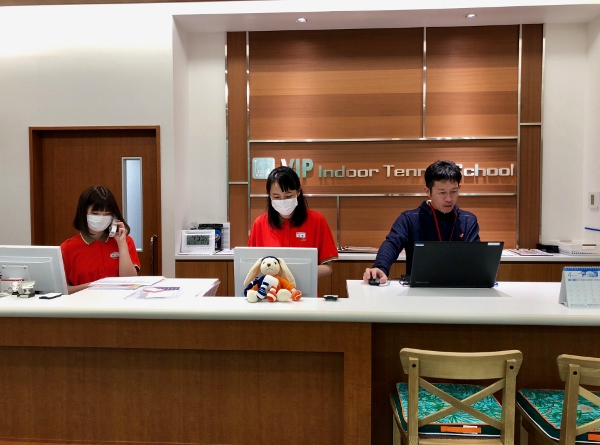 The front desk staff, looking very smart in their red Lacoste uniforms, are always ready to serve! If you're game, give them a call!
Story and photographs by Stephen Spencer