Soba and Showa-style Yellow Curry at Sobadokoro Tengu
Published: November 8, 2019
It's quite unusual to visit a soba restaurant where the owner recommends the curry but Sobadokoro Tengu is no ordinary restaurant. Founded in 1932 by the present owner's grandfather, it has served noodles and traditional Japanese-style curry for nearly 90 years to the residents of the Shin-ohashi area. On a recent sunny autumn afternoon, we dropped in for a chat with the proprietors.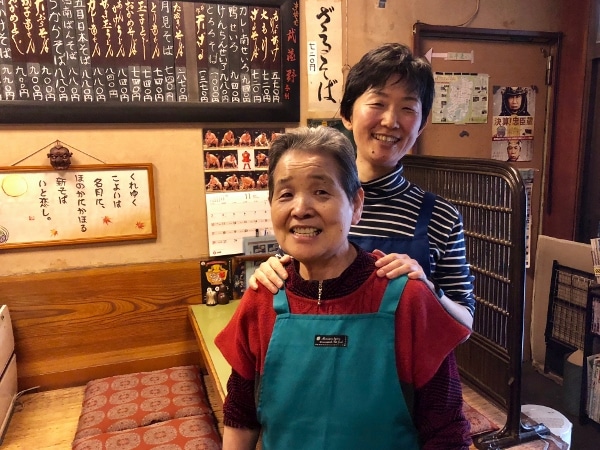 Located a stone's throw from the Shin-ohashi bridge over the Sumida river in the most north-westerly area of Koto-ku, it has been a restaurant longer than living memory. "I heard from my grandfather that when he moved here it was already called Tengu," says Ms. Junko Oya, who runs the establishment along with her brother Shogo and mother Aiko. "We don't know what kind of place it was before then. My grandfather started making chuka soba (the original name for what is now called ramen) nearby, then moved here later on."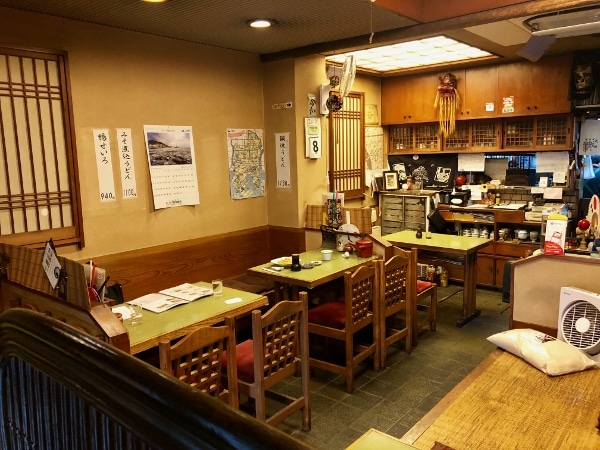 "There's been no change in the recipe for anything we make since my grandfather's day. Maybe the broth for the dipping sauce is lighter and less salty than it was in those days. We even source many of our ingredients from some of the same companies as he did, the ones that are still in business now. The interior was redesigned in 1984. Tengu may not have changed much but the surrounding area has. Previously this was a place of shipping and transport companies, warehouses and the like. Now most of our customers are office workers and local residents."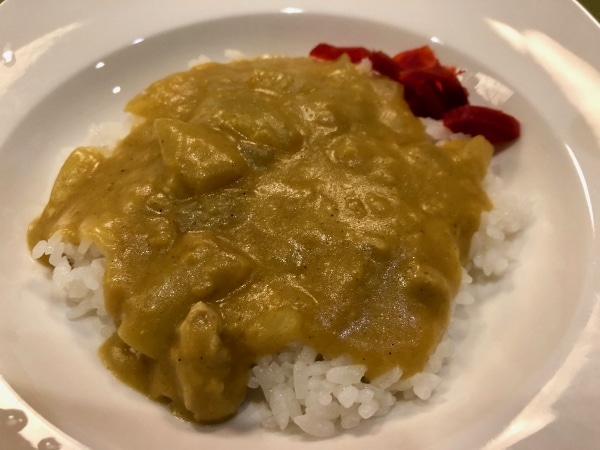 Mr. Oya quickly cooks up a batch of noodles but it's the curry that we are invited to sample first. It's a bright yellow colour, a shade I haven't seen since my childhood days before the global spice boom, when my mother made curry of a similar hue. "We'd call this udonko curry," says Mrs Oya, while her son adds, "It's a home-made curry powder mixed with a touch of garam masala. The curry contains only pork and onions cooked in lard, with water and some flour."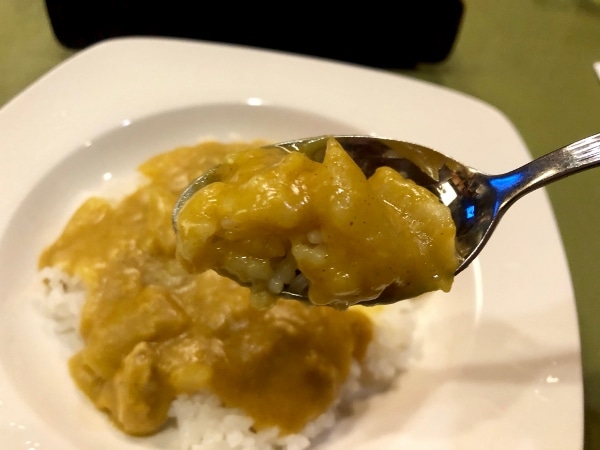 It tastes great, a very mild flavour. "This is the real taste of the Showa Period (1926-1989)," says Ms Oya, "And many of our customers love the nostalgic flavour. It's exactly as their mother or grandmother used to make. We use the same curry sauce for curry soba, curry udon, and curry nanban but add a little of the soba dipping broth which darkens the colour and deepens the flavour."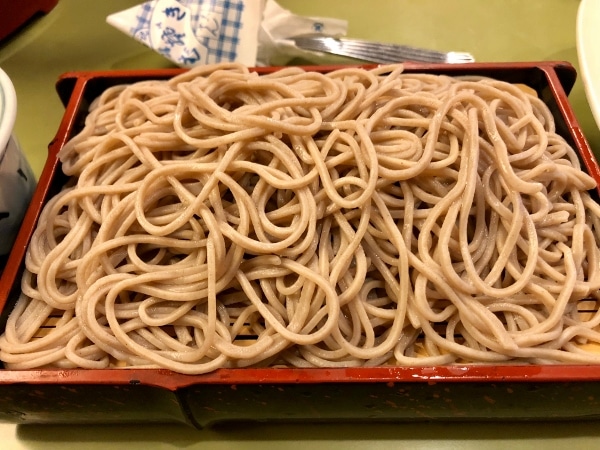 "The curry roux is homemade and the soba noodles we serve are made from an original blend of four buckwheat flours. Our noodles are unique; nowadays buckwheat from Etanbetsu in Hokkaido is popular but we use Daisogen, Kameju and others," explained Ms. Oya. The noodles are highly toothsome, fragrant and firmly textured.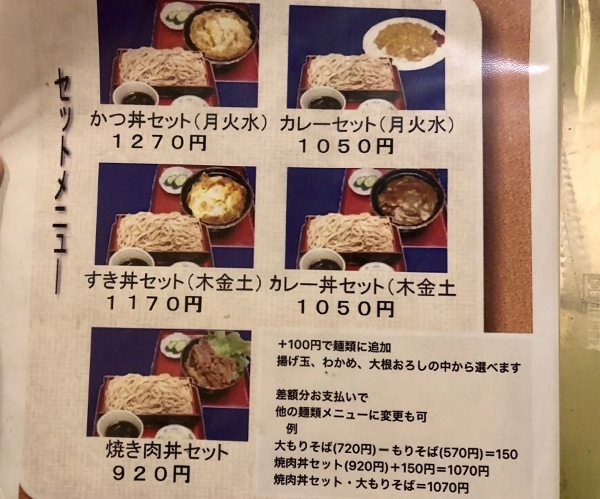 Prices are very reasonable at Tengu. On Mondays, Tuesdays and Wednesdays the lunch sets are pork cutlet on rice (katsudon) with soba for 1,270 yen or curry rice with soba for 1,050 yen. Thursdays, Fridays and Saturdays offer sukiyaki on rice and soba for 1,170 or curry on rice with soba for 1,050 yen. The latter has the darker curry, the one with added soba soup broth.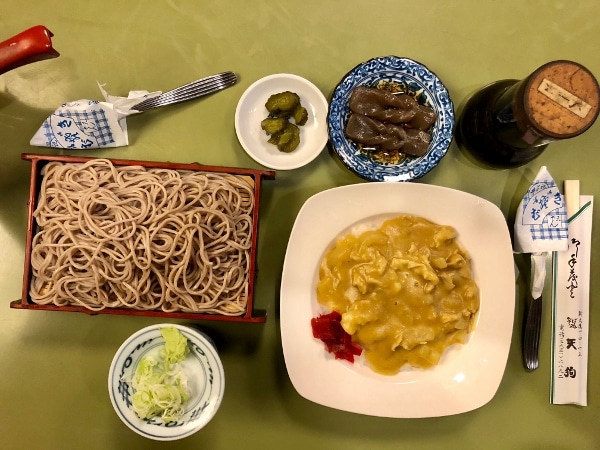 The extensive menu features all the popular favourites such as tempura soba with deep-fried shrimp and seasonal vegetables, soba with grated yam, soba with chicken and leeks, soba with wild vegetables and so on. Cold soba with a hot dipping sauce (seiro soba) is available, as are many dishes with udon noodles instead of soba.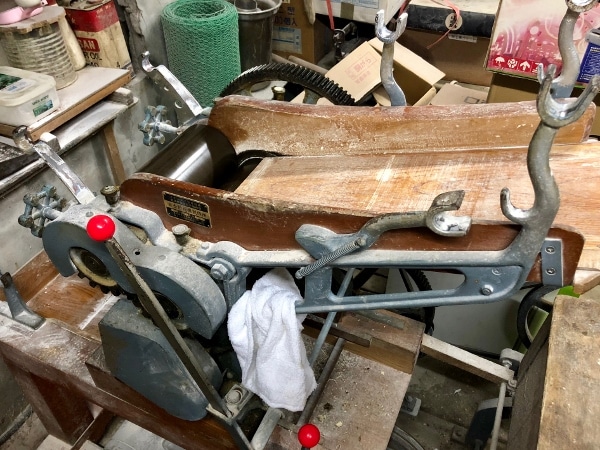 Mr. Oya kindly allows us a peek into his basement. "It's cosy and warm in winter when I'm making the noodles in the mornings but like a sauna in summer," he says. This remarkable noodle-making machine can be calibrated to produce different thicknesses and varieties of noodles. Udon, thick wheat noodles currently enjoying a boom in Japan, are served in an individual clay pot with chicken, vegetables, kamaboko fish cake, shrimp tempura, and so on. Known as nabeyaki udon, it's a classic Japanese winter food and is served piping hot. Tengu has its own version. "The Sanuki style of udon is popular right now," explains Ms. Oya, referring to the flat, square white noodles from what is now Kagawa Prefecture on Shikoku island. "It has quite a strong, chewy texture whereas ours is much softer so as to absorb more of the soup flavour. Younger people who have only eaten the Sanuki-style are surprised at first by how soft our udon is."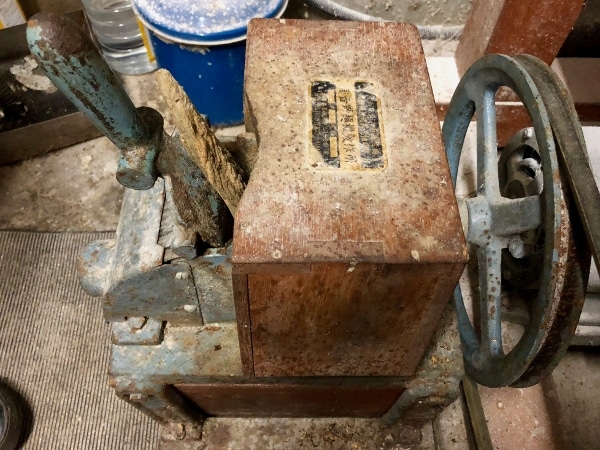 For most soba restaurants the ingredients of the dipping sauce are a closely guarded secret. Many restaurants use dried bonito flakes (katsuobushi) as a key ingredient but once again Sobadokoro Tengu treads its own path by using both dried mackerel flakes and dried bullet mackerel (sodabushi) for the soup. This very rare antique is a dried-fish flaker and the brown, stick-like object on the left is a dried, smoked mackerel. The machine is connected to a flywheel on the noodle maker by a belt and Mr. Oya is thus able to kill two birds with one stone, flaking the fish as he makes the daily noodles.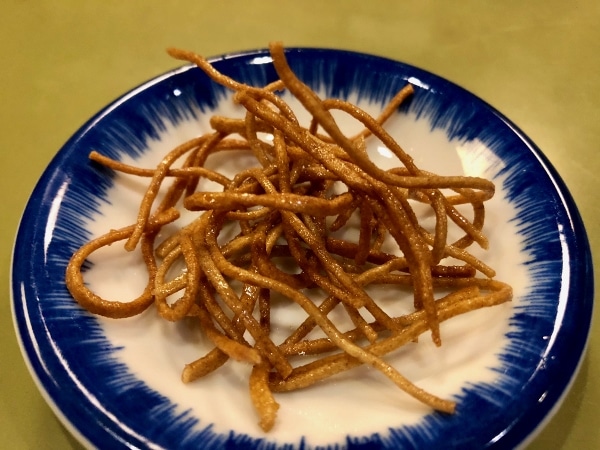 Soba noodles are deep-fried at a fairly low temperature to create a crunchy snack.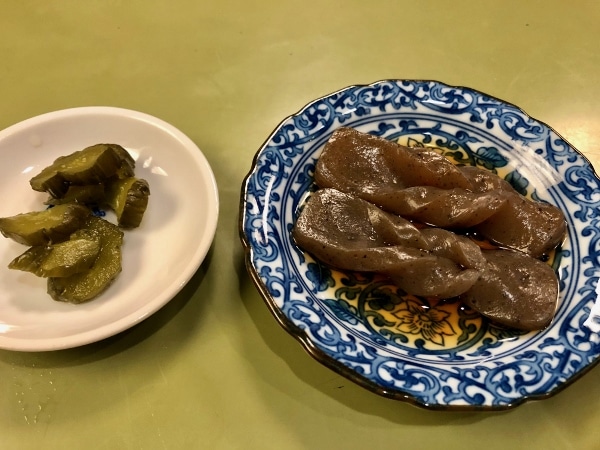 Traditional homemade favourites such as pickled cucumber and twisted konnyaku also appear.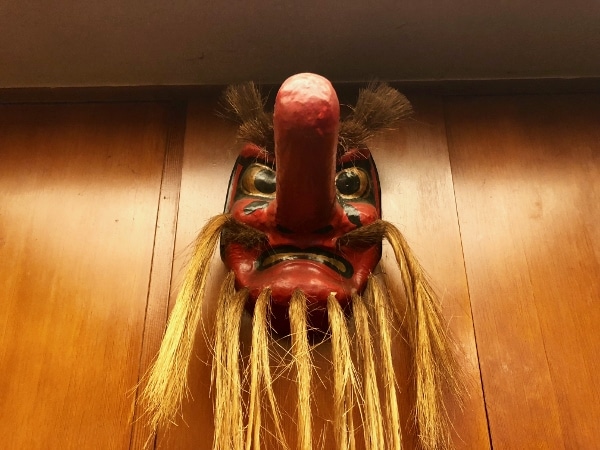 And here he is, the tengu, the mythological long-nosed, red-faced creature of Japanese folk religion. His titular restaurant, like many soba restaurants in the Kanto area, is part of a loosely-connected group. One still remains in business, in Kashiwa in Chiba Prefecture. "We're all kind of distantly related," says Ms. Oya in reference to the many local soba restaurants in the Fukagawa area of Koto-ku.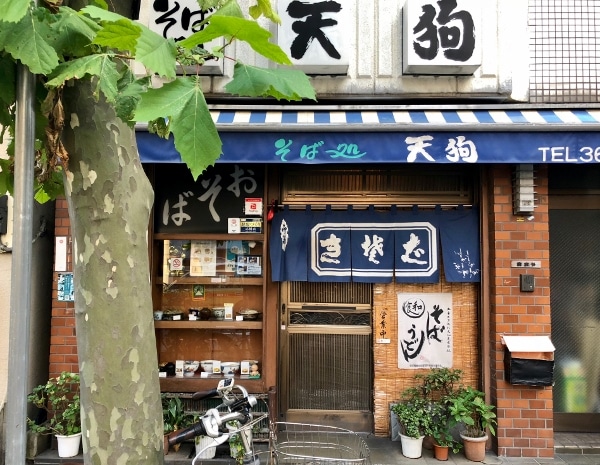 Soba restaurants may share similar interior design and offer similar products to their customers but there are as many differences as there are individual characters running them. Whether it's the soba flour blend, the ratio of buckwheat to wheat flour, the ingredients of the broth or the thickness of the noodles, no two places are alike. "You have to try and find a place that matches your taste exactly," says Ms. Oya. Sound advice. If you're in the Shin-ohashi area and in the mood for top quality buckwheat noodles and traditional curry with a twist, then head for Sobadokoro Tengu. A warm welcome is guaranteed!
Story and Photos by Stephen Spencer