Soba for Lunch and Yakitori for Dinner
Published: December 11, 2020
If you are in Yume no Shima at its sports facilities, the tropical botanical garden, or watching the grappling at Shin Kiba's 1st RING pro-wrestling stadium, and you fancy something to eat afterwards, then why not drop into Yabu Soba at the foot of Shina Kiba Station on the Tokyo Metro Yurakucho, Rinkai and JR Keiyo lines?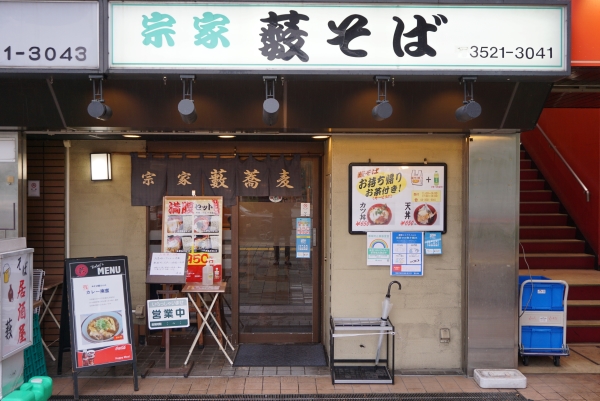 Yabu Soba has been around a long time in Shin Kiba, having opened in the 1990s. For lunch, fresh handmade soba (buckwheat noodles) is served, whilst in the evening it transforms itself into an izakaya (Japanese pub/bar).
Entering the restaurant is a bit like stepping back into the Showa period (1926 – 1989), with its simple décor, walls adorned with menus and drinks posters, and straight-backed chairs at small square tables awaiting customers. The tables all carry the obligatory holder crammed with waribashi (disposable wooden chopsticks), and the traditional toothpick holder and condiment set, containing shichimi (mixed spices). The prime concession to the modern age is the precautions taken to combat corona virus infection: the careful spacing of seats, the advent of acrylic partitions and sanitizers, and the regular disinfecting of table surfaces by masked staff.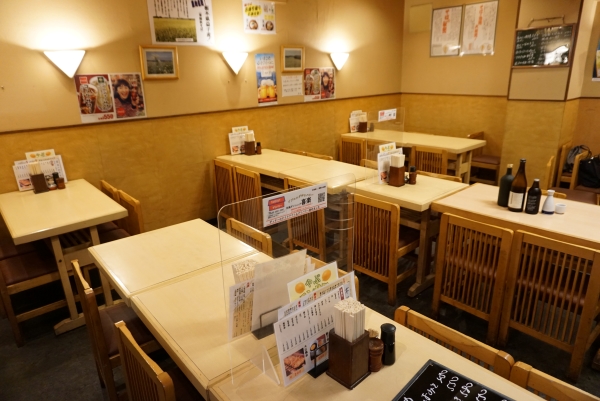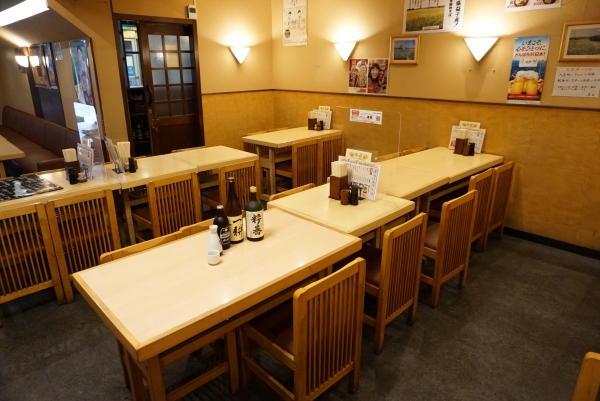 The manager, Mr. Hidefumi Nakahama, took time off from supervising the kitchen to speak to my colleague and me. He explained that he has worked in Yabu Soba for many years, learning his trade here and taking over its running in 2008. The buckwheat he uses to make the restaurant's soba comes from Tochigi Prefecture. To ensure consistency in the taste of his noodles and the continuing satisfaction of his regular customers, Mr. Nakahama diligently keeps a record of each day's temperature and humidity. It is changes in these that affect the taste of the soba, and he has to take these variants into account when he comes in early each morning to start preparing the soba for the day's meals. Nevertheless, Mr. Nakahama says it is worth the time and effort each day to produce good handmade soba.
A number of soba dishes are available at lunchtime, such as kamo (duck), tempura (deep fried king prawns), and kenchin (root vegetables) – all piping hot bowls of soup cooked with soba. Or, alternatively, you can try one of the seiro dishes, which comprise a bamboo tray of soba accompanied by a hot bowl of duck meat soup, curry soup or with a plate of deep-fried oysters.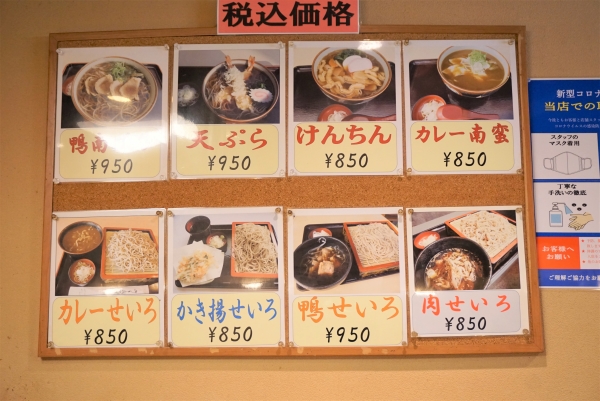 However, the most popular dish is a steaming hot bowl of curry nanban, a stalwart of soba restaurants, comprising a bowl of soba in a thick curry sauce, and containing slices of pork, all topped off with green onions.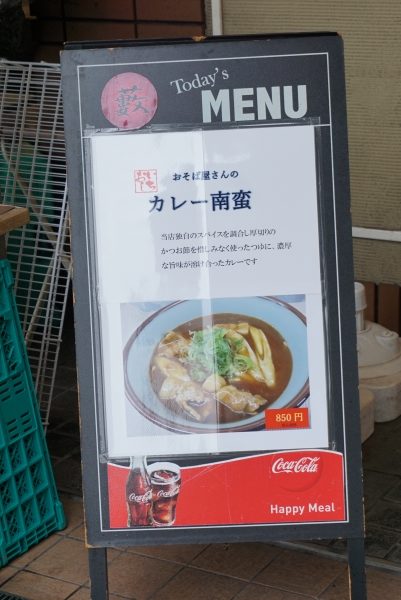 Yabu Soba also offers several filling set lunches: katsumori (deep fried pork), negimori (green onions and minced tuna), shougamori (pork and ginger), and tenmori (tempura – seafood and vegetable in batter), each in a bowl of rice, and accompanied by a tray of soba or, dare I say it, udon (thick noodles made from flour, water and salt) for 950 yen (including tax).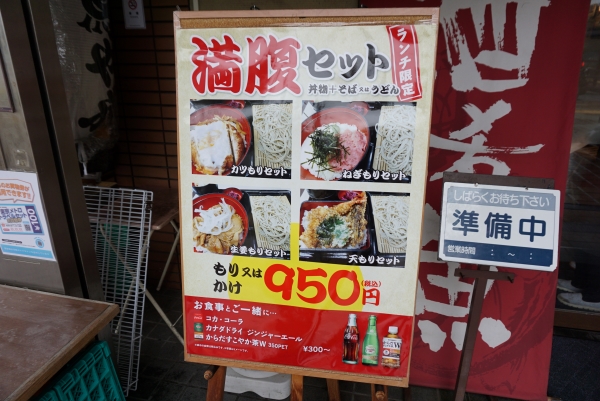 In the evening the menu changes, as does the restaurant's atmosphere, and Yabu Soba becomes an izakaya. Whereas at lunchtime only soba dishes are served, the evening's menu expands to cater for office workers coming in to unwind after a hard day's work. Here the emphasis is on food that goes well with drinks and conversation; hence the yakitori, sashimi and fried food on the menu, with soba only being brought to the table towards the end of the meal.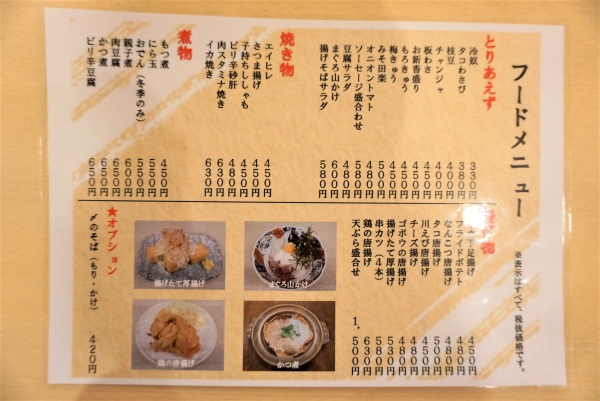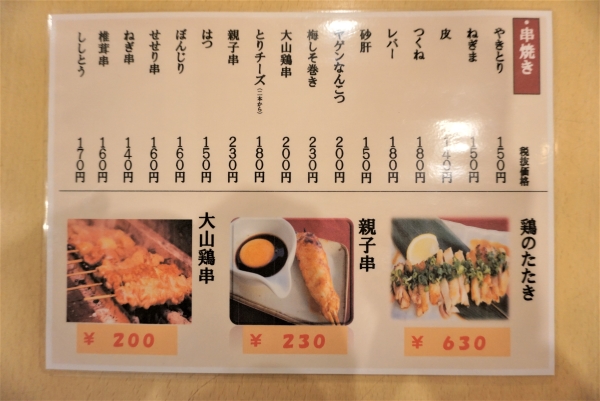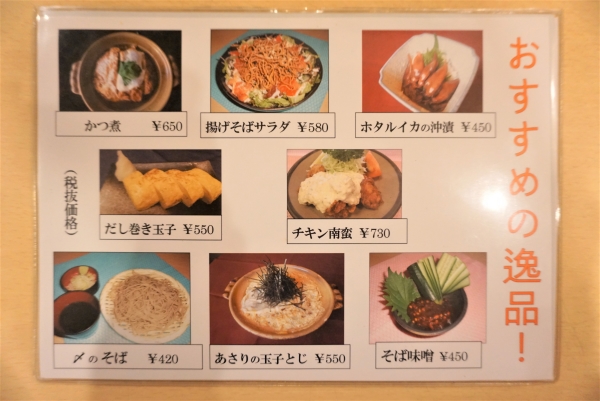 Mr. Nakahama told us that the type of yakitori he serves comes from Tottori Prefecture is known as daisen yakitori and is famous for its juiciness. To go with it, he recommends a sprinkling of salt to bring out the taste, although he is no purist, and a sauce dip is also available for those customers who request it. The most popular yakitori dishes are shiro reba (white liver), along with tori no tataki (seared chicken breast), the latter, of which a limited number only is made each day.
We were too late for soba, so Mr. Nakahama brought out a typical plate of Yabu Soba's yakitori. Neatly laid out in a spoke pattern, it contained liver, negima (grilled chicken and green onion), kawa (chicken skin), tsukune (grilled chicken meatballs) and daisengushi (chicken on a skewer). The skewers all looked very inviting; just the thing to go with a cold, foaming glass of beer or a cup of sake.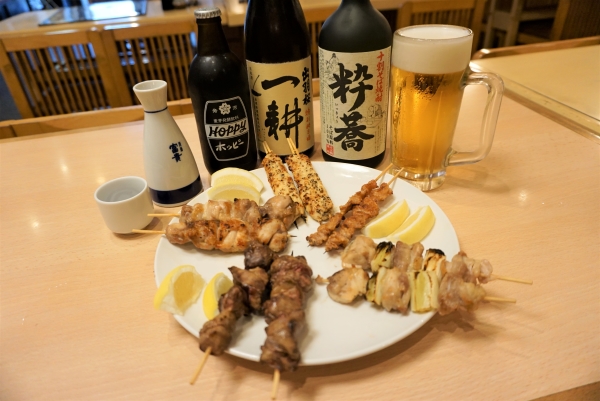 Mr. Nakahama's customer base is varied, which is proving important during the corona virus pandemic with many office workers working from home. Small groups of women frequent Yabu Soba for a late lunch following a session at the local swimming pool, during the quiet time after the early rush of office workers coming in for their mandatory soba lunch. Mr. Nakahama also thinks the quiet atmosphere appeals to the single women customers who eat there at lunchtime and in the evening. Then there are also the families who call in on their way home from a day at nearby Disneyland or the local baseball parks.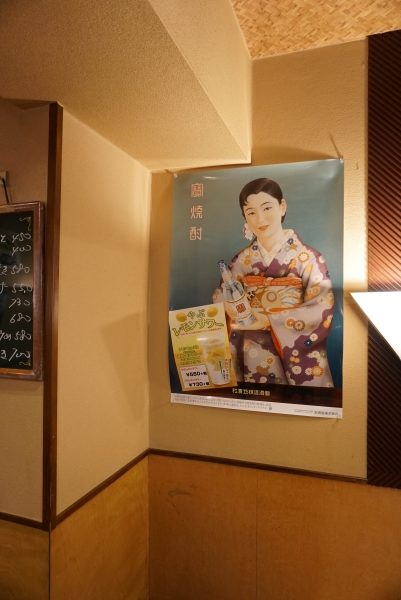 And if all you have time for is to grab a take-away, Yabu Soba offers a bowl of katsudon (deep-fried pork on a bed of rice) or tendon (deep fried king prawn on a bed of rice), plus a bottle of green tea for only 650 yen (including tax); maybe something to consider, as you wend your way to Shin Kiba Station.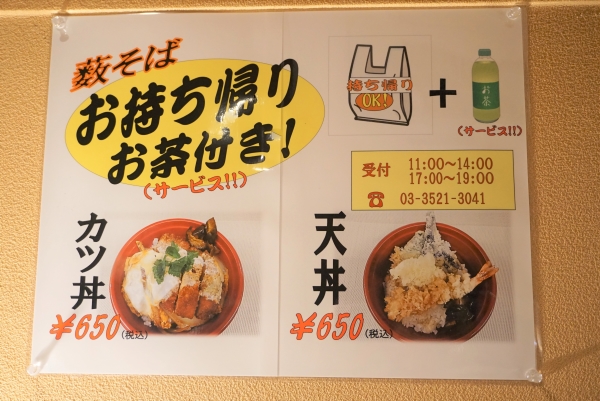 Story and photographs by Jeremy Hutchinson