Soba, Sake, Washoku
Published: September 28, 2021
The number of hidden gems tucked away slightly off the beaten track in Koto-ku never fails to surprise the Kotomise staff. One such is Shusai Soba Kyu, for which the description 'soba restaurant' seems grossly insufficient. On a recent sunny afternoon, we caught up with owner-chef Mr. Toshihisa Fukuyama to talk about noodles and a whole lot more.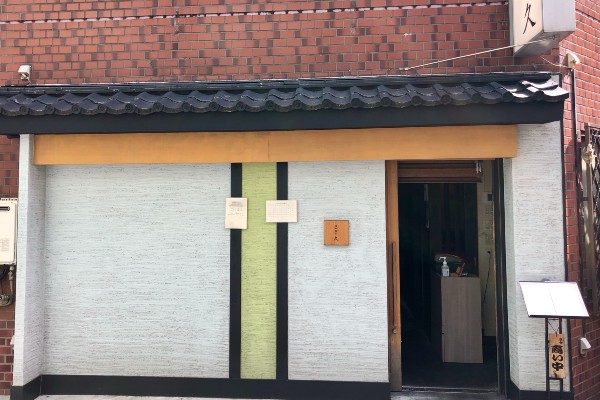 Kyu is literally just one minute from Nishi-ojima station yet its location on a side street just off Meiji Street, coupled with the minimal exterior design, lends a secluded, mysterious air.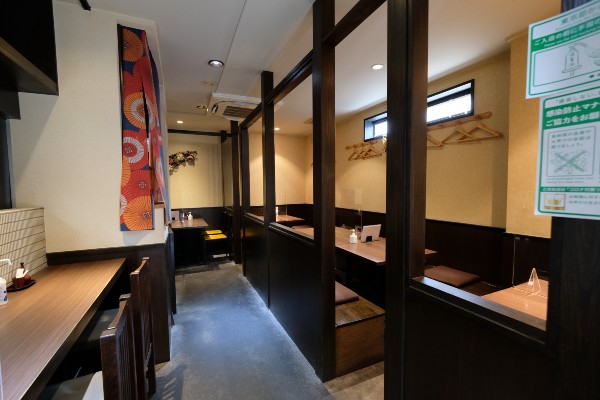 Mr. Fukuyama is as welcoming as can be though, and the interior is classic Japanese soba restaurant: beige walls, dark wood, simple but heavy wooden furniture.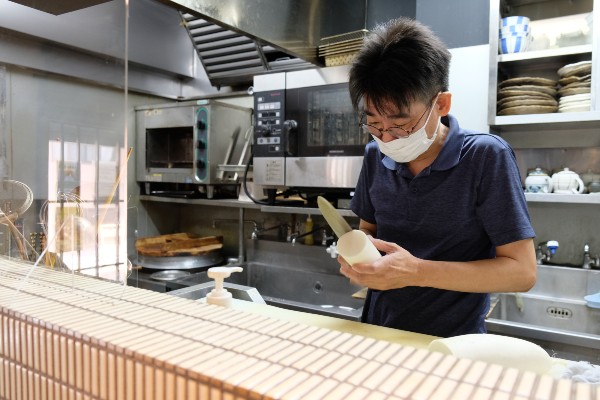 "Basically, Kyu is a soba and Japanese food (washoku) restaurant that features a wide selection of sake," explained veteran chef Mr. Fukuyama. "I opened Kyu here in 2017 after some 20 years of working as a chef in kappo (elaborate and elegant multi-course dinner) and hotel restaurants. We have a lunch menu of sets that consist of soba and a selection of small dishes, with a far more extensive menu in the evening that features soba as the final dish."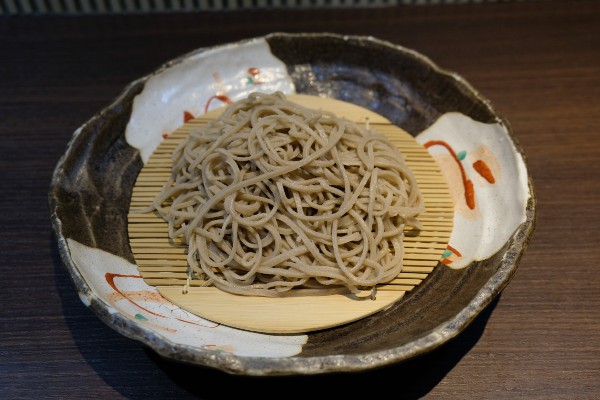 "Everything is handmade by myself, especially the soba. I use buckwheat from Hokkaido generally, although that does change throughout the seasons. I serve ni-hachi soba, which combines 20% wheat flour with 80% of buckwheat flour." Mr. Fukuyama especially recommended the shin-soba, the soba noodles made from the autumn buckwheat harvest, popular throughout Japan for it's flavour and sweetness. He'll be serving it from October, coincidentally right about now!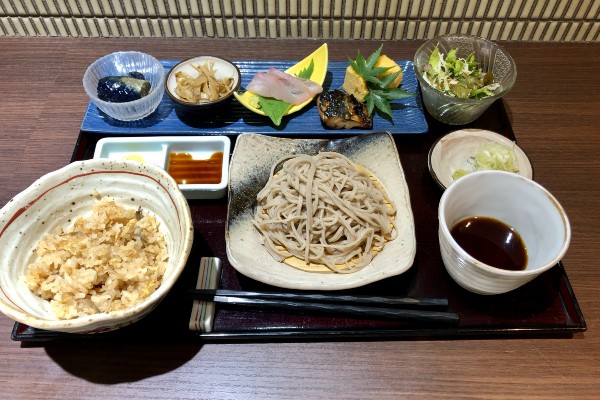 As Mr. Fukuyama explained, Kyu is currently open for lunch every day except Monday, and offers ten of these gorgeous lunch sets to the first comers. "At weekends the lunch menu is slightly larger as I have more time to prepare," he said. On this particular day the lunch featured a hearty portion of soba, rice cooked with maitake mushrooms and a small salad, while the side dishes included sashimi, grilled fish and sweet egg roll.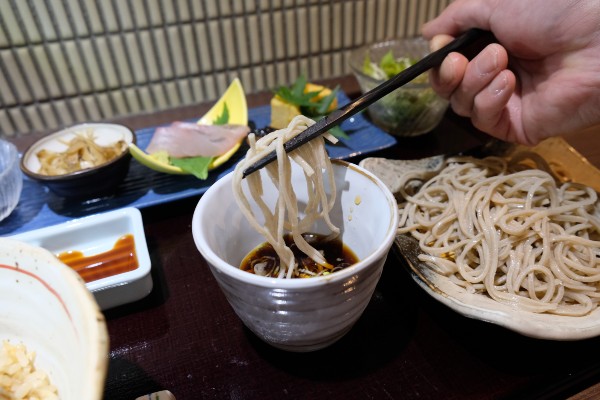 Two side dishes of seasonal vegetables rounded out the repast, which struck us as astonishing value at just 1,100 yen, including tax. Hot soba costs 50 yen more. The lunchtime egg roll is quite sweet as "many customers asked me to make it sweeter, like they remembered their mothers making when they were children. In the evening I make one egg roll with a savoury broth and this sweeter one as well."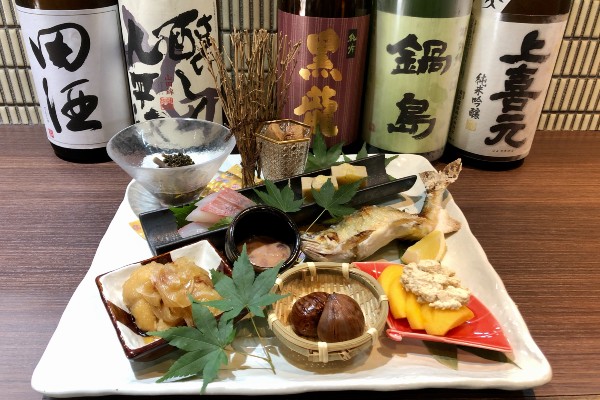 In the evenings, Mr. Fukuyama serves a series of assorted dishes (moriawase), that feature a selection of seasonal items to be enjoyed with fine sake. This is the premium type (dai, 2,200 yen including tax) with nine or ten immaculately crafted items; the medium (chu 1,700 yen) features seven and the small (sho 1,200 yen) has five items. After eating and drinking, customers round off the meal with soba, either chilled or hot.
The beautifully presented items are, from top left: sweet red potato topped with chrysanthemum flowers cooked in bonito flavoured broth (kintokiso and kiku no hitashi), fatty autumn bonito (modori gatsuo) cooked in ginger, mirin and soy sauce). Bottom left is wild amberjack sashimi (tennen kampachi) and eggplant in sesame sauce (nasu no rikyu yose).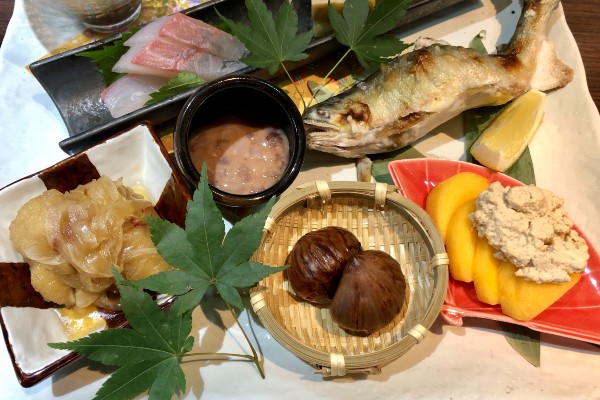 From left: pike conger cooked and marinated in a mix of vinegar, chili and vegetables (hamo nanbanzuke), salted fermented squid (shiokara) and sweetfish containing roe grilled in salt (komochi ayu shio yaki). The final two dishes are chestnuts simmered in their skins (kuri no shibukawa ni) and persimmons with sweetened sesame tofu (kaki no shiraae). For the quality and variety the prices are exceptional value, to put it mildly. Diners should be aware that these dishes are seasonal and will change throughout the year.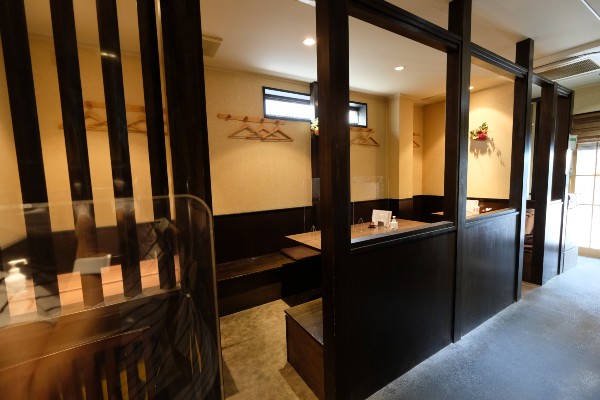 Japanese sake is the principle tipple, as Mr. Fukuyama explained. "Most evening customers are older couples, businesspeople or single diners on their way home from work. We stock between 18 and 25 different varieties of sake from all over the country, priced from 900 to 1,300 yen for one 180ml serving (ichi go). There's also a tasting set (kikizake) which features three 90ml servings of sake, one recommended by the restaurant and two that the customer can select from the sakes costing up to 1,100 yen on the menu. Sake neophytes are more than welcome." If you're interested in a restaurant serving handmade soba, beautifully crafted Japanese dishes and sake at exceptional prices, then head straight to Kyu!
Story and Photos by Stephen Spencer