Solo Yakiniku at Renowned Niku no Tajima
Published: January 27, 2021
It's no exaggeration to say that Niku no Tajima is one of the most renowned establishments in Koto-ku. Founded in 1970 and frequently featured in the media, it has become a byword for top quality meat, attracting an enormous number of loyal customers to its building in Ogibashi. On a recent winter's afternoon, we dropped in to discuss current trends in the yakiniku business with the dapper and courteous restaurant manager, Mr. Kazuaki Nomoto.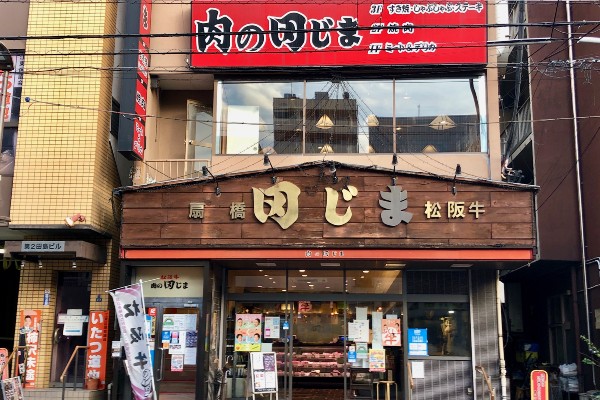 Located a brisk 10 minutes' walk from Sumiyoshi station, or just one minute from Ogibashi 1-chome bus stop, Niku no Tajima occupies its own four storey building. On the ground floor is a meat and pre-cooked food shop, the second floor is all yakiniku while the third floor is given over to sukiyaki, shabu-shabu and yakiniku. Yakiniku is the wildly popular style of barbecuing meat and vegetables on griddles over flames from charcoal briquettes (sumibi) or gas and electric grills.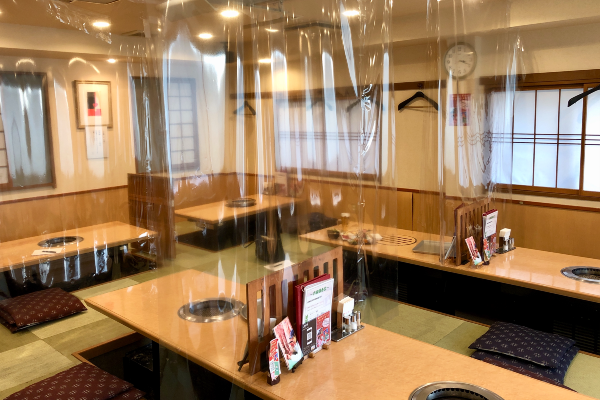 The third-floor features traditional low tables set into the floor, all separated by the heavy plastic sheeting ubiquitous in restaurants these days. The room is spotless, airy, well-ventilated and comfortably inviting.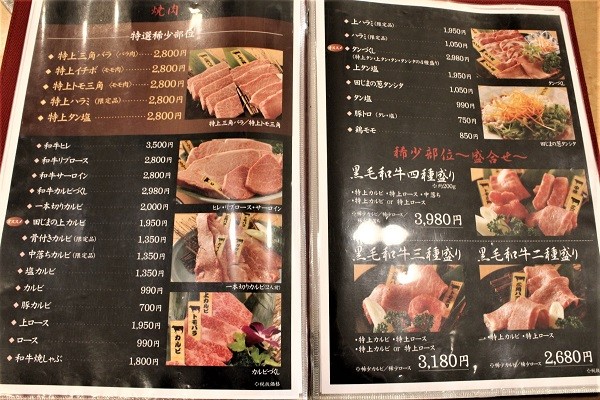 The lack of ostentatious decoration in Niku no Tajima implies confidence in the quality of the beef on offer. The menu is extensive, containing A5 and A4 Matsusaka beef from Japanese Black cattle, heifers only. Generally regarded as the best beef in Japan, the meat is famous for its melt-in-the-mouth softness, deep flavour and slight sweetness. Usually commanding premium prices, this top-quality beef is surprisingly affordable at Niku no Tajima. For example, the loin (rosu) and short ribs (calbi) are just 990 yen per plate.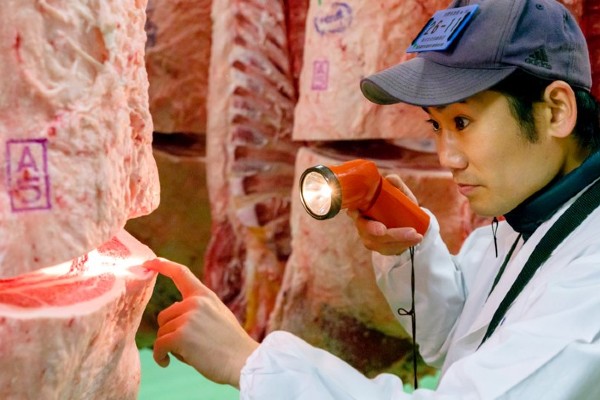 How is this possible? Well, Niku no Tajima is able to buy whole cows directly from a shop in the Tokyo meat market owned by an offal wholesaler. This cuts out the middlemen who bump up costs, allowing Niku no Tajima to offer Japanese Black wagyu at reasonable prices. It also enables the restaurant to acquire rare cuts of offal, known as horumon in Japanese. Second generation president Shintaro Tajima personally inspects every single cow before purchase; there's no compromise at all on the quality of beef served.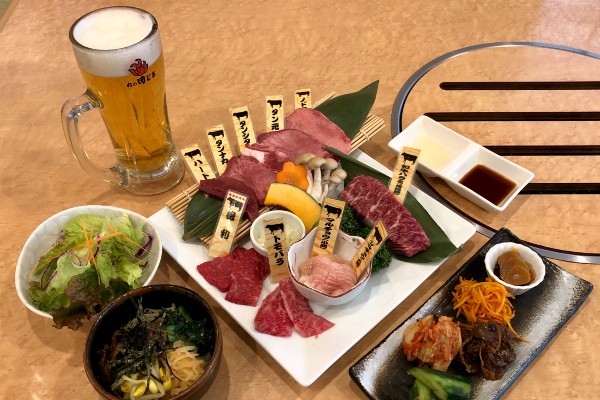 The very nature of yakiniku has prompted its eating as a group activity: families, friends and colleagues get together to grill, eat, drink and enjoy company. It's sociable food. Times have changed though and in response Niku no Tajima has produced this solo yakiniku set (o-hitori sama yakiniku set) for just 3,980 yen. Yakiniku always begins with beef tongue and the set doesn't stint, featuring four different varieties for customers to compare. There are ten different meats featured, including thickly cut loin; the set also includes a beer or highball. All-you-can-drink deals are also available.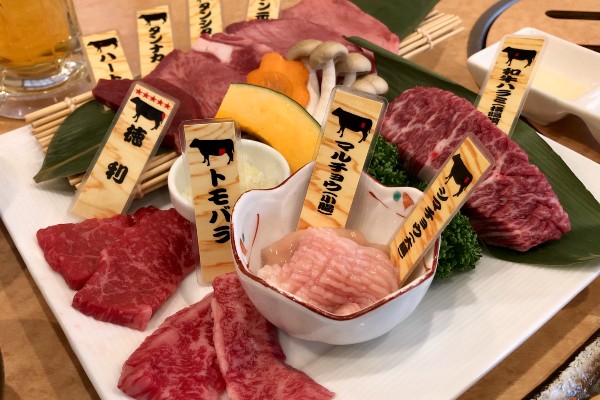 The set even comes with diagrams showing the origin of the cuts of meat. The rump (tokuri), short plate (tomobara) and outer skirt (harami) look especially tasty, as does the small intestine (marucho) and large intestine (shimacho). Very popular with ladies, these types of offal are high in collagen and bursting with savoury umami goodness.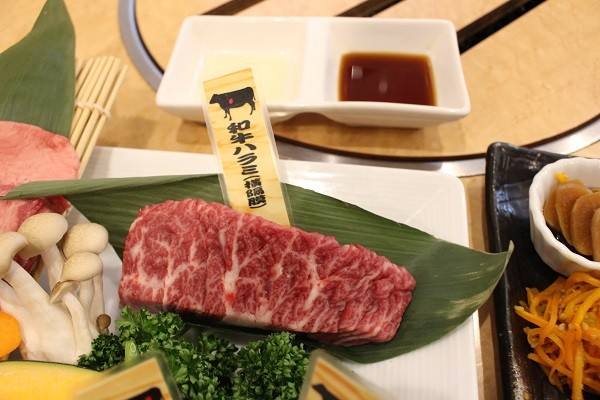 The large piece of outer skirt steak looks irresistible. Not only does the solo yakiniku set feature ten varieties of meat and a drink, but it also comes with a selection of vegetables, Korean-style pickles and lettuce for wrapping the cooked meat. The dipping sauce (tare) has remained unchanged since the restaurant was founded, a secret blend of steeped fruit and potherbs that draws out the exquisite flavours of the Japanese Black beef.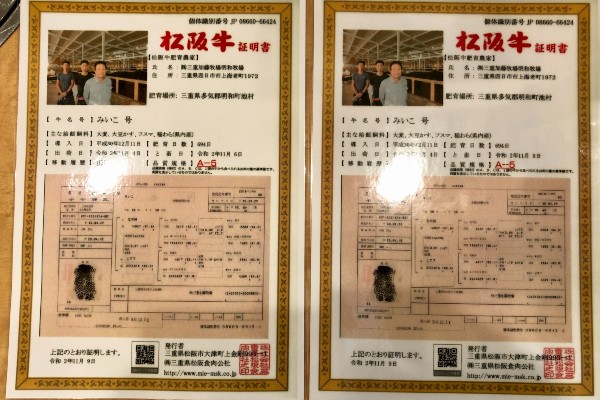 All the Japanese Black beef sold at Niku no Tajima comes from heifers, purchased whole by the restaurant, which have a certificate of authenticity. The detail on these certificates is incredible, with muzzle prints replacing fingerprints as proof of identity. Each cow has its own family history, feed history and code number noted. The certificates even have photographs of the farmers who raised the animals.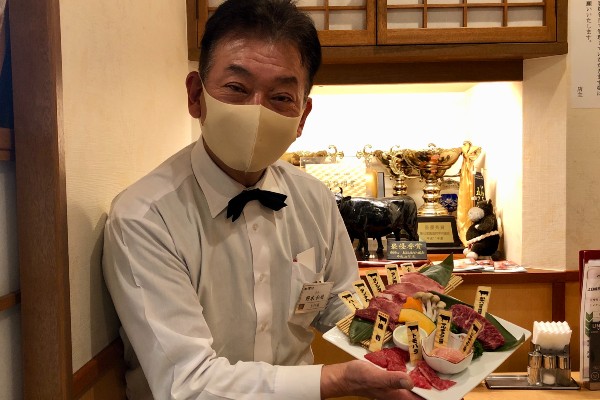 Mr. Nemoto models the solo yakitori set. All the tables at Niku no Tajima feature high-powered but silent extractor ducts that whisk the fumes away in an instant.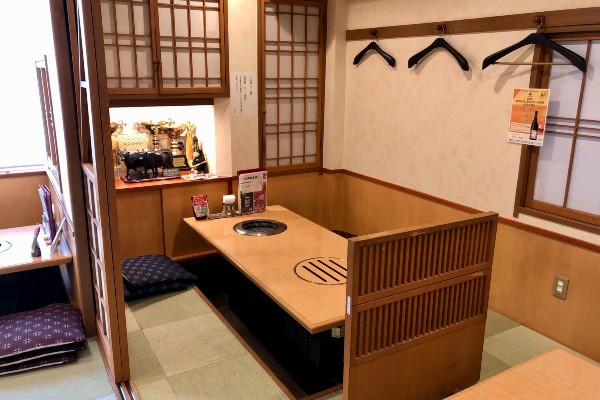 The third-floor features both yakiniku tables and these dual use ones, which can accommodate sukiyaki and shabu shabu too. Shabu shabu is perhaps the least known of the three outside Japan, a hot pot dish in which diners waft wafer thin slices of meat and vegetables through a pot of light broth bubbling on the table, then dip them in sauces before eating. The sauces tend to feature sesame and ponzu, a citrusy soy sauce. It's another sociable meal, very popular in the winter months and less "meaty" than yakiniku.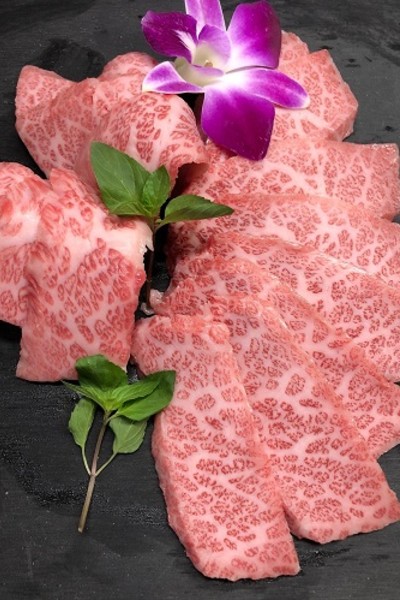 The extensive menu features an enormous selection of meat. This is the restaurant manager's top recommendation, the premium short rib (sankaku calbi), a tender and juicy treat that's a bargain at just 1,950 yen.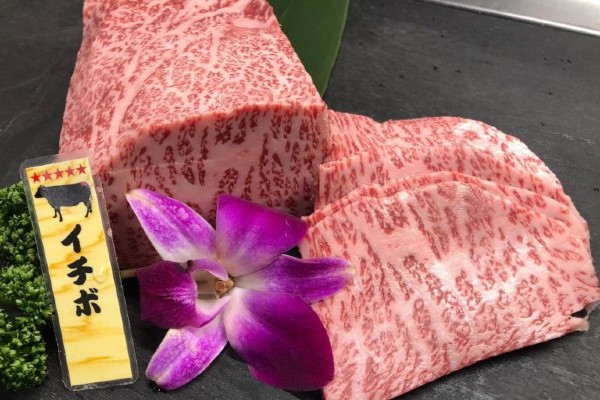 While for those who like their beef heavily marbled, this rump (ichibo) is a dream come true. Combining the savoury umami flavour of bottom round with the melting softness of calbi, it's exceptionally juicy.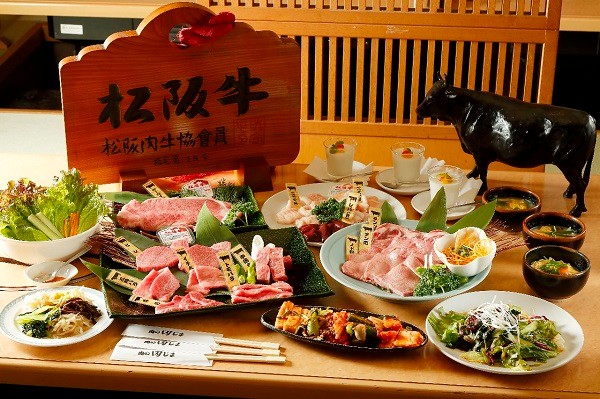 For those overwhelmed by the extensive menu perhaps the best way to enjoy yakiniku is to select a course. This extravaganza is the Matsusakagyu Course and features four plates of meat plus an array of side dishes for 4,500 yen. A range of courses are available, costing up to 10,000 yen per person. Go ahead and treat yourself!
A variety of bento lunch boxes are also available. From the top left: skirt steak (harami) 2,300 yen, premium short ribs (calbi) 2,300 yen, premium beef tongue (gyutan) 2,500 yen and premium short ribs and tongue 2,500 yen. Lunch sets begin at a very reasonable 800 yen, while take-out and delivery services are also available. Customers can rest assured that all hygiene protocols are strictly followed. Given the current situation it's advisable to check the opening times on Niku no Tajima's home page or Facebook page.
A hearty yakiniku meal is deeply satisfying for both body and soul. If you're in the area or have an urge that only charcoal grilled A5 and A4 wagyu can satisfy, then just direct your feet to Niku no Tajima.
Story and photographs by  Stephen Spencer