Some Variations on the Theme of Okonomiyaki
Published: January 13, 2021
Walking along Koto Ward's Sunamachi Ginza is like stepping back into an older, more intimate shopping age: one of small stores, friendly shopkeepers and cozy eateries. One such eatery is Okonomiyaki Kunimatsu, which serves up monja and teppanyaki and, as its name suggests, okonomiyaki, sometimes described as a Japanese pancake. It also serves variations on the typical fare served by okonomiyaki restaurants, of which a colleague and I had come to try when we called in on the owner, Mr. Hideo Kunimatsu, late one autumn afternoon.
Until 2012, Mr. Kunimatsu, who is from the Sunamachi area, was an office worker at a construction company, but a review of what he wanted out of life, led him to consider running an okonomiyaki restaurant. Wanting to show his children what monja was all about, after much research, he and his wife opened Okonomiyaki Kunimatsu in January 2018. From the outside the restaurant has a warm welcoming feel about it, which continues when you step inside under the white noren (outside shop curtain).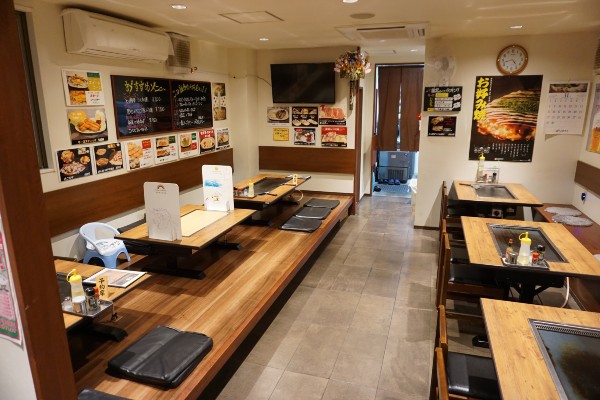 Mr. Kunimatsu, with the help of a part-time assistant, is in charge of the dining area, whilst his wife and son manage the kitchen, chopping and preparing the ingredients, which are then brought out into the restaurant area to be fried on the hot plates set into the dining tables. Once the hot plate has heated up and Mr. Kunimatsu has smeared cooking oil across its surface, customers can roll up their sleeves and busy themselves cooking their order; a combined effort adds to the fun of eating food from a hot plate. If business is quiet or a customer is elderly or a bit unsure what to do, Mr. Kunimatsu will come over and assist.
And assist he did, in our case. As well as the wide range of okonomiyaki and monja dishes on the menu, the restaurant is known in the neighbourhood for some of its more unusual offerings, and first up for us was an okopizza, a combination of okonomiyaki and pizza (950 yen excluding tax). According to Mr. Kunimatsu, this dish is popular with female diners, and kids of all ages.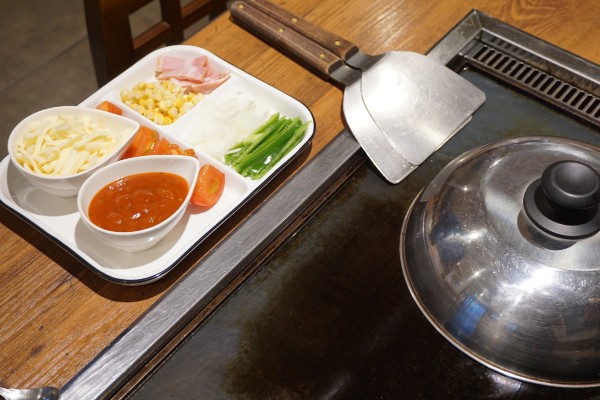 Taking the basic okonomiyaki dough of komugiko (flour) and water, with yamaimo (Japanese yam) and dashi (stock) added, Mr. Kunimatsu spooned it onto the hot plate and stirred and smoothed it into a circle, as it gradually cooked.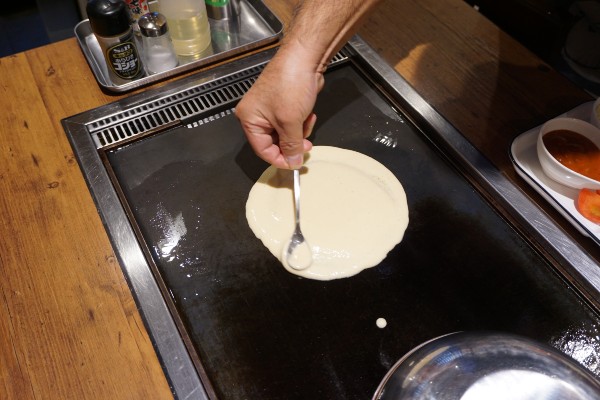 To this he added a layer of tomato pizza sauce, followed by sprinklings of sliced onions, green peppers, bacon, quartered tomatoes and corn, as the okopiza sizzled away. Finally, he crowned it off with a generous helping of shredded cheese and placed a lid over the whole lot to let it cook.
And what we were served with looked very much like a pizza, but with an altogether different base.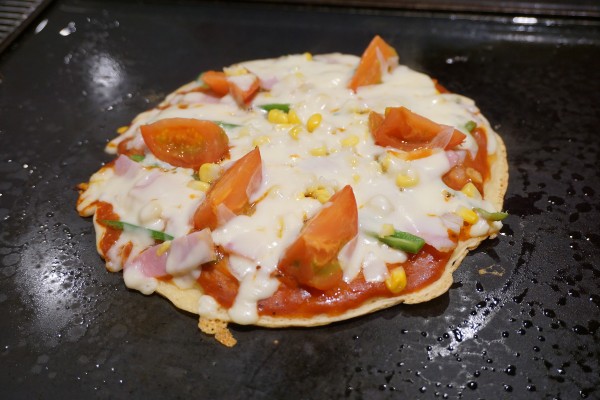 The whole result was tasty and cheesy-gooey, just like a pizza. The tomatoes were incredibly juicy: Mr. Kunimatsu says he uses sweet Karuizawa fruit tomatoes to give that bit of extra taste.
Whilst we enjoyed tucking into the okopiza, another dish, torinankotsu-tsukuneyaki (grilled soft chicken bone meatballs with oba (perilla) leaf, was cooking away under a lid on the hot plate.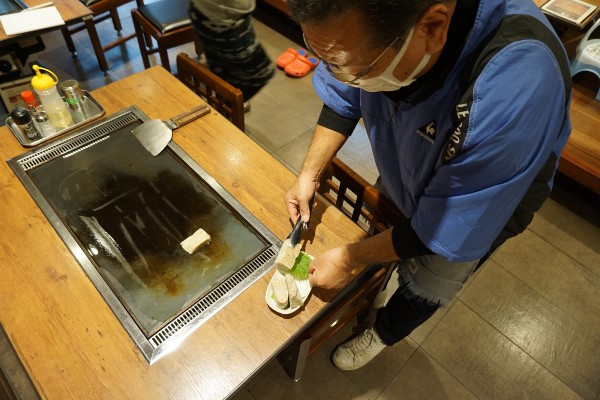 Once the side with the oba leaf was browned it was turned over for the other side to cook. When Mr. Kunimatsu judged the torinankotsu-tsukuneyaki to be ready he served it to us with a pickled ume (plum) dip. Biting into it, it tasted delicious.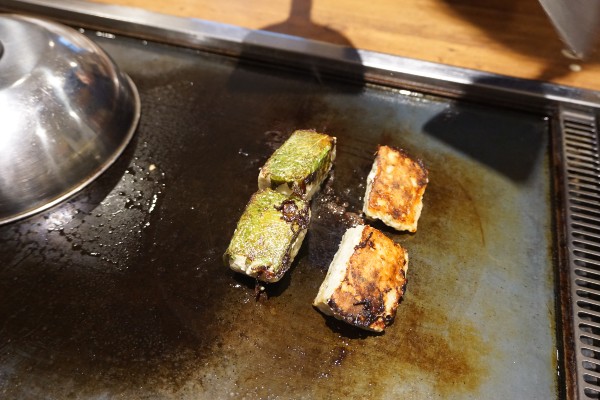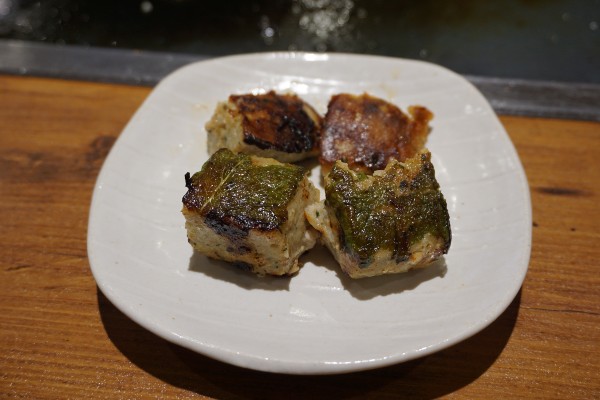 Taking a break from the okopiza and torinankotsu-tsukuneyaki, I was looking through the menu and my eye was caught by the intriguingly-named "modern yaki". When I asked Mrs. Kunimatsu what exactly this was, she laughingly pointed to a photograph on the wall, explaining that it was an okonomiyaki base with lots of cabbage, and yakisoba (fried noodles) with pork, bean sprouts and pickled red ginger. Both are cooked separately and then the yakisoba is placed on top of the okonomiyaki and the whole concoction is finished off with an egg. Apparently, this makes a very filling meal.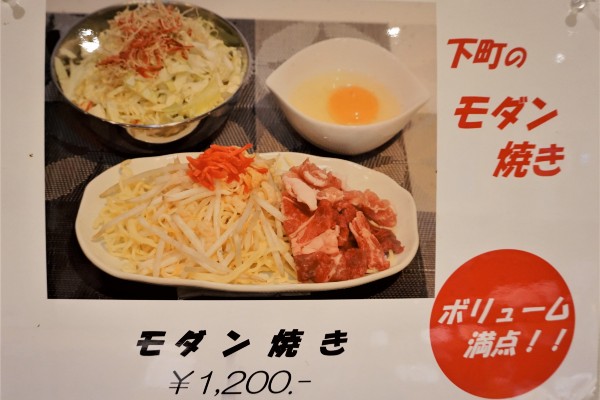 At the time of writing, Okonomiyaki Kunimatsu is only open to diners in the evenings, but take away packs of okonomiyaki, yakisoba, and teppanyaki are on sale throughout the day.
During the current corona virus, the restaurant is taking precautions to protect its customers: these involve spacing out the tables, putting partitions (decorated by Mr. Kunimatsu's grandchildren) in place, providing a sanitizer at the entrance to the restaurant, turning on the air conditioning and opening windows to provide through ventilation. The staff wear masks at all times and customers are given a plastic case to place their masks in whilst eating.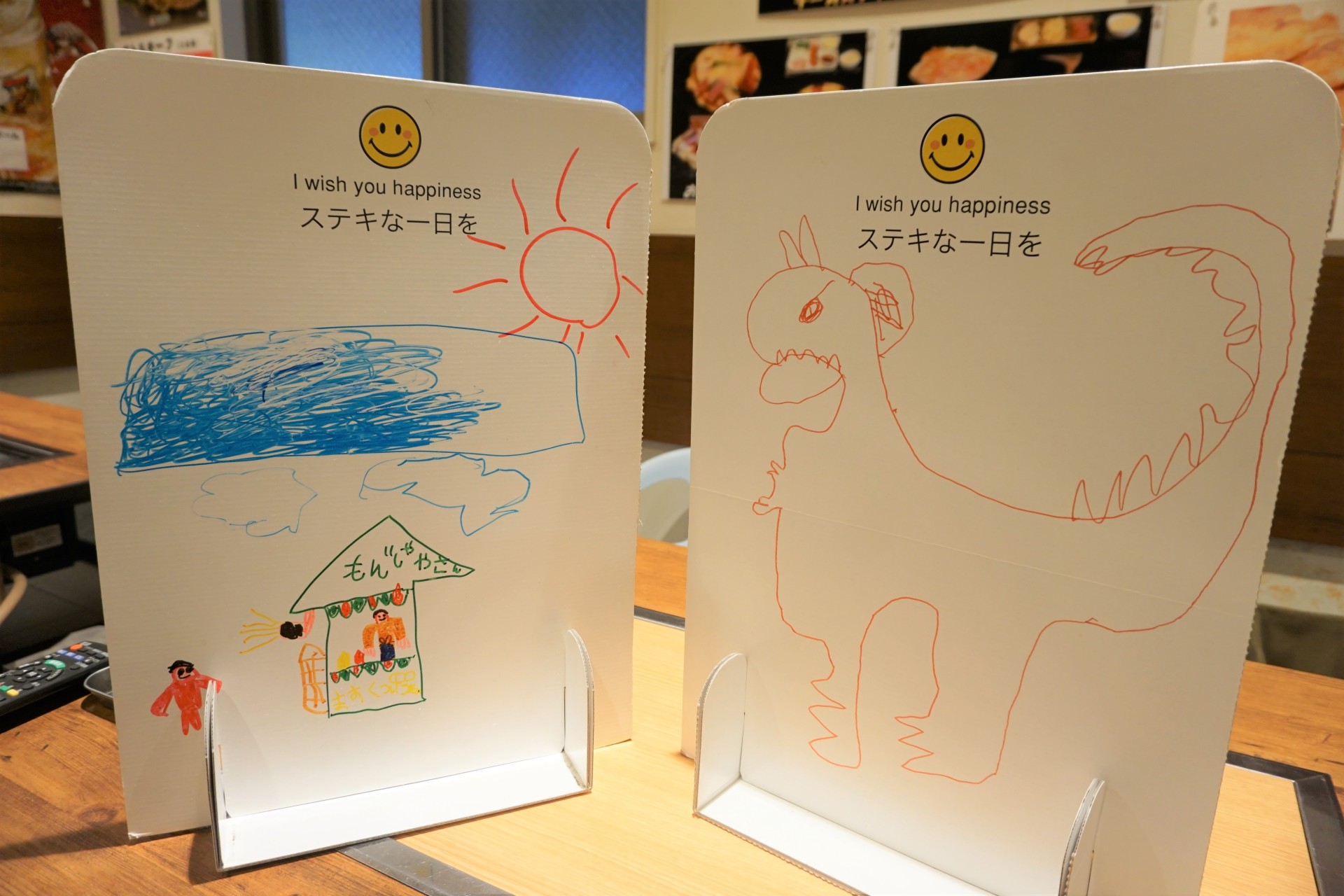 As you leave the restaurant, keep an eye out for Sendai Shiro sat next to the cash register. This charming fellow really existed and is there to bring the business good luck and prosperity; something we all need in these trying times.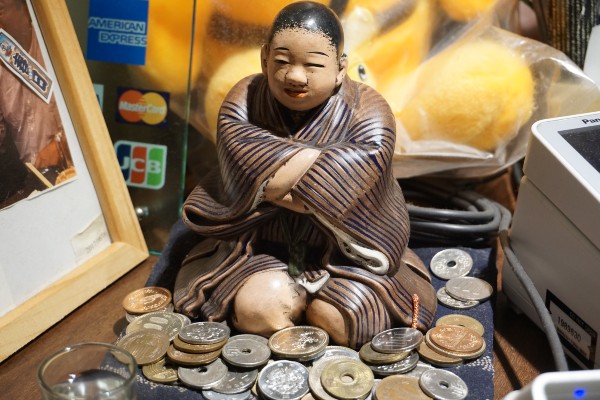 Story and photographs by Jeremy Hutchinson