Spicy Delights at Shirokuma Curry and Cafe!
Published: August 21, 2020
Shirokuma Curry is a restaurant and cafe on the Sumiyoshi Ginza shopping street that serves Japanese style curry rice, coffee, cakes, and a whole lot more besides. On a recent morning, we dropped in just before opening time for a chat with owner Ms. Nana Higuchi.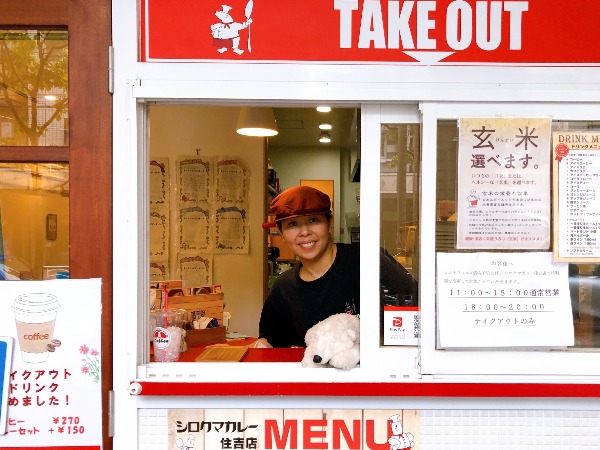 "My husband's parents ran the Cosmetics Higuchi store on this site for over 50 years and are still members of the local business association. After they decided to retire, we remodeled the shop and opened Shirokuma in May 2017," explained Ms. Higuchi, a qualified cookery instructor, who previously worked in a very well-known central Tokyo hotel.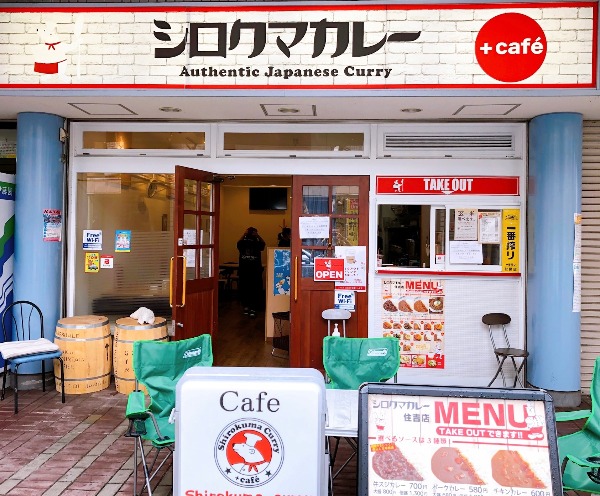 Located just three minutes' walk from Sumiyoshi station, the eye-catching exterior features polar bears (of course) and garden furniture for fair weather days.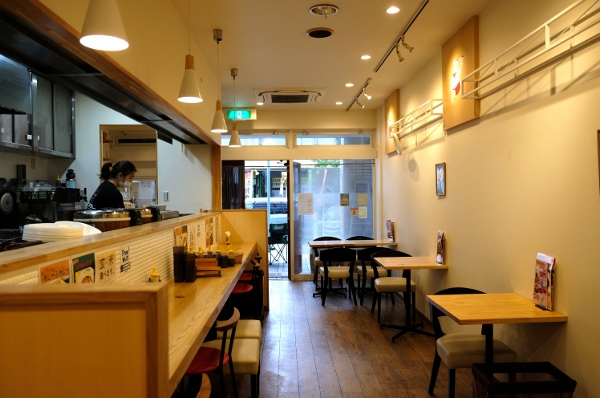 While the interior with its wooden flooring, pine furniture, brilliant white walls, and discrete lighting is far closer to a modern cafe than a traditional curry house. "We wanted to create a place that's part of the local community," said Ms. Higuchi. "Somewhere that's easy for parents and children to drop in for something to eat or coffee time. Kids can drop in and do their homework in the afternoons while the mothers have coffee. My own children grew up here and attended local schools, so it's convenient for the local PTA to meet here too."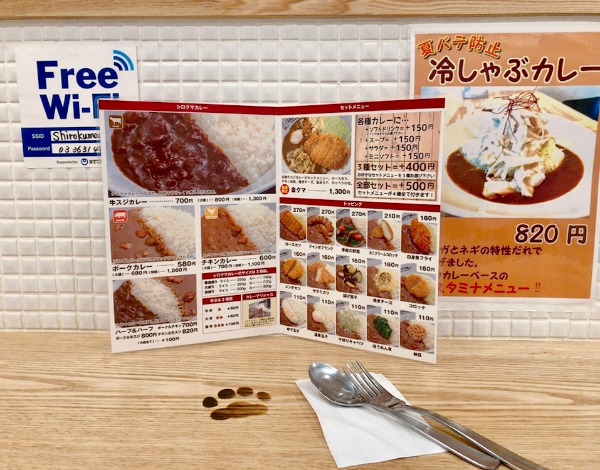 There are three basic kinds of curry available: beef tendon curry (gyusuji) is 700 yen, pork is 580 yen, and chicken is 600 yen. Customers can increase the heat factor by increments from medium (+30 yen) to superhot (+100 yen) if they so wish. A variety of toppings are also available, such as pork cutlets, chicken cutlets, croquettes, seasonal vegetables, fried fish and baked cheese. According to Ms. Higuchi the seasonal vegetables are the most popular toppings. "We have around eight kinds of veggies, depending on the season. Now it's onion, eggplant, green pepper, carrot, and okra. In autumn there's pumpkin and turnip in winter."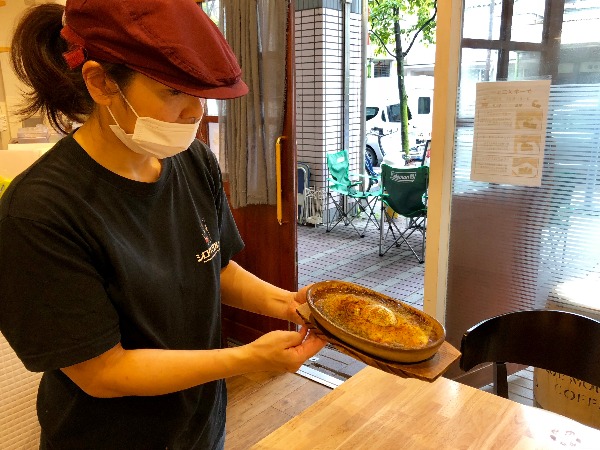 There's also a very popular keema curry at 820 yen. Ms. Higuchi makes everything herself except for the beef tendon curry, ordering the meat and vegetables from local businesses. Today she disappeared behind the counter and in a trice whipped up an oven-baked curry.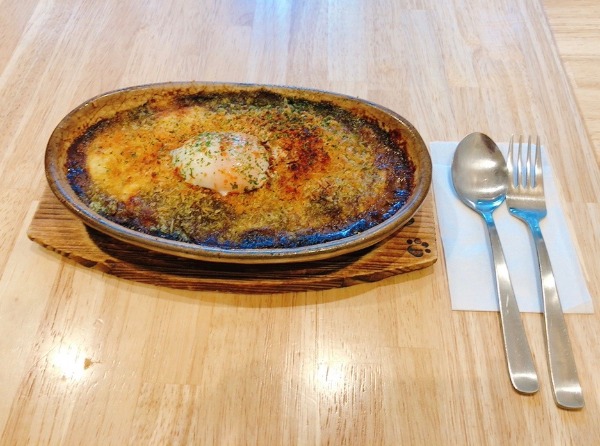 It's rice topped with curry sauce and three kinds of cheese with a sprinkling of herbs. A soft-boiled egg is added, then the whole ensemble is baked in the oven.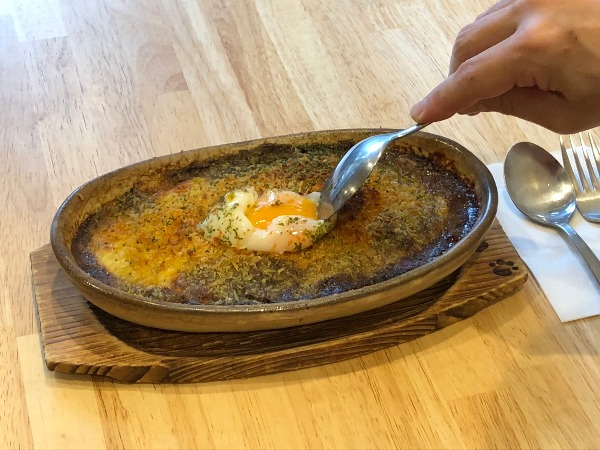 The baked cheese and herbs create a crispy crust, with the saltiness adding to the spiciness of the curry beneath. Popular with all age groups, this is a real bargain at just 820 yen. I'd never eaten curry at 10am before so this was a savoury eye-opener that not only tasted great but really started the blood pumping. Highly recommended.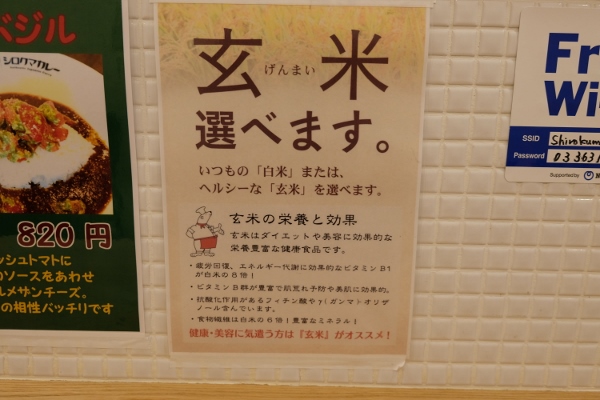 As well as being able to select the preferred heat of their curry, diners at Shirokuma can choose between white or brown rice. The baked curry is available only with white rice, however. In addition, "sets" are available with salad, soup, soft ice cream, and soft drinks at 150 yen each. For the really hungry, a mega set of three is 400 yen extra, while four costs 500 yen. The brown rice has increased in popularity dramatically this year as more customers become health conscious.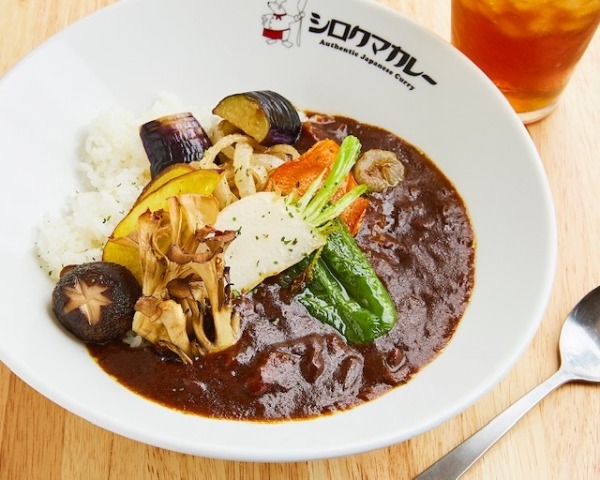 This beef tendon curry is very popular with male customers, according to Ms. Higuchi. Simmered for 18 hours, the beef is incredibly soft and juicy. It makes a tasty, filling lunch when paired with the vegetable selection for 970 yen, including tax. All prices quoted in the article include tax.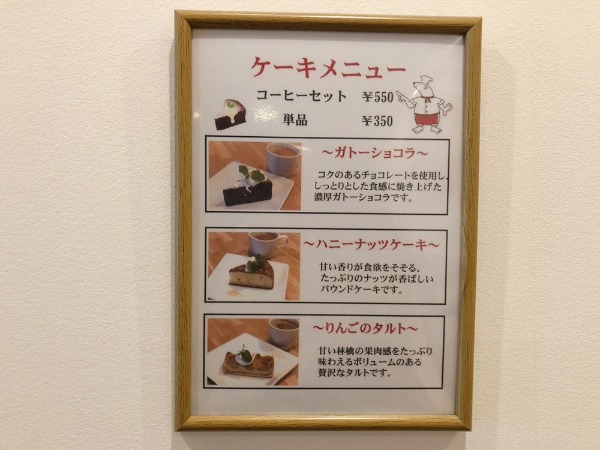 Ms. Higuchi's family run a chain of bakery cafes in the Shizuoka Prefecture seaside and hot spring resort of Ito. These cakes are made in Ito and delivered to Shirokuma every week. There's a rich, moist gateau chocolat, a sweet and crunchy honey nut pound cake, and a lush, filling apple tart. The cakes are 350 yen each, or 550 yen with a drink. Very nice for an afternoon break.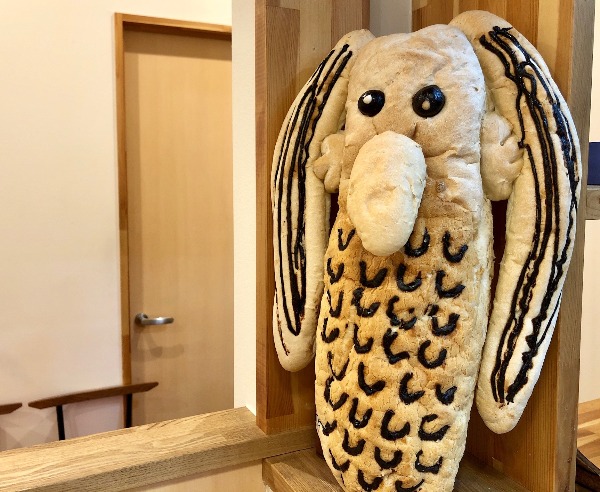 Also made in the Ito bakery was this Amabie, a legendary sea creature whose image is used as a charm to ward off sickness or pestilence. Shirokuma has decreased its seating from 20 to 14 and there's a table outside for those who wish to dine al fresco. Take out options are also available. If you're in the Sumiyoshi area and fancy a fantastic curry lunch or dinner, just drop in. The food's great and the atmosphere is incredibly relaxed and friendly. And the coffee was very good, too!
Story and photographs by Stephen Spencer